Meet Hackney's Crypt of the Wizard, the first dedicated metal record shop to grace London for decades.
It opened its doors in March to serve the black-clad masses of the East End but, not content to merely serve up gnarly riffs on devilish black wax, the young venture makes its most audacious move in November by launching a new self-titled record label.
With the first release, Crypt of the Wizard is responsible for unleashing the primal sludge of doom and gloom merchants Ghold upon the world. Behold.
Was this frightful coalition formed out of mutual admiration, true friendship, dumb luck or drunken chance? All of the above, says Ghold drummer Paul Antony: "We have all been friends with Charlie [Woolley, manager of the Crypt] for years, and since the shop opened we've been hanging out there."
Woolley explains: "Ghold had a new album. We had a new label. It just coincided perfectly. And I couldn't be happier with their LP being our first release. Not just because I like the music but because it marks a transition in our relationship as well. It was clearly meant to be!"
"It's almost like the album is now embedded into the walls of the shop"
The idea behind the shop was not new, Woolley admits. "I met Marcus [Mustafa, owner of the Crypt] at a metal festival in Sweden about 10 years ago. We got really excited about the European scene and saw so much happening in places like Sweden and Germany. And while there were some great bands in London there didn't seem to be any centralised distribution or organisation. No one was helping these bands.
"We talked about a label, or an event space – but I think we decided we were too old for a venue! So, we settled on the shop. It just seemed right and the response has been absolutely incredible. It's criminal that no one in London has been catering to this music scene for the best part of 20 years."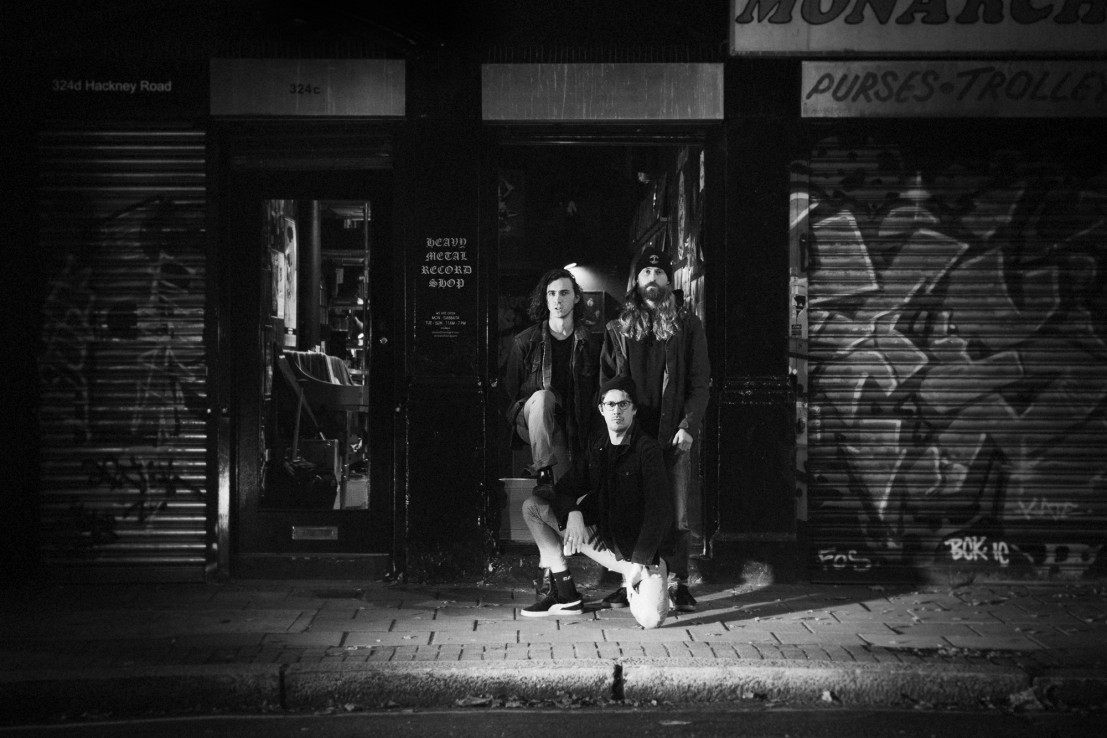 Paul Antony, Aleks Wilson and Oliver Martin
Their first release marks an auspicious new chapter for Crypt of the Wizard. But it also opens up exciting new sonic vistas for the music of Ghold.
Previous releases – including the superb PYR for fellow London label, Ritual Productions – saw Ghold function primarily as a power duo of Antony and bassist Aleks Wilson. New album Stoic sees them add pal and occasional guitarist Oliver Martin to the fold full-time. And his impact on their sound and fury on the new LP is hard to understate.
From the first power cluster of descending riffs, Stoic is clearly a special album. Recorded in Leeds Unitarian Chapel during the same month that Crypt of the Wizard was opening its doors, the sessions were blessed with a hallowed feel due to the venue's expansive ambience as well as Martin's atmospheric guitars.
At first, the music of the newly-swelled band appears as if it's just content to plough the same rich furrow of a sound already perfected by the Melvins and Harvey Milk. But be patient, because it's not long before Wilson's singing becomes unhinged and the maze-like compositions start to scramble your brain.
"If you're looking for a slightly skewed hallucinogenic choral interruption of sludge metal or leftfield doom, it's for you."
The 20-minute suite of "SKHUL V" and "SKHUL VI" on the LP's second side demonstrate Ghold's patented formula perfectly – creeping power riffs and artful suspense leading to precision blasts of sludge metal at fierce tempos.
"We wanted to try and make everything a bit more fluid and part of a new language," Antony says. "Using a more digestible pace as opposed to chopping everything up, which is what we did a lot on previous albums where we knock the heads off riffs and change the tunes quite quickly. This time, we wanted to experiment a bit more with elongated vocal-driven songs and create something a bit simpler. It may not sound simple to the listener but we wanted to boil it down to its essence."
There is certainly more craft and adventure in the Ghold songwriting experience than ever before – a leap that's come with Martin joining but also with new-found confidence.
"We weren't really capable of doing that previously, explains Antony. "This is the first album where we wrote and performed it all live as a band in the months before we went to record the songs. So that really dictated how the songs were created and sound. We used Martin's guitar to help us experiment with some dark new surreal sounds."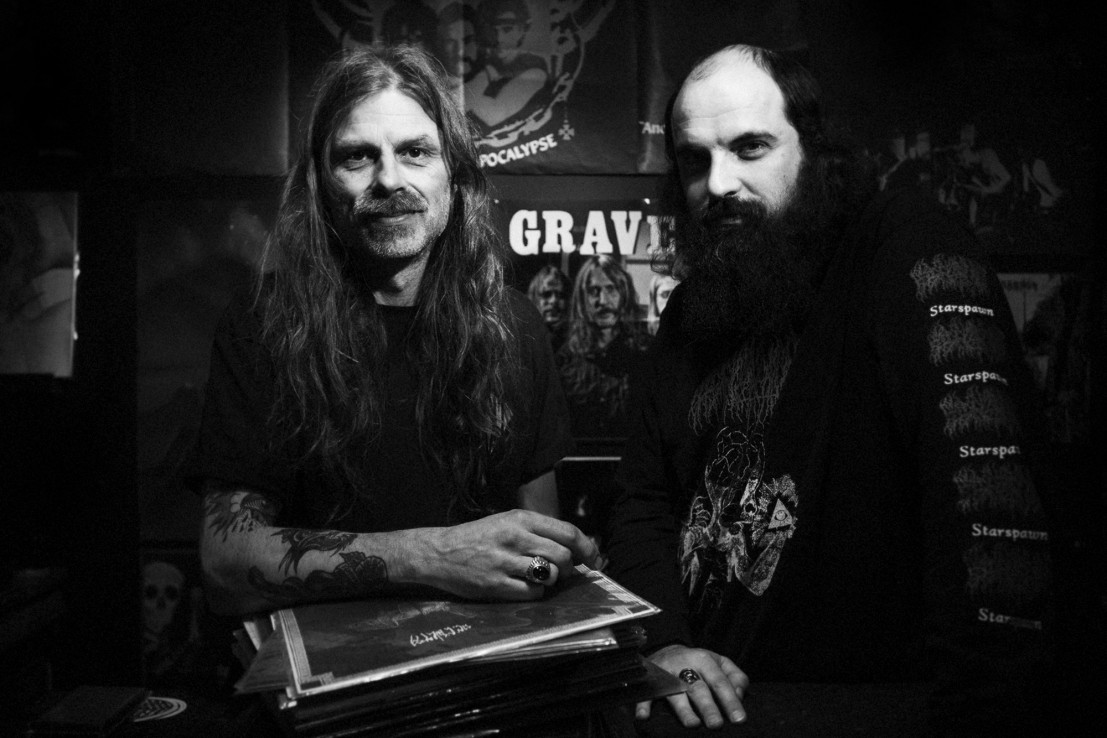 Markus Mustafa and and Charlie Woolley
So far, so fucked up. The band played Woolley these early demos while the shop was being built in Hackney. It was a sign of things to come.
"It's almost like the album is now embedded into the walls of the shop," Woolley says with a smile. "When the first mix-down came back I needed some time to listen to it. I liked it…but I never want to hear a band churn out the same album over and over again. I always think I'm ready to hear something new. The first time I hear something new from a band I love and it doesn't sound familiar…I just get a knot in my stomach. It's both a perilous and fantastic feeling.
"But before long it got under my skin. It's difficult and progressive and ahead of its time, and I'm now totally overwhelmed by it. There is a real seriousness in their music – it's just dark."
The big departure for Ghold on Stoic is the new approach to their singing. Before, the power duo was more likely to bark out their incantations in powerful unison. But now the band is taking a different approach.
"When we started out we weren't very confident in our voices," Antony admits. "The easiest way around this was just to double up the lines. It's taken a lot of time and effort to get into singing for real, especially the cleaner parts because you have to pitch them correctly."
It's not lost on Woolley. "Their vocals have really gone up a notch," he says. "What was ritual chanting is now a lot more like choral singing – and I think it sounds more threatening!"
Antony says of Stoic: "If you're looking for a slightly skewed hallucinogenic choral interruption of sludge metal or leftfield doom, it's for you.
"Or if you have any interest in heavy music but still want dynamic shifts and experimentation with noise, texture and density in the music. If you like melodies along with your guttural chants, then you'll find something you like in the album."
Stoic is released on 3 November. To help celebrate, the band is playing The Underworld in Camden on 8 November alongside Seattle rockers Big Business, The Fierce & The Dead and Crowd of Chairs.