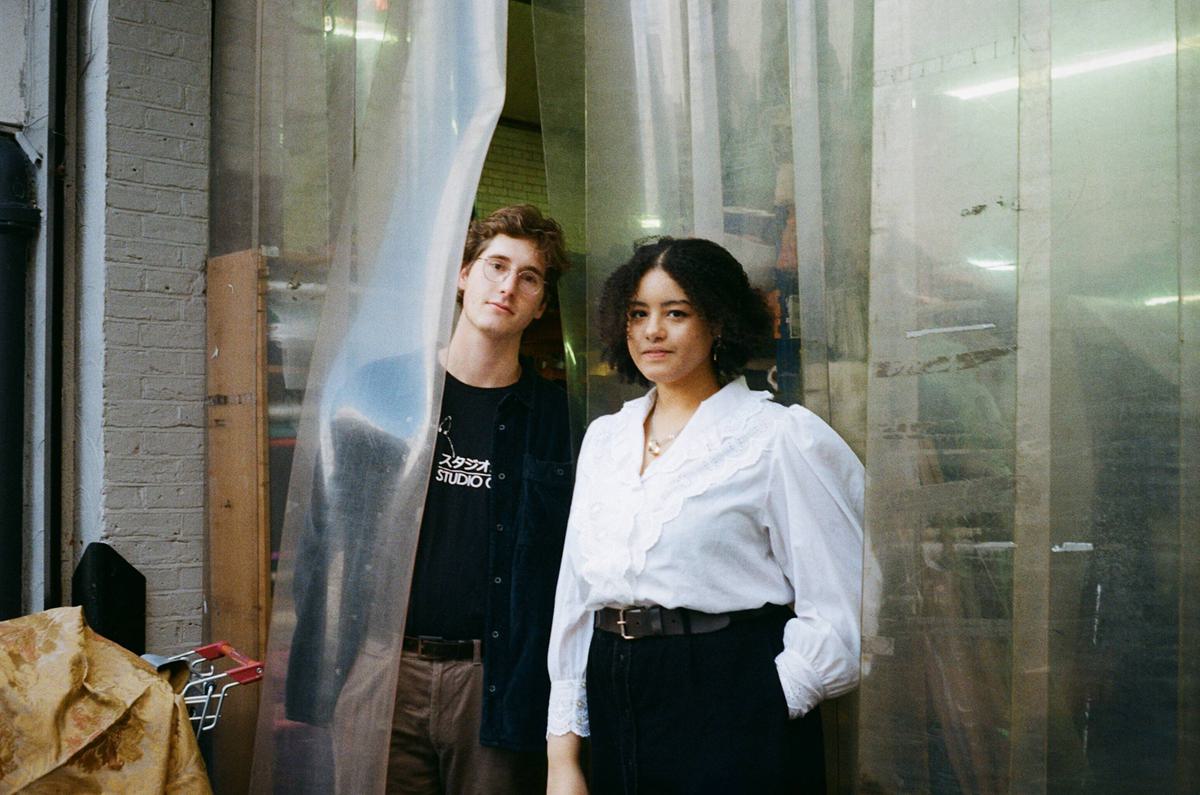 On the Rise

Fräulein
24 August 2022, 09:00
"You're so loud you sound like a motorcar rally mixed with Polly Jean Harvey," laughs Karsten van der Tol, one half of hotly-tipped alt-rock band Fräulein. "That's the best description [of us] we've ever heard, and I'd love to take credit for it, but it came from one of the regulars of The Bell's open-mic nights, an old man with a twangy guitar. A country-Americana Josh Homme if you will."
As far as descriptions go, he's hit the nail on its head when it comes to outlining the Dutch/Irish duo's sound. Fräulein's hard, thrashing riffs combined with bombing percussion create a crescendo of textures a cut above their contemporaries. In a similar vein to Royal Blood, it's an impressive feat to stir such a storm from a band of only two. Dutch-born van der Tol and bandmate Joni Samuels, who hails from Northern Ireland, stand out from the crowd as a group unafraid of breaking wild, and more than happy to blow your ears off at any given opportunity. Just back from a UK tour in support of The Mysterines, and following the release of their debut EP, A Small Taste, the band are chatting from their London apartment where wooden shelves are stacked with vinyl; from Big Thief to Bowie.
Born in The Netherlands, Karsten spent his early childhood always on the road. Moving from place to place with his family, in particular to countries across the Middle East, he first began learning music at the age of 8 – on a drum kit his father had bought himself for his 40th birthday. When it came time for van der Tol to start secondary school, he was sent to a boarding house in Wales and decided to remain in the UK for university in Bath. "Moving to the UK where everything is on campus was brilliant," Karsten recalled of the initial change. "I could still go to places and meet people and it was one of the first times I had that sense of community." With only a brother to create music with in his early years, it was this move that launched an inescapable itch to form a real band.
In contrast, Samuels upbringing was fairly stationary, but she was always surrounded by music. "My Dad was a musician and travelled around Ireland as the lead singer in a Cabaret band during the height of The Troubles. As a Black man as well, which is really interesting," Samuels recalls of her parent's influence. "Soul and Reggae was always around me growing up, but at around 13 I rebelled and started listening to the White Stripes and people like that. When I was 21 I was bored on placement year alone and I spent the year learning how to play guitar. About a year later I wrote my first song and a year later again I set out to form a band. The first person I met was Karsten."

On first connection, the duo felt instant musical chemistry. Samuels would arrive with songs she wrote the evening before, and van der Tol took to the drums to spend hours finding just the right spot, tempo and stylings to fit his personality within the spaces of each track. "We usually play a song until it all sounds natural. We never dictate each other's parts to one another, we just play it then discuss how to evoke a bit more emotion and feeling," Samuels explains of the creative process.
After time spent gigging in the Bristol circuit before lockdown, the pair made the decision to move to London. With a batch of recorded tracks in tow, they pitched prospective labels, one of which caught the attention of Practise Music and became their debut single under their own banner: 'Pretty People'. "I love [Practise] so much for that because I don't think we'd have been anywhere had they not done got in touch," Samuels notes of the importance of the label's call and the affirmation it gave the duo that they were heading in the right direction.
After releasing a string of singles last year, 2022 saw the band begin work on their debut EP. "We did initially have 2 singles out from the EP to give that flavour beforehand, but we liked giving things a bit more momentum and a big push," van der Tol explains of the thinking behind the project. "We know that from our perspective, when we see something from a band, we take more notice if it's a project than when it's a single, and we really wanted to showcase what we could do."
The result was a 4-track offering that showcased Fräulein's wide range of influences, including PJ Harvey, Big Thief and 90's alt-rock classics. "We wanted it to be a selection of old songs and newer songs and just all our favourite songs that we play live," Samuels explains of the tracklist. "There's no real cohesion or narrative in the songs, it's just our favourite tracks. I just want people to see us live." Agreeing, van der Tol adds "one of the most important things for us when someone comes and listens to our music or sees us live is that you get the feeling that we're playing for you, and that you connect to the music. If you listen to our Spotify and find it interesting, just come see us live because that's where we really thrive."
As the conversation draws to a close, talk turns to the future and what fans can expect from the fast-rising duo. "We've a tonne of shows coming, so come see us," Samuels repeats with a laugh, "and then we have some songs we really like. We have a concept and it's going to be our first EP really, not just a small taste but our first proper release." With the world now seemingly their oyster, Fräulein are on a roll. Long may they continue.