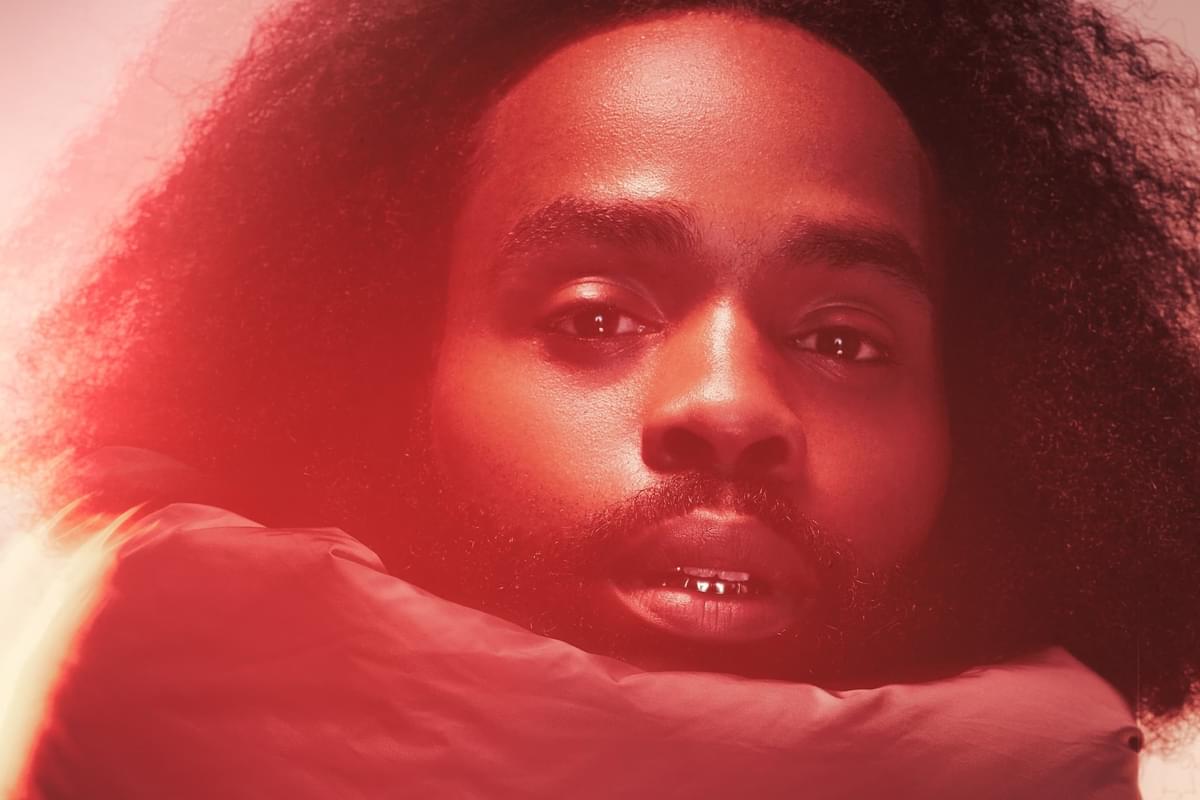 Fly Anakin is leaving the underground and ready to be a star
03 May 2022, 09:30
Frank Walton wants to take over the world.
A multi-hyphenate in the making, rap is the catalyst and under the guise of Fly Anakin, he's running on pure, unfiltered creative gasoline. Much like the video games he's played since childhood, for Anakin, life is all about achieving 100%."I've been actively chasing the rapper dream since I was in middle school, and I'm 27 now," he tells me cooly. "At that time I was just intrigued with how people can string words together for so long and not run out of things to say."
Currently he's looking down at me over Zoom, the camera upturned while he flits about. Unknowingly the angle plays directly into his exploration of these grander motives. He mentions he's already completed the game, and now it's about replaying it over and over, trying to collect every trophy he can. But every protagonist has to start somewhere – and for Walton, it was historic Richmond, Virginia, a place he describes as "[keeping] you in touch with the real stuff because the people will not treat you how the people on the internet treat you…in my city, they just know me as Frank."
As a young boy, Anakin would hear the sound of Lenny William's "I Love You" radiating through his childhood home – a Sunday morning routine instigated by his father. "It would be super early, and he would just blast that shit while he was cleaning up the house and sing it to the top of his lungs," he reminisces. "Then after a while we all started to know the song. So every time it would come on we'd be singing. That's one of my fondest and earliest memories of music."
His second musical awakening – a more fitting, rap-based one – involves his uncle, who caught him listening to teen heartthrob Bow Wow. "He basically told me to turn that shit off because it wasn't tough enough," Anakin chuckles. "So he gave me Ready To Die by Biggie and I was listening to that and everything after that just made a little more sense. Ready To Die was basically autobiographical from Biggie, so to hear that shit so many times as a kid to the point where you can decipher their lyrics, it'll change you, you know?"
It didn't take much for Anakin to decipher Biggie's lyrics. The drugs, guns, and overall violence captured on Ready To Die – "shit that happens everyday in my neighbourhood" – made it easy to relate to.
Hip-hop began to envelope his life. "I didn't do no graffiti and then like dance or nothing," he tells me: it was words that held the most weight for the young Frank Walton, and his natural ability to pen them. Presenting a world that could both be aggressive without sacrificing depth – while reaching into a back pocket of original samples – eventually gave birth to Fly Anakin.
Writing his first bars at the age of nine ("my first raps was terrible, brah!"), he found a makeshift studio four years later in a friend's bedroom. With a headset mic to capture his vocals – the kind used by gamers all over – it wasn't long before his first mixtape appeared and he began playing live in 2013. Local gigs came first ("easy mode", Anakin calls them), and from playing at one of the few venues in Richmond which hosted rap shows to people's living rooms and kitchens, it wasn't long before Anakin had hit every stage in his hometown.
Without a DJ, his sets were presented as one extended track, leaving "no room to breathe" – it was always just rapping and the music. This led to a controlled breathlessness that comes through in his bars, while hop-scotching around the personal, the societal, and the bravado. The venues grew bigger, and international, and then came the eventual need for a DJ.
The recent release of his 'proper' debut album Frank is a marked difference from earlier releases, where the majority of material came from collaborations. Frank is a clearing of the skies for Anakin's true world domination to begin. "I don't know what I expected because my anxiety about how old the music was was kind of eating me up more than anything," he explains. It's a subtly powerful soulful project that brings together the best of Fly Anakin with a range of producers – even Madlib, who called him "one of the illest MC's", on "No Dough".
He likens making the record to a food fight: "You just throw something but you don't want nobody to know you threw it. So I'm just like I threw like a big ass bowl of mashed potatoes across the room. Hopefully nobody saw that I did that. That's really the best way to explain it. I like it but it's just a moment that's passed."
Truthfully, in his mind, Anakin's avatar is running around nebulously, and it's mission is "stacking projects on top of projects," he shrugs. A flick through his Spotify page takes longer than most established artists with double the career span, with over 25 different projects currently to his name. His dream is to leave an immense discography filled with artefacts and tomes that his supporters can dig into long after he hangs up the mic. As he drops each new Tetris brick, they slot into place presenting a complete picture of the artist.
He finds his strengths come from collaboration too. With a steady stream of familiar faces and names – including Alabama's Pink Siifu, and Anakin's own Mutant Academy, a Richmond focused hip-hop crew featuring Big Kahuna OG, Obhliv, to name a couple – it's a recurring cast that only bring the best out of each other. His strength as a collaborator? "It's like the power to orchestrate," he tells me. "I carry a certain kind of energy, but I don't know what it is bro, and I don't know where it comes from. But whatever I touch just turns into gold. Even if I don't feel like it's my best shit, people eat it the fuck up – like people love it."
He seeks versatility in his collaborators, he tells me: "Because I have a really distinctive taste, like, I'm always credited as being really good at picking beats…I've heard that many times. I just like to work with people that understand music to a point where we can come together and create a new world instead of it (sounding) like a feature?"
It's also about comfort and creating an environment in which Anakin can feel safe, abating his anxiety and being able to be his truest self. He likes to incorporate his friends mostly, listing off 2020's FlySiifu (with Pink Siifu), and his Big Fly mixtape series (with Big Kahuna OG) "I'm just big on making music that feels good. Like I can just link up with one of my friends. Sometimes we don't talk about music, but sometimes we'll just kick in and make music all the time."
The pandemic gave Anakin ample time to fine-tune his skills: "It put me in a space where it forced me to sit the fuck down and face a lot of my ideologies," he explains. "Everything has made me appreciate this shit because this music shit is workin' and I always told myself nobody can take it away but the pandemic damn near took it away! So the way I see it now I'm just like, I gotta live it up because if I was in a position where I wasn't able to do the shit I would be complaining, right?"
Now that he's entered the single-player arena with Frank as his weapon, he's ready to lay down his arms, and get to the next stage. What this next project could be is anyone's guess, but outside of music, he wants to move into voice acting in cartoons and TV. Fly Anakin, the brand, is the real trophy at the end of this voyage. "Me naming my album after myself is a step in the direction of living my purpose even more, because people always tell me I'm a star. People tell me I'm a superstar and I got to live into that shit. I gotta live up to that."
His hometown hero status is all but confirmed – there's even a mural of him painted on the side of a Richmon building, alongsdie local producer Obliv, by street artist Nils Westergard. Anakin is beyond easy mode, intermediate mode, or even hard mode now. He's ready to take it to the final flight: "I'm already like a legend in so many people's eyes so now I gotta take it to the next, next level," he says with a nonchalant air. "It's like fuck being an underground legend! I gotta be a star! I gotta blow the fuck up!"
Frank is out now via Lex
Get the Best Fit take on the week in music direct to your inbox every Friday