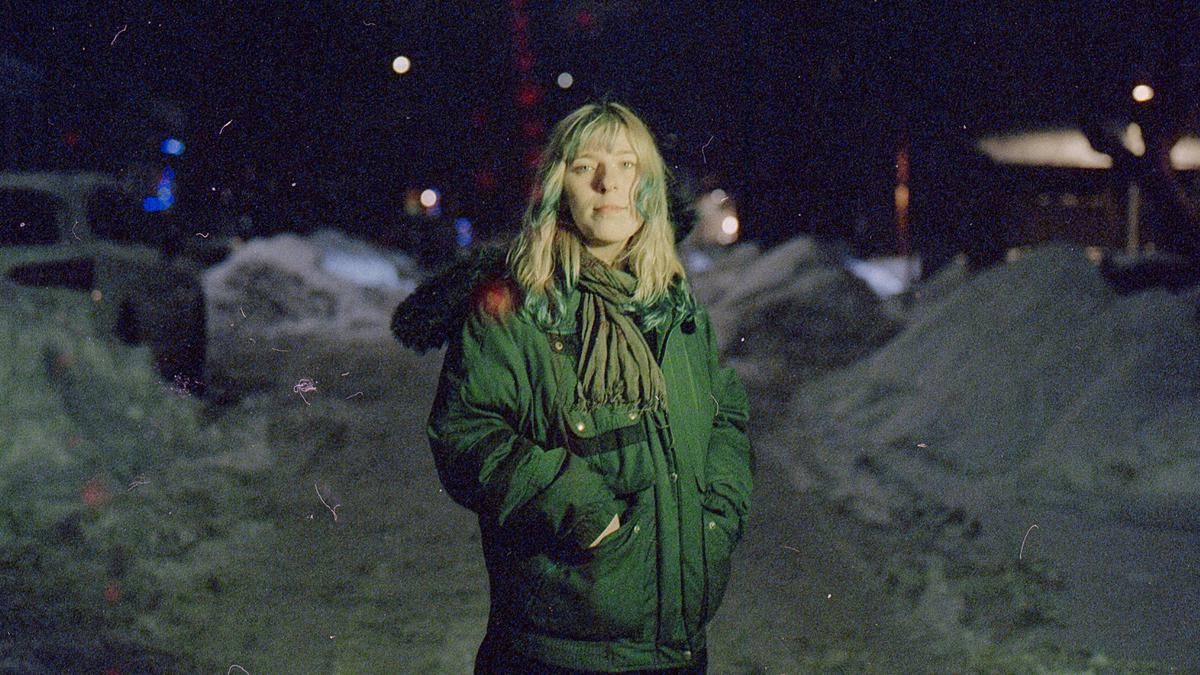 On the Rise

fanclubwallet
02 March 2022, 08:00
As fanclubwallet, Ottawa-based Hannah Judge is telling relatable stories of growing up with a wink and smile.
​​Hannah Judge has taken the idea of thinking out of the box literally – well, at least in the sense of the black-rimmed panels she would draw comics into as a teenager. "If there was something I wanted to say in a comic, but I couldn't figure out how to do that, it would end up in a song instead," the Ottawa-based songwriter tells me. "It was mostly just writing about whatever depressing garbage was going on in university – like walking to the gas station at two in the morning and buying juice and just being lonely. But then I dropped out of university and I moved back home and started doing more music than comics and I was like, 'Oh okay, well I guess this is what I'm doing now'."
22-year-old Judge is as bright and sunny as the practice room she speaks to me from. Relaxed in a grey sweater and half-hung dungarees, with faded blue in her hair, she tells me of her musical beginnings writing songs and lyrics in a dorm room. After first picking up the guitar and ukulele in school, it was studying in Montreal when the idea of being a musician became a possibility. "I was friends with a lot of musicians and a lot of music boys in high school," she recalls. "I was always helping in other people's bands. I did a lot of taking photos of bands in my hometown but I didn't ever really consider it to be a thing I was actually going to do until university and I started volunteering at a music venue."
Judge ended up skipping classes and spending more time at the venue than university. She made her own instrumental "sad-boop electronic music" recorded on her iPhone with a headphone mic and GarageBand, and formed a band with her friend Etta (and then they broke up). "That's when I was like 'I'm gonna probably end up doing more music than I am comics or art," she smiles with a shrug. It's a move that's paid off: through the pandemic she found success with her single "Car Crash in G Major", and a cover of "This Must Be the Place (Naive Melody)". Childhood friend Michael Watson helped Judge complete her lo-fi musical vision, after a severe bout of Crohn's disease left her bedridden in her parent's home. "I've known Michael since the third grade, and they're a producer. We started working together and we just totally clicked and it's kind of all history since then," she explains.
Judge's debut album You Have Got To Be Kidding Me, announced this week, follows a cluster of song releases on Bandcamp over the last two years. Where this full-length differs is in its extensive portrayal of her journey: her Crohn's flare-up, the trials and tribulations of being young, and the sticky complexities involved in growing up. Dealing in personal matters with scathing and winking humour, Judge's voice is as delicate as it is assured. She's also a lot more relaxed now: "I felt a lot of pressure before feeling like, 'Oh my god, I have to make stuff that everyone's gonna like, and I really want everyone to like me'," she explains. "And now I [couldn't] care less. I'm like, 'Okay, I can just make music like for myself and hopefully, people will like it."
Success is an odd concept for her. Spotify streams don't seem real, she tells me; it's the inane things that matter more – such as the recent purchase of a van for her band's tour. The idea of being in a band - let alone being the leader of one - lead her various disbelieving exclamations of "Oh my God. I'm like, I'm in a band!"
No matter where Judge finds herself, Fanclubwallet has become a bigger idea than when she first decided to name it after a kid's wallet that came with a Beano fanclub membership. "I was saying yesterday, it's nice to be confident in music now," she explains. "I've always been confident with comics and art. If you told me I sucked, I wouldn't believe you. Like, I'm good at drawing...I just know. That sounds so self-centred, but I am.
"Now, you couldn't tell me I don't know how to make music," she tells me, a glint in her eye. "I feel like before I used to be like, 'Oh no, people tell me I suck'. But now I'm like, 'Well, I know how to make a song, so I have to be at least kind of good!'
You Have Got To Be Kidding Me is released on 20 May via AWAL. Fanclubwallet plays the Best Fit official SXSW party at on Friday, 18 March at the Swan Dive Patio in Austin, Texas.