Reminded of these points down the phone, frontwoman Ellie Rowsell (and the quartet's only female member) asserts the band are anything but riot grrl. "I don't really see it. The grunge thing, yeah - sometimes I see that. I've long been a big fan of grunge and shoegazey stuff - I love Nirvana and My Bloody Valentine. I wasn't like a huge grunger or anything when I was younger but I definitely liked it amongst other things. There were plenty of bands that were female-fronted with guitars in that era, which is fine because the 90s was a great time for music. But that's not necessarily us."
And she's right. Creature Songs is no one-genre pony. Indeed top-loaded with beefy guitars, earworm melodies and tumultuous drums in the form of "Moaning Lisa Smile" and "Storms", the EP is concluded by two contrasting semi-acoustic tracks that lilt in love ("Heavenly Creatures") and in broken love ("We're Not The Same"). The latter tracks show off the band's versatility: experimenting with dulled breakdowns, earthy harmonies and more fluid arrangements. "We're Not The Same", in particular, is a master of dynamics. Opening with doom-pop guitars and sensual harmonies between Rowsell and drummer Joel Amey, the song slowly evolves into an hefty EP closer replete with ominous reverb and an epic rhythm section. It's this healthy juxtaposition between the loungey skeletal guitar pop of "Heavenly Creatures" and the anthemic rock of "Storms" and "Moaning Lisa Smile" that had us pressing repeat - and why it's our standout EP of the year.
Perhaps Creature Songs' strength is in its delivery; the fact that the band was desperate to get it out to fans. Ellie explains the EP was a far cry from the "frustrating" pressures of getting Blush released, where the quartet felt like they were "scraping the barrel" for material. It feels more like a second album, she reasons: the band older, wiser and bursting with ideas.
"We hadn't written many songs that we wanted to release at the point of Blush. So that EP doesn't flow very well for me. I like two of the songs a lot more than the others - I much prefer "Blush" and "90 Mile Beach" - whereas I like all the songs the same on Creature Songs. They're all dear to me and they all flow well. It's taken us so long to release something (as a follow-up) that we thought it really needed to stand up itself as art. It lived up to expectations and we were really grateful for how everyone was about it."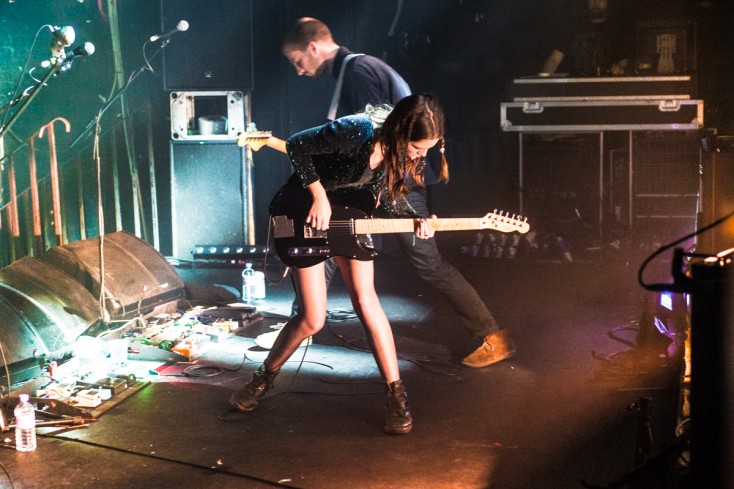 Photograph by Daniel Harris
Despite her criticism of Blush, Ellie does clarify her love for both records. "I feel like they're old friends. It's just that on Creature Songs, it doesn't sound like we just had to chuck something on. I mean, I guess we didn't really do that on Blush, but we didn't have much choice..."
The quartet may have accepted this lack of choice as part and parcel of the music industry, but they also carried the understandable desire of "just wanting people to hear (our) music as much as possible". Creature Songs weighs in on Wolf Alice's unsung versatility and huge potential; a potential that many hope will ring true on their long-awaited Dirty Hit debut.
So is the new album going to be what we expect? "Once the album comes out people will realise that the rock and grunge comparisons are not really our vibe anymore," Ellie reveals. "I think our album is a lot more poppy. That was always gonna happen. We really like it basically and we feel it's quite brave to write pop music because of its bad stigma."
The word Ellie often bands about is the word "frustrating". 2014 seems like it's been the band's year with coveted spots on the front pages of major music magazines and even more coveted spots at major music festivals, including Reading, yet that writhing word surfaces time and time again. It seems to leave a bad taste in the often surly 22-year-old's mouth. "It's been quite a frustrating year because we've really wanted to get cracking with our making our album, but that's only been the latter part of this year", she sighs heavily. A release date for the debut album? "No not really, it keeps getting changed which is quite frustrating. It kinda depends if we can finish before Christmas."
Recording the band's debut is "speeding ahead" for a 2015 release but Ellie has big ambitions for the band in years to come: "As long as it can be our career forever, that would be a dream come true. I aspire to have the kind of longevity, constant progression and good music as a band like Radiohead or someone who change genre and are always getting better. They're still maintaining new and old fans. It's incredible. I'd like to be like that."
Wolf Alice head out on a UK tour in March, playing one of their biggest shows to date at Shepherd's Bush Empire on April 3.