The story starts in 1986, a year that saw the release of two albums in the space of seven months. February's King of America billed as "The Costello Show featuring the Attractions and Confederates", was followed by Blood and Chocolate, with The Attractions in September, a record that was, until now, the most ferociously live-sounding album he's recorded.
The billing of King of America was a clue to the rancour in the Attractions camp, with relations between Costello, keyboardist extraordinaire Steve Nieve and the formidable rhythm section of Bruce Thomas and Pete Thomas tempestuous. Blood and Chocolate's producer Nick Lowe decided to capture the band live for its recording, partly to get as much as possible onto tape in case they split up, but mainly to harness the raw power of songs like "Uncomplicated" and "I Hope You're Happy Now" in a live setting.
Costello played a six-night residency at London's Royalty Theatre that November and deciding which night to buy a ticket for was a lottery, albeit each ticket was a winner. The audience didn't know until the show itself whether it would be an evening of Costello with The Confederates, The Attractions, or The Spinning Songbook, where he'd spin a wheel with 50 of his songs on and play whichever one it landed on. I got a seat in the front row on night three, and after the Spinning Songbook section ended, Costello came out with an acoustic guitar and a sign appeared at the back of the stage saying "Requests". Amidst a host of louder and older voices calling for their own particular favourite, my schoolboy voiced shouted out "Shipbuilding". And to my eternal surprise, he played it.
At the start of our conversation, I tell Costello my childhood memory and he smiles, but asks for a few details to trigger his memory of the evening. "I'm very glad I remembered how to play it. I take it I was playing on my own? I occasionally played it on the guitar, but it's really a piano song. Clive Langer wrote the music, so I always thought twice about playing it on the guitar."
The performance of "Shipbuilding" was a very emotional part of the evening, not just for me, but for everyone in the audience, with the hush that descended over the room as he started with the line "Is it worth it?", which was quickly followed by a round of applause. "It's still emotional whenever we have the opportunity to play it. It's one of those songs that very rarely doesn't get you somewhere when you're singing it", Costello tells me. "I hear Robert (Wyatt) in my head sometimes and the echo of Chet Baker's playing on the record. They're all wrapped up in any performance of it, even if we're not playing those parts."
As our conversation comes to a close an hour later, he remembers something: "I seem to recall around that time I played it on a Scottish TV show. It's funny, you triggered this memory of it, and it was somebody who went on to be in big on television." A Google search reveals he played it on The Kirsty Young Show, where Young not only looks awestruck hearing the song in close quarters, but at one point she wordlessly sings along to his ode to The Falklands War.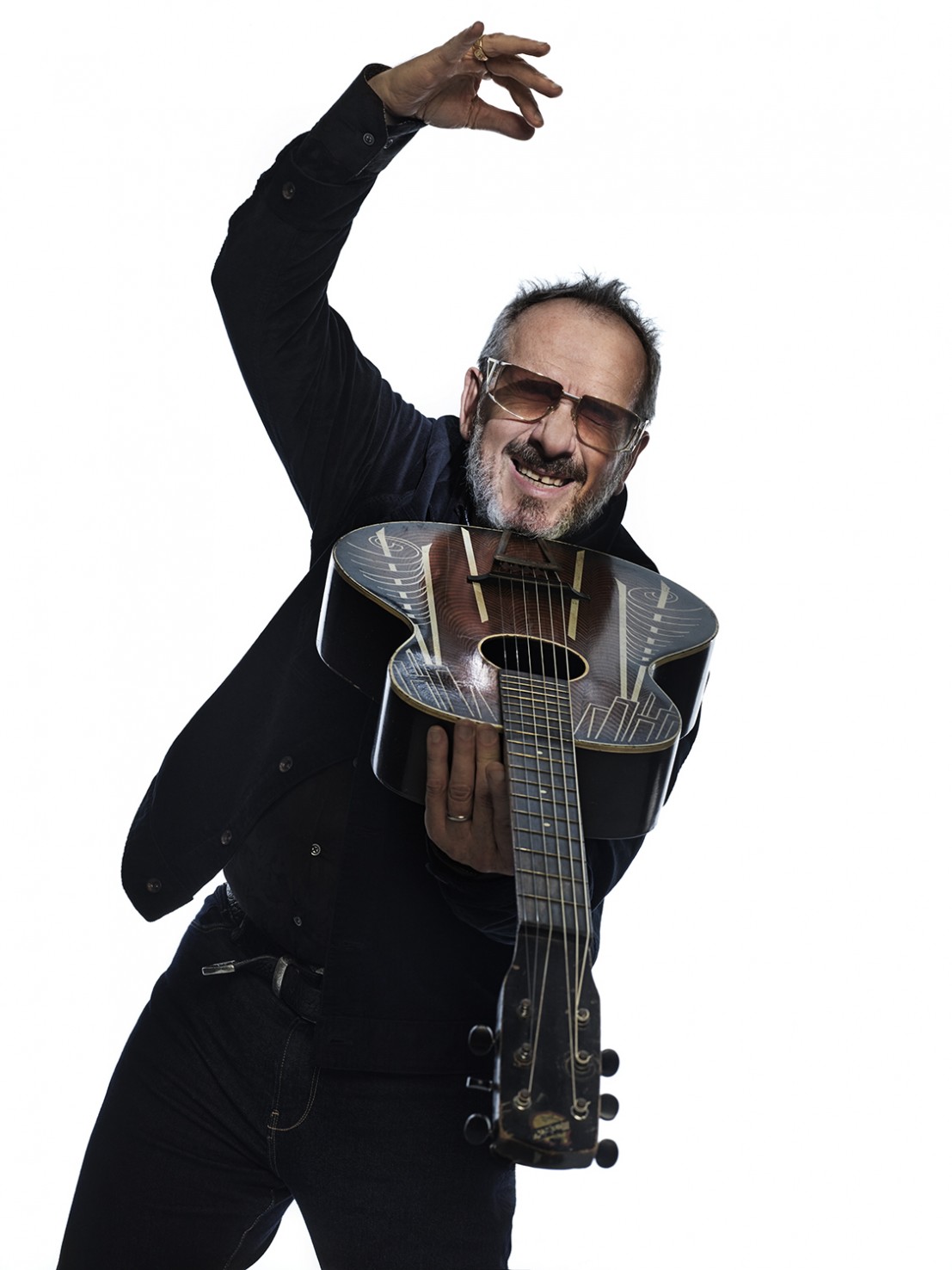 Fast forward 36 years, where as well as his making his own albums, Costello would go on to tackle a range of musical styles, including ballet scores and classical music, and collaborate with two kindred spirits, Burt Bacharach and Paul McCartney, who, like Costello himself, can both be described as amongst the world's greatest living songwriters.
The pandemic hasn't dialled down his prolific nature either. He released the album Hey Clockface at the start of lockdown, a French language EP, La Face de Pendule à Coucou, featuring vocals from Iggy Pop and Isabelle Adjani, a box set of 1979's Armed Forces, and a complete reimagining of 1978's This Year's Model, re-titled Spanish Model, where Latin singers, including Draco Rosa, Luis Fonsi and Juanes sang the songs in Spanish over the original backing tracks by The Attractions.
He's now set to release The Boy Named If (And Other Children's Stories), his 32nd studio album, with The Imposters, his backing band since 2002's When I Was Cruel, featuring Pete Thomas and Steve Nieve from The Attractions, and Davey Faragher on bass. Featuring some of the most pulsating songs he's ever written, it's a record that takes his storytelling to a new level, where as well as the songs themselves, each song is accompanied by a short story and a set of drawings, by the mysterious Eamonn Singer (AKA Declan Patrick McManus, Napoleon Dynamite, and a certain Mr Elvis Costello)
Spending an hour in Costello's company takes in the changing nature of the music industry, what it means to be a songwriter today, the supposed furore over whether Olivia Rodrigo plagiarised from other artists, and what drawing means to him. But the conversation always comes back to and ends with, where we started - with a story - and why of course they're still so important.
BEST FIT: How the devil are you?
ELVIS COSTELLO: I'm devilish. I'm great. I'm in New York and I've been travelling the world all morning, it's like being in a hot air balloon, visiting different countries.
So much has changed in the last two years, before the pandemic artists would play shows and do press tours, but for now it's mostly all on Zoom.
I think of the beginning of last year, when I took myself to Helsinki in a very carefree manner and recorded there and then I went to Paris and recorded there. Then I was on tour with The Imposters and suddenly we weren't on tour. Some of that time was great - to be with the family and not be travelling around - but then it occurred to me we should get on and do something. I finished Hey Clockface, we'd already been working on the sessions for Spanish Model and remixes for the Armed Forces box set. There were all these overlapping things that weren't all supposed to come out all at the same time, but now they seem to have been compressed.
But once we'd been away from playing, there was a feeling that we should shoot off a rocket, see what happens and get to work. There wasn't anything to hold us back except convincing ourselves that it was impossible, which it clearly isn't. You often record in separate boxes in the studio and assemble a series of different performances into the final mix. It's not really that different when you're doing it in different locations. And I think the band played with even more of a lack of inhibition. Do you hear that? I do. Particularly in the drums, it's like 'Wow, let's go'. Pete's really fearless on this record.
When I first heard The Boy Named If, the raw power of the record reminded me of "Uncomplicated" from Blood and Chocolate, where from the off, the listener is hit by the sound of this amazing band.
They are amazing and three of us have played together for 45 years on and off, so you'd think we'd know how it went by now, but you can find ways to trip yourself up, there's no question about that. There's plenty of bands that have played together for a long time but have forgotten how to let go. We've never had any doubt about that onstage, but I think the circumstances gave us an opportunity. The songs were written pretty quickly, mostly with a guitar in my hand. I had the idea of how they went, and they went like that, like you said, just 'bang'. Steve was sometimes called upon to play in a different place than he usually would and that's good, because it made him ingenious. He's been always inventive, but it was him having to be ingenious as well as having to answer the call, rather than set the call that we would respond to.
If you listened to this record, and knew nothing about your history, you'd think 'Here's an album by a really exciting new band."
"I don't mind that, I'll take that if that's true and that's honestly your impression. I've had reason to listen to This Year's Model recently, we had a request to remix "This Year's Girl" with a female voice for The Deuce by David Simon on HBO. That was how that started, but then we opened up the whole box of tricks of "What did the multi-track sound like?" Nobody's listened to them since 1978 and they sounded great, you then take my voice out with a view to adding a different type of singer and you can really hear what's going on. I don't know another band that could play like that. Never mind my contribution as an instrumentalist, those three guys are pretty deadly on that record.
We never, ever, referred to any record from the past, whether it was from five years ago or nearly 50 years ago. We were making this record and it's whatever it is that makes you let go. There are occasions when you catch it and times when you might try to do the same thing and it wouldn't cohere in some way. You've heard records like that, where people are thrashing around trying to make an exciting sound, but it doesn't sound believable.
As much as I love him, personally, I find a lot of latter-day Neil Young records can be a bit like that, where the use of volume feels like the conduit for an energy.
I don't have anything to say about that, because I can't say I know all of those records in detail. He makes records very regularly and the last one I heard I liked fine. It's hard to keep up with everybody when you're working on your own stuff, but I'm shocked when I find there's a singer out there that I should know that I didn't know. That was the case with Nicole Atkins being on this record, I hadn't heard her.
Her singing on the song "My Most Beautiful Mistake" is lovely.
It's really great. It's a theatrical role in a way because she's adding the perspective of the female character in the song without it being broken down into 'He said / she said' and singing alternate lines, because that might sound like an opera. I wanted the colour of her voice as an instrument added to those particular lines.
I didn't know her work until a couple of years ago, when I saw her singing "The Weight" at the 50th anniversary screening of Easy Rider, because Smith, the group that sang it on soundtrack weren't around, although John Kay (Steppenwolf) Roger McGuinn (The Byrds) and Pete Stampfel (The Holy Modal Rounders) were there. They'd stop the soundtrack when the music appeared, and somebody would play it on the stage in front of the screen. It was wild. T Bone Burnett produced that concert, so I met Nicola and it turned out her friend was Louise Goffin, Carole King's daughter, who I knew, and we got talking. That conversation led to an idea about a song, not one that we would write together, but one that I ended up writing. I thought, "Given that I responded to the sound of her voice on this unusual assignment, maybe she can do this unusual assignment."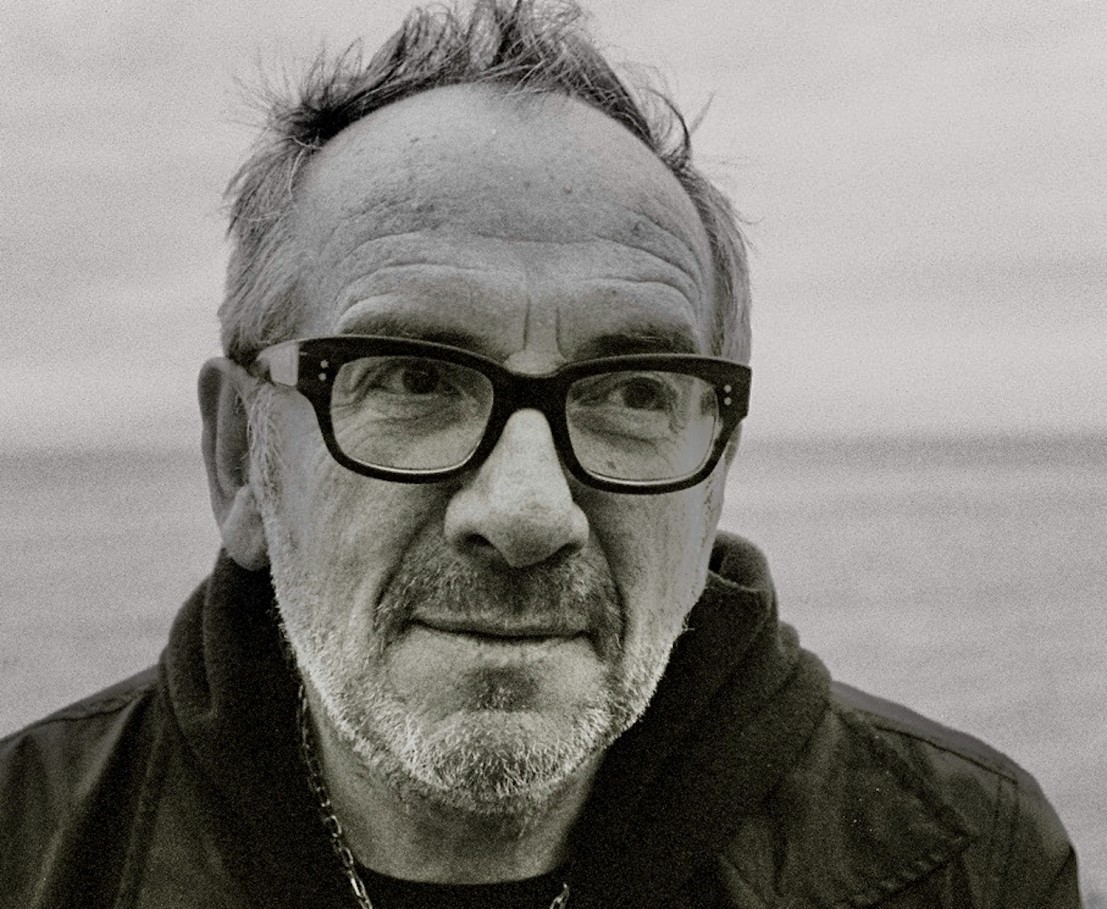 Are there any other artists you've heard recently that have excited you?
I hear things. I'm on some mailing lists and often it'll be a record that came from somewhere really unexpected, where I don't even know what they're singing about but it sounds like they're having a great time. Then there's things where there's some knowledge of what's going on and what's come before, whether it be songwriters in America or bands in England. There's a group called Hardwicke Circus that Dave Robinson, who was one of the founders of Stiff Records, sent me and I thought "That's a good group". There are really some very talented people out there but it gets harder and harder for them to be heard.
My friends Larkin Poe have toured with me quite a bit since they were very young, either opening up or singing in my supposedly solo show. They were great pals in doing that, and they lent a lot of beautiful harmonies and energy to it, but I see how hard they have to work. They make records, but it's like, where's all these records going? How is it set up to support those bands?
I went into a record shop in Liverpool a couple of weeks ago called Defend Vinyl and I was, "You got me at the name of the shop." The guy who runs it has this big flag of Louis Armstrong on the wall and I said, "Where did you get that?" and he said, "In New Orleans when I went to the jazz festival" and I thought "I've definitely come to the right address, because this is a guy that knows what he's listening to." When I went through the racks, I didn't know any of the bands, and that made me happy, because they were on independent labels mostly, that I was still to discover. I bought a few of them out of curiosity, but it doesn't matter whether they're great or whether they're something that somebody else would like, I'm just glad they exist. Because if they don't, then everybody's given up and I don't want people to have given up.
The lack of live shows means it's a struggle for artists at all levels at the moment, from up-and-comers trying to grow a fanbase or get spotted by an A&R person, to established ones who make a lot of their income from touring.
They haven't made any money recently, so that's very difficult. If you're starting out right now, I've heard of bands having to sign away their life's work just to get the privilege of making a record, or their image rights, merchandising and all those things that used to be the add-ons of a little bit of extra money you could make being in the business.
I never like the feeling that I'm a businessman, but I am obviously running a small business when I tour. It's not just the people who play the music, it's all the crew, the truck drivers. When you get to the border and you're asked, "What are you doing here?" you kind of go, "I'm making money for your businesses. I'm the one that's buying the airline tickets and the hotel rooms, who do you think pays for that? I do. So don't give me a hard time about whether I'm coming here and ripping you off." It's a difficult balance, one that a lot of the time you don't want to think about and have to be constantly aware of the budget.
Somebody said to me, "Well, you've been in the music business" and I said, "No, I haven't. I've been in music." It's been my occupation, but I've never defined myself as being in the music business - those are the people from the record company, whose job it is to sell the records and the promoters. I'm in the business of making music. There's a difference. It sounds like I'm splitting hairs, but not really. When you feel it's all about either a little bit of money or a lot of money, it's probably the wrong thing if the music has been designed by the desire to make lots of money, which used to be possible in the mid '70s to the '90s. And then it changed again, and it's always changed.
If you look back at the history of recorded music, there's always something that's come along, that's changed the way we listen to and enjoy things. Before there was recorded music, if you wanted to hear a song you had to go to a place where it was playing or play it yourself on an instrument that you had or whatever else you could render it on. It seems very obvious, but we've sort of forgotten that part of it. And now everybody complains, "It was better in the old days." No, it wasn't. The old days were full of swindlers, and robber barons, just like now, but they had different clothes on and different manners.
That's like saying "In the old days, the politicians were better." No, they weren't. They've always been a bit dodgy and we've always swallowed some of the same lies and some different lies. They've got a bigger megaphone now - global television and the internet - that can back up different versions of the truth, about art, about politics, about astronomy. If you're looking up at the sky with the naked eye it's a wondrous array of lights. If you've got a giant telescope, you can see that's a comet hurtling towards us. It's a very different perspective if you learn that!
You've always been a restless writer, unafraid of tackling genres, whether that's the classical work of 1993's The Juliet Letters with The Brodsky Quartet, or the classic songwriting of 1998's Painted from Memory with Burt Bacharach, but on The Boy Named If it sounds as if your excited about the idea of a rock and roll record again?
You know the only thing it is that I'm at odds with? The orthodoxy of rock. And the orthodoxy of rock lines up with that period of the late '60s / early '70s to the mid-'90s, which was the most money-making time for popular music in terms of the current mass media. The conduit was that people wrote songs, made records of them, they put them on trucks, took them to shops and people bought them. If they were played on the radio, everybody knew those names and the more successful they got the narrower it got, there was money to be made from every aspect of it - radio, therefore advertising, magazines, therefore advertising. Even then, people were writing songs that were product placements even before they'd had a chance to live in the air, imagination and memory.
What was the impact of that for artists?
Once it became an orthodoxy, all other kinds of music were talked down to. If you deviated from the one true church of rock, even if it was to play Rock and Roll - which is that swinging, sexy form of this same music - R&B, Classical music, or Country, you were some sort of heretic. I've been called a heretic a bunch of times. I've literally had letters of apology for things I've done 30 years ago, the penny took a while to drop that it wasn't some stunt, it wasn't to make myself look clever, it was actually that I was trying to learn about music. And guess what? When you come back and pick up the same tool as you began with, you pick it up from a different starting place.
The best songs on Brutal Youth, the first of two records we mistakenly made in the '90s, supposedly with The Attractions (the other was All This Useless Beauty), are ballads, which weren't really defined by the nature of that band in the same way as "Lipstick Vogue" (from This Year's Model) could have only been those four guys. The best song on that record is probably "London's Brilliant Parade" and that's a piece of music I could have never written in 1977. I couldn't possibly have written it until I got to the point where I'd gone off, done these other things and come back.
I'd spent the last two years singing with a string quartet and turning corners in music in a different way. Each one of those adventures were instead of an education. I never went to university, my reading and writing was of my own volition and so was my learning of music, and I learned it selectively. I didn't learn to write music down until I was 40, because I had no need of it until then, but then I did need to, so I had to gather more technical skills to communicate coherently.

What drives you to collaborate with other musicians from worlds as diverse as a ballet with The London Symphony Orchestra on the album Il Sogno, to a Beatle?
The desire to work with people in other fields and music is not because I've forgotten how to play Rock and Roll. It's because I want to find out what happens the other side of that door. I want to find out what I can learn from working with those people, whether they're jazz musicians, classical musicians, an orchestra, a string quartet or another songwriter. Why would you not be curious and not take up the opportunity to find out what comes of that? Why would you turn down an invitation to write with Paul McCartney? I could have never dreamed of it, I never even thought I'd meet him, much less write with him.
All those things were chance or came out of friendship, and out of them, I hope I learned something of use. But inevitably, there's occasions where you pick the guitar up again and instead of being uniform and orthodox, it suddenly seems completely unexpected again and all the possibility that it ever had is there once more. But probably only because you've got perspective on that, from having done something else.
Perhaps that's why The Boy Named If sounds so fresh, because you've been trying other things?
Yes, and some of those things I'm really proud of, like Look Now the first record we made with Sebastian Krys in 2018. We'd made agreements about the shape of the songs, the exact tempo and the space we would leave, because I conceived it with orchestration and it was how I dreamed records were made with Dusty Springfield and people like that, that I love. I wanted to try and make one of those, with what we'd learnt about how to play with that little bit of restraint and not fill up every space.
But also, I'm going to put whatever instrument it needs on there. There's a solo bassoon played by this genius, jazz bassoonist. Who knew such a thing existed? I do, because I played with him, and he's wonderful. I wanted that sound, so if I had Steve playing all over that space, you'd would never hear it. The Boy Named If was much more based on the trust of everybody responding to each other, it could have been in the moment, but it happened to be in a series of consecutive moments that accumulated to what you hear in the final mix.
I wanted to ask you about your response to Olivia Rodrigo being accused of plagiarising "Pump it Up" with her song "Brutal". You tweeted: "It's how rock and roll works. You take the broken pieces of another thrill and make a brand new toy. That's what I did." Lots of people were damning of her, but I think one of the beautiful things about music is hearing connections between songs from completely different contexts.
I think if you took a shape of melody that was so obviously a bad gloss of somebody else's, you would have a case. But that particular thing seemed to be a common language shared by a bunch of songs, and I could give you the continuity of songs, and you know what it is I'm sure, traced back to Chuck Berry and probably beyond that, through Bob Dylan to me.
What about U2's "Get On Your Boots"? Not a huge hit I have to say, but Dylan actually said to me as a joke one day when I happened to go to his show, "How could U2 do that to your song? How did they take your song like that?" And I said, "Well, I think you're making fun of me now. That's a joke, I guess", because obviously he must know that I stole that delivery of "Pump it Up" from his song in the same way.
From "Subterranean Homesick Blues"?
Yes, and from as many songs in between that you could also identify the same way, but you could obviously hear the debt to Chuck Berry's "Too Much Monkey Business" in his song, so what's original in that sense? It's some words being spat out in a rhythm. If I'd known how many people the producer of that record would subsequently credit with writing credits, I might have thought differently about it! And said, "Thank you very much, that will be a million dollars please!" But you know what? Easy come, easy go. I really don't have any ill feeling to it. There are a few people that got credited subsequently, but my guess is their lawyers went and made sure they did.
There were quite a few artists, including Taylor Swift and Hayley Williams from Paramore who ended up getting writing credits on Sour.
It's not my speed and I don't see it that way in this instance. Who knows? This young woman may have a huge career, or she may just make one record. When people were like "Taylor Swift will be here today, gone tomorrow," I thought, are you really sure about that? I think we'll all be working for her eventually. She's smart and she knows what she's doing. She can write and sing, and people love it. What's the matter with that?
Another thing that's great about The Boy Named If is that it works on multiple levels in terms of storytelling, from the music, the lyrics, the artwork to the short stories. It must have taken you ages to pull all these different artistic strands of the record together?
Not really, because when you've got something moving you on, it either comes or it doesn't. I've applied myself more to developing the drawing not because I've become super better at it, so much as I'm moving away from just subverting posters and record sleeves. At first I was drawing faces on my record sleeves for kind of comedy as a backdrop for the tour that we did based on Imperial Bedroom, and then they became more personal - darker in some cases and funnier in others. I did it to keep calm really, a contemplative thing to scribble on an electric screen, because I can't draw with a pencil or paint with a brush. It's a bit like sampling in a way, I can borrow bits of pre-existing technique that I didn't go to art school to learn.
I became more determined about it because it became more valuable to me in a sad way. It was in 2018 after we made Look Now, and my mother was very ill in hospital. I spent a lot of time visiting her for a five-week period, when it wasn't sure if she was going recover from a stroke. It's very difficult to sit for a long time. If she'd wake up, I'd say a few words and she might respond for a little bit. There's a lot going on in a ward, other people are crying, screaming and sleeping, the nurses are coming in and out, and you're trying to stay in a place where you're not panicked. With drawing, I could withdraw into that, it didn't really matter whether it was of consequence to me at that moment, it just mattered that I was doing something that wasn't agitated.
Where did your drawing go from there?
In the end, it became personal to me - to express things that way in conjunction with the songs. When the idea of the record came together, having written these songs and recorded them, initially I was then told there would likely be no physical product, because of the lack of vinyl. So having already drawn the cover of the record as a storybook I suggested that I make that a reality, that you could open it and read within it. Then I wrote the 13 short stories with the same titles, thinking, "Well, this is the scene that occurs immediately before the song starts, or the epilogue or the background detail." The pictures are some sort of commentary on that, some of them are funny, some are a bit unsettling, some are macabre. And that's appropriate, given the lyrics, where some of the brighter songs have very sad or troubling themes.
The way the lyrics, short story and artwork interweaves for "Penelope Halfpenny" is fascinating.
"Penelope Halfpenny" is about a young woman and she's based on somebody that did teach me. I won't say it's exactly a likeness, because as a songwriter you try and make something a little more amplified. The idea is that a teacher can be a person, and that person might not be in the right occupation. The lesson she imparts is not the book they're studying, it's that she embodies a possibility of life, where when you're a teenager, you go "One day, I'll be like her".
Not everybody who's a teacher is a tweedy person, covered in chalk dust. This is a groovy person who goes to parties and wouldn't it be great if I was like her, or knew somebody like her? I remember that being thrilling, but not in a simplistic way of saying, "Well, you're in some way attracted that person", so much as they represent all these things that you don't really understand yet.
Even though the record is called The Boy Named If, there's also themes of what it means to be an adult dropped as clues throughout the narrative.
"A few of the songs, like "The Boy Named If" and "The Death Of Magic Thinking" are little scenes or glimpses of what it is to leave the wonder and the imagination of that unselfconscious celebration you allow yourself when you're a child. And then you blunder into these uncertain years of unworthiness, where you're forced to study trigonometry while trying to decode your animal instincts. And some people never really get over that, they get into their 20s, 30s and 50s and they're still making excuses for themselves. Then "Mistook Me For A Friend" is a shore leave kind of song, where you're abroad in a town and you don't know who's your friend, who isn't your friend, who's your lover. That's a familiar story to me, I lived through it. It's not a specific time and place, but it's real, so I could write it.
And then there's closing "Mr. Crescent", where instead of looking forward with a sense of uncertainty and possibility, it's a reflective story, where it's too late.
Mr Crescent is a disgraceful old scoundrel. I'm not saying I'm a disgraceful old scoundrel! But he's obviously much older. He's looking back at his life of petty crime and business malpractice, but he also has this one sad secret. He once seduced a novice, he made a woman betray her vows to the Lord, and it's a pretty big transgression. At the very end of the last song on the record, he says, "I'm so long from the land that I came from / I wonder where my Honey has gone?"
He's still longing for her in some way. So is that romantic, or is it looking for forgiveness? I deliberately didn't want to tie it up in a bow. Everybody will hear it a little bit differently, if they're listening at all. You also have to say, not everybody is listening with that much intent, you put things in hoping people will find them.
I think the people that care will always find this stuff. There are layers in songs of a certain calibre that the listener keeps getting more and more from. I listened to Punch the Clock for the first time in ages recently and I'd forgotten how much I love "Love Went Mad", and what a tune it is.
It's a good tune, but I don't think it's much of a song. I put it on and took it off the record a couple of times. I was going to put another song on in its place, which was a much better song, but by the time I made that decision, they'd already pressed the record.
Well, I'm glad they kept it on.
There are others like that, that are people's favourites for all sorts of strange reasons, and there are some of my favourites that I might pull out in a concert and make the case for that story. One of the songs which always comes more to life in concert than it did on record is "Stations of the Cross" from National Ransom. Not many people know that song but when we play it, it becomes very vivid and that's a good thing, because that proves the point that songs aren't necessarily finished when you record them. Not that you're adding anything to the text, changing the harmony or the rhythm, it's the emphasis on the moment.
There's a danger when you've new material that you really urgently want to play. We had this unusual situation at our recent shows where my newest songs were from Hey Clockface and this record, that weren't released yet, but I couldn't wait to let The Imposters at the songs. So we ended up playing five songs from Hey Clockface and seven from this record, which changes everything and changes the way you approach the older songs. The last thing you want to do is have old song / new song alternately. That just sounds eccentric, you have to thread a coherent story.
The Boy Named If (And Other Children's Stories) is released on 14 January via EMI/Capitol