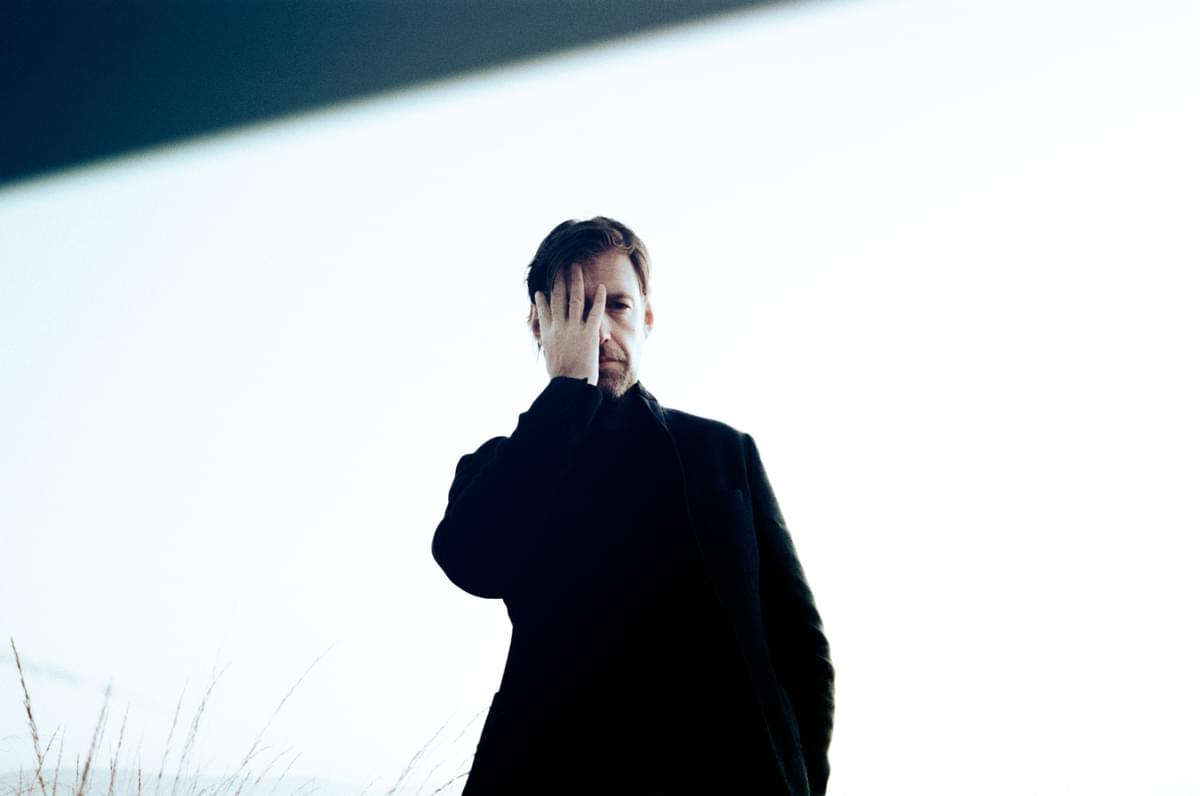 Ed O'Brien is taking inspiration from nature for his long-awaited debut solo record
25 April 2020, 10:45
There are plenty of gems in Radiohead folklore. One that stands out in particular is the moment Thom Yorke stepped over to his bandmate Ed O'Brien during their career-defining Pyramid Stage set at Glastonbury 1997 and whispered "I'm off mate, see you later".
O'Brien quickly pointed out, "if you do, you'll probably spend the rest of your life regretting it". "Good point," Yorke responded as he returned to centre stage.
It'd be pretty hard to refute O'Brien's confident, cooly-assured comeback; It even rings true over the phone after a run-in with a suspected spell of Covid-19. "I hadn't been tested but thought I most certainly had got it," O'Brien explains from his self-isolation in Wales. "I feel really good now though, much better".
After a 35 year career, it'd be hard for anyone to draw from the same inspiration they once did - particularly if you've been one-fifth of one of the UK's most legendary, forward-thinking bands.
O'Brien's debut solo offering seems to have been a long time coming; the raging "Banksters", for instance, dates all the way back to the 2008 financial crash. When approached by fans, he would jokingly refer to the long-awaited Earth, released earlier this month, as his 'existential dance record'.
"I was trying to make music where you feel the bigger picture, you engage with the big questions of life," he explains.
With the world currently in lockdown, it seems to have arrived at no better time.
"The funny thing is that the earth is very happy with what's going on at the moment, pollution levels are down. Obviously it's hugely traumatic for most of humanity, but you know, we're in a climate emergency as well," he ponders. "We don't know what lies ahead but there's a deep sense that perhaps things will never be the same again, but maybe that can be a good thing as well.
"I was just reading something by a virologist earlier. He was explaining that in the antarctic, viruses can lay dormant under the ice. These scientists were drilling down and this virus came to the surface. I'm not saying this is where Covid-19 has come from, but there's a lot of stuff being thrown up in the air, and our relationship with nature moving forwards has got to be front and centre. Perhaps it's all part of the climate emergency, the more we spoil the earth, the more these things will get released. "
O'Brien's affinity with nature is crystal clear. When a hacker threatened to release sixteen hours of stolen recordings from Radiohead's OK Computer sessions last year, the band immediately made them available on Bandcamp with proceeds going to Extinction Rebellion. In 2012, he moved to a house on the edge of the Brazilian rainforest with his family - 'an adventure' as he refers to it. Now he owns a house in Wales.
Besides providing an idyllic setting for quarantine, the Welsh valleys also played a significant part in Earth; an apt title for an existential dance record if there ever was one. Initial work on the project started in a rented cottage in the Ely Valley; an environment he wanted to emulate across the project.
"There's this Celtic expression, 'the thin place', that refers to somewhere where you feel the veil between this world and the other world," he says. "Or the visible and invisible world if you like. It's where you feel a connection to something else - it's not something you can rationalise, it's somewhere that makes you feel very differently and Wales certainly holds that for me."
The resulting record finds two forces at play - a softer, acoustic side that pulls from the isolation of nature and a more danceable, groove-laden counterpart that honours the communal spirit; the existential dance side of the LP.
"Those times when we come together, and you're seeing this every day at the moment like the weekly cheer for the NHS, these are really beautiful moments. So much of the news and modern society focuses on how shit and unkind we are to one another. Part of human existence and free will is that we're capable of doing incredibly disruptive things individually and on mass but we've also got the seed inside us to do incredibly kind and communal things which you feel particularly at Glastonbury and Rio Carnival."
It's no coincidence that the fluttering synth-led opener is entitled "Shangri-La". The song is an ode to the after-dark wonderland of Worthy Farm; "Being at Shangri-La at 4 in the morning with your tribe, there's really nothing like it. It's a time when you come together - you have connections with people, you have conversations with people, you dance with people, you hug with people. It's that time when you celebrate the brotherhood and sisterhood of what it means to be a human being on this planet."
From the looks of it, 2020 is going to be deprived of these sorts of celebrations. When I talk to O'Brien it's a week after Glastonbury 2020 is cancelled along with the rest of summer's main events.
"We're all going to miss it. The first Glastonbury I went to was in 1990, I had just finished my final year at Manchester University. I went with a bunch of friends from Manchester. I remember being very excited because the Happy Mondays were playing on the Friday night. I didn't have a very good time, I hadn't really found my festival legs so to speak. It was pretty hardcore in those days especially before the fence was put up."
As the legacy of Glastonbury Festival grew over the years, the site became overwhelmed with gate-crashers taking advantage of the laxed security measures. The Eavis family were forced to put up a twelve-foot fence in the early 2000s to prevent non-paying punters from descending on the farm.
"It was definitely more counterculture and edgy, and a lot of people liked it that way - but if you're at all vulnerable, and I felt very vulnerable - I was not in a great place in my life - it brought out a darkness. I remember watching The Cure headline on the Pyramid stage and it was extraordinary, because I wasn't having a great time that music was sort of perfect - you know, "A Forest"' comes on and I'm lost in a forest of people almost. That was my first experience, then we started to go as a band, we played in '94, '97 and 2003 and then back in about 2008, my wife and I started to go every year.
"What's really great now is that teenagers and kids can go now, they're well looked after. I remember just seeing people lost and completely left to be years and years ago. Now people look out for one another, your 18-year-old self could go and even if they took the wrong thing or they overdid it somewhere, you know you'd be looked after whereas in the old days, you'd have to fend for yourselves."
I recall the time a friend dropped his wallet at some point over the Glastonbury weekend only to find it arriving weeks later in the post untampered with accompanied by a note wishing him well and hoping he had a great time.
"That's not surprising - that's the Glastonbury spirit, that's the thing of a tribe and your community. That's how we can be but the forces of the modern world and the media, the economic structure that weighs upon people - it's so hard and that's why places like Glastonbury and Carnival are so important. They remind you how kind and good people can be to one another."
The strands of that existential dance record surface on tracks like "Brasil" and LP highlight "Olympik"; an 8-minute opus that finds bassist Nathan East and drummer Omar Hakim unfurl in their untethered glory. East and Hakim, both of whom have an endless scroll of credits on their respective Wikipedia pages, came to O'Brien's attention after he heard their contribution to "Get Lucky".
"I got in touch with them via Daft Punk's management. The combination of mine and Flood's [producer] perspective combined with the soul, humanity and authenticity of Nathan and Omar was the dream scenario. The reality is for the past 30 years I've only ever really worked with four other musicians which is brilliant but also I wanted the experience of working with others as everybody brings something unique in their soul and musicianship".
"Banksters" is the only moment that deviates from the records over-arching theme and takes aim at our global economic structure. "This system that we've brought up is so fucking hard for most people and I'm one of the lucky ones," he says. The track finds O'Brien spitting "where did all the money go?" over a tense instrumental.
The attachment to nature emerges in the sparser acoustic arrangements. "Mass" is an instrumental mood piece that finds O'Brien exploring the sensation of looking down on earth from outer space. Closing track "Cloak Of The Night", a duet with Laura Marling, is a lovely dusk-lit lullaby that chronicles two lovers weathering a storm.
"Going back to my childhood, I always felt really alive and happy out in nature," he recalls. "It takes you out of the drama and the detail of the material world and roots you in the bigger picture, it makes you ask why am I a human being walking on this planet? It links you to the past as well, that might sound a bit wanky but that's the only place I can write songs I find."
"It's no surprise that in the past ten years Radiohead have only made two albums - there's an honesty there."
O'Brien has had plenty of time to reflect on his craft as part of a band who have delivered several modern classics in their time. "I kind of think that a lot of bands who don't have things on the outside tend to end up not making very good records," he explains. "You have to be inspired and - when you think about it - keeping five people bound together moving in the same direction and being continually inspired by one another, it's very very hard.
"It's no surprise that in the past ten years Radiohead have only made two albums - there's an honesty there. When we come back together to make an album, we do it because we want to work and we're inspired. We couldn't do it all the time because we're not inspired to do that, it's not like around the time of OK Computer or Kid A where we were just in it the whole time and we were inspired, we've had that experience and the great thing is that everybody's doing their own thing, making their own way and their own kind of music.
"When bands are in alignment, they're incredibly powerful - you've got a group of people where everything works but you know, it's like relationships - it's not always like that. There are times when it doesn't work and I think for everybody involved, those times can be frustrating - everybody in a band knows that, everybody knows that bands are inherently dysfunctional.
"If people don't like what you're doing when there's five of you, you share the load. When you're in a gang, you can sort of go "ah, fuck 'em". In a way as a solo artist, you're a lot more vulnerable to the slings and arrows. I've certainly had my doubts in the past few years and continue to have my doubts but what sustains you is that at the heart of it, you really feel strongly that you're doing this for the right reasons, and it comes from the right place. Yeah, you can be knocked off momentarily but usually a good night's sleep and a conversation with my wife puts me back on track."
Radiohead have always been shrouded by an intangible mystique, continuing to put out music that rarely wavers in creativity. A shared appetite for curiosity has kept the group thriving for over three decades.
"Insecurity is a fundamental part of making new music. When you start to feel that it's good because it means you're doing stuff that you've never done before - it's new, it's unknown and it's uncertain. I spent the last three years outside of my comfort zone making this record feeling right on the edge. Feeling uncomfortable being creative at times and hearing my voice back on a monitor mix. That's a good place to be because that's how you get better, that's how you do new stuff.
"For me, the bigger picture as an artist is I want to have new experiences, I want to grow and not keep doing the same thing. That's the thing with Radiohead, we never made the same records, we moved on and we wanted new experiences, that's in my DNA, that's what I want to do. I finished this record a year ago and now it's being released, I'm already thinking about my second record, there are things I want to do differently and it will be a reaction to this record - fear and discomfort is all part of it."
Earth is out now via Capitol
Get the Best Fit take on the week in music direct to your inbox every Friday