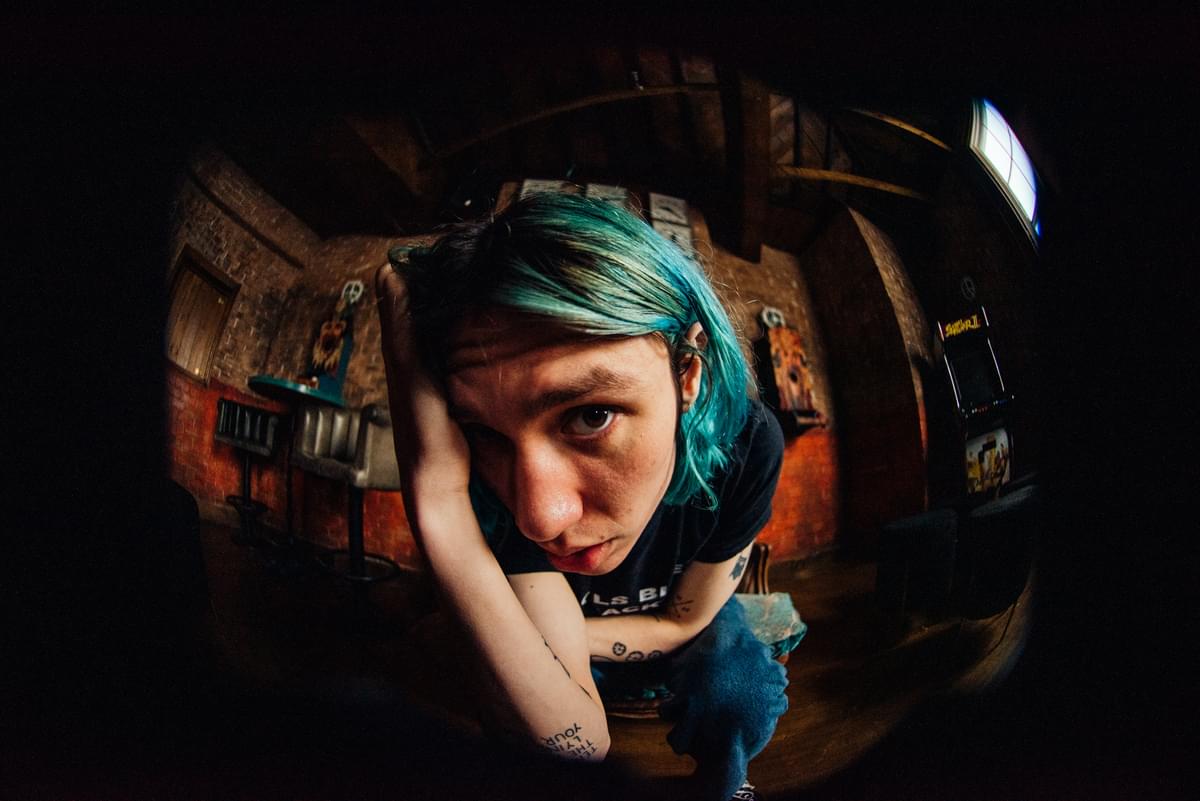 On the Rise

Daisy Brain
11 April 2022, 09:00
The brainchild of East London-based songwriter and producer Will Tse, Daisy Brain is injecting a throwback to grunge with new life and an imaginative slant.
If you're looking for Daisy Brain, follow the incoming tide of fans spilling from Chalk Farm Station: a flood of rainbow-coloured box-dye, scuffed Converse with trailing laces and sharp-winged eyeliner. It's only mid-afternoon, and already they gather loyally outside Camden Assembly Hall for the band's headline show, armed with Daisy Brain t-shirts tucked into miniskirts. It's a rite of passage for Camden's youth, this curb-side devotion, forging friendships from a recognition of shared passion.
This cohort of kids will be able to say that when it comes to Daisy Brain, they were there from the very beginning. Fronted by singer-songwriter and producer Will Tse, the four-piece deal in bitter, bruised realities, sweetened with a snarky, tongue-in-cheek kick. Daisy Brain bleed from the same wound as grunge, share the barbed wit and vitriol of their punk progenitors, and craft anthemic hooks that point to a pop instinct – they are all of these, and yet, they are also none of them: the band are in an orbit all of their own.
After supporting Yungblud on his UK tour alongside star-in-ascent renforshort, Daisy Brain have become a breeding ground for a ride or die community of fans who they have to thank for tonight's sold-out performance. Will Tse's kool-aid blue hair is tucked into his hoodie, the strings pulled tight; he's necking a litre of orange juice, trying to stir up the momentum for the show while navigating the disorientating demands of life on tour.
"Yeah, it's pretty mental," Tse smiles, when I ask him about the fans outside. Some of them, he says, have been following the band around the country. "We've done a couple of gigs since our support tour with Dom [Yungblud]. I guess, at that point, they were still trying to figure us out, just turning up because they liked our tunes. But I've noticed a big shift since doing this tour: everyone's turned up as Daisy Brain fan - not just Yungblud fans who happen to like Daisy Brain." He tells me about that first flush of elation at being able to stop singing for a moment, and the crowd easily and effortlessly carry the song for him. "That's never happened before", he says – it could just be the exhaustion talking, but he speaks with a kind of dazed disbelief.
Tonight, despite a nauseous concoction of exhaustion and social anxiety, he will meet them at the doors as he does every night: he will sign posters and t-shirts, of course, but more than that, he'll have the chance to talk to them, get to know them a little. "You really need to give them back what they pay for a ticket – I mean, they've paid to support you," he points out. "You need to show them that they really care. At the end of the day, these people are the ones who will go the hardest in two years' time and will tell all their friends. They're our OG, core fans, and I need to show them Will, rather than Daisy Brain."
It's a curious paradox: Tse is deeply introverted, shifts uncomfortably at the thought of demanding social situations, and yet, if you put him on a stage, there is an almost fantastical shift. "I wish I had the confidence to go down there right now and talk to them without the boost that I get from playing a show," he shrugs. "I couldn't do that if I didn't have this show tonight – if I saw a fan in the street tomorrow, I think a part of me would freak out. I just switch before I go onstage. Something switches. It's almost like fight or flight… I guess it's just that slight fear of not being accepted, which I've gone through my entire life." He grins, "So now's the time to fuck off my feelings and just do it, see what happens."
Born to Chinese and English parents, with a childhood spent Tse has always struggled with a sense of liminality: of belonging neither in Singapore, where he spent a difficult childhood, or in the outskirts of East London as he navigated his adolescence. "I don't like going out at all," Tse admits. "I don't drink, either, which definitely doesn't help. I get really bad Asian flush, so whenever everyone else is drunk and having fun and being really sociable, I'm usually in the corner, sober. That has been such a limiting factor in my life: I can't seem to connect with people past 11pm because people get drunk, and I'm still just myself."
A sense of belonging had never come naturally – but through his forthright honesty, uncompromising sense of self and a gift for gallows humour as a spoonful of sugar to help stomach topics that leave a nasty taste, Tse created Daisy Brain: a world which he, and everyone like him, can call home. That's what compels him to write, to drag the sludge of what is left unspoken to the surface, to stare heaviness unflinchingly in the eye – it's all for those people outside.
"I want to write songs that help people go through what they're going through – because I needed that, and I found it in music: in My Chemical Romance, in Matty Healy. I want to do the same thing. I love going mental onstage, but I get the feeling of, 'Oh my god, I can't believe I'm doing this', from letters I receive." He tells me about the notes and letters passed to him after shows or sent through the post: heavy confessions more easily written than said aloud. "They'd say things like, 'Daisy Brain saved me, I haven't cut myself in six weeks'. Since that, I'm like, 'Wow, I wish I'd heard a song that stopped me hurting myself'. I think that's the most impactful thing, hearing about a change in someone's life from three minutes of music."
The band's second EP, Disconnected Happy, picks up where their 2021 debut Let's Go Camping left off: a bleak - yet nevertheless anthemic – portrait of addiction and pale imitations of intimacy in a world of casual connection. But with this four-track project, Tse is learning to laugh in the face of misery, embracing the grey area where comedy and tragedy are indivisible, where joy is a form of resistance. "It's about being comfortable in your own skin, being comfortable with your own emotion and how you feel. I wrote a lot of it during lockdown, so I feel like everyone had that self-realisation of looking in the mirror and seeing who you are, how you really feel and what you've been hiding for so long."
Disconnected Happy is a crystallisation of a moment in time for Tse: four snapshots from a world and mind tipped upside down. "I had these feelings bottled up for so long," he explains. "I was just fed up of it. I write music every day, and usually it's quite sad, but with these songs, I was just so frustrated – like, 'What the hell, why do I still feel like this?'" The cold-sweat fever of "What Would You Do" is a desperate interrogation, demanding to know why there is no escape from his own head: "What do you say when you keep things to yourself and you don't know what else to say so you just / Waste time going 60mph in your head?"
"It takes me back to a feeling of like…" he hesitates for a moment, toying with his hoodie strings, "there have been a few nights where I've not gone out because I felt really awful, mentally, and then my mates would pick me up, I'd go out anyway, and have an amazing time. I'd be out, still feeling sad, but in this weird world where I'm dancing. I might have been feeling like shit, but I was letting it out and having fun with it rather than being sat at home, feeling sorry for myself. That's what I want for our fans: there are loads of people in our fanbase who struggle with mental illness, and while you need help and therapy, there's another side of it, where it's like, 'Go and enjoy yourself. You're sad, whatever – go out and be sad, and you'll find that when you're dancing, doing whatever, it helps you to feel comfortable in your skin.'"
It doesn't come easy to Tse to talk about his feelings out loud. He feels like they take up too much time and space - but on a page, the words run for miles. If you look up Daisy Brain's visualisers on YouTube, in the description, the lyrics aren't neatly split into lines, but frantically bleed out with hot-headed urgency without pausing for breath. Looking at it that way, there are points where Tse's work is closer to a kind of poetry.
"It's why I struggle to make a chorus," he explains, "because I don't want to repeat myself. You know William Burroughs?" He tells me about how he read Junkie, the seminal novel by the postmodern, Beat Generation writer, who influenced the work of The 1975's Matty Healy, who in turn, influenced Tse. "He just talks his mind, and at first, I struggled so hard to understand the book and grasp what he was saying because it was constantly moving: every page, new characters; every page, new places. His way with words is just so fast."
The novel is a documentation of Burroughs' experience as an addict: a notoriously uncomfortable, difficult read. While he hasn't excavated deeply into the Beat Poets, Burroughs' words stuck with him. "I resonate with his story more than anyone else," he says. "I've struggled with a lot of the things he has gone through, and when I read it, I'm like, 'Yeah, I completely get it.' The stuff he had to say wasn't surprising to me. I've had experiences – not quite as similar to his – but I've seen a lot of horrible stuff, which is probably why I write songs."
Tse's love affair with music was interlinked with his first act of rebellion: at ten-years-old, he stole a Green Day performance DVD from HMV because he was too young to buy it. It held the promise of a different world he could belong to when he only felt at odds with the one he was already living in. It was an antidote to the chart-dominating music he was exposed to in his infancy, of Kylie Minogue's 24-karat pop hooks and Snow Patrol's lovelorn ballads. While he was subconsciously shaped by these sounds, when Tse was old enough to develop a taste of his own, he armed himself closely with artists who wore their torment on their sleeves, twisting their alienation into angular guitarwork and earworm hooks. Radiohead, My Chemical Romance and Nirvana were almost a holy trinity to Tse, who embodied the idea that negative circumstances beyond your control can be reworked into positive outcomes that you have a say in. Kurt Cobain, in particular, represented a world in which you don't have to compromise who you are, hide your vulnerabilities and eccentricities, to accomplish something.
But unlike the artists he admires, Tse doesn't like to think of himself as a frontman for Daisy Brain. "I just do what I do, and I've been sort of put in the frontman position because no one else can sing the songs I write because they're so true to me," he tells me. "I wouldn't want anyone else to sing my songs." Daisy Brain is really an effort of two: himself, and the affectionately named multi-instrumentalist 'Russian Dan' (Dan Hvorostovsky), who Tse met at music college in Leeds back in 2015. He patiently rewires Tse's chaotic creative process, making sense of all the knots and tangles.
Hvorostovsky was one of the few musical allies he made at his time there. "It was really cliquey… really cliquey," Tse shares. "I went in there with maybe way too much of a negative mindset. I didn't think I was the dog's bollocks, or anything, but I went in there and everyone was playing funk, soul and jazz, but all I wanted was to make as much noise as possible, and no one wanted to do that with me. I hardly made any friends. The only reason people wanted to make music with me was because I could produce. That was it."
At that stage, Tse was trying on a spectrum of styles: some were several sizes too small – like that time he uncomfortably admits he was making straight-up pop music – and others, in the vein of grunge, started to feel like a second skin. The pair, hunched over Tse's laptop in his bedroom, began to lay the foundations of a sound that would become Daisy Brain without it even having a name to describe it. Inspired by sounds of yesteryear, like the heavy shoegaze of My Bloody Valentine and the rusty switchblade guitars of Pixies - but produced on a laptop without the luxury of band rooms or studios - was the very essence of Daisy Brain: a nostalgic sound with an entirely modern, self-made approach.
Bringing onboard guitarist Jess Ayres and drummer Gav Sullivan who they met through friends of friends, the broader picture Tse and Hvorostovsky were trying to paint was coming to life. Always, they wrote music with the vision of how it would play out on stage, where an audience was inseparable from the sound itself. But Tse is quick to stress that getting this far was by no means easy: it took a string of dead-end jobs to make ends meet, and a thousand failed attempts, to earn this clear sense of identity.
"We've all been in bands for so many years," Tse explains. "You can't expect to go and play in front of 100 people the first time. You've got to play to, like, four – and that's your parents, and your mates' parents. That's it. That's all you're getting. You'd be really lucky to play in front of 100 people the first time, and even luckier to play in front of a crowd any bigger than that. We've not just come out of nowhere. We've written so much music and worked so hard to get to this point. We went quiet for two years and just wrote, because we'd had enough experience in the real world to know how to be a band, how to play a show, and then we could just focus on making the songs good and finding an identity for ourselves."
Through finally letting go of the white-knuckled grip Tse had on these feelings of frustration on Disconnected Happy, he's no longer trying to disconnect from the world itself, but instead, from what other people think. "Stop worrying what people think you're going through. Stop worrying what people are going to think when you tell them what you're going through. Disconnect, find yourself and accept it: stop worrying all the fucking time," he insists. "I want people to listen to it and go, 'Oh, so that's how he feels. That's how Daisy Brain bleeds.'"
Get the Best Fit take on the week in music direct to your inbox every Friday