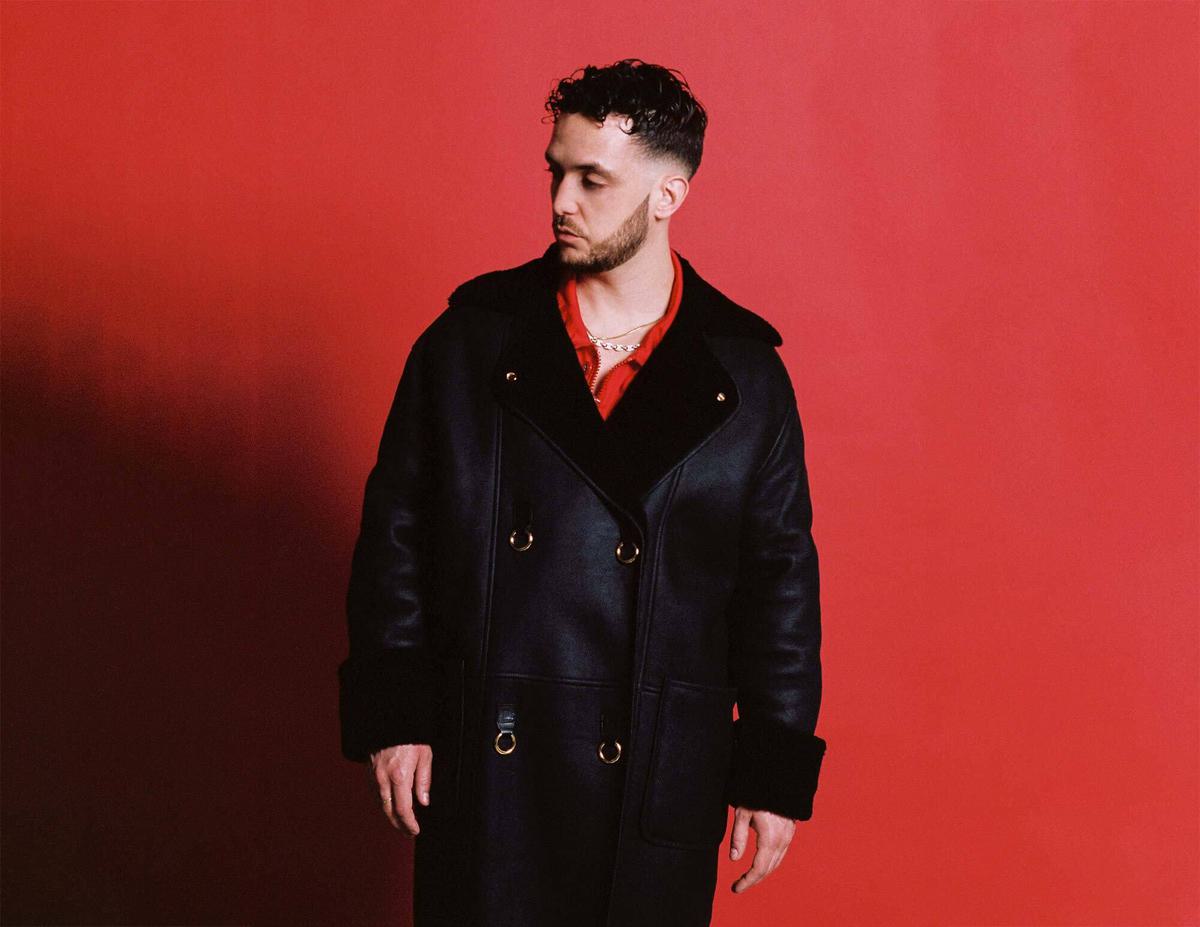 On The Rise: C. Tangana
06 May 2021, 07:30
Manifesting his global vision for success, C. Tangana's musical innovations are compelling the world to take notice of the Spanish music scene he's championed for over a decade.
In 2017, the President of Sony Music US LATAM, Nir Seroussi, told Rolling Stone, "Our music is a part of the vocabulary of the mainstream world, and now the sky's the limit." Since then the sky has come a lot closer. Bad Bunny was the most listened to artist of 2020, Selena Gomez released her first Spanish language E.P, Revelación, in March of this year and even Drake, Will Smith and Justin Bieber have verses you can listen to in Castellano.
But C. Tangana - real name Antón Álvarez Alfero - wants the world to know it isn't a trend, that Spanish language music isn't a genre, it's a whole new world of music that treads paths others wouldn't know to. The eclectic mix of artists he's put together on his third studio album, El Madrileño, pulls from flamenco, bachata, cumbia and the urban Spanish trap scene he's been pioneering—a similar formula to what made Rosalía's El Mal Querer an international success. The record pushes the envelope in a manner totally unexpected of an artist who is more well known for trap beats, vocals soaked in autotune and heavy layers of production.
"It's been a radical change in my music," says Álvarez. "It's the music that I listened to my whole life, then suddenly I decided I wanted to make this album. It was time. I almost thought I was going to make urban music forever." Before Madrid went into quarantine in March 2020, he'd prepared almost an entire album that echoed the sound of his 2018 album, Avida Dollars. But time spent in his favourite city instead of on the road led him to do something braver. "This sound seemed almost unreachable for me—it seemed like a higher ground. But it dared me to try new things and believe they might just pay off." Now he's had the number one album in Spain for over a month and his single, "Me Dejaste De Querer" has broken the record for the most-streamed song in Spain in a 24 hour period.
C. Tangana is a self proclaimed "outsider". It's a character that's fit him well during a decade of constantly trying something different, a passage of time where being comfortable means it's time to move on. So how has El Madrileño, an outsider album, sat at number one in Spain for the past seven weeks?
"I really wasn't expecting it to do so well so quickly," Álvarez tells me while sat in the comfort of his Madrid home featuring high ceilings, exposed concrete and bright beams of natural light. This is one of the first times he's spoken to the media since El Madrileño went straight to number one in February of this year.
"Since I released my first mixtape in 2015, I've wanted to change things. My idea was to make songs that I could listen to for my entire life. Music for everyone but with urban production. Urban music has been making a comeback. Bachata and other styles were creeping into pop music and the radio so I chose that as my moment."
The meteoric rise of Spanish language music outside of Spain and Latin America outpaces any other trend in music on a global level too. In 2018, Latin music started to grow faster than both hip-hop and pop. It still hasn't slowed down.
Back in 2011, Álvarez used the name Crema as his artist moniker. He released mixtapes and albums to build a reputation until he met other artists in Madrid who were ready to usurp the throne of Spanish music and create something exciting. That led to the creation of Agorazein, a collective of Madrid based rappers that blended trap beats with urban production.
"We were trying to provoke people," he explains. "The urban music scene in Spain was missing stars. We had all the Latin and South Americans winning over here. Whether it's Justin Bieber or Ariana Grande, the whole world is influenced by urban music though. Even the Latin music that was dominating Spain took influence from that scene. For me, I think we wanted to demonstrate that we could do what they were doing, we could be on their level and we could do it our way. We weren't just kids wanting to stay in our neighbourhood, we wanted to break into the industry and find that respect."
Álvarez actually comes from a town just outside of Madrid called Colmenar Viejo. "It's where I'm really from, it's where everyone from Agorazein was from." Eventually, Álvarez, Sticky M.A., Jerv.agz, Fabianni and I-Ace went to Madrid to join a movement.
Artists like Hermanos Hermeticos, Montecristo and Mucho Muchacho were well known in underground circles but Álvarez says it really felt like there was a whole scene nobody in Spain was paying attention to. That meant people outside of the country had no idea of the more interesting music that was being made "We didn't feel proud of what was being shown to the rest of the world or how they saw us. Back then everyone was influenced by the music that was everywhere in Spain like Yankee and others. There were so many sounds copying what was happening in South America, but we were more interested in what was happening in North America."
"Everyone saw us as kids that didn't have anything to say at a global or artistic level."
Enamoured by the production styles coming out of places like New York, Houston and Detroit, Agorazein could see the gaps in the Spanish market and how to fill them. "That's why you can hear J Dilla's influence in our early sound. I loved Pete Rock too and the new production techniques coming from America that made music more musical." Now all that was left was to write something that would make people listen.
"As Crema, I was rapping like a teenager and being emotional because that's how I felt. Whereas Agorazein was much more about the lifestyle. We talked about style and Madrid rather than anything profound. Obviously there are those moments but we fitted into that 'muchacho' aesthetic."
They spent their days listening to Curren$y, Flying Lotus and all those "outsiders" of hip-hop and R&B. "We said to ourselves that we wanted to make outsider music that everyone could listen to. The whole era of crunk was something that came just before trap. We didn't like that kind of club music at all. We started out running everything at 90bpm and after two years we were working at every tempo, experimenting with double time and autotune and everything we could."
By 2016, both Crema and Agorazein remained well known in smaller circles with cult followings. It's only when Álvarez stepped away from the group and cemented himself as C. Tangana that everything began to fall into place. "I brought back parts of both and combined the emotional side of Crema with the reality of Agorazein. Then everything changed. I started working on different kinds of beats and whole new teams, that's how we eventually arrived at C.Tangana."
Shortly after his first solo tour through Latin America, he signed a deal with Sony. His debut album, Ídolo, clicked with the young demographic in Spain and attracted the radio and media attention he'd been grinding for his entire artistic career thanks to singles "Mala Mujer" and "Espabilao". Then in 2018, his debut single released two years prior became a sleeper hit. "Antes De Morirme" featured his then-girlfriend Rosalía, so when El Mal Querer started to explode, so did everything she had touched. It would eventually become his biggest song and an important stepping stone for urban music into the mainstream.
"The urban artists weren't recognised in Spain," he points out. "Everyone saw us as kids that didn't have anything to say at a global or artistic level. There was more out there other than Bad Bunny. There was no money, but now we've overcome some struggles and got the attention of streaming services, the press and the world—even the money of brands. It's the nucleus of a lot of popular music now. The boom in trap music in Barcelona happened so recently. Now at the top of every chart, playing in every bar and even on the metro it's urban music. I guess you could say it's become a little bit mainstream even."
That's not necessarily a bad thing though. "I'm happy. I want my music to reach the world," he says through a smile. Álvarez was always interested in pop music and the idea of being a mainstream artist. He's been fighting to win over the masses and give the urban music scene the recognition it deserves since filming music videos in the streets with his friends. "There are so many prejudices about the urban music scene and that's more our struggle," he elaborates. "I've seen a massive evolution and so many changes in the way Spanish music reaches people. It's an escape for a lot of people. It's all starting to change."
According to the Recording Industry Association of America (RIAA), 2019 saw Spanish language music bring in $554 million in revenue, roughly a third more than the previous year and the biggest growth for any genre since 2006. Both in America and the UK, Spanish and Latin artists are breaking into the charts, selling out venues and collaborating with English speaking artists to leave their stamp on the world.
"I definitely think I've had an important role in the growth of urban music in Spain," he claims when I bring up these numbers. "I really hope I've changed the perspective of anyone who saw us as outsiders. Since 'Antes de Morirme', since 'Persiguiéndonos' and since 'Mala Mujer', the way people see us has changed." In 2020, Álvarez was named one of the most influential people in Spain so you could say he's succeeded.
But that battle for attention always stuck with him while his music shifted and transformed throughout the years as Crema, Agorazein and C. Tangana. It's on his latest album where he's retraced his steps, allowing his first love, the guitar, to become the foundation.
"I remember the first things I did in terms of creating music was with that guitar." Growing up, his father kept a guitar in the living room, but rather than learning someone else's songs, he immediately wanted to make songs of his own. "I left playing other people's songs for other people. Most of the things I played were things I invented."
An affinity for experimentation and improvisation inspired the unexpected blend of sounds on El Madrileño and the different facets of music it wanders past and stops to engage with. There are a lot of Latin American musicians and artists on this record, a questionable inclusion considering the original intention was to celebrate and promote Madrid's music scene and the individuality of Spanish artists. In Spain, the term "Madrileño" is used to refer to someone who is from Madrid. So why choose a name so focused on one specific place but music that pulls from all sides of the globe?
"For me, the idea of El Madrileño is that you become closer to Madrid the more you travel. I named it that because I didn't want it to seem like anything else." Spending time in Miami and L.A simultaneously made him miss home and reminded him of the music he loved hearing from North America, artists that wanted to represent their city and get people talking about the scene that makes it special.
"I don't want people expecting Cuban music or reggaeton or anything else. There are so many ways to make music in the world but this one is mine." His sound has repeatedly mutated since the "emo rap" he was making as Crema. So what's the recipe for success throughout a ten year career that includes an unlikely mix of genres and a key role in carrying an underground scene into the limelight? "The music I love is the one that tells a story. That's success to me," he says. Lyrical honesty is something you can't fault Álvarez for. What spawned an instant connection with the youth of Spain was his uniquely direct delivery when it comes to love, friends and fame.
"It's clear my intentions are artistic, never commercial," he assures me though. With Agorazein and as Crema, there was no intention to take over the world, but once he started working as C.Tangana he decided he wanted to push his career to its maximum. El Madrileño does exactly that. Walking unspoiled paths within music and capitalising on a mature magic he's found while revisiting his past, he now knows his musical repertoire doesn't have to stop at "urban": "I don't really know what I want to do next, I just know I want to change constantly. Since the start, I've always done that."
El Madrileño is out now via Sony Spain