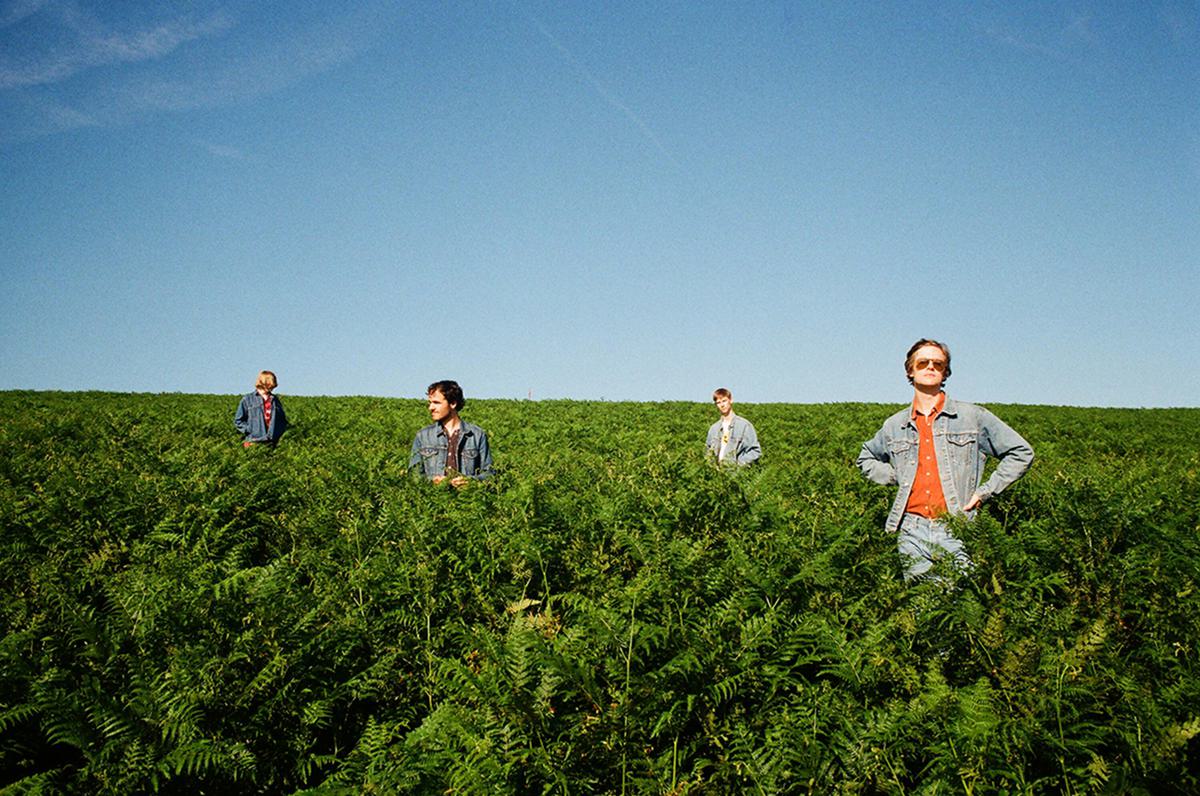 On the Rise

Buzzard Buzzard Buzzard
26 July 2019, 10:29
Welsh newcomers Buzzard Buzzard Buzzard are following in the footsteps of their country's psych-pop greats with just a few tunes and a lot of attitude
They swooped in from nowhere with just one track under their wing – the irreverent and infectious "Double Denim Hop" – and suddenly Buzzard Buzzard Buzzard were the band to catch.
The four-piece came to life around two years ago, playing shows under the radar in Cardiff before releasing the aforementioned glam banger, a track that gives more than a nod to the psychedelic, pop-core playfulness of fellow Welsh wonders Super Furry Animals and Gorky's Zygotic Mynci. And their formation wouldn't have happened save a little help from another South Wales group currently restoring the scene's genre-bending heritage, Boy Azooga.
"I've known Dave for a while," says lead singer Rees, talking of the Boy Azooga frontman, Davey Newington. "Ethan [who's the drummer in Buzzard Buzzard Buzzard] and Dave, we used to be in percussion groups when we were kids. Dave was a bit older than me, so he was in advanced percussion and I was in intermediate percussion and Ethan was in beginners percussion. It was all very sweet. We were all in Cardiff County Orchestra as well doing percussion."
Hailing from Barry and Cardiff, they are Tom Rees (vocals/guitar), his brother Ed on bass, Zac White (guitar) and Ethan Hurst (drums).
Rees went on to play in a local band called Howl, who one fateful night supported Cardiff mainstays The Keys, for whom Newington was drumming. "On the first tune I kicked Dave's bass drum through, just straight away – the skin went entirely through on the first song, and the gig got cancelled because of it. Everyone was really mad, except Dave because he's the sweetest person in the world. So that's how we met, officially."
Rees went on to play in another Cardiff band called Tibet, gigging in the same circles as Newington and his myriad projects. Now Buzzard drummer Ethan Hurst was also in the band, and he and Rees would write together in the day time when they should have been in college, in Hurst's parents' front room. But unbeknownst to Hurst, Rees was also recording whilst his bandmate slept.
"He used to be really lazy so he'd get up at one, two in the afternoon," says Rees of Hurst. "I used to sneak in after his parents went to work at 8.30am, set up a whole drum kit, set up all the mics and stuff, track, and then set down before he woke up. Like, 'hey man, how's it going? I just got here'. And it worked for like, six months," he laughs. "He's a very very deep sleeper. I used to bring my mixing desk round, just everything. His neighbours were really liberal, freewheelin', hippie types who were just fine with it. It was really cool."
Rees released one of the tracks formulated in Hurst's make-shift home studio, and it caught the ear of Newington, who invited him to play a show at Cardiff's The Transport Club. "I was like, 'I don't have a band', and he was like, 'you should get one'. So Ethan got his friend Zac who's the guitarist, who it turns out is the greatest guitarist in the world, which is perfect really. And my brother at the time had just listened to the Beatles and really wanted to get into music. So I was just like, you should play bass."
Within two weeks they were gigging and, between March 2017 and October of last year, the band simply played shows, figuring out just who and what they wanted to be. Meanwhile, Rees kept recording:o date he has about two albums worth of material ready to go. "It's like ammunition," he says. "Just having options constantly. I think it's really good to have everything prepped before you tell anyone you're a band."
Live, Buzzard Buzzard Buzzard are a fantastical force of nature; tight, inventive and just bloody great fun. They actually look like they are enjoying themselves. "After a good number of years being in a proper indie band I was like, there's much more out there," laughs Rees. "So I thought I'd go for the 70s thing, the brash School Of Rock showmanship attitude has been neglected for a while because people thought it was lame or not cool, but I think it's really cool. I love the classic rock vibe. But I think as well, instrumentally, what sets us apart from other guitar bands is that it's just a bit more intricate, a bit more personal in terms of the playing. Instead of making rock sound huge, we're just allowing rock to be rock. If you listen to the first AC/DC album, it sounds small. There's no massive snare drums or huge guitars, it just allows the attitude and performance to be rock."
Following on from their second single "Late Night City", a camp jaunt into nostalgia, came "Daffodil Hill", the official song of the Homeless World Cup. The Cup was brought to Wales by actor and activist Michael Sheen. And who invited the Buzzard boys to record the track? "It came from Sheeno, it came from the Sheen machine!" exclaims Rees. "He just really liked "Double Denim Hop", heard that and thought it was really cool. I like doing things where there's a brief. It's weird, you can kinda give yourself a break from suffering under your own creativity, of being like 'I have to write a seminal song that's gonna state my place in the musical landscape for years to come'. It's like, Michael Sheen's given you a brief, he wants it to sound like a glam song. Just write a glam song. It's really freeing in that way, in a way you have more creative freedom with somebody telling you what to do."
The goal for Buzzard Buzzard Buzzard now is to just keep on playing live. "I want to be playing all the time," says Rees. "I want to be doing loads of tours constantly, just non-stop."
They have a few more summer dates and then they head off on tour in support of Miles Kane, a mean feat for a band who at the time of interviewing had just two singles out. Rees sounds relieved at this. "Usually I wake up in cold sweats in the middle of the night thinking, is it all worth it? Am I doing what I should be doing as an artist? So tonight I can sleep easy. That's welcomed news. I can tell my mum that. Like, 'Mum, we're going to support Miles Kane and we only put two singles out so finally please be proud of me'. You know, that kind of vibe?"
But as of today we're up to single number three. "Love Forever", released via Big Indie, is a jubilant summer earworm that'll make your heart race and your pupils dilate. But it's not a soft touch. "I tried to write a song about current affairs, but I kinda don't really like those massive political bands," says Rees. "So I wanted to address something like that, but I don't want to be too direct. And I also realised I'd never really written a love song and I don't really like writing love songs. Again, politics and love are two things that get a bit icky for me. I usually try and stick to things. Like David Byrne, he just writes songs about physical things, like tables or chairs or something, so that's usually my vibe. Like Denim."
"But I was like, OK I'll do a love song but also try and do some pseudo-political thinking/philosophy thing. So it's just about how everyone should love everyone, isn't that sweet?"
A sweet little love buzzard.
Buzzard Buzzard Buzzard play Pop Brixton for Big Indie Big Nights on July 31st.
Get free tickets.