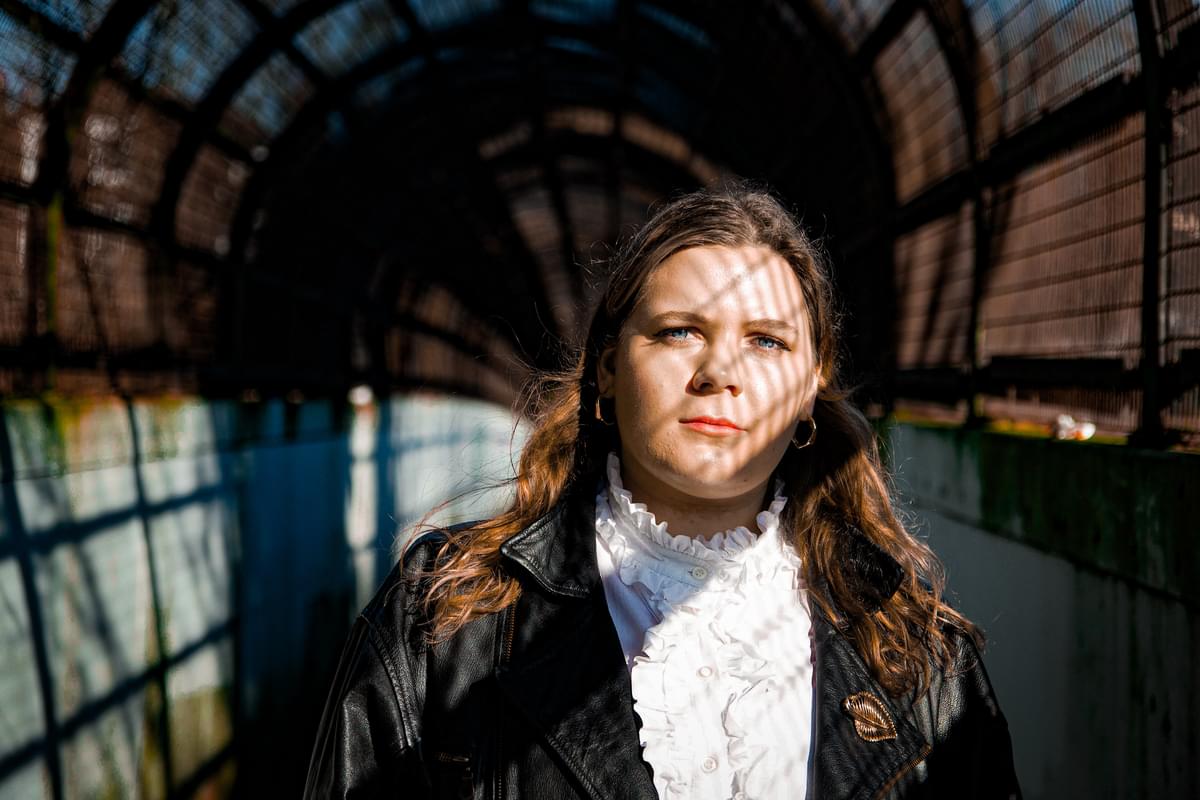 On the Rise

Brooke Bentham
19 February 2020, 12:00
London singer-songwriter Brooke Bentham takes her observations on the mundanities of life, and turns them into poetically driven indie songs.
Beyond being an indie rock songwriter, Brooke Bentham has two day jobs: working at a busy Dr. Martens store and as a customer service rep for a women's clothing brand. When asked if she has ever experienced a particularly bad phone call while on the job, she immediately shoots back. "I've had so many… An old woman called me dense once," she laughs. "Sometimes there are just people screaming on the phone at you because they haven't received their clothes. It made me realize how trivial the world has become, and how impatient everyone has become in this digital age."
Whereas most nine-to-fivers have a semblance of basic structure in their lives; each workday can be fairly different for Bentham, who grew up in the coastal town of South Shields. Earlier this month, the 24-year-old artist was splitting her time at her two jobs whilst preparing for the release of her debut album, Everyday Nothing, and touring with the "Springsteen of North Shields" Sam Fender. Her label can't believe where she finds the time, but she enjoys the structure to keep things on track.
She's definitely been barrelling along the music career track in spite of her busy schedule. Bentham released a duo of stripped-back folk EPs in 2017 produced by Ben Baptie (Young Fathers, Daughter). Both releases garnered her attention on BBC Radio 1 and brought her to the UK summer festival circuit. After finishing up her third year of university, she started work on Everyday Nothing with the well-known producer, and ex-Coral guitarist, Bill Ryder-Jones.
Bentham's new album is another passionate release and sees her moving from her past Bon Iver indie-folk obsession into a guitar-led rock sound. It's perfectly titled Everyday Nothing and serves as a musical tightrope act between her influences and contemporaries - Mazzy Star, Yo La Tengo, Soccer Mommy, early Angel Olsen. The strong debut also abridges the frustration of emotionally wandering through a post-collegiate life in a very poetic and everyday way. Walking through wooded areas is something the young songwriter loves to do to take the edge off.
As far as early influences go, Bentham was listening to the quieter side of the indie rock spectrum at home, as evidenced by earlier songs such as "This Rapture" and "The Room Swayed." "I really started getting into Mazzy Star, Angel Olsen, and Joanna Newsom," she remembers. "I did like their quiet, acoustic, introspective music. I also really loved the first two Bon Iver albums."
Music is always a stress reliever for Bentham, but she has another big way to relax during her stressful work schedule. "Oh, you know, as I have grown older, I mean I'm not that old, but I really love being outdoors. I just love being in the fresh air," Bentham explains. "And I think, especially living in London, and just like working all the time, you really cherish being outside and being able to take that in and also just enjoy a slower pace of life. So every time I go on holiday, like when we went to Lisbon recently, everyone just has such a slower pace of life and most of their time is spent outside just wandering around."
"I think that's what I sought; you can just really ground yourself by just going for a walk. We've got a cemetery right next to our house and I walk there every weekend. It's basically a forest in London, which is very rare. So, I don't know if that's so much a passion for me, but it's definitely something that gets me up in the morning."
Bentham's lyrics on Everyday Nothing seem to be a release valve for her as well. They are an immediate standout since they're both impressionistic and highly specific to a moment or feeling. The EBow-drenched opener "With Love" has a beautiful languor to it like some of the best indie rock songs of the '90s (think Pavement and Yo La Tengo). It just plugs along and is relentless. Bentham sings while encased in a hazy production, but a few lines stand out from the rest.
Romance comes from a simple place at the beginning of the track: "Baby, he got sick and told me not to kiss him on the lips / because I had to sing that week / and that is the most romantic thing." Later in the same song, Bentham mentions a shady scene in the city: "Hold my keys through my fingers when I'm walking in the dark alone / and the street lights they look beautiful / I wish that I could enjoy them more."
Her voice brightens up at the edges when she talks about Everyday Nothing and what it means to her: "I think with this album it's very much about appreciating the little things that help you get through life. I don't know - if you're having like a cup of tea or a nice bath, just learning to get over your problems and take it little by little."
Bentham mentions that her writing process often involves reading poetry books and then writing down key snippets for inspiration as she writes and rewrites her songs. "I don't know how helpful that is for me, but it definitely is some form of process that gets my brain stimulated and sort of puts me into that world a bit when I sit down to write and there's nothing there. It's not taking stuff from poetry, but it's just getting that inspiration from there. Sylvia Plath really helps me to think, 'oh, this person's done it in this way. Maybe I could try going in that way, and it just really helps the way that I write.'"
Early single "Perform for You" actually reads like an indie rock Lady Lazarus. Bentham has owned Plath's poetry book, Ariel, since she was sixteen and loves the way Plath personifies feelings and everyday circumstances. In the classic Plath collection, women are often reduced to mere implements of rapture or torment.
There's a dark sensualism there, but also a postmodern echo of Plath's strong proto-feminist writing, similar to when she wrote about being a female martyr that dies nine times: "dying / is an art like everything else/ I do it exceptionally well / I do it so it feels like hell / I do it so it feels real / I guess you say I've a call."

On "Perform for You" Bentham also paints a devastating scene: "Treat me like a helpless toy and I'll perform for you / tell me why you do not love me, you know I'll still love you, too / for this is the blood flood undressing of love / where you only need me to make yourself feel good." The actual inspiration for "Perform for You" makes Bentham laugh in retelling it.
"I can't remember who wrote this trashy romance book I read, but there is this guy in the story that is married, and the story is from his mistress' point of view. Mistress is a strong word, but it's from this woman's point of view. It's just really messed up," Bentham laughs. "That was one of those songs that kind of came together in about 10 minutes. I wrote it and I thought, 'Oh God, I'm gonna have to tell people that I've read this book to write that song!' Um, but yeah, it's a total trash book. I enjoyed it."
Other tracks on Everyday Nothing also wrestle with the never-ending conflict between the sexes. "Men I Don't Know" is set at a male-dominated music industry event and "Telling Lies" retells a broken relationship take. Arguably the album's best single, "All My Friends Are Drunk" is about post-collegiate life and dealing with missing home and family. Bentham mentions the river Tyne near her home and The Cumberland on the track, which is a pub she would frequent to listen to folk music with her dad.
Bentham has three older brothers, but it was her dad who left a lasting impression on her as a kid with his love for Phil Collins, Electric Light Orchestra, The Beatles, The Rolling Stones, and Bob Dylan. "You know, the classic dad bands," she laughs. "Seeing him react to listening to those bands while we were driving in the car was so fun. I started listening to indie bands like The Knife with my older brother later on, and with the rise of Tumblr I found out about a lot of music through that."
What about her mom's musical taste? "She loves the Lighthouse Family. They're terrible," she jests. (Fun fact - The British easy-listening pop duo Lighthouse Family rose to prominence in the mid '90s in Newcastle upon Tyne. Hey, way to keep it fairly local, mum!)
Despite Bentham's positive upbringing near the coast, Everyday Nothing doesn't shy away from casting a wide floodlight on the darkened doorsteps, basements, and crawl spaces of the psyche with her music. The album and single artwork for Everyday Nothing nods toward the work of former The Speedies power-pop artist Gregory Crewdson, who photographed Yo La Tengo's 2000 album And Then Nothing Turned Itself Inside-Out. "I became obsessed with his stuff when I was thinking of the album artwork," Bentham notes. "He's very similar to that kind of work David Lynch does in a way since he makes a mundane image look very alien."

Bentham's cover for Everyday Nothing finds night descending on an old bungalow in the midst of London's sprawl. Although Brooke stands barefoot in the front yard, the album sleeve is more about what the viewer can't quite see than what is fully in the light. It's a visual totem for an 11-track LP that shifts in and out of the shadows of an "everyday" life.
"The photographer I worked with is named Nick Halderman," says Bentham. "He's very good. I was just searching for retro bungalows in the UK, and there actually turned out to be this kind of old bungalow somewhat near London. This old couple owned it and they'd been living in that house 86 years. We shot in the evening, so they were getting quite antsy about the fact that it was past their bedtime."

Bentham's relatable music on Everyday Nothing opens up the front door to such an introspective world and she seems weary but prepared for her life changing up once again like it did after her university days. Her music continues to evolve sonically to meet her lyrical depth and it's increasingly apparent during our discussion that she wants to be reasonable about her next steps as a professional musician balancing a checkbook.
Despite her busy schedule, she still persists, and Bentham's introspective lyrics and powerful melodies set her up for more good news as she's planning for an acoustic version of the album, and a string of tour dates.
Everyday Nothing is out on 28 February via AllPoints.
Get the Best Fit take on the week in music direct to your inbox every Friday