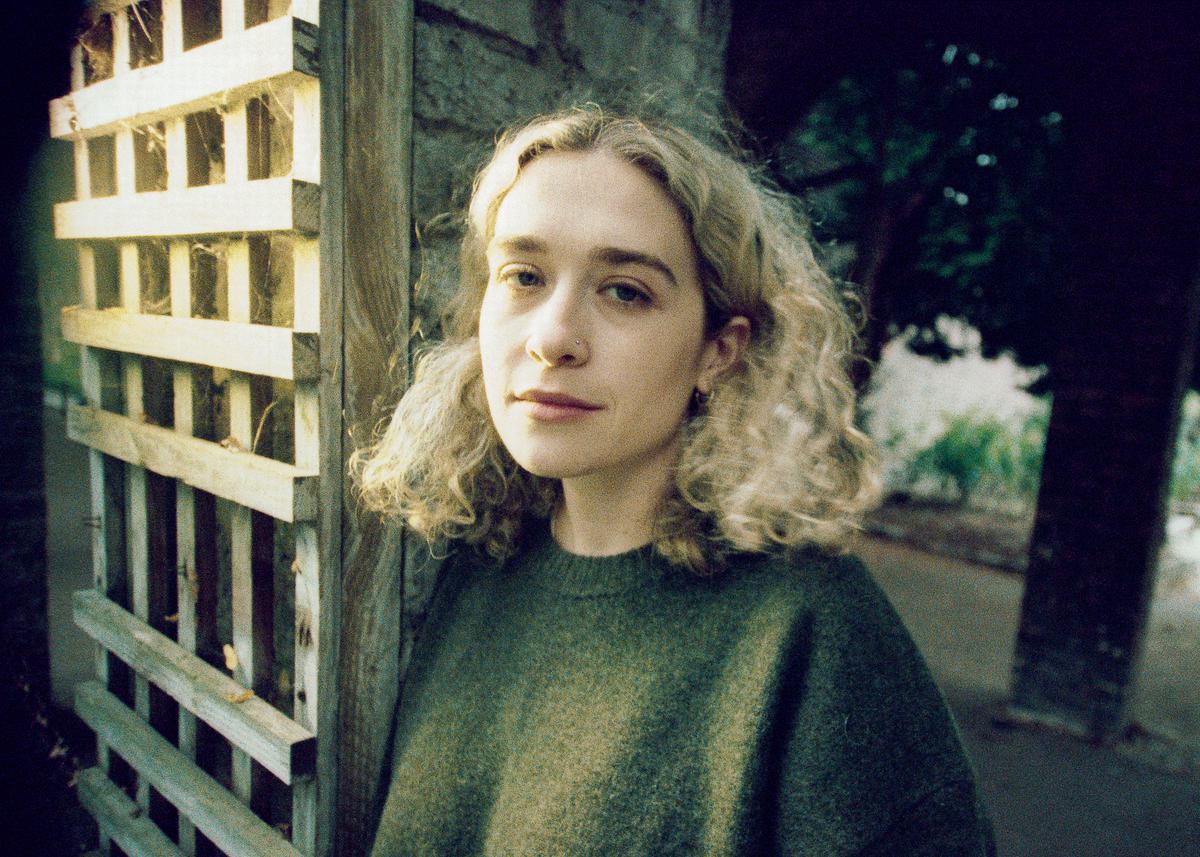 On the Rise

Blondshell
06 December 2022, 12:55
As Blondshell, Partisan-signed New Yorker Sabrina Teitelbaum is channelling honesty and rage, picking up the baton from alternative music's greatest women.
There is a bitter taste in Sabrina Teitelbaum's mouth. It lingers on her tongue, born from settling for less while being deserving of more. In her lyrics, the 25-year-old LA-based, New York City native makes a good deal out of bad men.
"I'm going back to him / I know my therapist's pissed," she plainly declares on her song "Sepsis", an admission of defeat. The treatment she accepts in a relationship spreads through her self-worth like rot as she tries to untangle the riddle of herself through the lens of someone else. "And I think I believe in getting saved," she sighs in a streak of masochism, "Not by Jesus, validation in some dude's gaze / And I think I believe in getting saved / Holy water pull my hair right from the base." But there came a point where Teitelbaum couldn't force herself to swallow this long-brewed resentment. She's spitting it out.

Blondshell, the alias of her latest project, is a vehicle for female rage. When she wiped the slate clean and announced her debut single, "Olympus", the caption of her Instagram post read: "It's the music I've always wanted to make but was too scared to". But what is fear when there are scores to settle?
The story takes place in the Californian hills of Mount Olympus, named for the Greek home of the gods. It's a love story with a death drive, careening towards oblivion. The relationship is defined by toxins: the dizzying highs and the cold-sweat lows, where the lines between the enabler and the addiction itself are blurred. The guitars are slow-burning, almost laconic, like the West Coast summers of your imagination – and so is her voice, until it cracks wide open with a human ache: "Baby wanna erase this / You're not shameless / I'm afraid of your description that I'm fitting when I'm faded". But this is not a song about them; it's a song about Teitelbaum running into the blaze to safe herself.
"It was a painful era," she reflects. "That era was really chaotic." Her life had no direction, the days beginning and ending with no definable middle. It was only until she disentangled herself from that unhealthy relationship that she had the clarity to write about it. "There's so much more to a relationship than you're able to say in three minutes," she explains. "I think, growing up, I was always kind of hesitant to express my emotions. Except in music. The music became the place where I would get all my emotions out. That's why people have described my music as 'intense', 'heavy'… stuff like that. I think that makes sense, because so much gets channelled to that space, for me."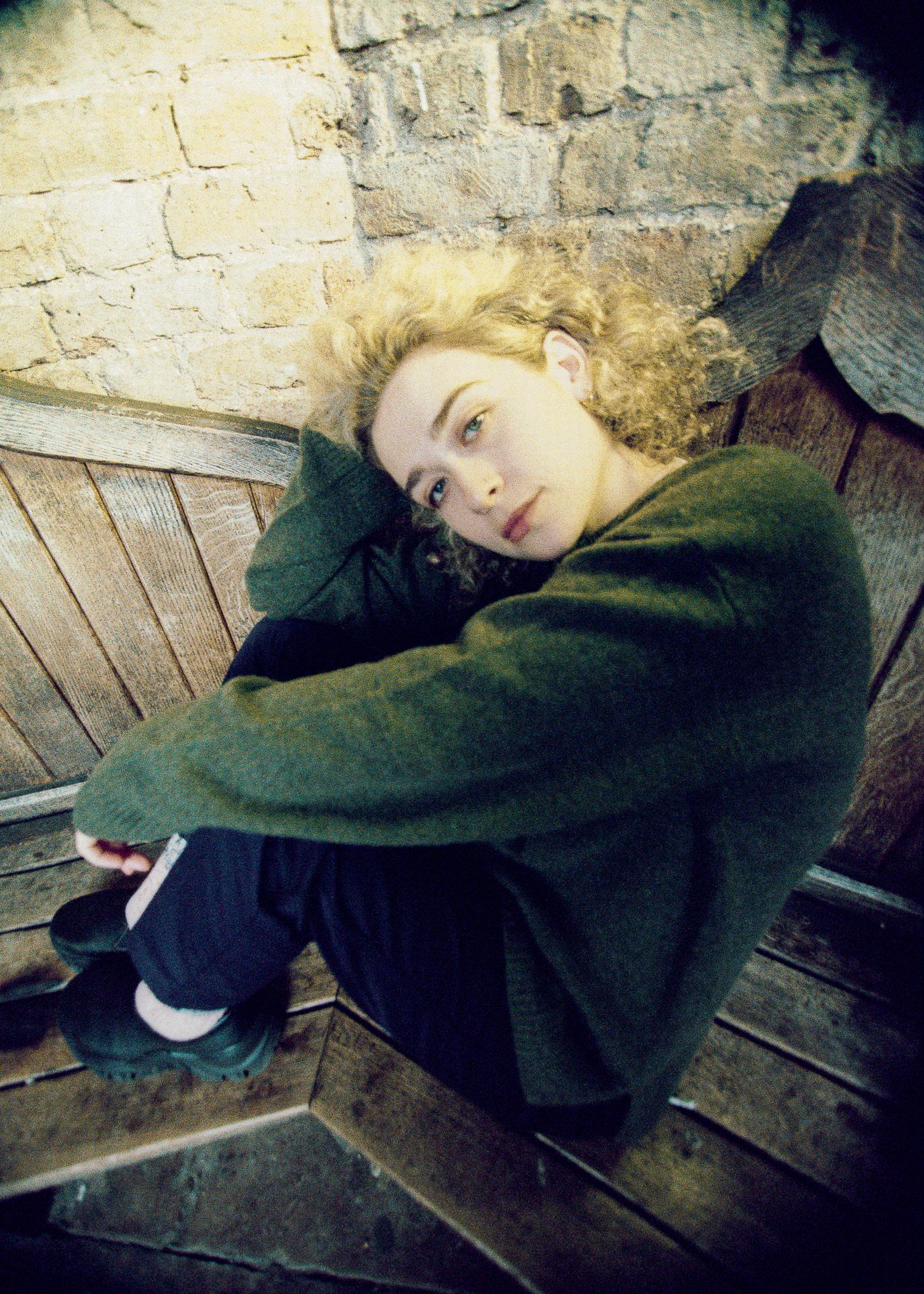 There is an old trope of New York City that its people are harsh, direct – unafraid to say exactly what they mean. Teitelbaum is the first to admit that as far as she's concerned, it's true. I ask if her music is always rooted in reality: "Yes". So Blondshell doesn't represent a persona? "No." Her lyrics are unambiguous. "I was never able to write figuratively," she admits. "That concept is so hard, like, people who write metaphors in their music. I think it's awesome, but it's just not my skillset. My songs are all pretty literal."
Before writing "Olympus", she was still tethered to her previous project, Baum, which she started as a teenager. She came of age in the era of bedroom demos, cutting her teeth by uploading covers of 1975 tracks to SoundCloud. "I just didn't really know who I was," she recollects. "I think I was figuring a lot out – and I still am. It just got to the point where I lost sight of the music I grew up listening to." When the COVID-19 pandemic splintered her momentum as Baum, she was forced to confront realities about herself that she could've otherwise ignored. That sound, something far more pop-driven, felt two sizes too small – so she picked up her guitar. The time she spent with it led her back to the beginning: the albums that ignited the spark that took her this far in the first place.
It was the unbridled rage of Hole, in all their violent contradiction; the measured wit of Fiona Apple and the torn-at-the-edges rock of PJ Harvey, who had the greatest influence on Blondshell. "They were young women figuring out who they are. And they were angry. They sang about it in a way that still has a sense of humour, despite how dark things are," Teitelbaum explains. "Because things are fucking dark and hard sometimes when you don't know who you are yet. I can't wait to be, like, fifty. I can't wait – because why not? Everyone looks so much calmer, happier and more confident. I think it's scarier to really show who you are in your music instead of trying to be somebody else."
Blondshell was about daring to embrace the rage her progenitors embodied in their music, which to a male ear, has historically equated to a kind of madness. With "Sepsis", in particular, she says, "I was fucking pissed." She begins to explain that, "With 'Kiss City', there's this vulnerability which was so scary for me, like, 'I'm going to take this step and say this thing that's embarrassing and necessary', and then there's the other side of it, which is like, 'I'm so fucking mad, and I did not get what I deserved - and I'm going to scream about it for the first time.'"

Even the artwork for her first singles shows Teitelbaum at total ease in who she is. It wasn't a contrived photoshoot, but a relaxed series of snaps taken by a friend; in black and white, she has her back turned as she sits at her laptop, nude save for the blanket draped around her as if she were a Greek statue. For "Sepsis", she sits in her underwear brushing her teeth, and with "Kiss City", seemingly taken only moments later, she leans on the sink captured mid-way through a conversation. "For the songs that are out, I just wanted to have someone that I knew taking the photos. My goal with everything is to have my personality come through," she explains. "Something that has happened in the past when people take my photo is that I don't feel comfortable, and then I end up hiding who I am."
Without the pandemic, Teitelbaum doubts Blondshell would have come into being. "I learned a lot," she says. "I was so scared to spend extended periods of time alone, and when COVID happened, just like everybody, I had to. I think I can look back on myself with a lot more compassion because of it." And at the end of it all, Sabrina Teitelbaum is a woman who is unafraid to ask for what she wants.
"I think it's scarier to really show who you are in your music instead of trying to be somebody else."
(S.T.)
But as for the Baum era, she can still stand behind the music even if she has moved on from the project itself. "It's sort of like a tattoo. Like, I don't hate my tattoos that I got when I was eighteen. I wouldn't get them now, but I'm not embarrassed," she explains. "I think as I continue to grow up, I've got more confidence in who I am and how I want to say the things that I want to say. Because when I was younger, a lot of the process of making music was like, 'What if people think this is lame? What if people think I'm too dramatic, or not a good enough musician?' Things like that. I think the evolution has been in continuing to strengthen those muscles that are like, 'Who cares what insert-random-person thinks?' It was always the guys, because music is such a guy's world, especially growing up. It's a lot of guys… I wanted people to think I had good musicianship, and all that stuff, but now I think what's most important to me is how I can say stuff clearly and honestly."

Teitelbaum is the black sheep of her family, the only musician. While the indie revival scene pioneered by the likes of the Yeah Yeah Yeahs and The Strokes was at its zenith when she was just a child, the musical spirit of the city and all its heritage had a way of getting beneath her skin. She grew up predominantly in Midtown, Manhattan, and its environment is what she attributes to her self-described defensiveness. "I think the city affected me in a way I don't really know how to put into words," she says. "It just has this energy whenever I go back, and it makes me want to cry. I don't know why."
Having left at eighteen to go to college, her experiences in the city are sparsely furnished, like a dream in which the edges aren't filled in. But she remembers that her nights were often spent at shows, putting her fake ID to good use, and throwing her hat into the ring for any open mic show she could find on the Lower East Side. "6pm on a Thursday," she tells me, "six 'til eight." Now, having made her home in LA where she went to college, she enjoys immersing herself in a city dominated by creatives. She says, "I think artists have a specific way of seeing the world, and it helps me to be around that."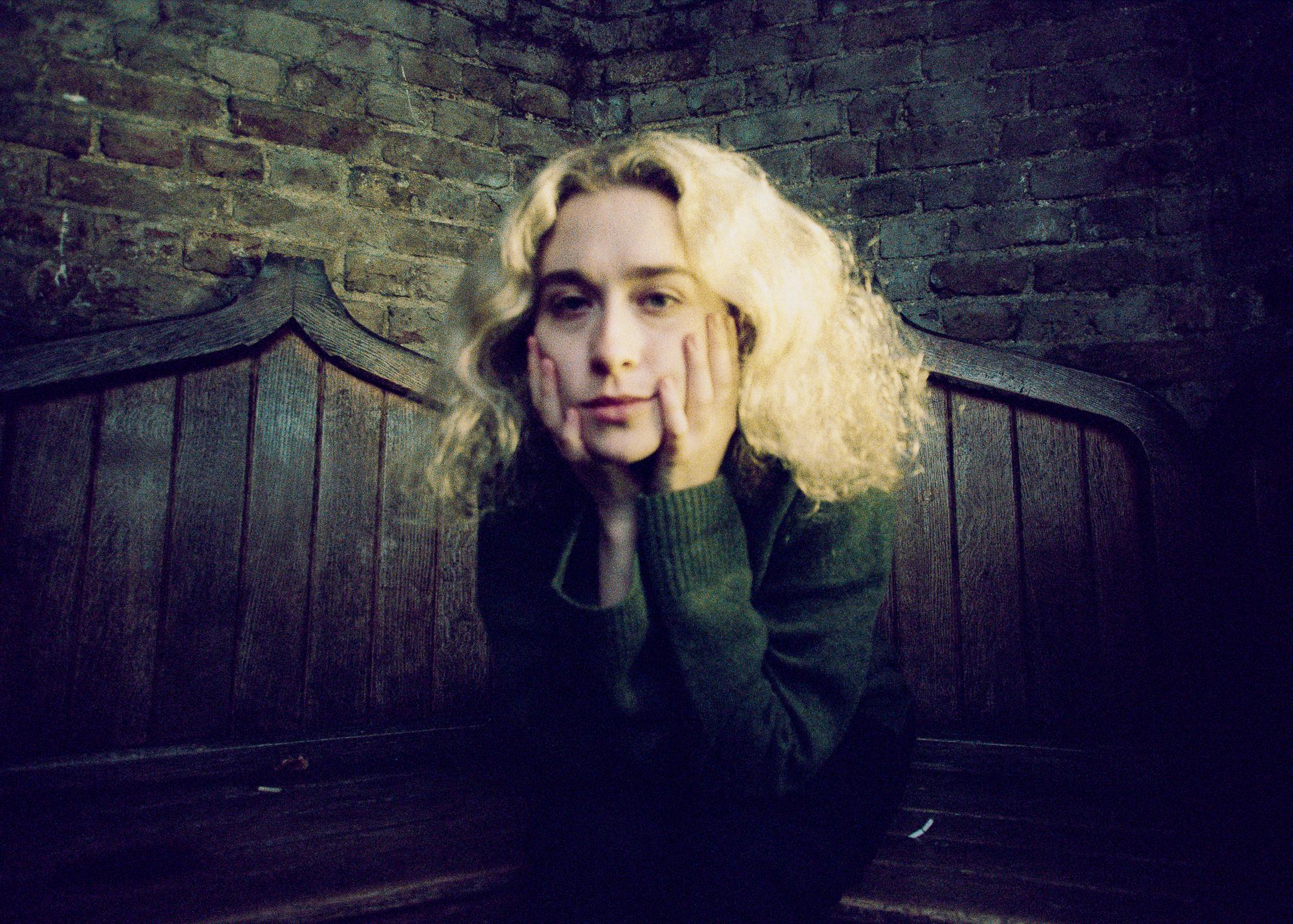 But really, she dreams of something else entirely. "I would like there to be more than like, three cities, that are associated with music," shrugs Teitelbaum. "It gets boring." She thinks about the thriving New York music scene of the 00s that she had no inkling of, and imagines that there are just as many in unexpected places yet to be tapped into: "I would like to travel, to go somewhere that has fresher air" – and particularly a place for Chinchilla, her German Shephard, to run.
But her love of music has always been a constant in her life. "I don't have that many other skills, honestly," she shrugs. "I was never good at sports." From the age of seven or eight, she started to pen her own 'songs', mesmerised by Ashley Simpson's "Piece of Me" to the point she wanted to recreate it.
Even as a child, she realised that writing lyrics was an emotional outlet. "I think the biggest thing I learned from this album as a whole was that it's okay to have really big emotions about things people trivialise," she says. "Because even with dating, the problems people have is just the tip of the iceberg. It's really about so much more when people are upset about a relationship." Through delving into the specifics in her writing, she starts to learn broader lessons.

When writing the songs for her upcoming debut as Blondshell, she didn't have sprawling ideas or an excess of material that needed whittling down. In a cautious and considered way, she dealt with her emotional upheaval track by track - guided by sheer instinct. But without the encouragement of producer Yves Rothman, a close collaborator with Yves Tumor, she doubts that the album would have arrived at all. 'I think we make a lot of space for each other," Teitelbaum explains. "We just kind of speak the same language." After introducing her to Nirvana deep cuts and diving further into the work of PJ Harvey and Depeche Mode, she used those sounds as touchstones for what would become the first step toward the record, "Olympus". She recalls, "He was like, 'Go home and give me more songs that are similar', and so I would send him voice notes, and he kept saying, 'There's an album in here somewhere, but keep going.'" And then, as they polished the edges together, they finally arrived at a complete body of work.

I ask Teitelbaum if, through writing this record, she has come to understand more about where her rage is rooted. "I think I'm still trying to figure that out," she tells me. "With the songs, the rage was specific to whatever the song was about. Like with 'Sepsis', I'm being treated like shit by this guy – or guys, plural – by putting myself in that position. And I'm like, 'I do this to myself'. There were a lot of things, but I'm trying to figure it out."
The satisfaction she feels as Blondshell isn't about having all the answers. She measures it quite differently: "I always think, 'Okay, did it teach me anything? Is it meaningful to me? And is it honest?' Even if people don't like it, I would feel successful in my endeavour of making an album because I can sleep easy knowing I was honest – not just in the lyrics, but in the singing, the instrumentation… all of it."