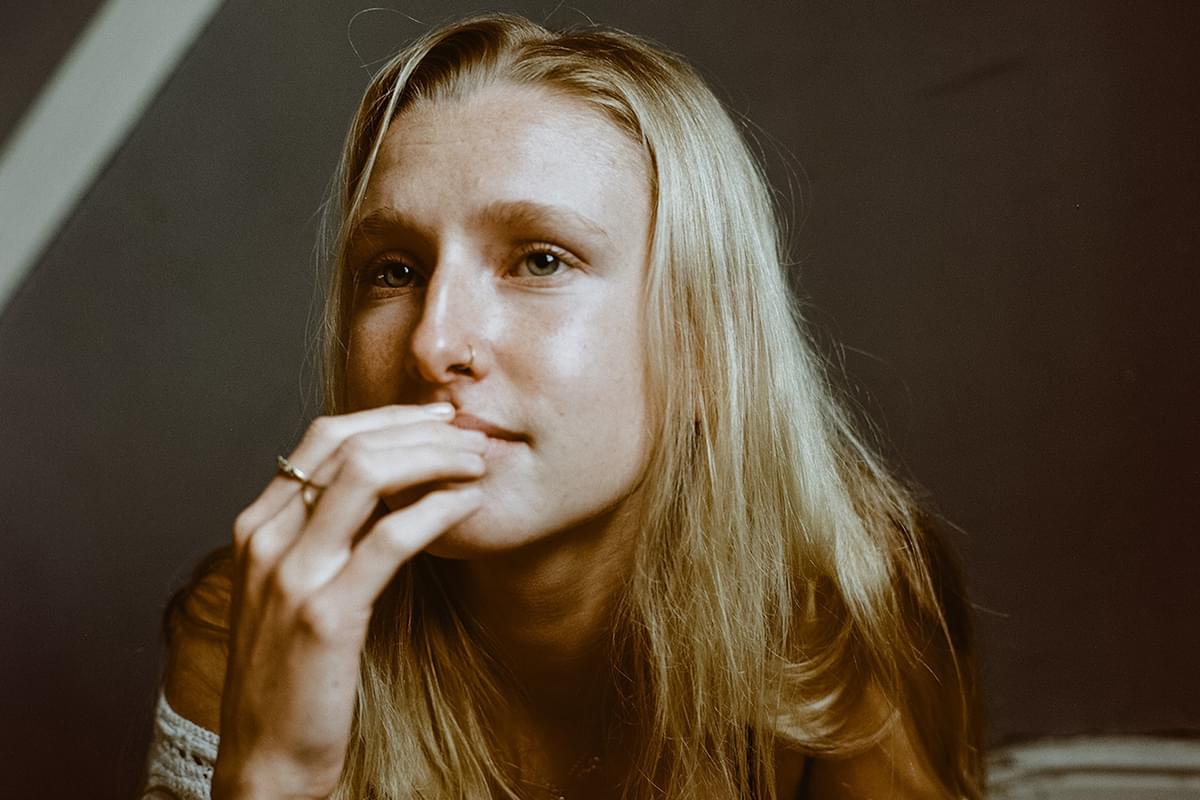 Human Nature
25 April 2019, 07:00
Billie Marten is cutting ties with elements of her past, and looking eagerly into a precarious future - whatever it holds, and however long is left.
Ecosystems are an integral part of existence. Keeping things ticking over nicely while providing sustainability to bounce back from disturbances a little bit stronger and a little bit wiser, ecosystems provide the right amount of nourishment to keep things balanced.
They also tend to make sense when you look at them in the grander scheme. So integral to existence are ecosystems, they even appear in the day to day, much like the lives we lead searching for understanding and reasoning wherever we are - and this is where Billie Marten thrives.
Marten's mindset has always been naturally focused. Born Isabella Sophie Tweddle, her metamorphosis into Billie Marten was no forced hand, but one she found herself growing into as her musical dreams progressed thanks to uploaded YouTube covers. With this growth came her exploration into songwriting, which took equal roles as a place to journal her own inner workings and as a means to chronicle observations, but it's her deep rooted personality traits that have kept Marten growing richer in a dried-out world.
When I meet Marten, she's just attended a talk for the RSPB regarding their plan to release a piece of music crafted purely from bird song, an idea which nature-loving Marten is enthralled by. Outside, grey April skies have broken so sunshine can beat down, but inside the cover of the bar it's all concrete and steel; Marten's natural persona overwhelms the synthetic surroundings like measured movements of a secret garden's vines.
She consistently speaks with serenity, even when admitting the hard truth that came from the completion of her second full-length album, Feeding Seahorses By Hand, last April, which was initially due out last September. "Things got pushed back. I totally put it aside and never listened to it, never thought about it. I kind of lost hope in it."
"Lots of self-doubts mainly," she continues when asked about from the origins of her hopelessness. "I think when music takes longer than it should to come out, it's very easy to lose that momentum with it… it felt very stagnant, like they weren't good songs. It felt like nobody liked them. I just lost a bit of hope - but it's all back now, and I really like it!"
The life of a musician is one that is inevitably self-assuring, purely on a survival basis. It's never plain sailing to this point unless you happen to be narcissistically driven, which Marten is resoundingly not. "They sent me the test pressing, and that was when it was fully real, and fully happening. There was no doubt that it wasn't going to come out, so I sort of… got over myself," she reflects.
"It's quite exhausting [having faith in yourself] because you're always sat with musicians, in this weirdly competitive world - but [I'm] not a competitive person," she admits. "I don't see music like that."
That's not to say there isn't fire lit inside of Marten, but instead of an untamed inferno, it's a focal point of energy, much like a sun. It's there, naturally, keeping things progressing and making sense, all the while knowing that without it things would surely cease to exist. The serendipitous nature of her way of working means she was free to evolve as a person naturally into who she is now, and, of course, with that comes the art. ​
"[The album] is just little pockets of the past two years. Writing really sporadically, there was a time when I just didn't pick up a guitar, and some of those songs came out of the depths of total..." she tapers off, and pauses, before breathing deeply. "I was not believing I was a musician at all - but actually these songs are some of the happiest I've ever written, so it was just a bit of living that came together in [these] 12 tracks at the end."
​Feeding Seahorses By Hand is undoubtedly a decided collection of songs. "I only made another one because I had enough songs to make an album," Marten says.
On her debut, 2016's Writing Of Blues And Yellows, came a delicate version of Marten: sparse folk sounds rang true, while she mirrored herself into a world that had offered her opportunity. A focal point stemmed from the fact its recording took place while she was still in school, and, unlike most, her decision to stay the course and finish her education meant for a while she stood with one foot on familiar ground, and the other firmly in the greener grass of promise.
​"The correlation between literature and music, for me, was purely based on nature..."
"I don't really remember the process of the first one because I was still in school," Marten recalls. "It was constant travel, and I didn't know what was happening at all. I didn't know the process of an album really, so that was a new experience. The first album was pure retrospect, which is funny because I'd barely done anything in life."
But here we are, in her now-home of London, discussing her second album and the life she's led in the years between her debut and now, a journey galvanised by a cross-country move. Migrating to the capital, proving itself a culture shock when compared to her Northern homestead in Yorkshire, some of the songs found themselves born from her new surroundings and understanding of life, and unique ecosystems. Namely, a pub.
Finding herself a job in the kind of pub some would steer well clear of, with darkened windows that sunlight can barely peek through, it's here one of the tracks found its muses. "Toulouse" is a shining example of both Marten's ability to reflect her surroundings through a medium of knowledge (the title refers to French post-impressionist Henri de Toulouse-Lautrec) and wordplay.
"It was a horrible experience, but the one thing I got out of it was that song," she says of her time working at the pub. "I always knew he was a character that was observing… that's how he made his art: he was [ostracised] and totally cut off from society, and I guess I was channelling him. I was looking at this tiny pocket of society that was a small pub in London, and I can't believe how dark it was actually, even though it [could] seem like the happiest of places; it was not a joyful scene."
And what kind of self-respecting songwriter could pass up the opportunity to immortalise the barflies from their past? Not Marten. "Oh yeah, lots of those are in the song. I just thought it reminded me of [Toulouse-Latrec] - the fact that that's what he would've felt like at his shows or wherever he was in Paris, and at the time I felt a bit 'born to lose'!" She breaks with another chuckle, referring to the wordplay. "I didn't really know what I was doing, but it was just as I moved here and it was something to do…[but] I will never do it again."
If immersing herself in new experiences, thrusting herself away from her homely inclination, is to give birth to a whole other realm for Marten's craft then she's here for it. Be it volunteering, or gardening, or even pursuing her long-forgotten dream of being a cobbler, which she excitedly remembers. She may be about to exit her teenage years, turning 20 this year, but she's astutely aware of the world and all it has to offer: "I like little pockets of stuff that you don't know much about."
​Like a true child of the arts however, Marten finds literature fuelling her creative sun. No stranger to incorporating it into her music, on her debut she penned a track in tribute to the Brontë sisters, specifically Emily Brontë.
​"The correlation between literature and music, for me, was purely based on nature because I felt the people that were writing about it were my sort of community, and it was always a way for them to express how they felt through that."
"This time around I was reading writers that were quite vulnerable; a lot of first-person stuff, a lot of minimalism. My favourite book is L'Étranger - The Outsider - by Albert Camus. It floors me every single time. The first line is [translated] 'Mother died today. Or maybe yesterday, I don't know.' Brutal things like that. I underline things in every book."
"It's a really confusing time because we're feeling guilt for all the things we've done as humanity, i.e. ruining the planet."
Setting her coffee down, she begins rustling under her piled-up coat, deep into her bag, and she digs out a copy of the book she's currently reading - an A.A. Gill book - Pour Me: A Life, and hurriedly presents me a page with an underlined passage.
"He said something about chefs that I think is great. He's dyslexic, but he has this ability to never use the same word twice in a book," she says, before returning to her train of thought, and reciting from the book. "He said 'Over the years I've method acted some sort of learned English version of human, I can do it convincingly, so people are surprised to find I'm not a native'. That's amazing. I think that's what everybody is doing… that's how I feel anyway."
Her decision to broach into commenting upon the socio and political state of the world - and on the opening track of her second album no less - means that Marten holds no qualms casting a watchful eye upon everything, just as she did with the regulars in her old pub.
Feeling like someone who's constantly learning and adapting to whichever environment encompasses her, beneath the folk-centric, albeit experimental, sounds across Feeding Seahorses... lies a sharp tongue with not a single ounce of malice, but plenty of external wonderment.
"It's this fabricated community," she says, referring to humanity in 2019. So where does she see this internet-based community bubble heading?
"I don't know, probably another war, an outbreak. There's a rise of conversation, that's what we're doing, but what we're not doing is conversing within reality, we're doing it separately at home, in our houses. Day-to-day we're socially awkward - we're English! And all humans are too."
Considering her position once more, she continues. "I don't know if it's a good thing I'm doing it [politics], because I'm just commenting. I don't think I'm actively making a difference, but I think our generation, half of us are trying to make that difference - as in [be] actively present every day - the other half kind of think 'well, we've only got 12 years left so… might as well live it out as normal...'."
"It's a really confusing time because we're feeling guilt for all the things we've done as humanity, i.e. ruining the planet. There's [so] much guilt from buying a takeaway with a plastic container - I don't think we're providing enthusiasm to help. It's more of a 'look at all the things you've done wrong'. Like Our Planet, the David Attenborough series, it's off-putting I think."
As someone who had to grow up decidedly quicker than the rest of her peers, there's no arguing Marten's outlook is unique. Her path was set for her by circumstance, and with it, she's choosing to become even wiser, which means she can offer an outlook on the world and you want to pay attention. Especially in a new world in which mental health's stigma is being broken down with each passing day.
"I think we're teetering on the edge [as] there's more awareness because people can actually use [the word] depression now, whereas before it would be silent over a cup of tea," she says. "But we're also losing a lot of people. Musicians are breaking down left, right, and centre because of the weight that it puts on, [but it] also causes a sense of relief [when] people start talking about it. I think you can be too personal, and I definitely try and keep that distance, [but] it's important to be honest with people.""
"I'll never listen to that first record again..."
While Marten certainly has an unassuming air about her, the moment you delve into Feeding Seahorses..., the savage side spurred on by the likes of Camus shines through. "Blood Is Blue" features the brutal imagery of "I'm a slaughtered pig / and I'm happy to die," in regards to love, and a previous relationship. Continuing on she furthers this allegory with stark lines such as "So sit down, let's eat / fill your plate all up with meat...".
Her ability to gut vulnerable emotions for want of bare realism, only to then pull out its beating heart brings the truth of how Marten sees the world to light. The numerous references to the sea and marine life on cuts such as "Fish", "Blue Sea, Red Sea", and the album's title track may outnumber the more brutal, but it's this brutality that shows the multi-faceted mind to the environment she inhabits.
"'Blood Is Blue'... it's quite grim. I come from a history of towns with butchery and farming, and that's the way of life - there is no alternative, but then moving to a place like London and observing the hate over [it], there were controversies."
"To be honest, 'Blood Is Blue' is exploring a relationship where I was very vulnerable, and I didn't really have my head on at the time so it was basically I might as well be a 'slaughtered pig'... 'I'm ready to go…take me for what I am', that sort of thing. Sometimes that's how you feel! The bare bones of a person - it's blood and guts."
To be a songwriter is to be someone vulnerable. It's rarely possible for your music and lyrics not to transcend, eventually creating a voyeuristic aspect to your life. The cycle of Marten's journey was one that fed into this idea even further. The covers on YouTube evolved into a record deal which in turn grew into EPs and a debut album. There's no doubting there's now an entire trail of Marten's growth and evolution from homage-paying tweenager, to observational adulthood, moreso than most people, given the internet-age.
"I'm really trying to not look back," she says of her past. "I think that's important with anything. There's the whole thing of woulda-shoulda-coulda, which can really get you down, and there's no point in doing that. I'll never listen to that first record again."
That doesn't mean those songs will now sit forgotten. "We still play them," Marten assures. "It's interesting this time around because the music is a lot more band focused, and will be more interesting live which means the old songs sound more current, and I still enjoy playing them. I will never sing 'Bird' again, but that's that. It's a balance of old and new; I think that's important."
Is it hard to feel like you're growing when there's this constant eye upon your formative years?
​"We're on the internet, forever. When I started at 12 - that will never go away," she says poignantly. "And it's okay to not be how you want to be seen all the time, from day one. I think it's important to just laugh at yourself constantly - a light chuckle! Not a guffaw, because that just demoralises you. Be a little bit light-hearted with things is what I'm trying to say."
As someone who had to grow up quickly, and as someone finding conversations with middle-aged music suits increasingly more comfortable and those with her peers harder, it's all cumulated into an ability to flow, and to survive, which itself has created a breeding ground of over-thinking.
"I think all the time. Like, way too much. But at the moment it's on the positive side. Too much thinking is bad for you," the irony of the statement not lost on her. "And that's a family motto! On the whole, I'm more of a 'human being'. I don't think I really was one the first time around. Who's a human being at 15?"​
The world will probably keep turning, with ecosystems continuing to evolve as everything changes, and the same applies for Marten. She's gone through a childhood that pushed and pulled, with no lasting negative effects ("I think I still had a pretty normal childhood - I still got drunk in parks and things..."), and now she's ready for her next metamorphosis.
Feeding Seahorses By Hand
is out 26 April via Sony/Chess Club.
Billie Marten
plays London's Islington Assembly Hall on 13 June as part of her UK tour.
Find out more
.
Get the Best Fit take on the week in music direct to your inbox every Friday