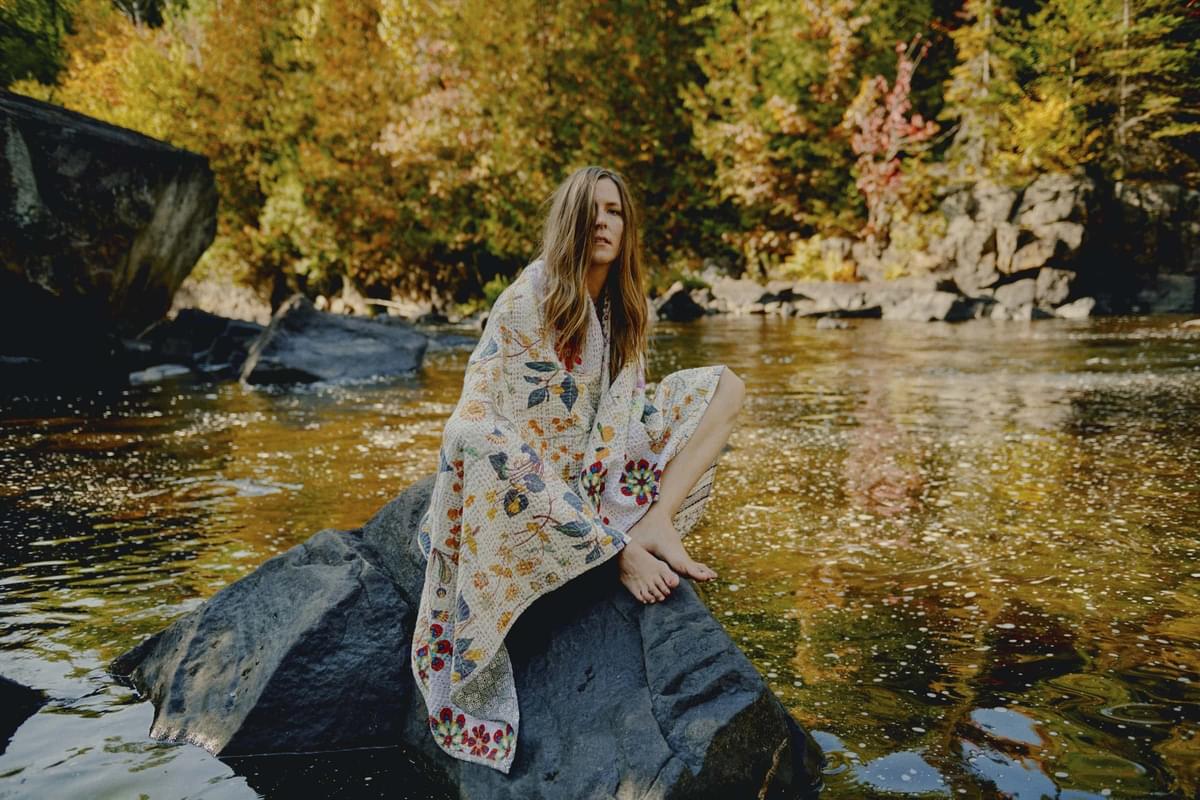 On the Rise

Beyries
11 November 2020, 10:45
After beating cancer twice, Montreal singer-songwriter Beyries overcame her insecurities to follow her heart, making music that connects and empathises with honesty and grace.
Before she even knew what it was, Amélie Beyries was obsessed with her grandmother's piano. "I was just always under, on, somewhere around the piano," she exclaims across an early morning Zoom call from Montreal. Although her grandmother died before she was born, the grand piano became a centrepiece of Beyries' childhood. "I'm attached to nothing materialistic wise, but the piano is that one object in my life, one thing I would never let go, ever, ever," she says adamantly.
Growing up, the piano was her refuge. She learnt to play from an early age, waiting to be alone in the house so she could crack the lid and indulge in solitude. In her teens she travelled to France to visit her brother for a month. "I was missing my instrument like I was missing my friends or my dog," she explains. "I remember the feeling I had and I thought maybe I should learn another instrument so I can bring my music wherever I am, so that's really what motivated me to learn the guitar."
Just as she taught herself the piano by ear, she began to learn the guitar, watching as other people played, studying her chord book. She began to compose songs with her friends at school. "We just loved singing them together, but it was just for fun," she smiles.
After graduating from a course in communications, Beyries moved around from job to job, working in biotech, fashion, in restaurants and behind bars, never really finding her footing. Caught up in work, music took second place. In her late twenties she was diagnosed with breast cancer, and everything came to a halt. "I was twenty-nine and I went through a year of treatment. When I got out, I always wanted a country house so I decided to buy one. So I moved my grandmother's piano in there, and I started really playing much more than I used to," she says. "It really shook me and every part of my body and my mind and I really had to rewrite my story, rewrite what I was."
Speaking with Beyries, there's a refreshing rationality and conviction to the way she talks about her journey. Rather than dwelling on the emotionality, she focuses on the practicality of cause and effect. After the treatment was successful she returned to her job, to her normal life. And then the cancer came back. "The second time was like, no, I don't think you understood," she laughs. "I like to think about it like this, I like to think about the fact that everything we do is just perfect. Every person you meet is the perfect person you need to meet and whatever happens to you, you need to learn something about it. So that's how I want to see it, more positive than being just a victim saying, why me?"
After beating cancer for a second time, Beyries listened to her heart. She wanted to focus on music and she wanted to travel the world, however, she still didn't believe her music was good enough to be heard. "I listen to a lot of music and I thought what I'm doing is not at the third of what people are doing, what is accessible, what is out there. And that's why I didn't want to share it. I didn't think it was that good," she explains.
There were three real turning points in her story. The first was close friend Emmanuelle Girard who offered up her services as Beyries' manager after becoming obsessed with the early demos. "Emmanuelle taking me like, we're going to do this, I'm going to change my career if I have to, I'm gonna do whatever it takes to take your music out there. What do you say to someone like that? Like, no no no?" She laughs.
The second was producer Alex McMahon to whom Emmanuelle sent the early demos. "He's pretty much like a god here in Montreal, he's like a music genius," she explains. "Alex said, oh my god I love it. Who's that? Nobody knew I was playing piano, nobody knew I was writing songs. That was a very big turning point because he legitimised it, so I was now under his wing. Like, this girl's good, so I might be good, I must be."
Having worked a little in the music industry in Montreal, Beyries insisted her demos be sent out anonymously. "I didn't want any pity," she states. "You look at a picture on the wall and you don't know who's behind it. It's maybe your neighbour, maybe Picasso, you don't know. It's art for art. It's so subjective. I really needed people to judge the music for the music."
And the third turning point was her first show opening for Martha Wainwright. "Can you imagine that?" she laughs across the laptop screen.
Releasing her debut album Landing in 2017, it was an album of tender storytelling that resonated with listeners not just in her home country, but around the world. She began to play three to five shows a week, travelling to Europe, the UK, and even playing a date in Istanbul, a trip she still recounts with joy and disbelief.
With a new found confidence and a growing audience, Beyries is returning with her second album Encounter, a record that plays with the idea of encountering one's own self, revealing hidden truths through music. It's a gorgeous record, both mature and gracious in its narratives, the songs composed around the lyrics they're elegant and soaring, full of texture and tone. Tracks like "Out of Touch" and "Keep it to Yourself" feel intimate and confessional, while recent single "Closely" builds organically into the kind of chorus that greets you like a lost friend.
And even though, like us all, she's currently grounded by the pandemic, Beyries is taking this enforced period of stasis as yet another opportunity for personal growth. "I like to look at it as a little pause in everyone's life. Time to reflect and think about what we want, what we don't want," she says. And if anyone should know, it's Amélie Beyries.
Encounter is released on 13 November via Bonsound
Get the Best Fit take on the week in music direct to your inbox every Friday