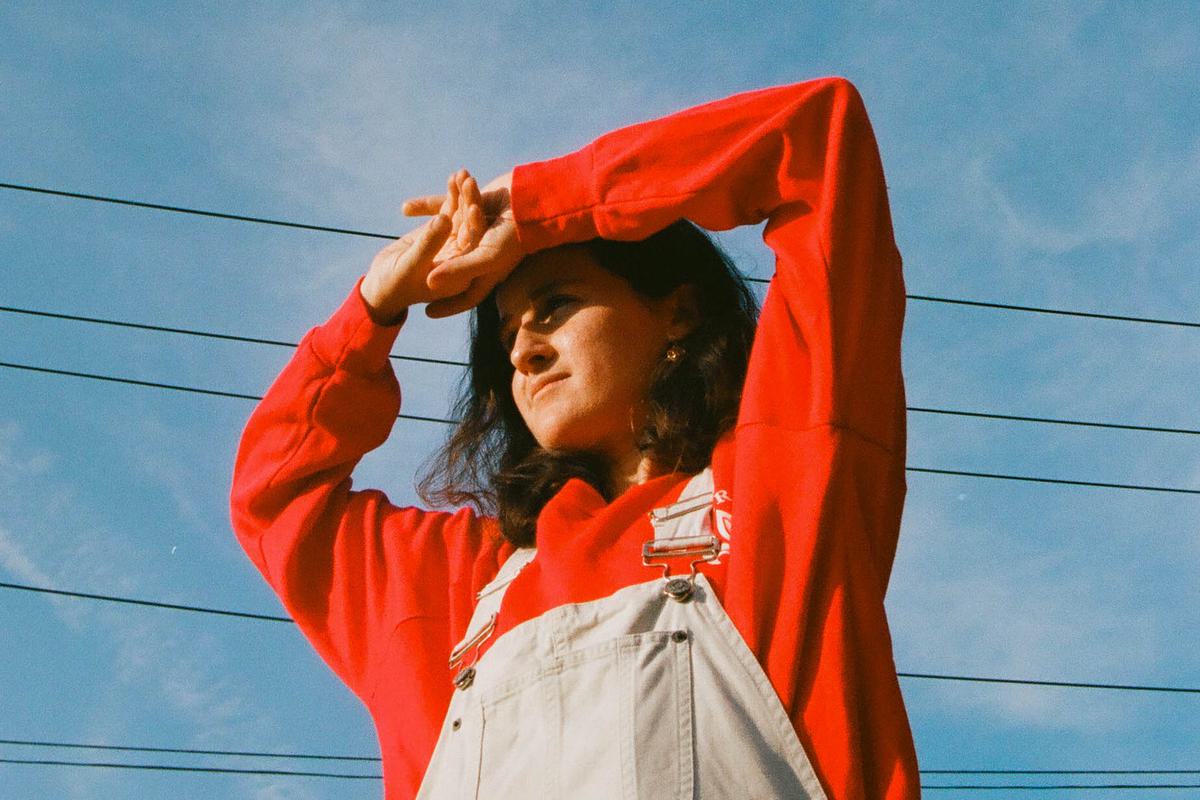 Meet Barrie, the Brooklyn-based artist making wonky dream pop for the masses
31 October 2019, 14:15
As she prepares to play Pitchfork Music Festival Paris for the first time, Charlotte Krol talks to Brooklyn-based Bostonian Barrie Lindsay about her reformed guise as a solo artist, her current musical obsessions, and how her next record may veer into Appalachian sounds.
Barrie has seen some healthy upheavals in 2019. After releasing her offbeat but accessible dream pop debut Happy To Be Here in May, Lindsay and her troupe of five musicians (who came together in 2018 from various corners of the internet and the globe) decided to part ways.
Now, with British drummer Dom Apa still intact, Lindsay continues under her first name moniker. She explains the band's changes and reveals that she's been hoarding "weird" instruments – possibly to feature on her next album.
Hi Barrie! You're currently on tour and will play Pitchfork Music Festival Paris on Friday. How are you feeling about it?
"I'm excited. I've never played any of the Pitchfork festivals. It's pretty crazy to be on the line-up with some of those acts!"
It's been nearly two years since you emerged with your brilliant debut single "Canyons". What changes have happened since then?
"The big change is that we started out with the five of us and then over the spring we came to the realisation that we kind of all wanted different things out of it. We went our separate ways. Since then, it's been me flying solo with some new members – more like session musicians who come on tour with me. I still have Dom on drums though."
How are you finding that new dynamic?
"It's cool, it's fun. This is kind of how I'd operated previous to the group of five. I write the parts so I'm used to being a control freak. It's been fun to play with musicians who are around to follow my vision and who are really good at their instruments."
Were there any hard feelings about it? Or was it an amicable 'split'?
"Everyone is super lovely and understanding. Of course, we're all sad because we've been on this cool adventure together that was just getting momentum. But we all just realised – on our own and as a group – that it wasn't really what we wanted. It didn't really make sense, the way it was set up. So we thought, well, I'd be happier and we all want each other to be happy. If we keep trying to push this version of the band then we're not going to be happy. Everyone's very caring. There's no hard feelings."
Do you still hang out with the old members? If so, what's that like?
"Oh yeah. Noah [Prebish, former guitarist and keyboardist] and Sabine [Holler, former bassist and vocalist] have a band called Simon's Spine. They're making an album now and I'm singing on one of those songs. We're all in Brooklyn hanging out. They're just the coolest people. It's great to see them at their shows doing their thing. That's part of the reason why we went our separate ways. Everyone is so creative – has so much to say and do – that there's never enough room in one band for everything that everyone wants to do. It's cool seeing everyone going off in different directions, exploring and pursuing their passions."
How did you find the reception to Happy To Be Here?
"It's funny, you know. It's hard to gauge. You look at streaming and play counts and weird, quantifiable stuff. And then there's just random people on social media or whatever making comments. It's really weird to get a read on what people think. There's a slow burn aspect to putting out an album – especially if it's a debut album. No one's waiting with bated breath for, like, a Beyoncé album dropping at midnight. People discover it in their own time through playlists or when their friends put them onto it. So it's been really great seeing people coming to it.
"Going out on tour is a really cool way to see how people are finding it – how it's affecting people's lives, how they're enjoying it. It's wild, you know, we just played Utrecht's Under Your Skin festival and people who live there were coming up to say, 'I've been listening to your album for months.' I'm like, that is so fucked! People in the Netherlands have listened to the album and have come to the show. It's your little bubble in your little world – I don't know, people say this all the time – but it is pretty wild. Some of these songs I wrote while I was living in Boston in a little apartment, writing and cobbling things together after work at night. It's wild that people treat you like you treat your favourite bands. It's so weird to be the other side of it.
To date, your music has combined elements of dream-pop, indie and generally has an off-kilter, though accessible pop sound. Could you reveal what's next in terms of sound and production now that you don't have other band members' input in your songs? Will the compositions be more stripped back, for instance?
"When I write songs I generally write every part and the demos are fairly fleshed out. There's pretty thorough production or at least a general sense of where the production is going to go. In making that album we developed some parts and synth sounds and wrote all these great drum parts and stuff. So I guess, going forward with the next steps of writing I kind of see it as fairly similar.
"Actually, I've got this habit of kind of hoarding instruments – some really weird ones – and over the last year or so I've got a harp, a dulcimer, a clarinet and a cello. I've just got to the point where I can make sounds on them. In the next few months I'm going to go back to Massachusetts with all these instruments. I just want to learn how to play them and write music on them. I don't know if the next stuff is going to be stripped-back, acoustic – and but I can't help but be drawn to synths and guitars, too – but I'm kinda figuring out right now what things are going to sound like. I'm so excited to cave up and make lots of music. I've already written a few songs on the dulcimer and it's so fun. There's no greater joy."
Tell us about your key musical influences growing up?
"There's a whole range of influences. Dream pop, for sure. The Sundays and bands like that. But I think, really, the ones that excited me in high school – my formative years – was Sufjan Stevens. He was a huge influence on me – all of his early Illinois stuff. His orchestral stuff, chamber poppy stuff was super exciting. And honestly just pop in general. I love just straight ahead, top 40 pop music. I love the whole era of the Swedish masterminds. I love Robyn and all the monster hits. In high school it was also The Shins and early St Vincent."
Who is influencing you now?
"It's been really cool to see this big crop of bad-ass women including Phoebe Bridgers, Tomberlin, Soccer Mommy and Snail Mail. I also love Hatchie, she's been in my ears the last few years. She's my favourite of the last few years and her album [Keepsake] is so good. I've been playing the Tomberlin album At Weddings a lot recently and I love Phoebe Bridgers' album [Stranger In The Alps]. Some of these artists are ones who, at first, I didn't have lots of patience for. But when I was actually on my second and third listen – when I actually put in the effort – I was like, 'Oh, shit, what!' Like, I love Soccer Mommy so much. And I'm just so impressed with Snail Mail as a person. She's so young and so confident and she's playing Madison Square Garden and she's so chill about it. I don't know how these young people handle it. But right now, like, over the last six months, I've been really feeling that crew. I'm a bit late to the party."
You mentioned how young some of these acts are. It begs the question, how old are you?
"I'm 30."
How did it feel entering the big 3-0?
"Oh my god, it's awesome. It's so chill on this side. Everything people say, you know, about not caring about what people think at this age, it's true. It's so freeing. I mean, it's still there a bit but it's so much more freeing than when you're 20 and you're constantly looking over your shoulder."
When did you first start writing music?
"My parents made me take piano lessons when I was about eight or nine. Around then, I just started writing stuff. I was learning how to read music, write down progressions and stuff. That was the start of it. They were pretty simple, classical-based progressions because that's what I was playing and was being taught. I would practise a piece but then would have way more fun making up my own thing or veering from the path.
"I really started writing in earnest when I had my own computer and I had Garage Band on it and I would just hole up in my room. Nobody knew – I didn't tell anyone I did music until college. I was constantly making stuff on Garage Band and then Logic. I wanted to do scoring, like film scoring, because I always wanted to be behind the scenes. But I had this love of pop music and eventually I accepted that pop music required being in a band and performing in front of people – not behind the scenes. I shifted into that in college. It's funny – I'm now five or six tours on [into my career] and I'm like, 'Wait, what, how am I the front person of a band? How did I end up here?'"
How do you write music? Do you tend to write the music or the lyrics first?
"Music is always first. It comes really easily, really fast. It's fun. The lyrics always slow me down. It's more of a struggle – a fun struggle though, like a wrestle. I have a big old iPhone note of all these ideas and sometimes it's something that comes quickly and other times it's more planned. Sometimes I have to really think about the big picture. I have tons and tons of projects on my computer with lots of scraps of music that are just waiting for the lyrics. I think if I didn't have lyrics I'd have released like 12 albums by now."
Do you make ends meet making music or do you have to support yourself with a day job?
"I do have a day job. I'm in this period where I'm kind of shifting to being able to do music full time. I've always had day jobs. Nothing that I would ever consider a career – it was always just stuff that I could leave. I've been a studio assistant for a sculptor for several years. And that's the cool thing, you know, working for artists. They get it and are excited that you're doing art and they want you to take your time in your space to do your thing. So I worked there, I worked in an art museum, and in Brooklyn I work for this college that I went to – some friends from college's company. They make jewellery. They're musicians and former musicians themselves. They hire their friends who are also musicians and are super chill about people going on tour. Dom works there too."
What do you want to achieve with your music?
"I think the greatest thing you can hope to achieve is any kind of human connection. That's what excites me about music. That's the greatest feat art can achieve. That might be trite and corny but it's something I appreciate more and more."
Lastly, what are your musical ambitions?
"My goal, my dream, is to have a little house in the middle of a field where I can make music all day. It would be where I don't need any other jobs. I honestly don't want anything beyond just being able to make music. And other stuff too – producing and writing for other people. It's a very simple dream and it involves just doing music. I'm a simple person. I'm on my way to the field. That's all I need."
Barrie's new EP
Happy To Be Here (Ext)
is out now via Winspear. She plays Pitchfork Music Festival Paris' Nef stage at 7.30pm this Friday, 1 November as well as a number of November UK shows (
see tour dates
).