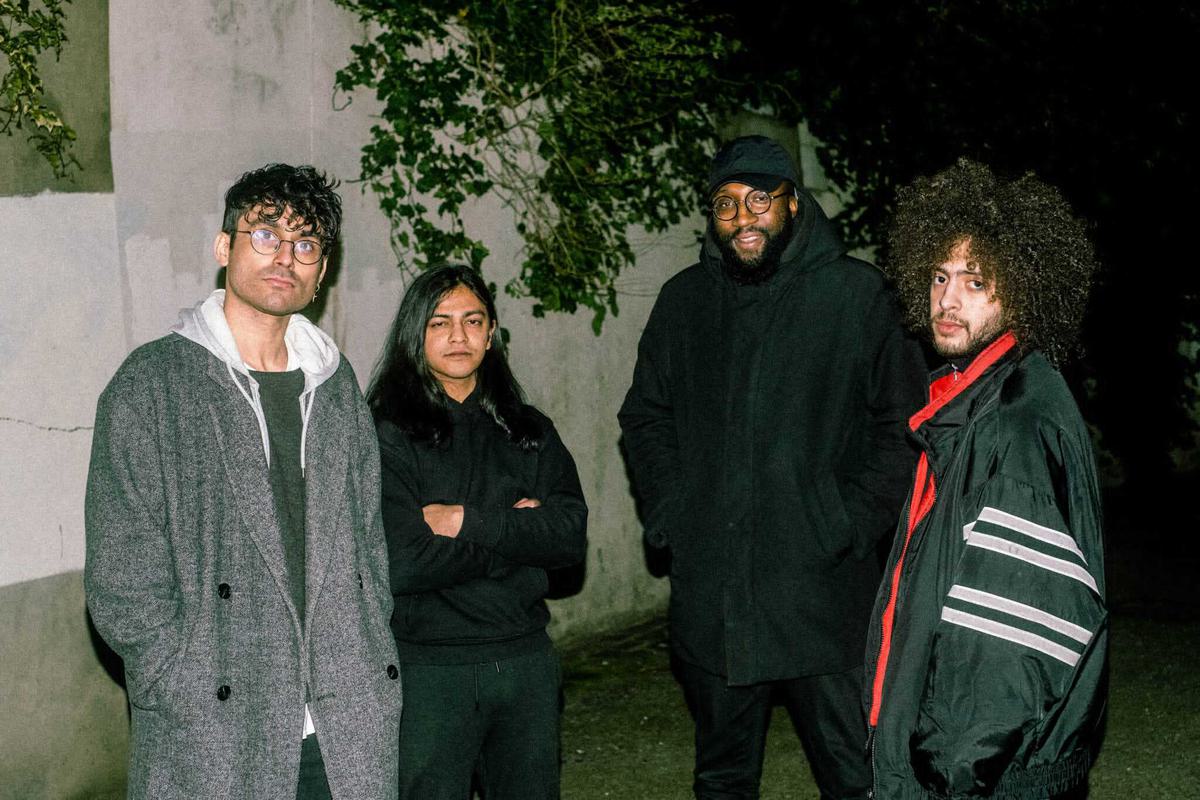 On the Rise: AV Dummy
24 March 2022, 12:20
Arriving on the cusp of irreversible global unrest, anarchic four-piece AV Dummy are documenting the downfall of man in high definition.
Listening to AV Dummy is an exercise in maximalism. Their anarchic combination of garage beats, grime bars and hyperpop vigour is a deft exhibition of the capabilities of its constituent members. Beginning as the bedroom project of rapper BUCHANAN and the chameleonic producer Christy Carey, they have now refitted their live roster with prolific gospel drummer Jerome Johnson and bassist Sat Chatterji.
What began as an exercise in trading track snippets via Facebook groups between Carey and BUCHANAN is now a fully-fledged band. AV Dummy taps into their combined disgust at the current UK establishment, using music as a conduit. Carey's meticulous production and BUCHANAN's experimental bars create the foundation for something equally primal, visceral and unique.
We are gathered in a classic central London pub on a mild afternoon, and it soon becomes apparent this is their first whole band meeting since they played Oslo last December. They celebrate as each member enters the room, with Carey travelling from Birmingham.
"The first time we met in person was at a Death Grips show. BUCHANAN was asleep on the barrier," Carey jokes. Despite their aversion to comparison with the mysterious glitch-rap kings, it was oddly serendipitous that the two met face to face at this show. "We've even got a picture of it somewhere," Carey laughs. Often the story for many producer rapper duos, Carey and B exchanged beats online for years before realising they were dealing with something greater than themselves.
"It was a digital thing for years. We just shared on Facebook or over email. But we wanted to go beyond that rapper/producer duo which gets tagged down by everyone. Regardless of the music including guitars and drums." Reinforcing the longevity of their relationship, BUCHANAN adds: "We started "In Colour" when I was about 16. I'm 22 now."
Having outgrown the confines of their bedrooms, and needing to find a way to perform live, Johnson and Chatterji were introduced. AV Dummy's members each bring a unique set of tools to the table – BUCHANAN's anecdotal lyrics, Carey's animated production, Johnson's improvisation and Chatterji's vast theory knowledge. On paper, it shouldn't work, but their unified vision of creating abrasive, complex, genreless music is what ties them together. Chatterji shares: "That's why I get on with these guys. Because their identities don't just lie in being musicians. They also just love art and what it means to be yourself. So in that way, I felt very at home."
When approaching writing, BUCHANAN shares: "I'll say to Christy that 'I want this kind of Tony Allen rhythm with an Afro kind of effort to it. But at the same time, let's push it to create a rhythmically off-kilter thing.' I don't execute things. I just say things." Chatterji continues: "I think I'm able to translate that by putting my knowledge of theory into action." Even before inviting the rhythm section to join them, Carey had already written the parts that they were eventually going to play. "We came at it from a band mindset anyway, like the way I make music. I'm a guitarist first and foremost. So whenever I make electronic music, I've got a band in mind anyway. It was always going to translate to that."
With the band now official, the foursome got to work, and unbeknownst to them, their live set would be something far more spontaneous and sporadic than what's on record. "I never play the same set as the last one," Johnson reveals. "It's all about the experience at the end of the day, I'm learning and assimilating as I play."
Carey echoes Johnson. "We said we didn't want to be a playback band, and that's what we've liked about early gigs. We're learning through each gig. Although when album two happens I don't know how it's going to work. It's going to be fun."
AV Dummy is viewed by its members as a constantly reinvented idea, one that takes in lessons from each performance and integrates them into every future iteration. Somehow both embryonic and mature, they embrace evolution in their sound at every stage of the process. This has certainly made them hard to pin down for promoters, Carey shares. "It's very difficult because obviously when you're starting out, you're going to be a support band. We're either going to be put with an indie band, or they're going to pin us as rap. Right? We have to test the waters."
With their influences spanning from Jay Z to The Misfits, it would be some feat to pigeonhole AV. BUCHANAN cites his approach to songwriting as harnessing the "impulsivity" of MF Doom and "lucidity" of Frank Zappa, but Carey is careful not to define themselves too early. "This was a big thing for us. Initially, we didn't want to go into this with genre or band influences in mind. That was never a thing for us. What TV did to culture, the internet is doing to us. It's the homogenisation of everything. Everything sounds the same, everyone thinks the same, everyone looks the same. We didn't want to do that anymore." BUCHANAN adds, "We've got to a point where we're all so superficial and identity-based. We glorify people as being rich and celebrate people for being idiots. A lot of our music is about this outrage at the idea of outrage and anger at the idea of righteousness. It's stupid. It's self-defeating and does nothing."
Chatterji compounds BUCHANAN's statement with his own experience. "As an Indian person, not one Indian person I know is offended by Apu [of the Simpsons]. They made such a big deal of it all, but he's living the American dream". Carey is quick to point out: "It was American people that cancelled him."
AV Dummy's music is fueled by an appetite for positive change, an ideology shared by the whole group. Their upcoming record is aptly titled Pornoviolence – the concept taken from a 1967 essay by American journalist Tom Wolf that refers to overly graphic and morbid videos used in mass media to entice prurient readers. AV are reuniting the contemporary listener with this concept, which seems increasingly more relevant as each news cycle passes.
The album itself embarks on a bold undertaking: to immortalise and address the gaping issues in our modern era, notably zeroing in on the UK government and their treatment of the unemployed as second class citizens. Single "DWP" sees BUCHANAN rip into how the systems failed him when he was homeless for a period of time ("I'm a Tory's worst nightmare/Welfare grabbing, four-pack of beer buying/Knife crime condoning, happy slapping/ Laughing, Homeless bum who's still drunk from the last year"). There is a looming heaviness that buttresses the record, utilising BUCHANAN's deeply personal past to force the listener to face the glaring issues in front of them.
Set to be released on 20 May, Pornoviolence is AV Dummy's debut album. Celebrating signing off on the master, Carey makes an attempt to outline the themes of the record. "It has a level of honesty I haven't heard in a long time. It's very hard to summarise. We stumbled upon a sound via blind ambition. There's krautrock on there. There's ambient stuff going on. There are lots of indie vibes. It was just a very natural process."
"The agenda of the record is basically saying that we have too much," BUCHANAN starts. "There's just too much constantly going on. It's impossible to really comprehend how bad things really are. The truth is, political systems have no value, they have no meaning. I use Winston Smith [of Orwell's 1984] as a literary device for the futility of resistance. Because he fails. He doesn't really resist. He just believes stuff. That's it. He just thinks things. He doesn't do anything at the end of the day. And at the end of that book, it goes badly."
Carey pipes up. "People are obsessed with self-gratification. If they need loads of likes to feel like they're important, their vanity has been enabled to such an extent that I can't get my head around it. It's a mental illness."
BUCHANAN is especially frustrated by how he finds himself playing into other's self-obsession. His rage is palpable. "We spend so much time thinking about what the fuck Kanye West is doing. I spend too much time thinking about what the fuck Kanye West is up to and what he thinks. It doesn't matter. He's just a person who just happens to be famous and rich. It means nothing. There's no philosophy or ideology behind any of this because it's just vacuous nonsense."
"My girlfriend watches Keeping Up With The Kardashians. She will acknowledge that it's stupid, but it's an escape. [It's got] to the point that escapism has become watching people do nothing.
Pornoviolence is setting out to provoke thoughts that humans constantly try to quash, and AV's signature sonic palette is the perfect means by which to deliver the message. Carey points to AV's collectivist mindset for being so unafraid to broadcast it. "I think that's the reason why it works so well between the four of us. I'm very much an aesthetic person in comparison to BUCHANAN. He's got depth to what he's writing and I care more about the technical details. So when you combine those two, it's a very natural combination. It's a very natural marriage."
AV Dummy's unbroken stream of creative output is not only a product of the way they support and enforce each other's expression, but their need to fill a gaping gap in the framework of modern music. Where punk artists like Kid Kapichi and Bob Vylan preach anti-establishment agitprop and sing of working-class life, and modern grime flagbearers Dave and Headie One point fingers at the glaring inadequacies of government policies, AV Dummy straddle this line proudly. BUCHANAN's torrent of consciousness is tied neatly at either end with Carey's crystalline production – and is only able to be interpreted live by Johnson's tenured experience as a gospel drummer and Chatterji's innate capacity to listen, digest and create.
The last line of the record is the words "too much" on the final track "Memorial Day", echoing in dead silence, as if lost in transmission. They immortalise the data-overload of the internet generation and mirroring both BUCHANAN and Winston Smith's sentiment that – maybe – resistance really is futile.