In New York City's Time Square, Audrey Nuna's face has been adorning billboards for several weeks. Such a thing must have felt a million miles away, rather than just a few kilometres, when she recorded her new project A Liquid Breakfast – in the airless closet of an apartment overlooking the George Washington Bridge.
"I bought all this gear because I couldn't go to the studio and I still wanted to get some vocals in," Audrey tells me "I set it up in my bedroom and my producer came back to me and said 'you have so much background noise'. I live right off the George Washington Bridge and people would always be getting into accidents outside my house. You'd hear it in the background of my vocals, these cars crashing, people honking and being classic East Coast people [laughs]."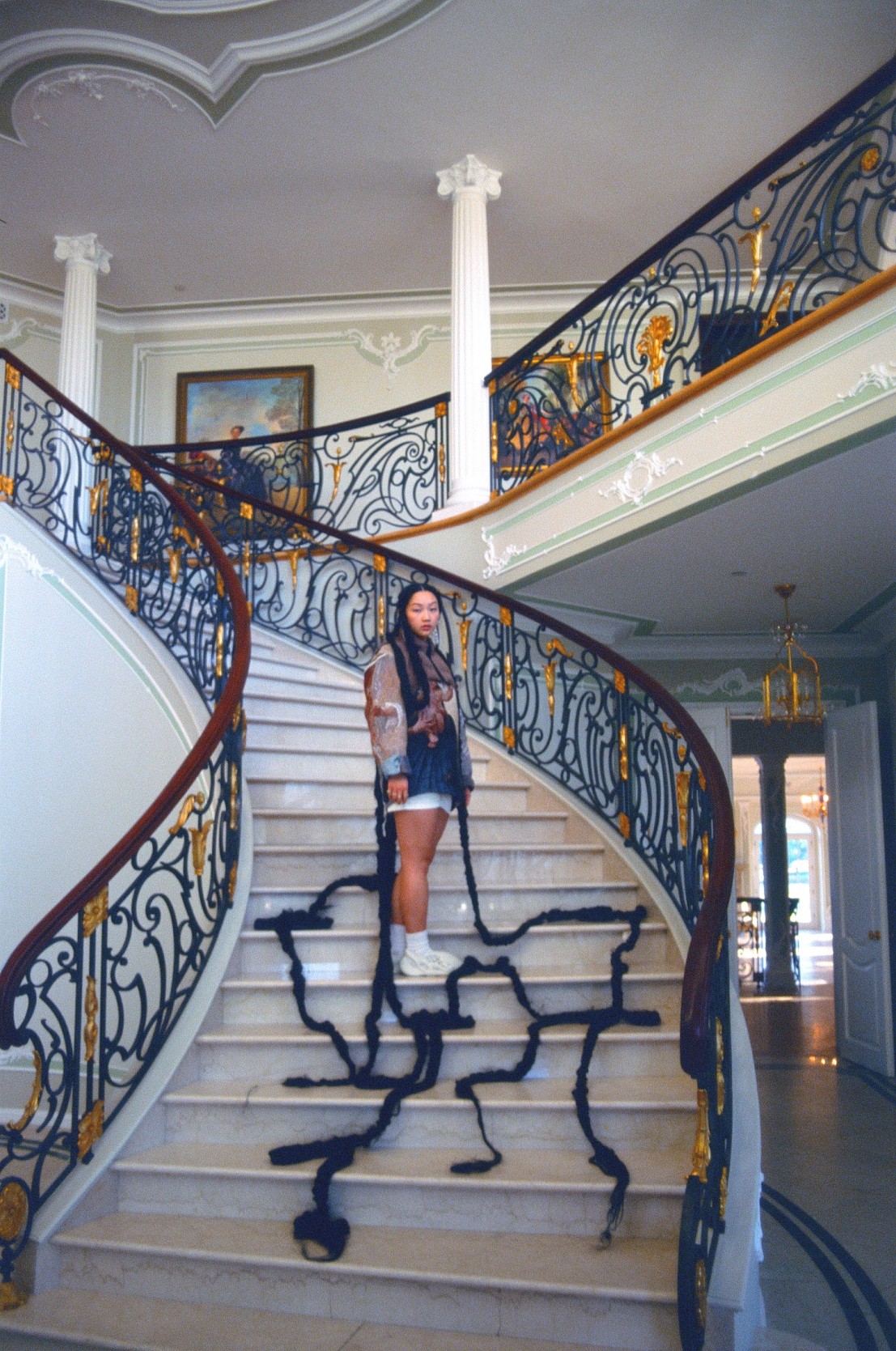 The closet, then, was the best available option. "I ended up moving my stuff into this closet I had. It was really soundproof but only because there was no ventilation. I would go in there for one hour at a time, take off all my clothes because it was so hot, work for an hour, take a break and then go back in again. Everything is very DIY for me."
Such humbleness is something that Audrey clearly sees as an intrinsic part of her. Audrey grew up on what most outside casual observers would call, disdainfully, 'the wrong side' of the Hudson River: in a small New Jersey township named Manalapan ("New Jersey has this bad reputation only because of Jersey Shore I think," she's quick to counter). The relative quiet compared to somewhere like New York City meant that she had to look deeper for inspiration. "It was kind of boring growing up there. Everything closes pretty early. It was good for me though; it was a breeding ground creatively for ideas because I was bored all the time."
Her parents first moved to the US from South Korea at tender ages, her father aged 18, her mother at just 11 years old. Audrey was raised in a distinctly Korean-American household but her notion of heritage soon became subjugated by the suburban monoculture that surrounded her. "It wasn't until I was an adult and moved to New York City that I was like, 'wow, the rest of the world is so diverse,'" she recalls. "It was just part of my ecosystem, walking into a classroom and not seeing any other Korean faces. It definitely gave me a little bit of dissociation with my identity but I think that's just human nature."
When I ask about her musical upbringing as a child, though, Audrey acknowledges a split. "It was a weird mix of both. My mum loved Whitney Houston, Destiny's Child, Celinde Dion. But then she also played a lot of 1990's K-pop bands and Trot singers, which is an older form of Korean music." After being subject to the influence of her parents, it was in high school that she discovered her own taste: "I started listening to A Tribe Called Quest, Thundercat, Kendrick Lamar of course, Kanye. I finally figured out what I liked."
Aside from a very brief period in junior year when she considered pursuing physics ("I was seriously considering becoming an astronaut but then I failed my final exam"), it was always going to be music for Audrey. Her mum still insists that she could sing before she could talk. "I would hum melodies if I ate something yummy so I think it's always been part of my life," she recalls. At 10, she got her first experience singing for a big crowd, performing 'America the Beautiful' at the US Open Tennis ("It was lit! I killed it.") But her career really started to take off when the producer Anwar Sawyer happened upon her performing a cover on Instagram with her Casio keyboard. Although she had just around 1,000 followers, he immediately reached out to her. Audrey met Sawyer with her mother to assure her that this was the real deal; soon after they started writing songs together and just never stopped. "We created a space where it was super comfortable and we could try whatever we wanted to sonically," she explains.
Onto the present moment. A Liquid Breakfast was released late last month and its title has an appreciatively simple story. "It was a time of my life where I was drinking a lot of smoothies and rushing through the morning. It was just something that was in my head and I liked how it sounded. I tend not to overthink things like titles." When I ask why it's called a project rather than an EP, Audrey's answer is conclusive. "I decided to call it a project because it didn't really feel like an album to me. It's a weird mix of different sounds and feelings. This feels more like an introductory piece, a way of saying 'hi' to everybody."
Although there's a distinct mix of sounds and feelings, Audrey acknowledges a clear undercurrent to the project. "It's about being a loner and being liberated by your own exile and independence. I've always been a loner in some ways, I'm super introverted. I enjoy the hours between 2am and 5am when no one bothers you. So this project is about growing up and being such an individual."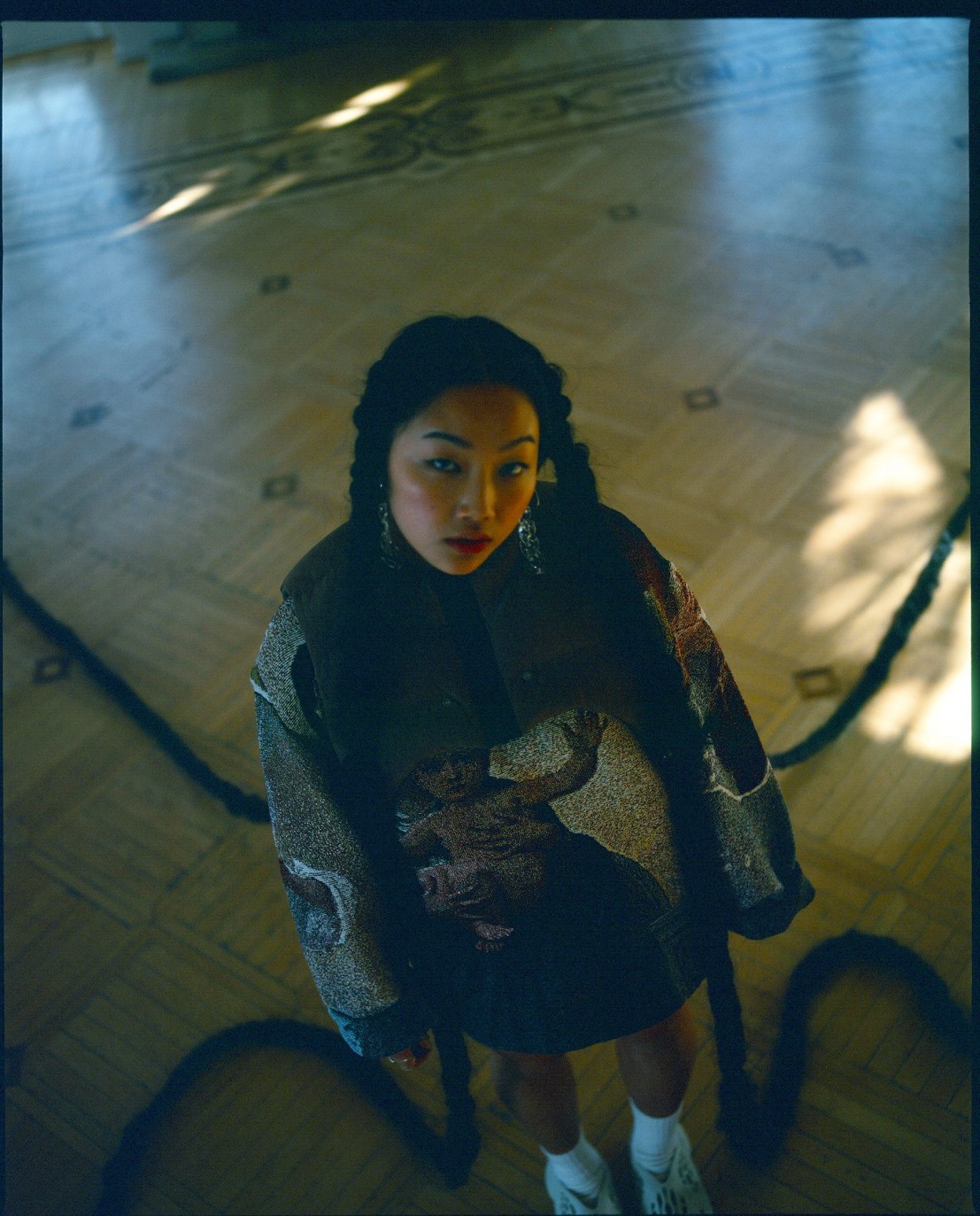 It's not fervently independent however. Audrey snared some impressive collaborations for a debut project in Jack Harlow and Saba. Harlow was so impressed by her that he took time out of his tour to make sure that he could quickly record with her. The Saba connection is more poetic. "I'm a huge Saba fan and I actually fainted next to him at a concert once because I was so dehydrated, she laughs. "So it was an awesome full circle moment for me to work with him and to be able to tell him that story."
Talk soon turns to the suburbs again: I posit that they can be such fertile ground for loneliness, and Audrey, through experience, agrees. "I think [A Liquid Breakfast]... it's definitely a suburban project. The city has its own loneliness but it's different from the suburbs because we all create our own space by choice. We decide to have houses that are 100ft apart from each other!" Recording in this place, she was able to assert her own thoughts, her own vision and it's why there's a fluidity within A Liquid Breakfast that Audrey seems to relish: she never settles in one genre, flitting between stinging rap and stunning R&B.
When I say that she appears just as comfortable rapping as she does singing in the project, she's completely taken by surprise. "That's so funny. I didn't rap a single word until I was like 19 or 20. I'm 22 now so it's still new for me." Her status as a self-professed beginner doesn't seem to shake her confidence. "There's a cool balance between not knowing what I'm doing but also not knowing exactly what I think along the way," she concedes. "I've literally switched out vocals the day before an album has had to be turned in because there's just a certain way I want things to be."
As her career has sped off, it might have been easy for Audrey to forget her background but no matter how entrenched in US music she has become, she's never lost sight of her Korean-American identity. "I think it's just part of who I am," she says. "Whether it's conscious or not, it's going to be a big part of what I make. My experience is growing up with Korean parents, speaking to my Korean grandparents, going to Chuseok [Korean Thanksgiving], and going to visit my relatives in Korea. It's baked into who I am. It will always leak out into what I do." Just by being herself, the vital thing for Audrey is normalising seeing someone Asian-American thriving in rap and R&B in the US.
It's why a recent film such as Lee Isaac Chung's Minari – loosely based on Chung's upbringing as a South Korean immigrant growing up in 1980's rural America – overwhelmed her. "Oh my god, it was emotional for me. It was crazy to see myself represented on film like that. I've seen Korean films and I've seen American films but it was my first time seeing those two things together. It felt so relatable and the experience was so touching. It was like looking in the mirror at my reflection for the first time."
At the end of her song "Blossom", Audrey's grandma's voice can be heard. "She was telling me about her life story for the first time," she remembers. "I was so fascinated so I started secretly recording her on my phone because I didn't want to forget it. I should play this for my kids if I ever have kids. I cut a snippet of her talking about how she fell asleep while fleeing the war on foot. I didn't know that about her. She thought that someone would wake her up but no one woke her up. She lost her whole family for a bit. I just thought that was a crazy thing to say so casually." After playing the song to her, Audrey's grandma, adorably, didn't recognise her own voice.
Audrey's music will always find such a balance between past and future. Just consider the origins of her musical moniker: "Nuna means 'older sister' in Korean, specifically from a guy to a girl," Audrey explains. "We wanted to add a name because it was very hard to find my music on the internet when I just went by 'Audrey'. So I picked that because it's something I'm used to, having a younger brother, and I just like the idea of making everyone else my younger brother too."
A Liquid Breakfast is out now.