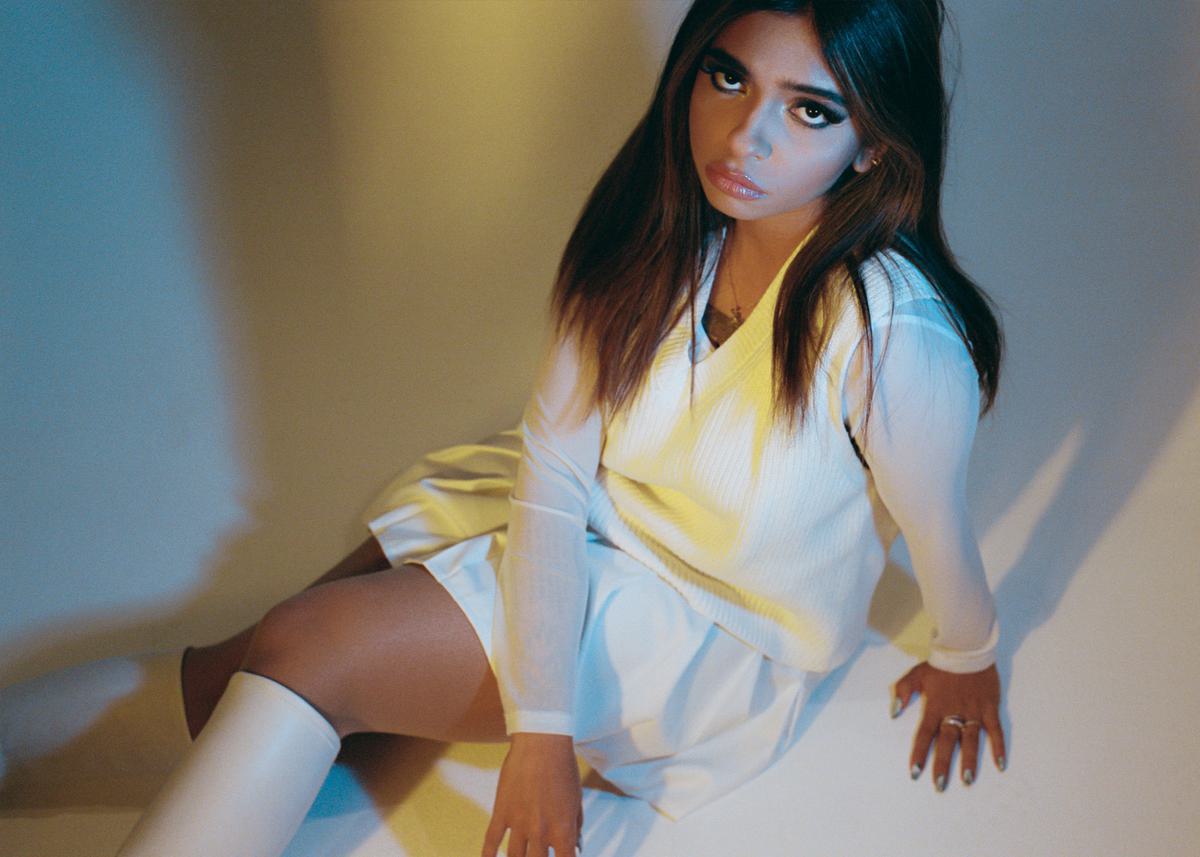 On the Rise

Ash Lune
22 July 2022, 07:15
Mumbai-born and Brisbane-based Ash Lune is making music to get you through the highs and lows of life's most intense melodramas.
"There are things I don't talk to people about as much as I sing about them." Ash Lune's relationship with music and creating it is much more therapeutic and visceral than the people around her realised growing up. So when she started releasing songs, she went through the same dread a lot of us would. "At first, I was embarrassed," she explains. "My family was going to hear it and I definitely don't tell my mum every single detail in my life, or my dad. They'll listen to it and wonder where this feeling came from and that feeling came from. Luckily, they haven't brought it up with me yet."
Lune has already garnered attention from the industry, quickly signing to Nettwerk to release her debut, EP, Broken Science Experiments. Her single "Panic At The Party" is an introverted anthem and bravely addresses the anxieties and fear of not only unnerving social fear, but also the notion of comfort, control, and finding yourself in places that serve the people around you, not yourself.
But once Lune sings about these things, it doesn't hurt anymore. "It's gone. It's just a statement and something you're singing. I could say I hate you but then if I sing "I hate you", you're not going to take it as seriously. I think when I wrote the music I didn't feel embarrassed with my producer about it. I didn't feel the pain. When I write it's from my experiences. The experiences hurt, the words don't."
Dreamy, solemn and powered by depths of life's highs and lows, Lune's music is exactly what's exciting about music right now. Vulnerability is distilled into every line of her lyricism, something she delivers with the stillness of artists like Billie Eilish and the honesty of Olivia Rodrigo. Comparing her to two of the most exciting young stars in music might sound a step too far at this stage but it's enough to receive interest from Tom Windish, the head of business development and A&R at Wasserman Music as well as superstar writers and producers like Tom Egert and Mark Rankin. The gravity of the situation hasn't quite hit Lune yet and when we talk about the momentum she's picking up, she quickly deflects it as something she's dreamed of since she was a child.
Even when you can envision your dream so clearly, it's hard to know when it's time to drop everything and pursue it. For Lune, everything seemed unrealistic until she tried. Growing up in Mumbai, she fell in love with the sounds of bands like Death Cab For Cutie, Iron & Wine and Bon Iver. The problem was her access to Western music was fleeting and sometimes under lock and key. Her exposure to the sounds that moved her came through listening sessions with her brother as he downloaded the soundtracks of shows like One Tree Hill and The OC then decided which songs were worthy of getting a place on his iPod.
Eventually, after nodding along and watching for years, they watched the music video for "Video Games" by Lana Del Rey and Lune felt something stir within her. "The way she uses her words and combines it with music is so powerful. I always loved the lyrics of Miss Lana Del Rey." She turns to point out a large picture of Lana Del Rey hanging behind her. "Watching the music video in my brother's room was the first time I gave him my opinion. They were talking about her lips and I was just staring at her. I was in love and that was the first time I told my brother, "I think this is a great song". I have that song tattooed on me now. It's important in my life and made me want to learn to write and be a poet."
It wasn't until she turned 21 that she wrote her first song, inspired by, "the melodies of bands like Iron & Wine and Two Door Cinema Club." Music had always coursed through her veins but she thought she was a bad writer. "I never understood how someone could make melodies. How can you just create something in your brain?" After watching Begin Again with Keira Knightley she felt so inspired she wrote a song called "Broken Traffic Lights". "It was terrible," she laughs.
The next song she wrote got people's attention, so she found a studio while living in Mumbai and recorded it. "It actually did super well over there. That's when I asked myself, 'maybe I'm meant to do this?'" Shortly after this, Lune moved to Brisbane, Australia and felt like giving up entirely: "I actually moved here to do my masters in counselling because I quit music. I felt like I could never get where I wanted to be and that I wasn't good enough and that nobody wanted to listen to me. I'd sent all these demos out to all these labels and nobody had ever gotten back to me. I quit everything, came to Australia and just had a few leftover projects I'd left alone. That was a very sad time of my life where I felt like I was quitting on my dream and I'd regret it for the rest of my life. But then I met my manager and he loved everything I did. He's super successful so when it happened It was like, "you want to sign me? Huh?""
The story of how she met her manager is as good an example of the universe telling you what to do as you'll find. "I love this story," she starts. "The lockdown here was heavy and I didn't know what soju was. I drank it with two of my friends but they didn't explain to me that it's super alcoholic. I drank 11 bottles and nearly died crossing the street. The next morning I woke up feeling so sick. I was a bartender at the time and studying and writing my thesis while doing a placement at a drug and alcohol centre. That morning I had a mental breakdown about how I would never do the thing I really wanted–to be a musician. Mid-cry I'm sending this random instagram DM to Page 1 Management because I'd always wanted them to manage me. Right place, right time because the CEO was on the page at the time and he heard me singing a random song in my bedroom on my iPhone mic. He said it was great and to send him more. It was a miracle and I'm so grateful for it."
That fortuitous moment laid out the path for Lune to take her songwriting to the next level, pushing herself to write two songs every day for months and eventually understand the art of melody-building that had mystified her her whole life. She found a way to build a soundscape that was inspired by the thudding comfort of anthemic love songs but also melancholic and conversational singing to the whole world while talking to just you. Songs like "Sleepwalk" and "I'll See You Tomorrow" have the shine of contemporary R&B with the authenticity of doo wop romanticism. But right when you think you've figured out her sound, she comes out with the energetic absolute to-be hit lead single from her upcoming second E.P, "Sugarcoat".
"It's a full on pop song," she says through a smile. "I wrote that one in student accommodation in a library actually. There were all these children studying around me and I got kicked out obviously. But, at that time I was listening to Jaden Smith's album or mixtape. Whichever one has 'Rainbow Bap' and all those things on it. I was in love with it and I wanted to create something like that. It was actually written about LSD and my experience with it. We changed it because we wanted it to be more cool and cohesive. I wanted it to be broader than one moment in my life and this was my introduction to pop music so I wanted to be careful." Lune wanted to be genre-fluid and do what most upcoming artists like to do—challenge expectations.
"When I first went to the studio and started writing I only did straight up pop. I wanted to prove I can do everything I love. If there's something I like, I will learn. The lyrics to 'Sugarcoat' are a bit funny and that was something different to try. I don't care what anyone says, I think I'm a funny person. I wanted to show that playful side of myself to everyone and that Ashlyn isn't all that sad and serious."
That's not to say she's moving away from the haunting and humble sound of her first release. She includes what she calls "an homage to my first EP" on her upcoming project and has almost wrapped up an album to come in the future filled with new sounds she's never explored. What she's still trying to understand is how she went from not being able to write a song a few years ago to suddenly writing non-stop. She says something just changed in her—a switch flipped or a light bulb turned on, somehow she knew her dream wasn't something she had to get over anymore.
"My manager explained to me how a songwriter's muscle is their songwriting ability. Like any other muscle you have to keep practising it. I listened to him and it really worked out. It is still weird how I got possessed by it. Now it's all I do. One morning I woke up and everything looked different." After digging through her own past, prodding buried troubles and scratching at scars she'd always wanted to leave alone, she's discovered a new perspective on songwriting when looking outward.
"A lot of time I feel like I should fake stories but if you think about it, you're not writing a song by yourself. When you produce it, there's a whole other person in there with a list of stories about their lives. Just talk to the people around you and there's so many stories to be told. Writing about other people is fine. Writing about yourself can get so boring."
As we wrap up our conversation I ask her if she has any fears of success. Aside from the looming threat of cancel culture she sees the idea of fame to be a two-faced fate. "I love being heard and listened to but I truly do not enjoy being known. If you want to know me, then you come and get to know me. With my music you will understand how I see things but there's so much under the surface so when I'm successful and that comes out people won't be ready."