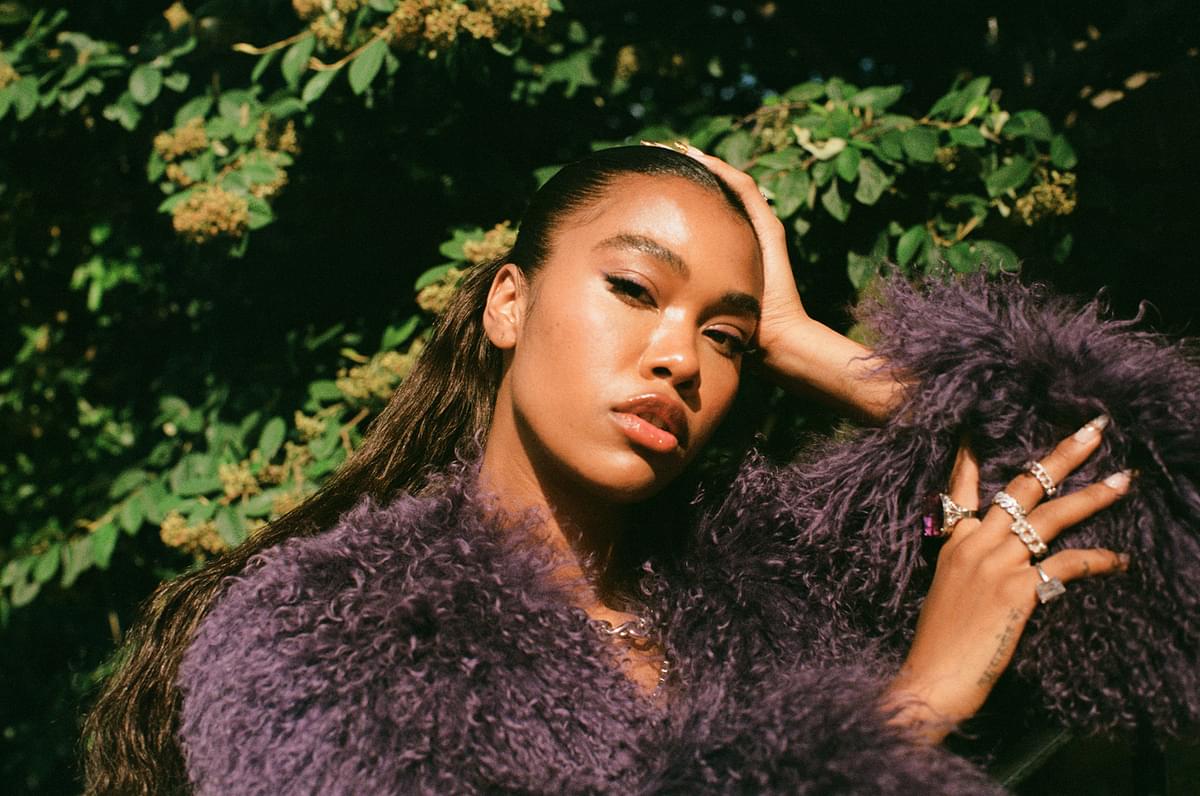 Amber Mark on finding inspiration in science and spirituality
24 September 2021, 09:00
R&B wunderkind Amber Mark opens up about the creative process behind her long-awaited debut album - due 2022 - and how researching astrophysics helped ground her during a tumultuous year.
Amber Mark is hungover, and for good reason. It's a Tuesday afternoon, just hours after she played a sold-out show at Lafayette in Kings Cross; not only her first solo London gig as a headliner, but her first show, full stop, since the pandemic began. It's clear that she's still buzzing.
"It went by so fast!" she tells me. "I'm kind of sad at how fast that was. The energy was incredible, people were singing to every song, even the deep cuts. Damn, I just want to go back and do it all again".
For older acts, the pandemic was a chance to get creative with the novelties presented by virtual shows, but for 27-year-old Mark, who had just three EPs to her name, it's clear that she was just desperate for the real thing. "I did one gig in my bedroom, to a wall, and after that I was like… never again am I doing this," she laughs.
Born in Tennessee to a German mother and Jamaican father, Mark lived in Miami, India and Berlin before the age of fourteen, when she moved to New York. A few years later she met Jay Z's sister Michelle Carter, a regular at her aunt's hair salon, who suggested she begin interning at RocNation. Too self-conscious to mention that she made her own music, it wasn't until she handed in her notice almost 18 months later that she finally played label exec Ty Ty her music, and work began on her debut EP.
3:33AM, the project which emerged, drew a usual amount of attention for a work so short. Fully realised, eclectic and entirely self-produced, each song explored a different stage of grief, as an ode to her later mother Mia, who passed in 2013. The Conexão EP followed in 2018, with Mark blending bossa nova into the sounds of neo-soul, house and pop which comprised her debut. Collaborations came with the likes of Dirty Projectors, Shelley (FKA Dram) and Empress Of, furthering the broad palette of sounds and styles she had picked up from her globetrotting youth and art-loving mom.
Now signed to London's own EMI Records, the day we speak is another landmark for Mark, who had just that morning visited Abbey Road Studios to hear the final mix down of her debut album – the newly announced Three Dimensions Deep, due for release in January 2022. "They were showing off their new Atmos stuff," she tells me. "So we were sat in a circle of twelve speakers, with some on the ceiling too, hearing the new album front-to-back. It felt like you were being wrapped in a blanket of the music; like you were inside the songs".
Because of the strength of her EPs and a consistent stream of singles since, the five year wait between 3:33AM and today hasn't had a diminishing effect on her popularity. Was that break part of the plan?
"Absolutely not!" she laughs. "The album was meant to come out like three years ago!"
As with all things, COVID-19 ended up being the huge factor. "The album was actually meant to come out for real in 2020 – we had a rollout planned and everything. I was really disappointed about it but, looking back, it ended up being a real silver lining for the album. It was only in that time that I really fleshed out the story of what the whole project was about and created this whole universe around it."
"I even added two songs I wrote during COVID, so it's a good job it's finally coming out because it could have ended up being thirty tracks long if we kept waiting," she laughs. She claims that one of those, "Event Horizon", is now her favourite on the record.
Speaking to Mark, it's clear that she operates with a degree of thoughtfulness that isn't necessarily conducive to fast album rollouts. After being presented with a slew of over-sanitised, commercial instrumentals at the start of her career, she took up beat-making and production herself for 3:33AM and Conexão. While the resulting music was plenty accessible (her single "Competition" is easily one of the best pop songs of the year), she enjoys a degree of chaos and imperfection in her sound alongside a wide array of international influences, much more than chasing the expectations of chart-topping pop and R&B.
A key influence is Prem Joshua, a German-Indian musician who blended Indian classical with trance. He's little known in the UK but was adored by Mia Mark, and it was from him that her daughter fell in love with blending seemingly disparate styles in her songs. As a result, Three Dimensions Deep certainly covers a lot of ground – from 80s gated drums and Bee Gees-style backup harmonies to Kanye-style beats.
To achieve this, Mark finally allowed other producers back into her songwriting process. It didn't come easily, after getting used to building songs from the ground up herself.
"Performing is the most natural part of this job for me," she explains. "I know it's normally the opposite for artists but, for me, I get the anxiety when I go into studio sessions. I feel like I'm very slow when it comes to making beats and writing and I have to sift through a lot of options before it feels right. When I meet with real producers… it takes me hours to do what they can do in minutes, so I tend to feel like the weakest link in the room and that can fuck up my creative process. I don't get to be as weird as I can be on my own."
Things changed when she worked with producer Julian Bunetta on her 2018 single "Put You On". Mark describes Bunetta, who has worked with One Direction, Jason Derulo, Chris Brown and Lupe Fiasco, as one of two producers in the world who she trusts. To finally get the ball rolling on an album and shake her out of her fear of collaboration, Bunetta suggested that he bring together some trusted friends for a writing camp in Ojai California in December 2019. "I immediately said no, because that's my worst nightmare", Mark says, but the sessions turned out to be a turning point in the making of the new record.
The album's most recent single, the bombastic "Foreign Things", came out of one of those evenings in Ojai. "It was just before the Christmas holidays and so everyone there was thinking about moving places, and I was thinking about my childhood with my mom, who loved to travel. I wanted to take all of those aspects about experiencing new things and that feeling of wanting to leave your life behind, and I put them in the chorus". She pauses. "We were pretty tipsy when we wrote it, to be honest."
If the singles for Three Dimensions Deep – "Foreign Things", "Worth It" and "Competition" – share a mood of confident assertiveness, then that shift in tone is completely intentional. "Competition", unconventional in an era of rap-star beef and clap backs, sees her assuring her fellow musicians that "you are not my competition / I just want to see you win". Reflecting to her own meticulous attention to detail, the entire album centres around themes of confidence – and the lack of it.
"It's a way for me to understand my feelings," she says. "Sometimes it's like I can't even process them until I write a song about them. I knew I wanted to section out the album into three parts. The first deals with insecurities and trying to move past them, like on "Worth It", and then part two ended up being about finally gaining confidence".
The third section of the album will be quite different though, and seems to be what excited Mark the most when she speaks about it. Following an extended clip from The Hitchhikers Guide to the Galaxy, the album's final stretch depicts a kind of out-of-body experience. The narrative will unfold before the fan's eyes in a series of music videos directed by Australian filmmaker Cara Stricker, which hint at Mark's love for sci-fi. It was these pieces which came together during the forced pause of the COVID-19 pandemic, and the tragedies which unfolded within it.
"When George Floyd died last year, I realised that there were things going on in this world which I wasn't paying my fullest attention to and, like everyone, I was scrambling to work out ways we could help. The first thought was obviously to go to the people with the power, thinking that those are the ones who can do something. But, looking deeper into American politics I realised that there was corruption no matter what side you're on. Its theatre to the fullest, and the answer was definitely not there."
"I'd go to the grocery store doing lockdown and I suddenly became very sensitive to the suffering which was just everywhere around me. From homeless people to people trying to get a cheque through some shitty job, it's everywhere. I started thinking about suffering at its most basic form, like in the animal kingdom, where it's obvious that that's how it works. Life and death come hand in hand."
"I then started looking into astrophysics, which I'd always been interested in ever since I was a kid, but had never really gotten into the detail of. And I found it so cool to hear the theories physicists have about higher dimensions, and black holes. I realised through all of that that science and spirituality weren't so far apart. It made me more connected to my mom, who was a very spiritual person. So in that third part of the album I wanted to connect those things: science and spirituality. It felt like a very out of body experience when I was going through it last year." At the end of the album, things conclude with "Event Horizon", where Mark relates the concept of the cosmic event horizon (the point in the cosmos so distant that light from it has yet to reach us here on Earth), and the Christian idea of the pearly gates of heaven. It captures what she describes as her "a-ha moment".
Though it all sounds rather heady, Mark's talent is keeping the songs direct and accessible. It's clear that this is the degree of thought Mark puts in to every part of her output – whether people choose to look that deeply or not. Perhaps that goes some way to explaining why her debut album will arrive so arrive after her debut EP.
Taken as a whole, Three Dimensions Deep is a concept album; one which charts a period of growth for the singer, as an individual and as an artist, much as 3:33AM charted her grief. It also means that, by the time it arrives in 2022, fans will have been waiting six years for a project which ends with her on the brink of something new again. When it finally drops, I suspect "What's Next for Amber Mark?" will be one of the most exciting questions in music.
Three Dimensions Deep is due for release January 2022.
Get the Best Fit take on the week in music direct to your inbox every Friday