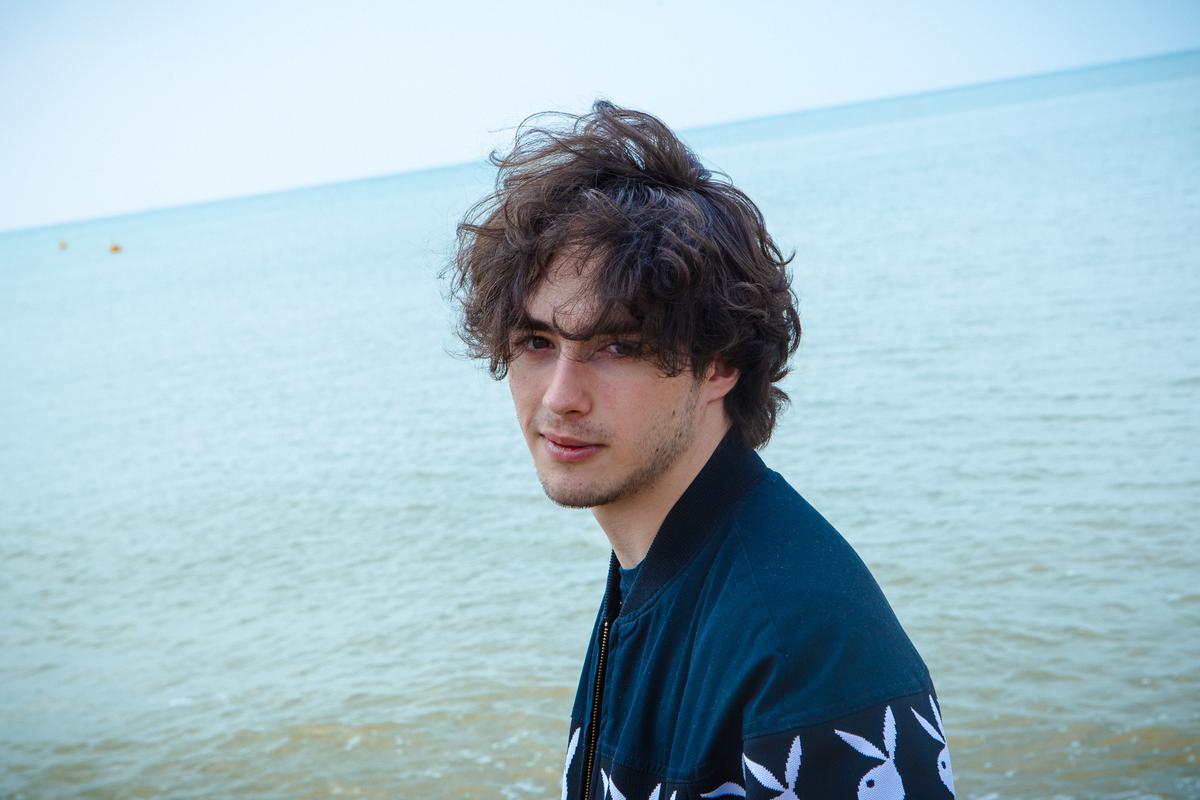 On the Rise

Alfie Templeman
16 June 2019, 12:00
With school finally behind him, and rolling out tracks that reflect his ever-broadening list of production influences with seeming ease, Bedfordshire's Alfie Templeman is on the brink of going big
When interviewing an artist, as well as putting solid research into pressing questions that hope to extract answers beyond the obvious, there is generally a dose of decorum necessary for a successful conversation. There's usually an elephant in the room in some shape or form not worth mentioning, at least directly, even if it may only be a tired and hackneyed anecdote or unique selling point used on their very first press release.
Perhaps prematurely, then, when meeting 16-year-old Alfie Templeman in Brighton before his show at Casablanca at The Great Escape, I presume it untactful bringing up school or exams and how they fit into his life. He's certainly got other more interesting topics he would prefer to talk about: touring the UK with Sundara Karma; a BBC session at Maida Vale; a string of summer festivals; oh, and his first visit to Brixton Academy being as a performer, not a punter.
To my surprise, the effortlessly polite and endearing Templeman seems happy to talk about anything – not least school – from the off; somehow we get talking about bands we're both into before we've even sat down in a quiet room next to the venue. We meet the day after finishes with his school in Bedfordshire, just a month to go before his final exams, during which time he will balance revision with a couple of high-profile shows. I'm curious what he deems has been the biggest change to his life in the past year. "To be honest, the way I approach school is a lot different now to what I did before. There's a lot more focus in the music, because I've been given such a great opportunity and it would be stupid to waste it. The focus has kind of declined, because it's so hard to be in this kind of position. A lot of teachers will say, 'Oh, you need to focus more,' but a lot of them also understand, because they put themselves in my shoes and see how hard it is to balance it."
Understandably, though, it wasn't always the case. At fifteen Templeman caught the attention of Peter McGaughrin and Will Street from Chess Club Records, who were instrumental in the early rise of acts such as Wolf Alice and Mumford & Sons. In late 2018 they released his first EP Like An Animal, which gained the attention from indie radio royalty Annie Mac, Steve Lamacq and Jack Saunders. It was around this point, halfway through year eleven, where his teachers began to understand that perhaps this wasn't a case of a student in the midst of a teenage 'I'm going to be a rockstar' phase but actually the rare situation where stardom is genuinely beckoning them early. "They were like, 'OK I'll lay off you, because this is probably what you're going to be doing for the rest of your life.' They just grasped that everything was going OK, and even though I'm not as focussed now, I'm still pretty focussed enough to get grades. I've got enough, basically, to get through life."
Though it might not be what his teachers want to hear – bright, wide-eyed and talkative, it's understandable they might see as much potential in him as his record label – Alfie has a pragmatist's approach to his upcoming exams: "To be honest, you can't really teach yourself in a day how to pass your GCSEs, so I've listened enough to know the basics to pass". There are particular individuals though, he tells me, who are probably more pleased than others. He fondly tells me about his music tech teach Mr Basset, who taught him how to use tools like envelope filters and "all these sound recording techniques I'd never used before that come in really useful. Without him I probably wouldn't be as advanced in recording music."
As we talk about school and home life, it seems that an understanding and supportive base has been as critical to his fast-earned success as the opportunities offered from his label. He describes his hometown of Carlton as pretty, idyllic and liberal. "There's a lot of musicians actually, so sometimes we have little meet-ups and just jam Pink Floyd for hours. The neighbours don't complain about anyone making music because they all do it themselves, that kind of thing."
Likewise, the nearby town Bedford provided an important platform to cut his teeth performing shows and meeting inspiring peers, such as Basement Strippers, who gave him his first support slot, or Don Broco, one of the town's massive success stories. "There's this one venue called Esquires, and I remember they gave me that opportunity to play there when I was fourteen, it was amazing, it felt like such a huge thing. And then I played Brixton last month. Starting locally and then moving to bigger things, I just look back at it and think how Bedford helped launch my live career, basically. There are all these bands from there that deserve it too, and I'm going to try and give back to them what they gave to me in the first place."
Closer to home, so to speak, familial support was to be expected given their active interest in music. Both he and his sister, who is now a multi-instrumentalist, grew up hearing their parents play bands like The Meteors in a house filled with instruments. His father, who I meet briefly as Templeman's acting tour manager, collects guitars, and encouraged Alfie when he felt a pang to learn the drums at the age of seven. Not taking all that much to the psychobilly stuff, as a young teen he preferred the sounds of prog rock from bands such as Rush and King Crimson, which was ultimately his starting point into songwriting. "I thought I might as well start somewhere wild rather than going straight into pop music, which I didn't really enjoy. Over time I started to like that though, and actually taking something progressive and blending it with pop is really interesting to me."
Drawing clear influences from the likes of Kevin Parker, Steve Lacy, Mac Demarco, Mark Ronson and – he's not afraid to admit – Ed Sheeran, Alfie's first EP on Chess Club harnessed that lo-fi, blissed-out slacker pop that, much like its creator, is hard to dislike. He didn't even expect one EP in such a short time with his label, he tells me, particularly one so well-received, but a second is about to be released.
Though it continues on from Like An Animal aesthetically, Sunday Morning Cereal has a bit more clout, sass and sonic variety. "When I dropped the first single a lot of people noticed what I wanted them to notice, that it's a lot more R&B oriented, rather than that dreamy indie sound. This next EP has four songs, and I wanted to make each one completely different to each other; playing with a lot of R&B sounds and hard-hitting drum beats rather than dreamy stuff."
The EP drifts from ballsy, blues-rock to a doting but catchy ode to tragic love, hops to its West Coast G-Funk inspired title track, before returning to the kind of wobbly slow burner that he does so well. There's an unmistakable progression, and there are many more songs lined up, he assures me, but kept in the safe hands of Chess Club who have helped supervise each release's curation. Beyond that, in mentoring their new artist, their help has had an effect on a young man in a formative period of his life, and a mutual trust has grown in a relatively short space of time. "They got to open up about myself a lot more," he reflects, "because before I wouldn't really talk about what my songs are about and that kind of thing, but they helped me form a story about me as an artist, as well as working with the press and other things that I wouldn't know how to do without them. They've opened up so many opportunities that I've learnt how to do more out of it."
Finding what I deem to be an all-clear to address the elephant in the room that evidently only I'm conscious of, I question if it's deflating at all when said story or press angle is so focused on his age. "It's kind of surprising really, because most people look at it the other way, like 'Wow, he's that young?' Sometimes you can't tell if they're being true about it, using my age as a way of making me look more important, if you get what I mean. But I think most of the time people just come for the music, and then realise later that I'm young. I still see a lot of people asking how old I am; people normally assume I'm a bit older.
"You can get a good glimpse of who's actually enjoying the music just from seeing the realisation of seeing how young I am."
The Sunday Morning Cereal EP is out now via Chess Club