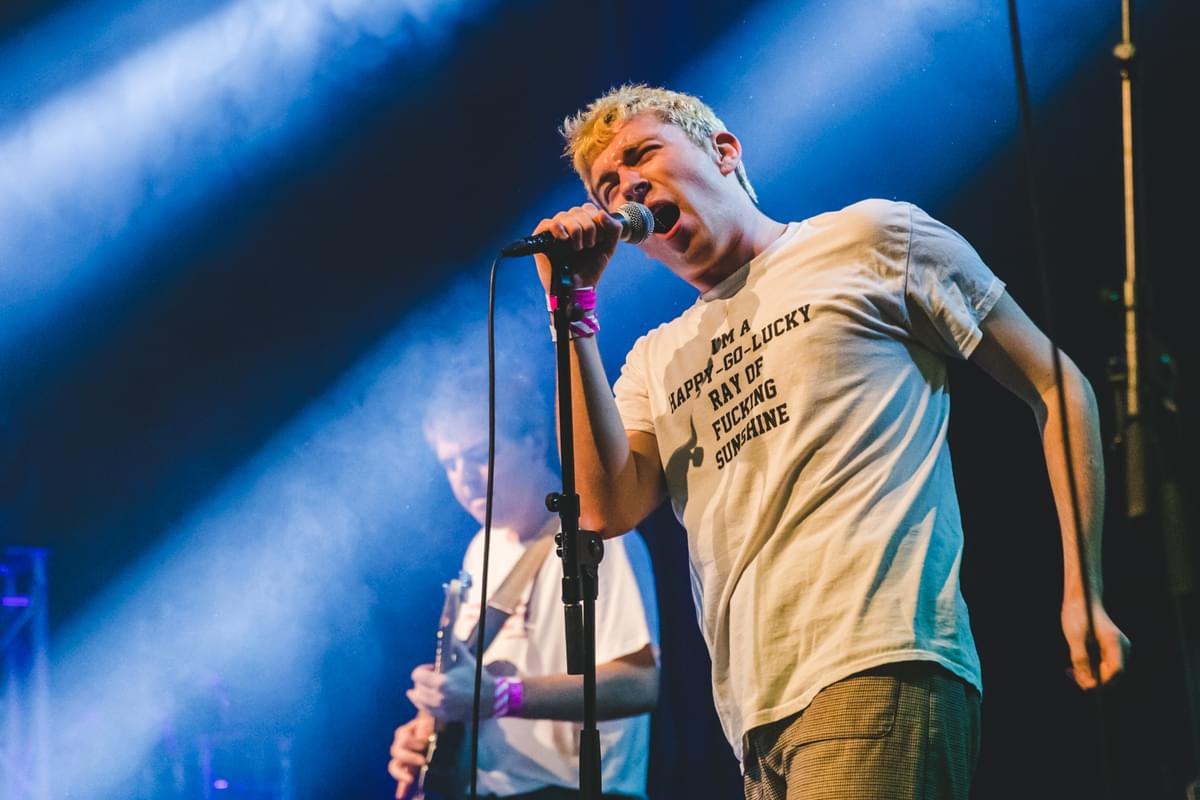 Winter's breath delicately descends on the second day of Iceland Airwaves 2019
08 November 2019, 12:50
The showcase festival closes its second day in style, marking the half-way point of the musical extravaganza. Gabríel Benjamin reports on newcomers to the festival and veterans alike.
While the mountains that loom over Reykjavík from across the bay have turned white with snow, the second night of Iceland Airwaves is gentle. The harrowing Icelandic winds have yet to make their appearance at the festival, along with their comrades hail and frost. Over at Fríkirkjan, however, all three are in full force through the tunes of Between Mountains.
This duo comes from the deepest valleys of the Westfjords, surrounded by mountain chains on almost all sides which on some winters block the sun for up to four months. Their name describes their lived reality, and their music reflects their rustic roots: magical and calm, a comforting shelter from the freezing storm. Since winning Músíktilraunir - Iceland's Battle of the Bands - in 2017, Beyond Mountains (pictured below) have been growing and refining their sound, as well as growing in confidence as performers. In Fríkirkjan they appear with a full ensemble of strings and keys.
Winter and isolation are never far away in their songwriting, and two songs in particular stand out. One new song, not on the eponymous debut album the band released a week ago, is about being with someone who doesn't feel well, while another called "What Breaks Me" is about the inescapability of materialism.
Over at Gaukurinn Krassasig plays what he claims is his very first live show, which if the audience believed that, I have a Brooklyn bridge to sell them. The set had far too great of a flow and sense of rhythm, and in addition to having a star-studded band backing him up, Krassasig was also too well versed as a showman. All in all, the whole show's production values left little to be desired, marking this mustached heartthrob as someone to watch. Elsewhere, UK's own one-woman powerhouse Georgia (pictured below) gets the whole of the art museum dancing to her wild and infectuous beats.
Multi-instrumentalist JFDR (pictured below) enraptured the crowd of Gamla Bíó, playing her delicate tunes, and leaving everyone a little touched. After her first and slow song, she then promises to "play a few bangers", eliciting a chuckle from the crowd as she started playing "White Sun".
Hildur cements her status as the queen of autotune pop at Hard Rock Café. She enjoyed a meteoric rise as a family-friendly artist, but at this show she sticks to her more adult earworms. In one song she waxes lyrically about a significant other who provides her the reason for "everything", following it up with a song about the importance of friendship. She says Airwaves is like Christmas for her, that it's the focal point of her yearly calendar - a sentiment shared by many Icelandic artists.
Emmsjé Gauti drops as many "motherfuckers" as he can, showing in his loud and bombastic set that he is the king of entertainers. The endearing rapper debuted on the scene in 2010 and has become a sort of father figure to the young generation of hip-hoppers in Iceland. At this show he doesn't hold back, hits the crowd with banger after banger, brings out pyrotechnics, and takes chances that sometimes don't quite pan out but are endearing nonetheless, such as conjuring a wall of death, only to miscalculate its size and have to start over.
Shame finish the evening in style, with singer Charlie Steen playing with his mic like Arya Stark did with catspaw, and bassist Josh Finerty (pictured above) running and somersaulting around the stage throughout the show, breaking his strap again and again despite the stagehand's best gaffa-taping efforts. The crowd lingers after the high-octane show finishes, as if uncertain where to exhaust the rest of their energy.
Get the Best Fit take on the week in music direct to your inbox every Friday