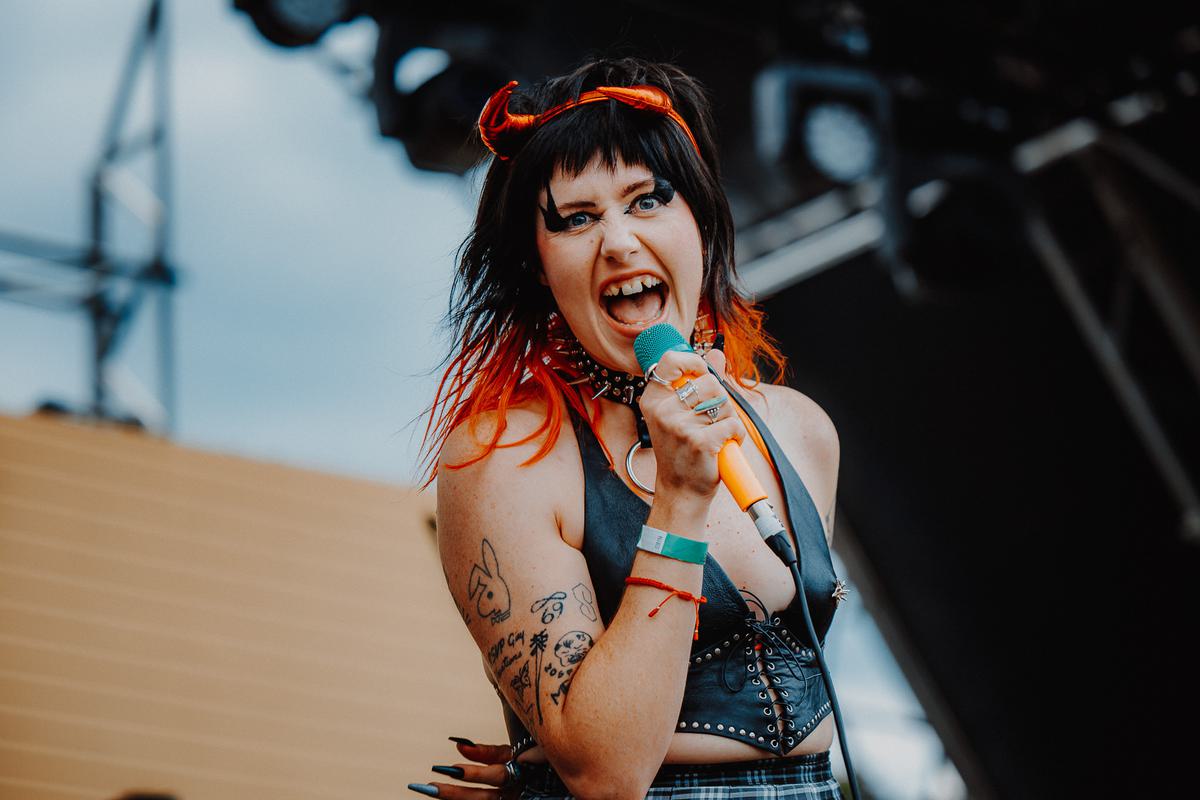 Wide Awake hits the sweet spot between sloppy punk and sophisticated electronica
30 May 2022, 12:00
Now in its second year, Wide Awake Festival's glorious return to Brockwell Park comes complete with perfect weather and a meticulously crafted line-up embracing the underground and left field across punk, electronica, techno, jazz and more.
Curated by LNZRT – the brains behind indie London's venues MOTH Club and The Shacklewell – alongside sibling promoters such as Bad Vibrations and record label-cum-club night Snap, Crackle & Pop, the festival is flush with camaraderie, and proves that a gender-equal line-up is a concept not impossible to bring to fruition.
2022's edition of the festival runs over two days, with Friday made up of more electronic-focused artists. South London staples PVA open the main stage with their techno inflected nu-disco, twee in persona but brooding in sonics, followed by Yorkshire new wave wunderkinds Working Men's Club, who release their second album Fear Fear in July. Drawing a crowd of Gen Z's and X's alike, their dark and disconcerting take on the genre is enthralling, fronted by the pertinacious Syd Minsky-Sargent. Whatever the opposite of trying hard is? That's exactly what Working Men's Club are doing, and to a science - coming off stage with no warning, they are there to play their songs and nothing else.
On the Ransom Note Stage, Manchester's Mandy, Indiana are frantic with Björk meets Massive Attack experimentalism, and Bristol's Scalping exemplify the harder side of things, performing a storming set of abrasive techno-metal. Although very much a six-person band, they are unwilling to be viewed as one, with silhouettes in place of perceptible humans behind the belligerent noise.
A fitting tribute for Depeche Mode's Andy Fletcher –who passed away only 24 hours earlie comes from Luton's indietronica trio Regressive Left. It's a welcome addition, especially poignant as the majority of Wide Awake's lineup would surely cite the electronic music pioneers as influences. Playing the smallest stage at the festival, they are not quite sonically in line with the Mode – more Talking Heads and Hot Chip in their nerdy and unassuming persona; danceable and quirky. Vocalist/producer Grove follows, donned in BDSM gear along with their bandmates, playing a packed out stage that spills onto the outskirts, a chaotic noise of drum and bass that includes a garish, almost hyper pop rendition of Girls Aloud's "Sound Of The Underground". It's messy but in the right way, with an energy exuding the air of early-hours-of-the-morning rather than barely-into-the-night.
Guitars over synths is the order of the day for Saturday, and a testament to the festival's dedication to considered curation. Yard Act win the accolade of most-festival-band at a festival, providing A Good Time all round with beers-in-hand post-punk revival chauvinism. They definitely aren't breaking the mould, but why do they need to when it feels this fun?
As the evening draws on, sloppy Brooklyn punk rockers Surfbort charge the Bad Vibrations Stage located right at the back of the Brockwell Park site, which had only been finished a matter of minutes before they play. Dive-bar personified, they are punk rock in every sense of the word, much like Australia's beloved Amyl & The Sniffers (pictured above) who perform later on the main stage. Amyl's no-frills personalities are a testament to their accessibility and success despite dabbling into sounds so brash and borderline hardcore, remaining as humble and gleeful as ever to be playing to a sea of faces on the opposite side of their globe. The jazzier experimentation of the weekend comes from fellow Australians Tropical Fuckstorm who are an acquired taste with noise, ska and math inferences, and The Comet Is Coming, who although playing a mind-melting concoction of jazzy electronica, have all the clamour of a rock band.
New Orleans queer-punks Special Interest, soaked in neon pink lighting, make you forget you're even at a festival, with enigmatic vocalist Alli Logout's boss-but-bratty attitude commanding the interflow of ferocious punk and industrial, even giving a tongue-in-cheek call to action for the "old white men" in the crowd to dance too. Gothy darkwave duo Boy Harsher are one of the final acts to close Wide Awake, a commanding and esoteric presence with the essence of techno and the melancholic sensuality of darkwave. Their ability to exist between dance act and songwriting virtuosos is enrapturing, and speaks to their cult-like following.
Wide Awake Festival has all the means to be a niche and incetuous music industry breeding ground of pretentiousness, but is thankfully nothing of the sort. Perhaps this is due to the fact it is still in its infant stages and hasn't been around long enough to build a niche reputation, or perhaps it's because it's simply amplifying the vaguely obscure independent music community beginnings in which it came from. Coming right at the start of festival season works only in its favour too, helping attendees avoid festival fatigue, but offering enough of a taste that you'll be prepared for the bigger (but not better) ones to come.