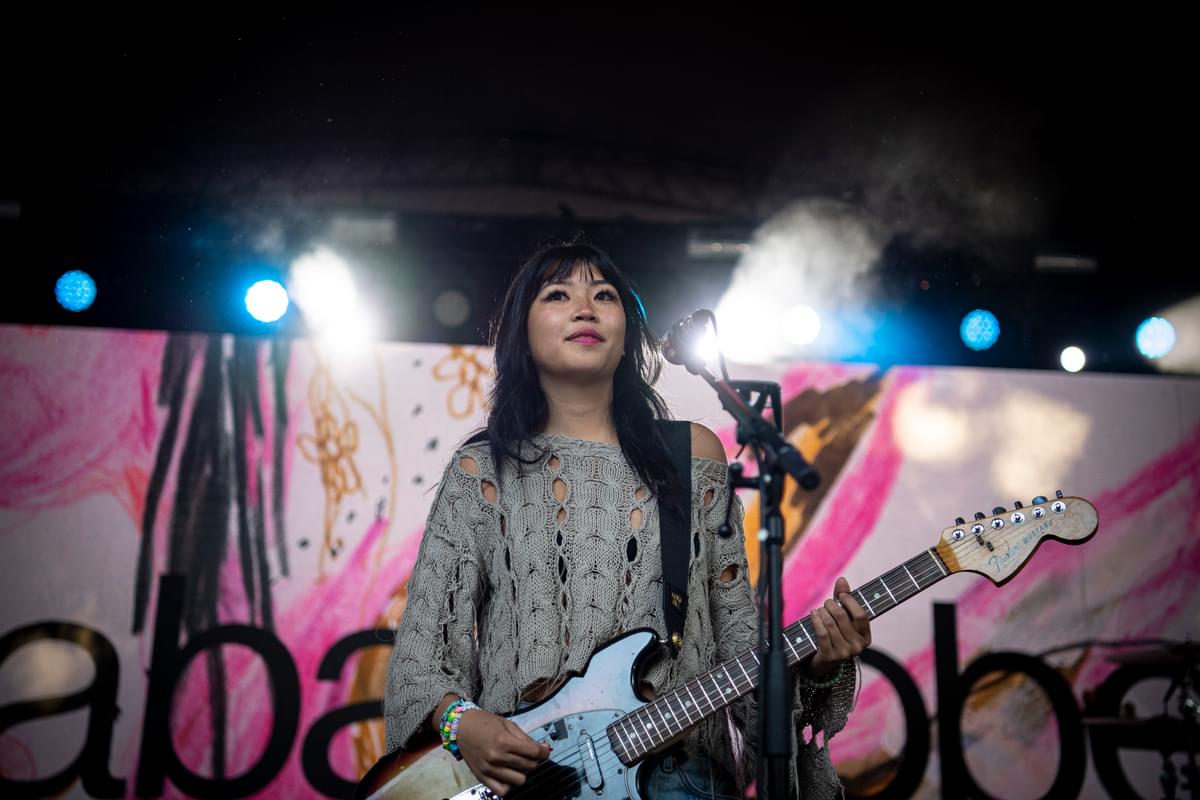 Way Out West comes roaring back with a record-breaking, sun-scorched success
17 August 2022, 16:00
Photography by Mia Höglund, Hilda Arneback, Miranda Fredriksson and Timothy Gottlieb
Under blazing sun by day and supermoon by night, Sweden's best festival welcomed nearly 50,000 music lovers through the gates for the biggest, most diverse Way Out West yet.
With a beautifully compact festival site set around the sparkling lakes and waterways of Gothenburg's Slottskogen park and a multi-venue after-hours programme across the city, Way Out West offers the best of both worlds.
As a first-timer, I wanted to experience it all, from the first note of the Thursday to the last crashing cymbal of Saturday night. An impossible ambition, but I had a great time trying. At Slottskogen, the short walking distances between the five stages made it easy to ricochet from one to another, and the thoughtful programming meant that there was always something to see across the various genres represented. Tellingly, even the earliest shows were well attended. For many performances in the Linné tent, it seemed as if the crowd around the outside was almost as big as the crowd who managed to squeeze in.
Rap and hip hop fans – the largest music audience in Sweden – were well served by Spotify's 100 Live programme, which brought together rising stars of the Swedish scene for exclusive daily collaborations at Höjden, a new performance space on the small hill where previous WOWs have hosted talks and film screenings. An impressive international line-up was on offer too, with a glut of boundary-defying British rappers alongside American hitmakers Princess Nokia and Chance The Rapper.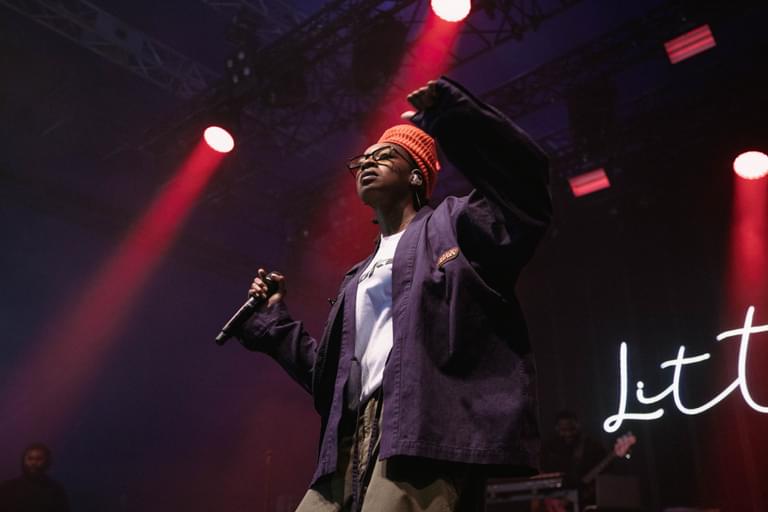 While for the rap crowd the Thursday indisputably belonged to Minsk-born, Stockholm-raised Yung Lean, Little Simz was a straight-up highlight of the Friday with a flawless and ecstatically received set in the Linné tent that even a wardrobe malfunction couldn't stop for long. Unafraid to be both vulnerable and combative, often within the same song, Simz and her pin-sharp band more than make up for the late-starting and low-effort set from West London's AJ Tracey on the much larger Azalea stage earlier in the day. She deserves that slot next time.
Slowthai was another big draw to the tent on the Saturday, but the real fun was over at the main Flamingo stage where Nigeria's Burna Boy put on an irresistibly big-hearted, if musically uneven and sometimes cheesy, show. Pyrotechnics and a progressively diminishing outfit aside, the combination of his megawatt enthusiasm and the brightness of the band and a choir of dancers was enough to redeem the few more tedious tracks. Mercury Prize winner Dave was on just five minutes later, but what I saw of his set was not really compelling by comparison. He's had better gigs, I'm sure.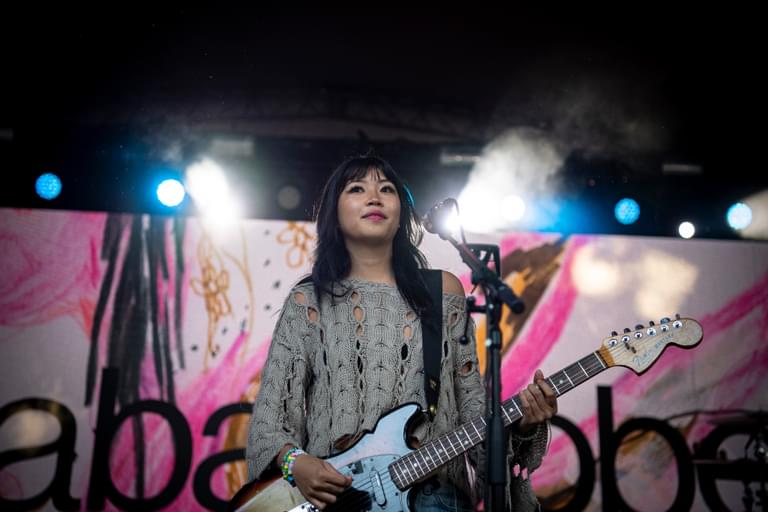 Way Out West lost a major headliner in February this year when Robyn pulled out to continue working on the follow-up to 2018's Honey. Without the Swedish pop icon, there was no clear top draw for Thursday night, with Tame Impala and Bikini Kill closing out the first day on different stages. Having somehow never seen them before, I opted for Bikini Kill who were fun, if short on surprises. Rowdy, rough and, let's face it, preaching to the already converted, their appeal started to wear thin as song after song whipped by. Half an hour was enough for this writer; Robyn has better tunes, don't @ me.
On Friday and Saturday, rock fans were rewarded with headline slots from Nick Cave & The Bad Seeds and Swedish stalwart Thåström, who since his early punk days has carved out a long and distinguished solo career encompassing industrial rock and, on his most recent album Dom Som Skiner (Those Who Shine), a more electronic sound. Non-Swedish speakers won't have got the full effect – Thåström seems to be almost as loved for his lyrics as he is for his rock credentials – but together with his new backing band and a brilliantly constructed moving light rig by Swedish designer Anders Heberling, the behatted 65-year-old is a vivid and undeniably engrossing presence on stage.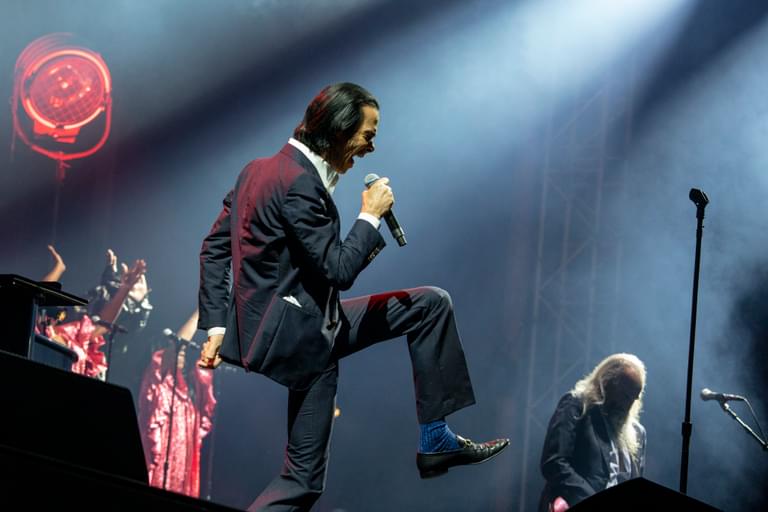 As for Nick Cave, what else is there left to say about the man? He's a peerless performer, an artist in every sense of the word. The Bad Seeds have no equals. Cave holds the audience in his haunted preacherman gaze, daring them to reach out and touch him as he leans, tipped balance like, into the audience and stares directly into their eyes. Things get surprisingly grabby down at the front and Cave sometimes looks angry as he whips himself away, but it's all part of the act – an access-(almost)-all-areas connection that sometimes feels too uncomfortably close and revealing. Utterly brilliant. Impeccable art.
Elsewhere, the future of rock proved to be in safe hands with women like Beabadoobee and Nilüfer Yanya, who lit up the small Höjden stage with their playful and dynamic songs. Beabadoobee played it somewhat safe, with the majority of her set made up of older, more straightforward material rather than tracks from the less genre-bound Beatopia, but the enthusiastic crowd – some of whom had clambered up on trees to get a better view – didn't seem to mind a bit. As for Yanya, her fiendishly detailed songs were necessarily stripped back for the festival environment, leaving more space for her artful guitar playing, but she and her three-piece band were never less than gripping for the full 45 minutes.

Not everyone was so winning. Oslo's Girl In Red gave her all on the large Azalea stage, complete with headbanging, but it left me somewhat cold. It was a fine show – good to great-in-parts – but felt a bit old-hat. I also caught some of Holly Humberstone's set, which was perfectly okay, even charming, but wouldn't make me rush to see her again.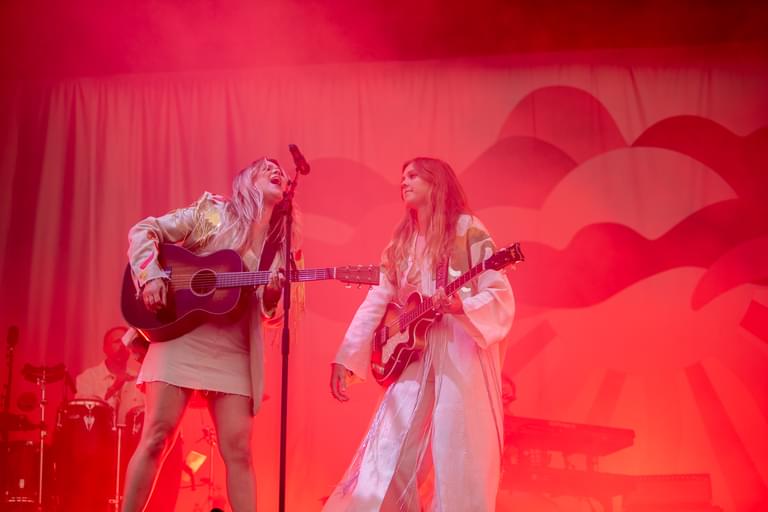 On the more acoustic side of things, Thursday was the main day to be at Slottskogen. Returning to Way Out West after seven years and coinciding with the announcement of their upcoming fifth studio album Palomino, Swedish duo First Aid Kit more than lived up to the hype. Against a billowing backdrop that changed from day to night and back to day again for the encore, the Söderberg sisters sounded better than ever, with Palomino tracks "Angel" and new single "Out Of My Head" ushering in a brighter, sharper pop sound. If there is any complaint to be made, it was the absence of the pedal steel guitar that so defined the sound of their last three records. "Emmylou" without pedal steel? Yeah, it works, but the loss is keenly felt.

Elevating their set into even more of an event, the sisters reprised their recent feature on Maja Francis's "Mama" with a guest appearance from Francis herself. The three were then joined by Kristian Matsson (aka The Tallest Man on Earth) and Amanda Bergman of Amason for a cover of "Hem Of Her Dress" from First Aid Kit's 2018 album Ruins, in a slightly ramshackle but endearing fashion. Matsson also popped up during Anaïs Mitchell's relaxed and soothing set on the Höjden stage earlier in the day, filling Justin Vernon's shoes in the role of Orpheus on Hadestown's "Wedding Song", returning the favour of Mitchell's own guest appearance during his own The Tallest Man On Earth set.
"He's like the mayor of this festival," jokes Mitchell, though she's not far behind him, having made a total of three appearances on stage; her band Bonny Light Horseman were the first act of the festival, warming up the Linné tent with their tender reimaginings of old folk classics and new originals like "Exile" and the blissful "Summer Dream" from their upcoming second album Rolling Golden Holy, out in October.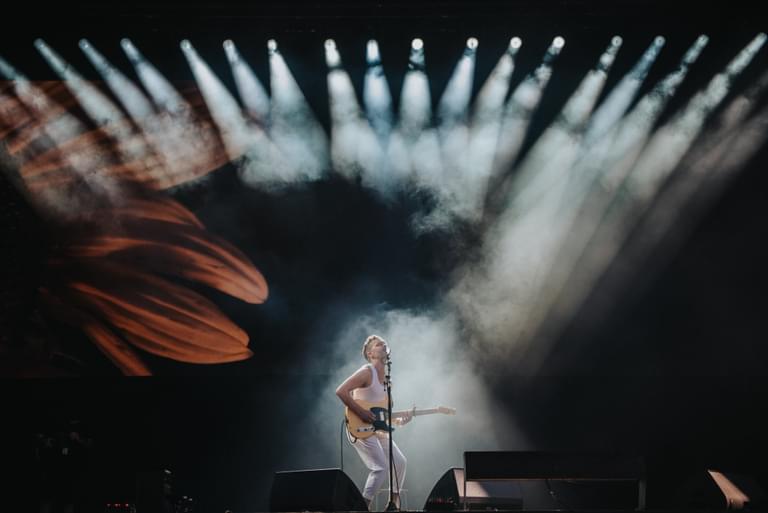 Like Mitchell, who he describes as "one of my greatest inspirations in life," Matsson is an incredibly magnetic performer, with an apparent ability to look like he's having the most fun at all times. Despite being almost completely unaccompanied on the main stage, Matsson manages to keep the theatrics going and is hard to look away from.

Theatrics also play a part in Frida Hyvönen's lunchtime set in the Linné tent on Friday. Though she hasn't toured outside of Sweden in many years, she's arguably making the best music of her career and deserves to be rediscovered. Dramatic backwards leans, lunges across the piano keys, and stunt falls to the floor are all part of her act, and the crowd eat it up. There's no one quite like her, and when she and her brilliant band end the show with a blistering version of the heartbreaking "Fredag morgon" it's hard to know whether to clap or cry. Tears by 2pm were not on my Way Out West bingo card, but there you go.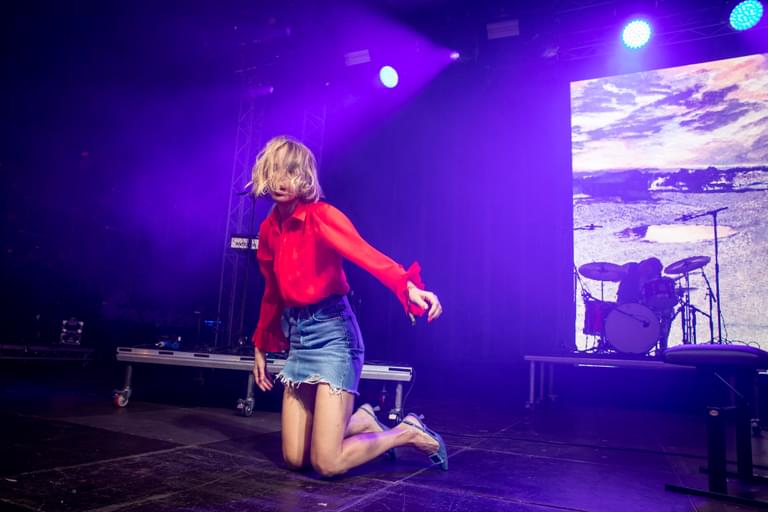 For pop fans, I can recommend checking out Swedish rising stars Moonica Mac (aka Lisa Brolander) and Daniela Rathana. Brolander's music is far gentler than Rathana's bass-heavy big-hitters, but she has an undeniable knack for melody honed by her childhood love of Fleetwood Mac. Another new-to-me homegrown act was the Katy Perry-approved Lotta Lindgren, who performs as LÉON. Her live voice has a rootsiness to it that I hadn't picked up on from the songs I streamed beforehand; "All My Heroes" is a good place to start.
Ane Brun may not be Swedish, but she lived here long enough to consider her return to Way Out West as a homecoming of sorts. The Norwegian's transformation from shy acoustic singer-songwriter to the emotionally charged tour de force she's become never fails to amaze, and her festival set leans heavily on the bigger-sounding songs of 2020's After The Great Storm, to great effect. Despite performing in the direct glare of the boiling afternoon sun, she and her cracking six-piece band barely rest for a minute of her 70-minute set. Energetic and impressive.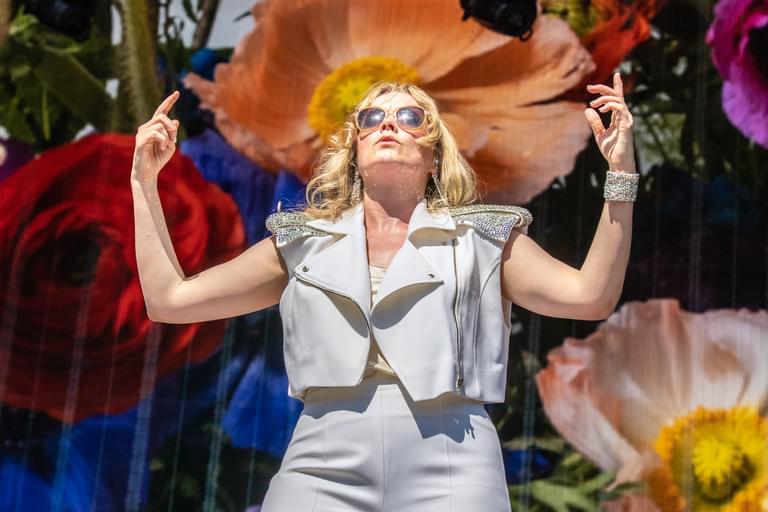 Way Out West is one of the most seamlessly run festivals I've been to, with barely a noticeable hiccup. That said, some sound bleeding between the main stage and the Linné tent did cause some issues for quieter acts like Kings Of Convenience and Aldous Harding. I didn't see Central Cee's performance earlier on Saturday afternoon, but I certainly heard it; the too-loud murky bass and highly-charged flow of the drill rapper's set was an egregious intrusion on Aldous Harding's shape-shifting, acoustic-led songs. To her credit, Harding didn't break her spooky performance art schtick once, though the noise was clearly troubling the band. The crowd rallied behind her, too, with songs like "The Barrel" and "Old Peel" getting the biggest cheers.
Some of the best acts I saw were actually part of the Stay Out West after-hours programme. To briefly recap, I couldn't miss Arooj Aftab, the US-based, Pakistan-born voice behind last year's mesmerising Vulture Prince. Playing at the wonderful Pustervik venue, she was absolutely worth the walk, and having to leave the Nick Cave show early. Together with guitarist Gyan Riley, violin virtuoso Darian Donovan Thomas and a bottle of Jameson's whiskey, 45 minutes with Aftab seemed to melt away the outside world completely. A real wow moment for me.
I also loved the surprise solo performance by Dana Margolin of Porridge Radio, who was a replacement for the last-minute cancellation of Yard Act. Without the rest of the band, Margolin treated us to a rare performance of early favourite "Barks Like A Dog" alongside bare-bones versions of more recent songs, like the brilliantly unhinged "Back To The Radio".
Other Stay Out West highlights included Sweden's favourite (only?) neuroscientist rockstar Nicole Sabouné, whose gothic-tinged songs were perfectly suited to the pitch-black space of Folksteatern, and Chloe Moriondo, who kicked off her European tour on the tiny stage at Nefertiti, giving new song "Fruity" its worldwide debut at the end of a raucous, sometimes bafflingly simplistic but enjoyable set. On the final night, a Pustervik triple bill of Katy Kirby's deft, wry indie-folk, Indigo De Souza's punchy, jagged rock and Altın Gün's blissed-out Anatolian psych-funk made for a perfect conclusion.
My phone says I walked over 70,000 steps in those three days – an incredible amount for such a compact city – but maybe dancing on the spot counts too. Either way, I know I barely stopped moving with so much to do and see. With great food, decent bars, ample water fountains, considerate security staff, and of course, the sheer joy of having the festival return after two cancelled years, Way Out West 2022 was an embarrassment of riches and deserved its record-breaking success. I think I'll be a regular.

Get the Best Fit take on the week in music direct to your inbox every Friday