Truck Festival offers an infectious, wholesome dose of indie nostalgia
01 August 2023, 12:30
Lead photo by Gaelle Beri
Branded as an 'Indie village fete', Oxford-based festival Truck is an authentically wholesome British romp, writes Maddy Smith
Working dairy farms are a staple for British festivals. Annual behemoth Glastonbury stands as the obvious candidate here, but sitting smugly in the shadows is the humble Oxfordshire extravaganza, Truck Festival.
Branded as an 'Indie village fete', this trademark undoubtedly delivers on its promise. While Truck is certainly small, at just 25,000 people, it is significantly smaller than its counterparts but stands strong in its undisputed power. Named after a local record store, in the thread of festivals which weave together iconography of British summer time, Truck is a vibrant stitch in the kaleidoscopic cloth.
Strings of muted-yellow lanterns line the pathways across the site, from the car parks up to general camping, zodiac fields, accessible areas and the boutique campsites. At seven stages all in one field, the festival itself is akin to a petite model of Glastonbury's Other Stage, but at a pinch of the scale. It ticks boxes across a wide range of subsections of the arts - The Market Stage, This Feeling and The Nest are hubs for a late-night groove, while The Rocking Chair is a sheltered nook for comedy and even cinema screenings. During a long weekend there's more than enough to see and do - and it's a challenge to cram everything in.
Ultimately, if indie nostalgia is what you seek - then look no further. The late noughties and early 2010's marked a beacon in time for indie pop and rock and the era is dutifully celebrated over the course of the event; there's infectious melodies, forthright lyricism and humorous thematics galore. At Truck stage on Friday, Two Door Cinema Club's peppy vigour closely trails a polished set from The Vaccines. Time has aged the trio's setlist like fine wine, with frontman Alex Trimble's voice soaring as crisply and richly as it does on the record as in a live setting. "This Is the Life" erupts into eardrums to introduce the set, followed by discography staples such as "I Can Talk" and "What You Know". The set basks in the glory of nostalgia and sunshine, as the crowds rise up onto shoulders for the joyous finale with "Something Good Can Work". It feels like a true celebration; an ode to happier and easier times in the midst of a challenging climate. This sentiment resonates across the spirit of Truck, it's an opportunity for escapism and a celebration of the jovial and carefree.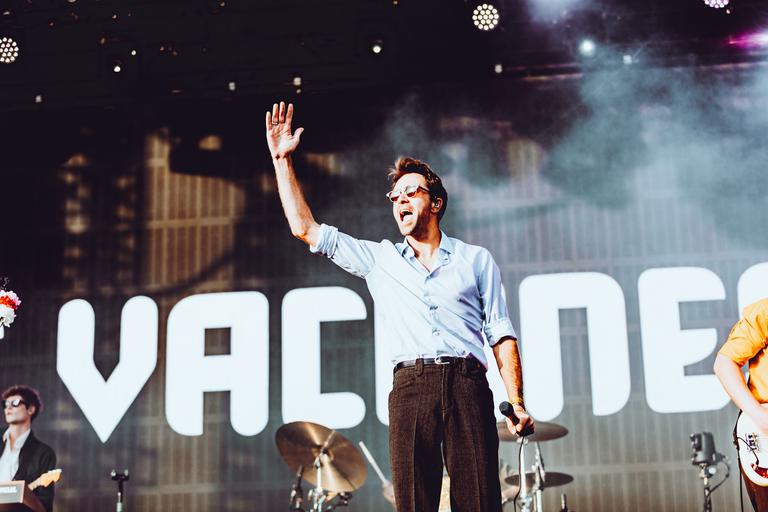 Photo by Izzy Challoner
Undoubtedly a significant portion of the weekend's success lies in gems that veer away from the main headliners such as the frenetic dissonance of Squid, a notoriously polished performance from The Vaccines, a punchy appearance from Watord-based artist Connie Constance and the glorious dynamism of Manchester-based four-piece Everything Everything. The weather kindly turns to grace us with the full force of an English summer which leaves crowds rushing for ponchos and umbrellas one moment, sun cream and bucket hats the next. A stream of continuous drizzle on the penultimate day infringes on the radiant summer sunshine, consequently turning the landscape into one endless mud pie. Every other second someone slips in true banana peel cartoon fashion; shoe soles wave skyward and faces kiss healthy piles of sloppy soil soup.
In the fitting words of the group's paradoxical track - whose lyrics probe the dichotomy of ageing atop an overtly positive instrumental - it's a case of "Spring, Sun, Winter, Dread" over one long weekend. At the Market Stage on the festival's final day, frontman Jonathan Higgs' rich tones soar above syncopated rhythms and demonstrates his unwavering power and range as a vocalist. The set is one of the strongest of the week, incessantly revolving with a hit-filled wagon of tracks; Higgs' strength in his falsetto tones is unparalleled, as is the ability to channel songs centred around concern and profundity with lightness and metaphor.
90's fitness guru Mr Motivator bursts onto Truck stage on Sunday morning to rally the troops and hike up energy levels, which is definitely a fun addition but it is a case of preaching to the converted. Between Truck's unbridled, bounding energy (even Oxford Symphony Orchestra spur a gaggle of mosh pits) there are moments of rest and recuperation. While the skies hang heavy with smokey grey clouds on Saturday night, trio Alt J grace the main stage with a reflective set; for the most-part it's a subdued offering from the group. Their technical excellence laid bare and evident, though for the time and place left viewers longing for a more energetic performance to bring some vivacity to a wilted audience. 'Left Hand Free', 'Breezeblocks' and 'Fitzpleasure' add a dose of familiarity and verve as the night draws to a close.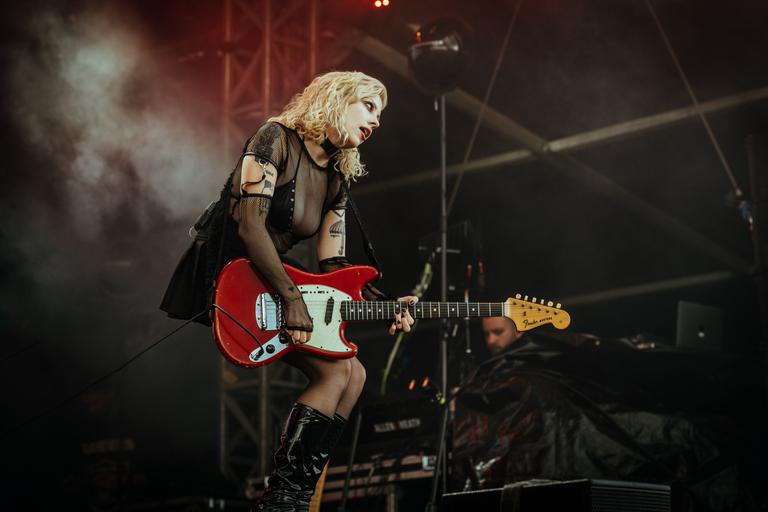 Photo by Gaelle Beri
Despite a complete lack of gender balance in the headline slots, the festival does better across the remainder of the event. Pale Waves deliver their pop punk inspired musings with ease and assurance, as did Maisie Peters whose afternoon slot on Saturday was a platform to exercise her glossy, saccharine vocals with contagious spirit and warmth. At Truck Stage on Sunday, Rebecca Lucy Taylor, under the moniker of Self Esteem, stormed proceedings with confidence and vocal prowess. Faultless vocals accompanied her blend of electronic/art pop with class and flawless execution. From beginning to end, Taylor's performance offers an opportunity to shake free from confines of expectation, explore the depth and nuance of life as a woman navigating daily challenges of relationships with the self and others. It's a feel-good frolic. It's truly gorgeous.
By Royal Blood's gritty and gorgeous headline slot on Sunday, the sunshine returns as do the wonders of some friction underfoot, just in time for the rock duo to unleash a throng of anthems. Their sound is somewhat one-dimensional, but it works. Distorted vocals and guitar riffs hurl into the crisp air as fireworks project into the night sky and "Figure It Out" punches the event to its euphoric finale. To the right of the main stage someone has sculpted a snowman in the form of Truck's monster mascot out of the claggy earth. It looks chuffed with itself, smugly grinning back at the crowds with wry affection, who remain decorated in brown splatters. It brings a smile to my face as simultaneously someone to my right takes a step and in the most graceful fashion, limbs akimbo, makes a leeway for the gooey land beneath them - instantly onlookers rush to their aid in messy, wholesome camaraderie. Say what you will about this country, but we certainly know how to embrace the seasons, roll with the punches and make the best of what we've got. Truck's spirit is infectious - an authentically wholesome British romp.