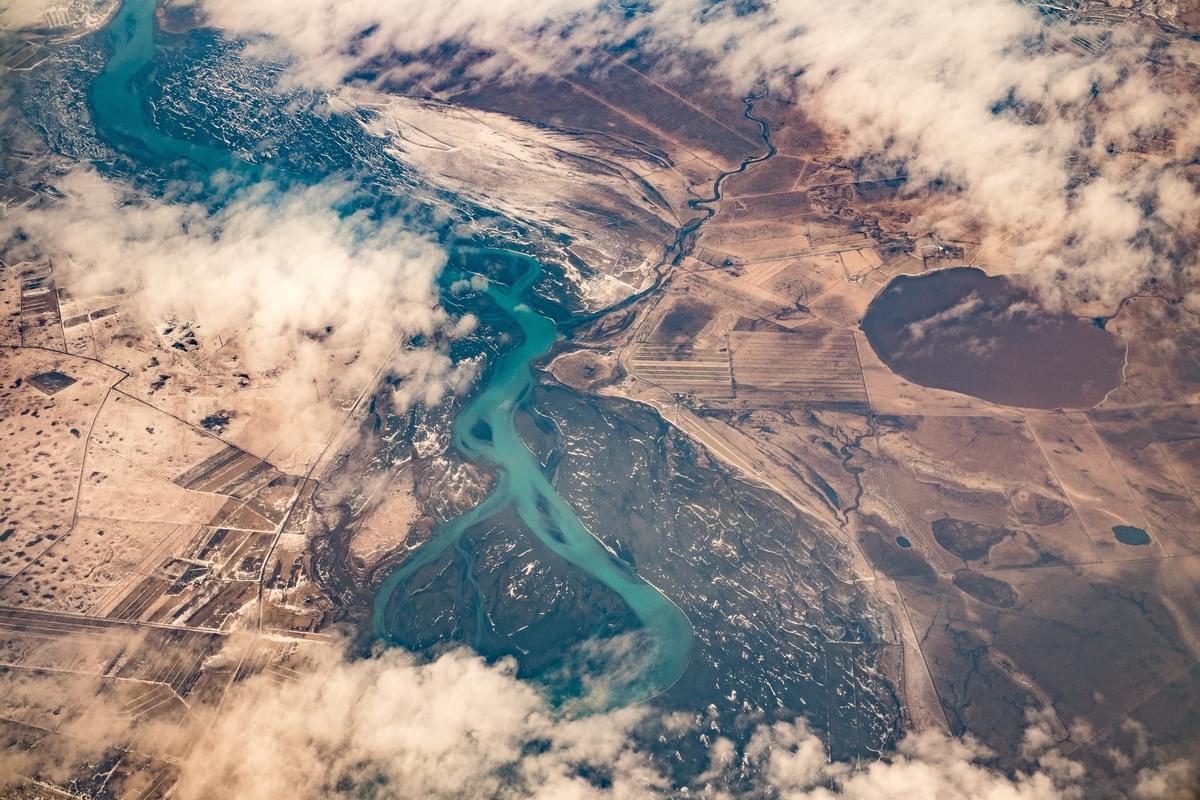 Ten Icelandic Bands You Need To See At Sónar Reykjavík in 2016
26 January 2016, 09:00
The Icelandic incarnation of the world's most esteemed electronic music festival plays out in Reykjavík next month. Before he heads over there to take it all in, Adam Cardew chooses ten bands from the land of fire and ice he's excited about.
The festival takes place across five stages in the awesome Harpa Concert House in the center of Reykjavík from 18-20 of February. With 77 artists set to perform for only 3,500 people, it promises to be an intimate experience true to Sónar's reputation.
Alongisde the main stages at Harpa, a part of the concert hall's underground parking will be transformed in to a nightclub where local and international DJs will perform. A scenic part of the concert house will also be changed into a stage along with a seated hall with a capacity of 199.
Sónar is able to unite established artists with emerging talent, in all areas of musical and audiovisual production.
Created in 1994, Sónar is a pioneering cultural event with unique format and content. Its first class reputation as a leading reference for international festivals is thanks to impeccable curation combing the avant-garde and experimental alongside the newest trends in dance and electronic music.
Positioned at the cutting edge of the electronic music landscape and its interactions with digital culture, Sónar is able to unite established artists with emerging talent, in all areas of musical and audiovisual production
This year's line-up is lead by the likes of Hudson Mohawke, Squarepusher, Angel Haze, Floating Points and Holly Herndon but as with most of the Iceland-based events we head to, there's an awesome wealth of local talent on offer. Here's our pick of the best...
Sturla Atlas
Sturla Atlas shook the Icelandic hip-hop scene with the release of his debut mixtape, Love Hurts, in the summer of 2015. The Reykjavik native followed up with a new mixtape, These Days, in November, which includes the melancholic "Snowin'".
Atlas continues to build a reputation for himself and his 101 boys crew - 101 being the postcode for downtown Reykjavik.
Follow Sturla Atlas on Facebook.
GANGLY
A collaboration of 3 members of other notable Icelandic bands - Samaris, Sin Fang and Oyama. 2015 has seen their song "Fuck With Someone Else" recently announced in our 50 best songs of the 2015. They were one of the most anticipated Icelandic acts at this year's Airwaves festival in Reykjavik and are definitely one to catch at Sónar.
Follow GANGLY on Facebook.
Vaginaboys
Who are Vaginaboys? We don't actually know, as they perform in masks and sing using vocoders. Perhaps they are a super group of established artists - far from uncommon in Iceland - or perhaps they are just shy.
Either way, their smooth, autotuned R&B grabbed people's attention this year and a flurry of shows in Reykjavik ensued, including a much-praised set at the recent Airwaves Festival. Their Icelandick EP is online now and they are obviously a generous bunch, as they're giving away a free Jólalag (Christmas) song.
Follow Vaginaboys on Facebook.
Milkywhale
Emerging as a performance concept, Milkywhale is a dance-theatre-concert-piece-band who premiered at the Reykjavík Dance Festival this year. The collaboration between choreographer Melkorka Sigríður Magnúsdóttir and Árni Rúnar Hlöðversson of FM Belfast promises an altogether different experience from the usual Sónar performance.
Follow Milkywhale on Facebook.
Brilliantinus
An expert in textural beats-led music, his tracks span experimental hip-hop from 100bpm through to melodic deep house at 120bpm. Last year he began performing live at local Reykjavik clubs including Kaffibarinn and Bravó, and has followed up this year appearing at festivals including Secret Solstice Festival, Extreme Chill festival and Iceland Airwaves.
Follow Brilliantinus on Facebook.
Auður
Auður (pronounced "Author") is Auðunn Lúthersson, a 22 year old unsigned multi-instrumentalist who until very recently did not have any music online, nor had he ever played live. But he did have a slot booked at Airwaves last year after the right people heard his demos. Luckily Auður's debut live performance didn't disappoint.
The combination of his smooth production and intriguing voice is a refreshing take on the nearing ubiquitous nu-R&B sound. Not one to waste any time, Auður is already producing for other artists, including rapper Emmsjé Gauti, and Red Bull have just admitted him into their prestigious Music Academy.
Follow Auður on Facebook.
GKR
GKR is an up and coming rap artist from Iceland whose lyrics are based on life experience and whose videos are consistently colourful. He verses in Icelandic, with catchy hooks laid over melodic hip-hop beats. He was one of our favourites from last year's Iceland Airwaves.
Follow GKR on Facebook.
Páll Óskar
Páll Óskar Hjálmtýsson ("Paul Oscar") is a true Icelandic icon if there ever was one. He has been one of Iceland's most loved and flamboyant popstars of the last two decades, alongside being an inspiring gay activist. With a new solo album, to be released in winter 2016, some of his new material will be performed for the first time at Sónar in Harpa, Reykjavík.
Follow Páll Óskar on Facebook.
Úlfur Úlfur
With their recent album, this Icelandic duo further demonstrated that they're able to think outside the box and go beyond the boundaries of rap music. They deliver hard-hitting beats with technical rapping, and are renowned for getting the whole room moving when they perform.
Follow Ulfur Ulfur on Facebook.
Bjarki
His tracks stand shoulder to shoulder with the most established big-room techno producers and his track "I Wanna Go Bang" was one of the most supported tracks of the summer. Championed by veteran Nina Kraviz, Bjarki plays only live shows, has been touring Europe and is sure to deliver something special for his hometown crowd at Sonar Reykjavik.
Follow Bjarki on Facebook.
Skeng
Árni Skeng is a key part of the growing Icelandic bass scene, and is swiftly establishing himself as one of Reykjaviks top djs. His love for vinyl and turntables knows no boundaries – mixing across a range of dance genres and often doing so across 3 decks. Skeng offers the promise of a truly awe-inspiring technical DJ performance.
Follow Skeng on Facebook.
Get the Best Fit take on the week in music direct to your inbox every Friday