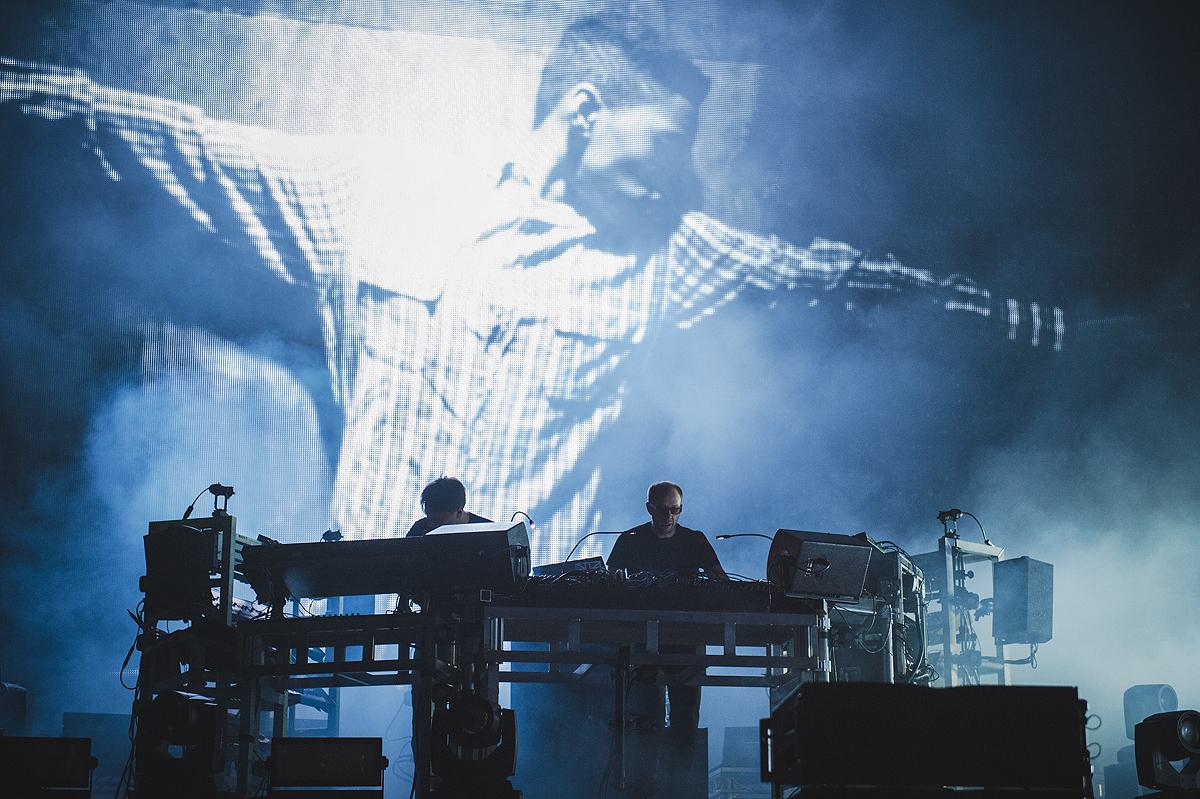 Sónar comes to Bogota: Bomba Estéreo, Hot Chip and The Chemical Brothers come with
11 December 2015, 11:17
Sónar is one of those achingly hip festivals that, bored of its sunny Spanish shores, feels the need to globe-trot in the off season.
Since first peddling its electrowares in Barcelona back in 1994, it has moved all over the place, and continues to sprout up across Latin America, tonight dropping anchor in the Colombian capital, after appearances in Chile, Argentina, Brazil, and Uruguay.
While I'm no die-hard aficionado of arpeggiators, I am a complete sucker for drinking on a Monday. And with a line-up boasting Hot Chip and Bomba Estéreo, and headlined at silly-o-clock by The Chemical Brothers, I took the plunge. I donned a particularly loud shirt and got myself to Corferias, the convention centre that looks like Brasilia, where all the frivolity was kicking off.
Among the myriad DJs and bands were British garage group Gorgon City, who are merry enough. They get folks moving about with that ubiquitously du-jour mash-up of reverberated vocals and pounding beats, which while not totally my cup of tea, is doing the trick tonight. 2014's hit "Ready For Your Love" obviously gets people in the groove.
Next up is Hot Chip, who are - as per usual - a hoot. "Over and Over" is a standout, with charmingly gawky frontman Alexis Taylor prancing about in fireman's hat for reasons that don't make themselves clear.
They don't carry the same heft here as they do back home, but they've won hatfuls of fans over by the end. "One Life Stand" and "Ready for the Floor" are mostly to thank for that. I get weird looks for singing every word to their cover of Bruce Springsteen's "Dancing in the Dark" - closing out their stint - which I make no apologies for. Normally when I go to a gig, I spend the whole time hoping whatever band it is will play Blur songs. This is probably as close as I'll get to that eventuality.
Bomba Estéreo, on home turf, are a delight. They rattle through the hits and engage the bejeezus out of everyone. Being a sultry Brit, it's a touch disarming to compare the relative indifference to Hot Chip with the elation these Bogotanos incite. Now I understand what it feels like to be The Courteeners.
"Fuego", their big'n, is a right rattlesnake; all snarl and snap. Their more psychadelic ouvre also gets a run-out, which provided some respite between talismanic lead singer Liliana Saumet's pugilistic wails. It's cracking to see them picking up fans globally - they released their latest record, this year's Amanecer, on Sony - though given their status here a case can be made for hunkering down in Bogota.
Keeping up the tempo were headliners The Chemical Brothers, who get everyone titting about in a bleepy two-hour freakout. It's their first time here in god-knows-how-long and it shows. The crowd are absolutely bonkers for them, and the duo deliver. Taking to the lazer-lined stage at 1am, long after everyone is plastered, and opening with the brilliantly frantic "Hey Boy Hey Girl", the Manchester two-piece's set never lets up.
New tracks "Go" and "Some Times I Feel So Deserted" sit alongside their classics well, even if they aren't quite so unhinged. "Do It Again" is a study in unabashed pogoing. My compañero wonders aloud if he has epilepsy, which if it were the case would be a smidgen too little, too late.
Once they scuttle off, after a barnstorming encore taking in, among other belters, "The Golden Path", "Galvanize", and "Block Rockin' Beats", some crowds stick around for DJs playing bleeps but I'm beat. It's 3am and the altitude makes me light-headed. That and because I danced like a loon all evening, which in fairness, is all I and anyone else in attendance wanted to do.
Sónar's stock in trade is boutique-feeling mega-bashes, and tonight a bunch of coiffed and trendy Colombians approved wholeheartedly.