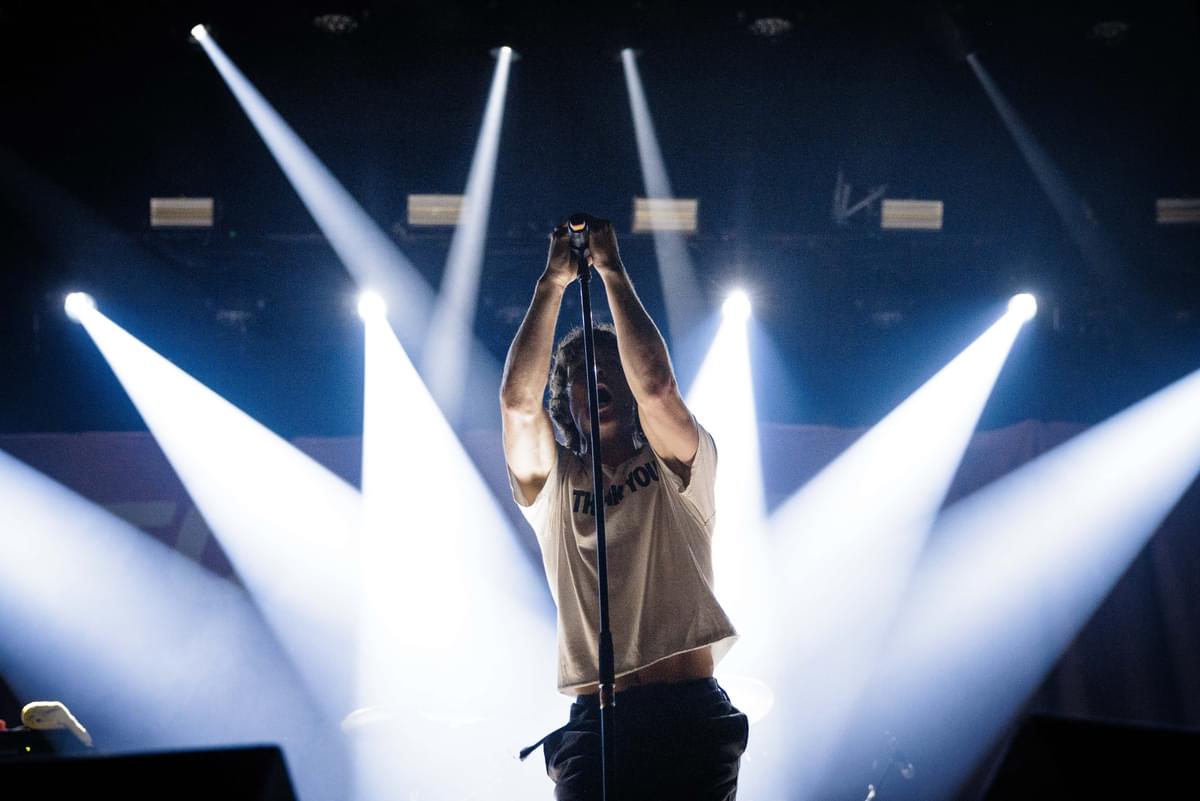 At Roskilde, everyone finds what they're looking for
07 July 2022, 08:40
50 Times, reads the tagline of Roskilde 2022 that overlays its many screens, noticeboards and the wristbands of 130,000-odd attendees who gathered last weekend.
50 times, not years. The difference is significant, even if it neatly accounts for the missed editions of the last couple of years; less a boast of its sustained might among a swelling market of competition, it points to the festival's continued celebration of shared experience as a community.
'Orange Feeling', is the abstract but well-understood mantra that has tied Roskilde's fifty times together and attempts to explain this communal experience. It's even been the subject of academic journals. Openness, excitement, freedom, equality and respect I learn are some of its core values, and within hours of arriving feel palpable.
Admittedly, community and these utopian values in its orbit have long been harnessed by festival marketing teams, while clearly showing little care for genuinely nurturing an open and respectful environment in practice. But Roskilde makes concentrated efforts to keep its integrity. For a start, the festival is literally a community, turning the area into one of Denmark's biggest cities for a week and pumping significant yearly income into the area, engaging in sustainability projects with Danish universities and it even helped turn an old concrete factory into a cultural centre.
But from the off, it's evident how volunteers are the backbone of the festival. "Media queue? There is none", I'm told by one with a smile as I arrive to check-in, and why should there be when everyone around me has an equal share of excitement? (It helps, too, when with fifty times experience the whole process is as smooth and efficient as it is.) Volunteers help you check-in; take you to the campsite (one local retiree who tells me has attended every year is happy to walk me to the tent I've lost at 1AM); serve at the bars; check wristbands; watch over the crowds for safety and support. One even offers me a beer.
Friendliness, it turns out, is a running theme for the weekend, as even those in the crowd not volunteering are happy to help or just talk. One Dane deconstructs with perfect English the multisensory components of the roast pork sandwich we're in line for. I mistake another couple for volunteers because of their orange shirts, but they're eager to explain they represent their camp tribe, giving me the coordinates and some sort of badge to join them later on.
They're one of many tribes camping in Clean Out Loud, an area that lets members party late into the night so long as they can prove they've cleaned up the site afterwards. There's also Leave No Trace, which takes this environmental responsibility a step further, Roskilde Road Trip, which encourages international visitors to mingle and feel welcome, and of course Dream City, which obviously sparks the most interest. Often described as Europe's answer to Burning Man thanks to its Mad Max-esque landscape and purpose-built village — a Western saloon and a bodega are just a few of the structures I see filled to the brim with dancers at 4AM — visitors need to apply months in advance and attend a workshop if they want to camp here. There are tents, but I don't know how anyone sleeps. It's mayhem, but not the dystopian kind I remember from the closing nights of, say, Reading & Leeds festival being back in the late noughties.
The communal zeal is matched in their approach to the festival's seven stages, which never once seemed at low capacity. Dua Lipa's Thursday evening headline slot on the Orange Stage drew the biggest crowd I've ever seen in my life, but you'd be equally pushed to get a close glimpse of the likes of Turnstile — two wildly different acts who, along with Post Malone, found their own sense of community at the beer pong table backstage. In keeping with the spirit of equality, at each stage fans could queue early to gain access to the front viewing area so everyone had a chance to see their favourite act up close.
They're also a pretty unforgiving crowd, brushing past Tyler, The Creator's continued thanks to Copenhagen (Roskilde is 20 miles outside of the capital) with just a few raised eyebrows. It did feel a little uncomfortable to see Saturday's crowds laugh and seem largely unphased at a jaded Julian Casablancas ruining an otherwise strong Strokes headline show with bizarre tirades about the Danish language and whatever else. Later on in the set he called it sarcasm, and has gone on to defend his criticisms about the show online, but the cool-to-be-a-dick attitude of rock music 20 years ago stood out like a sore thumb in one of his trademark fingerless gloves.
The moment was on Casablancas, not the festival, but was particularly jarring in the context of how explicitly happy all of the other acts were to be there. Post Malone couldn't have been more thankful on stage, while Phoebe Bridgers admitted how with a sigh of relief how nice it's been not being in America. Kacey Musgrave's golden hour set — itself a festival highlight with flute solos, confetti cannons and Fleetwood Mac karaoke — lit a ceaseless beam across her face. "OK, y'all making me wanna move here".
But Roskilde wasn't all about big, international pop and indie names. Metal fans, and there's a good deal of them in Denmark, could find something to keep them happy at all times of the day. Those having their faces melted off until the early hours of Friday morning with the riptide performance of LA Satanist powerviolence band (yes, really) ACxDC could ease into the following afternoon with a mighty set from post-hardcore group Rolo Tomassi. The Sheffield band brought the rain with them in an otherwise sunlit four days, which only worked in their favour as they pulled in more than just the devil horn-slinging fans at the front and earnt new admirers for their refined blend of chuggy riffs and dreamlike neo-classical influences.
Naturally, there was a strong Scandi presence. The Danish String Quartet brought a couple hours of elegance to Thursday afternoon, while supergroup Jamm Jam showcased some of the country's rap, funk and electronica talent with the likes of Dirty Loops and Suspekt joining forces for one last push of festival vibes on the closing evening. Norwegian acoustic duo Kings of Convenience's performance was appropriately cathartic but surprisingly light-hearted, and with an unexpected collaboration with Erlend Øye's Whitest Boy Alive gave tracks like 'Fever' and 'I'd Rather Dance With You' a new jolt of life. There was also a strong African contingent, with Malian singer Fatoumata Diawara reigniting the haggard third day crowds; by the evening, Nigerian trumpeter Etuk Ubong had them in the palm of his hands.
In its size and scope, Roskilde 2022's lineup had the clout to better any of its European counterparts. But look away from the stage for a moment and there was more to be found, more signs of a communal body at play, be that naked runs or thought-provoking art collections spanning lenticular prints of a foetus to a giant, squishy placenta — or quite simply witnessing several generations carrying on this beloved tradition of theirs.
As with all happy and effective communities, there was a place for everyone at Roskilde, a place to find whatever it is you're looking for.
Get the Best Fit take on the week in music direct to your inbox every Friday