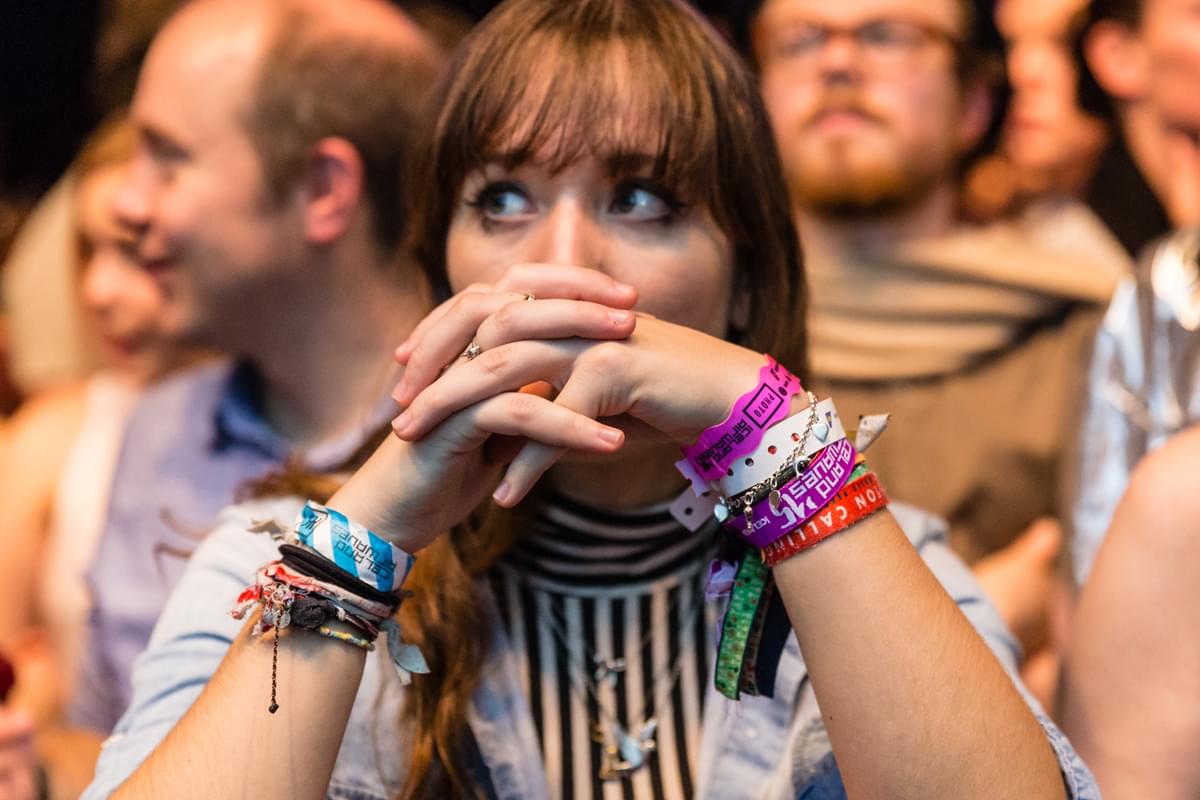 From the glaciers to the ghettos to the sticky bar room floors
16 November 2015, 08:27
Iceland put its hip hop stars centre stage and a host of international talent shined as the northern lights reigned above us during this year's Iceland Airwaves.
Iceland Airwaves is the greatest music festival in the world and 2015 didn't let us down. Get the lowdown on who killed it and how to survive Reykjavík if you're planning on going next year.
The headliners
Björk sadly pulled out but that didn't spoil a stunning line-up: Beach House, John Grant, Father John Misty, Bernard + Edith and Holly Macve repped Bella Union. Brothers-in-Grime Skepta and JME topped an evening of hip-hop at the art museum and the likes of Lonelady, LA Priest, Flo Morrissey, Nao, Hinds, Braids and Meatwave showcased the best new music from the last twelve months. Homegrown talent was on good form with GANGLY, the new project from members of Sin Fang, Samaris and Oyama, getting an airing, and there were big shows from GusGus and Kiamsos (on the Best Fit stage) as well as a host of Icelandic rap from Úlfur Úlfur, Gísli Pálmi Emmsjé Gauti and new boy GKR.
How does it work?
Airwaves kicks off mid-week with an opening day that showcases an all-Icelandic line-up. Alongside this, there's also an off-venue programme giving more show time to bands playing the main event alongside side-projects and interesting collaborations.Offical shows start around 7pm each day and can finish at late at 5am. Off-venue shows run from around lunchtime until 8pm.
Getting around
There's wifi pretty much everywhere in town and the Airwaves app will serve you well as a venue map and show planner. For added value, also get the free Appy Hour app which gives you a list of the nearest bars serving half price drinks - it's a life saver and will also get you acclaimistised o the best bars in town (our favourites are Boston, Kaffibarin, Hurra, Kaldi and Bravo).
Everywhere takes cards here too. We didn't use cash once during our visit.
Dress in layers. It's cold outside and snug inside. Wear some sturdy footwear. While the town is tiny, you'll be doing a lot of walking up and down Laugavegur, downtown Reykjavík's main street.
The tourism thing
Like most tourists, you'll probably want to do the "golden circle" - a trip that takes in the national park Þingvellir, the waterfall Gullfoss (meaning "golden falls"), and the geothermally active valley of Haukadalur, which contains the geysers Geysir and Strokkur. Hire a car instead of doing it by coach - you'll have a much better time, but get away before 9am and you'll get back in time for some of the afternoon's off-venue shows.
We've been on northern lights tours before and seen nothing...and yet we've caught sight of the magical green blob three times during this year's event as we were walking drunkenly from Skepta and JME's set to the hot dog stand on Tryggvagata
What we ate
The culinary staple of Airwaves for many continues to be the Saegreifinn's amazing lobster soup. Icelanders have no damn idea just bad British seafood soup is so there's a ton of bemused faces when you tell them just how much you love the soup at the Saegreifinn. Something of a local legend, the owner Kjartan Halldórsson died back in February this year at the grand age of 75 but there's a waxwork of him in the back room. We also love the skyr cake at Tiu Dropar. If you're in the mood to try some minke whale, splurge at Grillmarkaðnum, where they know how to do it right.
If you hate liquorice then think twice before you bite into random Icelandic chocolate. Spoiler: it definitely has liquorice in it.
Our tips for 2016
It's a multi-venue festival and aside from the Vodafone Hall, which is usually pulled into use to service the closing night's headliners, every venue is pretty small. So this means queues which we all hate so you gotta plan ahead - using the off venue shows as a way of seeing bands you missed because you had to turn up for Kiasmos' set just to get your place for Beach House is a small pain in the ass for sure. It's probably the only low point in a festival full of highs. You'll also spent that queue time making amazing new friends that you'll bump into another twenty times before the week is out because this place is so fucking tiny!
Is Iceland expensive?
The eternal question everyone asks when you've been to Iceland is whether it's as pricey as you think. And the answer is...kinda. Surf the happy hours for local beer offer, don't go to splurgey on meals everyday (most tourists might favour the burgers in the Laundromat Cafe but head over the street to Hressó for something better and cheaper) and you'll probably manage to stay under budget. One of the best things about arriving at Keflavik Airport is the duty free shop situated next to the luggage carousels. Go heavy on cheap Reyka vodka, Einstök beer and (if you're feeling brave) a bottle of Brennivín, Iceland's signature schnapps.
How do I get to Iceland Airwaves?
50km southwest of Reykjaviík, Keflavik Airport has scheduled flights to and from twelve locations in the United States (Anchorage, Baltimore, Boston, Chicago, Denver, Minneapolis, Newark, New York, Orlando, Portland, Seattle, and Washington), four in Canada (Edmonton, Vancouver, Halifax and Toronto) and 31 cities across Europe. You can fly from London-Gatwick to Iceland via WOW air, Icelandair and easyJet. There's also flights from London-Luton (easyJet) and London-Heathrow (BA and Icelandair).
Don't bother with a cab from the airport - there's a cheap bus from the airport that gets you to your hotel or drops you at the bus station in an under an hour. And it has wifi.
Where can I stay during Iceland Airwaves?
Centerhotels offer decent value rooms at five locations across Reykjavík but the backpackers' favourite KEX Hostel - which also plays host to off-venue show during Airwaves - is one of our favourite places to crash. You'll find some incredible places to stay through Airbnb. We love this house for 8 in the city centre build in 1903 and this luxury eighth-floor flat with ocean views. This apartment in downtown Reykjavík, a five minute walk from venues like NASA, Hurra and the Art Museum starts at £72 per night for four people.
What we saw
₩€$€₦
Reykjvík's best kept musical secret, ₩€$€₦ [above] play guitar music chopped apart and deconstructed into slow-burn electro. The pair originally came together more than a decade ago but a number of other bands kept them apart. The duo's sound is moody, slick and feels like they're exploring new and unknown territory as Icelandic artists. Júlía Hermannsdóttir's voice is the lynchpin here - emotive and understated, it comes alive with just the right sythetic tweaks and jars beautifully with musica partner Loji Höskuldsson's rougher tones. (PB)
Weaves
There's something so deliciously easy about Weaves. In the twists and turns of their meandering pop songs there's always a friendly breeze, a warm sun and a reassuring smirk from their graceful singer Jasmyn Burke. Her presence is that of a teacher or a healer, laying reason and order over a multicoloured backdrop of jarring polyrhythmic patterns. Operating in some gooey half space between the technical and the free, the songs lay down a groove and then when you least expect it smack you with a heavy surprise. What was impressive was not just the good time feeling they provoked but the myriad of gestures, textures and tempos they play with, each song different to the last. During 'Motorcycle' - a revved up 8 minute kraut inflected machine of a song, the stage gets swamped by an infected audience wanting to join in on the fun. (SP)
Bo Ningen
Treading through the last decade, seeing scenes spill into each other and explode into nothing and everything Bo Ningen have formed a genius battle plan: just be relentless. Bo Ningen's imagination is in their intensity and straight from the blocks they blindside the audience at Gaukurrin with a dirty raw rainbow of sound. Sprinting with arms pumping and teeth clenched their power is visceral, sending the thick framed Icelandic yolk of men in the middle of the room into a hormonal pulse. Channeling some higher force the band shape shift across the stage, the strobe light picking out new expressions on their faces every time it blinks. Then as if by magic, at the point any normal band would stop for air, the rainbow fractures and the fury floods into new directions. Their oeuvre is one of potency, chasing down pockets of space and obliterating them, less ear worm, more mind snake. (SP)
Úlfur Úlfur
When I mention Icelandic rappers to my Icelandic friends, Úlfur Úlfur [pictured above] raise the most assertive nods. "They are good people," I'm told. "They are normal guys." They are also the most band-like of all the hip hop doing the rounds at Airwaves and arguably manage to upstage Skepta and JME's by-the-numbers set with something pitched between Linkin Park and Run the Jewels. A rotation of guest stars join them onstage including Emmsjé Gauti and Kött Grá Pje (who looks like an Icelandic Riff Raff and guests on their biggest song "Brennum Allt" - which means, "Let's Burn Everything", I am told). (PB)
Vagina Boys
Vagina Boys are the Goldie Lookin' Chain of Iceland. They wear white face masks cut off at the nose and peddle earnest bon mots between bass/drenched electro songs. Their singer likes to pitch shift his voice to the point of no return. It's both ridiculous and fun and unlike anything you've ever seen. "These songs are from our debut album. It's about a girl and it's called 'Inside You'," he tells us, "...but you know it's not about it being forced. We are feminists after all." (PB)
William Tyler
William Tyler's music is that of grand expansive vistas and transcendental forces sweeping through the soul. While there's no lyrics, there's a wealth of stories richly spoken in each track, his fingers blurring into burnt sienna mountaintops until you forget he's playing at all. His guitar is merely a conduit to the topography of his memories, a window into a landscape wide and open. Before 'Country of Illusion' he alludes to his love of the Icelandic countryside and you can see a semblance of them in everything that unravels. In the shifting and sliding glaciers of sound Tyler conjures in his last amplified songs the mind begins to soften, sending half the crowd into whoops and hollers and the rest into the deepest daydreams. Tyler tells stories that feel as old and as real as the prairies they were inspired by. (SP)
Fufanu
Spitting and snarling like a paean to the days of old where Indie rock stars didn't give a shit, Fufanu front man Kaktus ran the show. His giddy dancing and sweet grunts were like a mirror to his dad's, former Sugarcube singer Einar. Their music has a similar feeling of wilful abandon and by the lakeside lights in Nasa the crowd lap it up, one man in the front fisting the air continuously for the whole half an hour. There was enough urgency and ideas to suggest they may cross the North Sea and inspire British fist pumpers one day in the near future. (SP)
Reykjavíkurdætur
It's a shame that Reykjavíkurdætur's only English-language song is about anal sex. The 17-strong hip-hop collective [pictured above] have way more to offer than a song about the joys of taking it up the bum but it's that song which will stick in the minds of visitors to Airwaves. You don't really need to know Icelandic to enjoy their sets but it's worth knowing they're about more than that song. Tracks like "D.R.U.S.L.A." see them rap about slut-shaming and victim-blaming in way that's remarkably intelligent and well argued given the context. As performers, they're a mixed bag and still finding their feet but it's a glorious work-in-progress to behold. (PB)
Anna B Savage
What is intimacy at a show? Is it the proximity of the stage? Is it having to smell what the person next to you had for dinner? Or is it something less tangible? In the beautiful Gamla Bio theatre Anna B Savage stands amongst a half empty room, just her and a guitar. Her music is quiet and heart breaking, sang close to the mic with no metaphor, her heart laid bare to the crowd. There's not an artist around who reveals so much and expects so little and the audience can see that. As she proclaims in "II" that she's a feminist the crowd break into applause mid song. Resting on her every word a lady in the front row begins to cry. In between songs, Savage doesn't speak a word, tuning her guitar as if she's reining the emotions back in order to complete the next confessional. As a slew of party goers enters the room Savage stares them down and in turn her new followers do the same; they're immediately shot down and stand amazed. There feels like such little gap between her mind and her voice, the sound and the ear, and by the end of the show you could feel the intimacy in the room hold you in place as you try not to cry. (SP)
LA PRIEST
It feels like Sam Dust makes music by looking at frequency spectrums and throwing life into them. Each bass part effortlessly crafted to affect the feet, each top line precisely placed to pull on a feeling here or a memory there. It all feels so fun, but accurately placed, considered fun. So when translated live like in the Gamla Bio on the Saturday night, those frequencies take a new life, surging through the jam-packed, wide-eyed crowd like a zippy army, each sound with its own mission, to get the party started. In songs like 'A Good Sign' co-written with Connan Mockasin you can hear Dust taking a deep breath and calming the crowd but when he breaks into "Oino' the crowd erupt, singing along to the chorus through perfect Icelandic grins. 'Learning To Love' takes a similar course, tickling the audience into shuffling their feet and waving their hands like no one was watching. This music is unashamedly joyous, with sounds placed expertly in weird places to amuse and move you, by the end of the show the whole room was wobbling to the very unique beat of his drum. (SP)
GKR
The prince regent of Icelandic hip hop, GKR [above] pushes humour and flow from behind a dye job curtain fringe. We see the young Reykjavík-born rapper play at least three times across the week and every set channels the same surreal energy across melodies and loops that recall DJ Shadow or Christopher Rau (kudos to GKR's DJ). At one point he whips out two plastic bags from icelandic supermarket chain Bonus and throw small packets of cereal at the audience. It's surreal and wonderful. (PB)
When is the next Iceland Airwaves?
2016's Airwaves takes place from 2-6 November. Find out more at icelandairwaves.is.
Reviews by Sam Potter (SP) and Paul Bridgewater (PB). Photos by Jason Williamson and Ian Young.
Get the Best Fit take on the week in music direct to your inbox every Friday