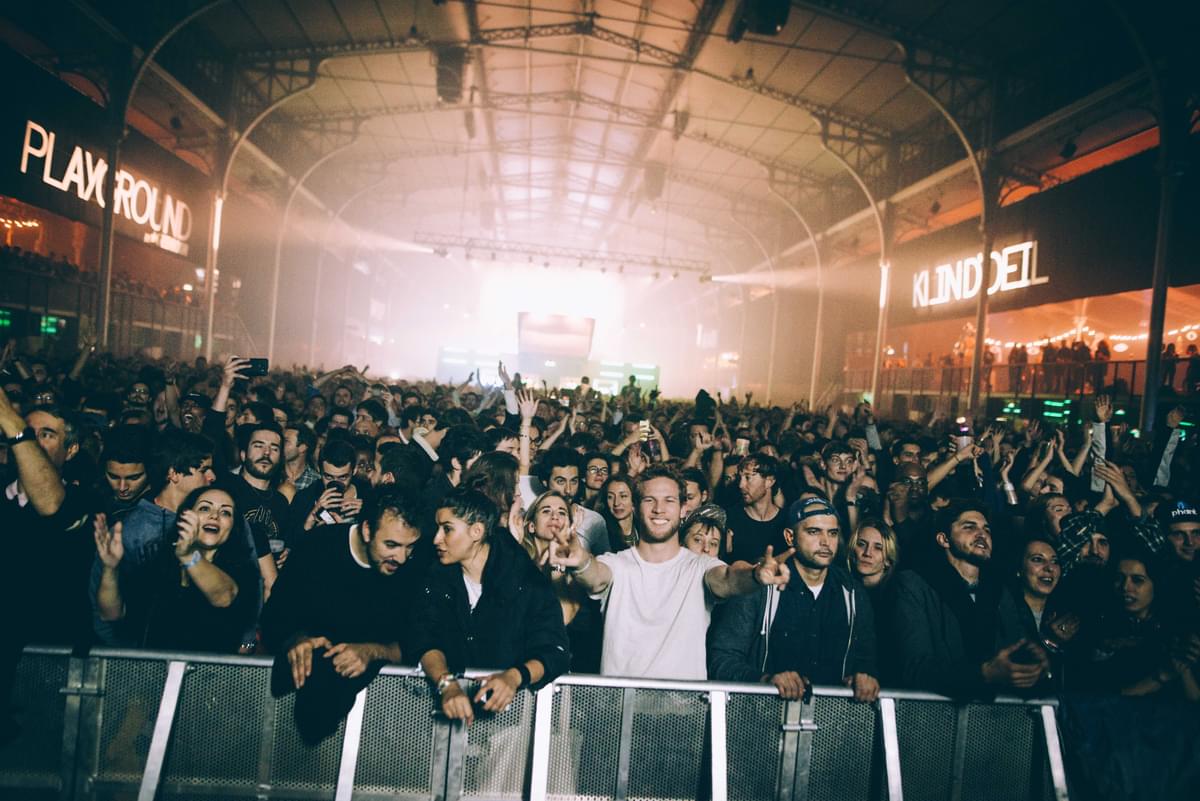 The seven best things we saw at Pitchfork Paris 2016
03 November 2016, 12:00
Pitchfork returned to the French capitol last weekend (27-30 October) for the sixth edition of Pitchfork Music Festival Paris.
The three-day affair (if you discount its avant-garde warm up events) takes place at La Grande Halle de Villette, an ex-slaughter house turned cultural centre in the 19th arrondissement, and hosts an incredible array of international acts split between two stages – one at either end of this vast Alexandra Palace-like space.
Making our way to the venue through those barely lit cobbled streets, made famous by so many a Brassai photograph, it dawns on us that there's a distinct lack French talent on the bill. A mix of American hip-hop, pop and country acts dominate the line up while Dutch dance, British electronica and Canadian noise all get a look, in but local artists are largely absent – with the noticeable exception of world music inspired duo Acid Arab and electronic psych master Flavien Berger. It seems odd that they're the exception rather than more of the rule, but then perhaps events like La Route Du Rock and Eurockéennes have cornered the market on this.
It also feels as though percentage of up-and-coming artists is on the low side: Porches, Bonzai, and Joey Purp all do their early performance times proud, but beyond that it feels like a very well established line-up. Perhaps that's the point of the aforementioned Avant Garde warm-up days, but it's a shame not to see that incorporated into the main event in a more meaningful way - especially when Pitchfork have their finger so firmly on the pulse.
Arriving outside the Grande Halle we also realise you can't really argue with the talent on offer. A weekend in which we get to experience live shows from M.I.A, Whitney, Floating Points, Todd Terje, Daphni, Warpaint, Bat For Lashes, Explosions In The Sky, ABRA, Mount Kimbie, Suuns, Parquet Courts and Lucy Dacus is going to be a good one.
Lucy Dacus
It is Virginia-born artist Lucy Dacus who welcomes us to the festival – her early performance setting the bar high. Having signed to Matador for the release of her compelling debut album No Burden, the 21-year-old singer has already proved her talents touring all over the world. On stage – as on record - she is warm, witty, humble, and lyrically cutting. Set highlights come from the irresistible hooks of stand-out single "I Don't Want To Be Funny Anymore" and menacing rhythms of "Troublemaker Doppelgänger".
Suuns
Following Lucy Dacus we take a little break to explore the upstairs markets, on-site karaoke/recording studio and actual tattoo parlour (where things could have escalated quickly had we been less sober), before returning to watch the motorik expertise of Canadian four-piece Suuns. It takes a little while for their set to bed-in but it's not long before their impeccable warm grooves, tribal beats, and looped vocals worm their way around the venue, electrifying limbs into movements that resemble dancing.
ABRA
If you've not yet come across this Atlanta, Georgia based singer/producer then you ought to listen up. Born from bedroom pop experiments and discovered after uploading a string of mash ups to YouTube, ABRA is a serious talent in the making. She is still finding her own unique style, but on stage we're treated to serious 80s R&B beats, asymmetric pop twists, saccharine vocal cries, heavy bass thuds and some serious moves.
Bat For Lashes
Natasha Khan - dressed in a beautiful full length red wedding gown - thrills with numbers from her most recent album as Bat For Lashes. Her stage show is meticulously crafted stage, one that convincingly delivers the heart-breaking narrative from The Bride while seamlessly weaving in highlights from previous releases The Haunted Man and Two Suns.
Joey Purp
The third and final day in the Grand Halle is undoubtedly the best. Chicago native Joey Purp, he of Frank Ocean featured "Girls" fame, is on point – delivering slick lyrics and home truths to a small but receptive crowd. Set closer "Cornerstore" is sung with legs dangled over the stage's edge, Purp's political and personal words resonating with all who watch.
Todd Terje & The Olsens
The Norwegian producer provides the best set of the weekend. His disco-cannon EP The Big Cover Up was released earlier this year and features weird and wonderful remixes of everything from Boney. M to Vangelis. It's the buoyant bounces, comically momentous rhythms and cinematic vocal sweeps of Japanese working-day influenced nu-disco "Firecracker" that truly clears the hall of cobwebs.
M.I.A
Mathangi "Maya" Arulpragasam – known to you and I as M.I. A – is arguably the main event of this entire weekend, not just because there are rumours that this will be her last show, but because M.I.A is more than a pop star. She has spoken out about the world's injustices and made her position known on everything from immigration and Tamil independence to wiki-leaks and the Black Lives Matter movement (her comments on which saw her thrown off the Afropunk bill earlier this year). She does not disappoint. It's a set packed full of hits from "Bucky Done Gun" and "Galang", to "Bad Girls" and "Paper Planes." There isn't a lot of chat tonight, which is unusual for the vocal pop star. Her songs (and stage set up with its giant fence in the middle) speak for her though, opening the night with "Borders" and finishing with final encore number "Born Free" says what is needed.
Get the Best Fit take on the week in music direct to your inbox every Friday