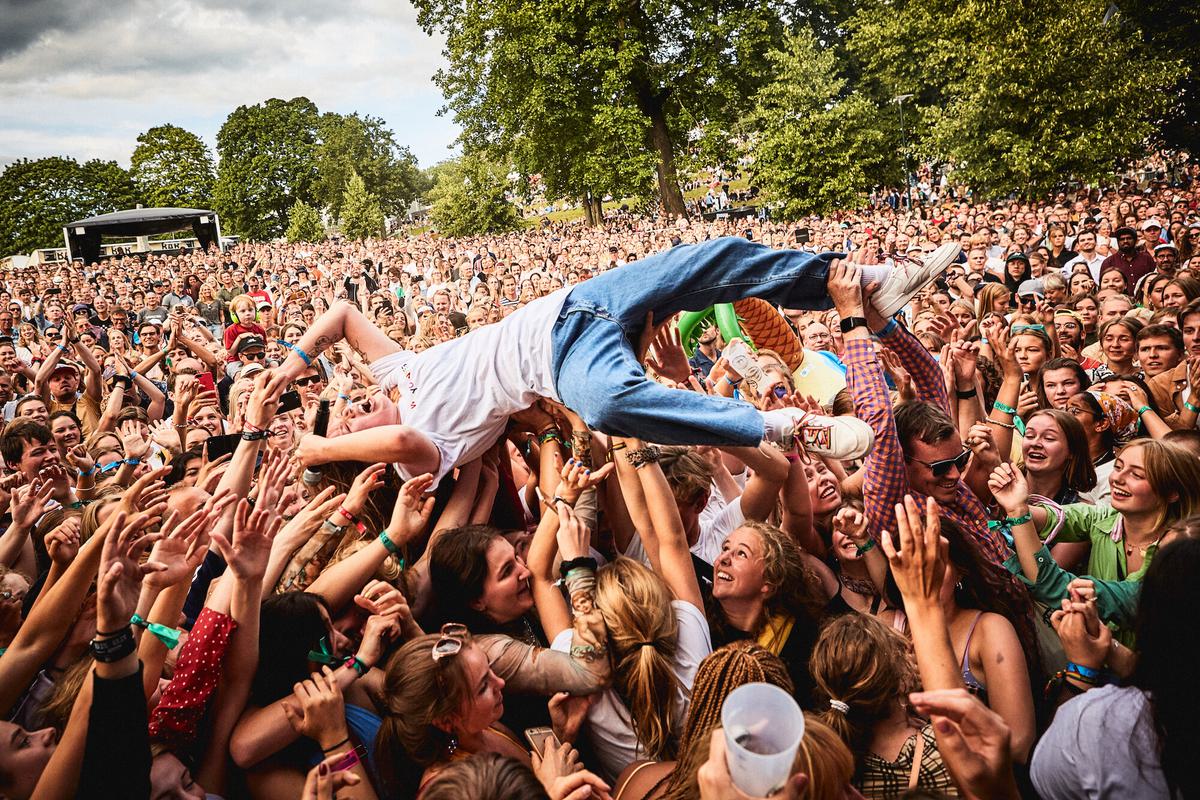 Øya Festival finds its strength by doubling down on Norwegian thought and talent
14 August 2019, 10:00
As it heads towards its twentieth birthday, Øya sits as jewel in the crown of forward-thinking next-gen festivals, with more than just a nod to inclusivity, sustainability and quality.
Exemplifying the European festival experience in the best possible way, it's a city event that manages to avoid the cliches, pitfalls and failures that plague similar attempts across the world. Located in Oslo's Tøyenparken - two metro stops from the city centre - the festival has been part of a sustained effort to reinvigorate the Tøyen district in a similar way to London's Shoreditch
The challenges of putting environmental concerns central to the festival - which sees itself as a mini-city within a big city - have been met head on by its organisers. Viewing the event as an experiment in sustainability (and an example for others to follow) it has run on renewable energy since 2009. This year it boasts plastic free food and drink serving. All drinks come in reusable cups and over sixty percent of waster is reused into something new. As an inner-city event, more than 98 percent of the audience arrive by foot, bike or public transport too.
The festival also boasts Norway's best – and most environmental friendly – festival food with an almost ridiculous commitment to veganism: forty percent of portions sold were meat-free at last year's event and ninety percent of all food served is organic.
Tøyenparken itself is a compact park with a swimming pool atop a hill and the festival's walls enclose a space that cuts across the landscape, weaving around the area quite naturally. It feels more small-town than big-city but comfortably holds around 60,000 people every day yet rarely feels crushed or overwhelming.


Ultimately it's about the music though. and while the international line-up isn't anything groundbreaking (the Robyn, Cure and Tame Impala roadshow hitting yet another stage) it is at least crowd-pleasing. A near living-legend in music at this point, Robyn's set continues to surprise and delight with every turn and the crowd embrace her at this, her third Øya appearance. The Cure's 27-song set stretches to over two hours and doesn't feel saggy, with Robert Smith on surprisingly joyful form too.
Sigrid continues to bolster up Norwegian music's sustained moment in the international spotlight. It's a banger-heavy setlist served up with that trademark effervescence and her slot personifies just how far she's come in the last two years.
Elsewhere, Girl in Red brings out one of the most energetic crowds for a mid-afternoon slot where she shouts out to Billie Eilish and goes crowd-surfing. Pom Poko are another highlight - as frenetic as ever with abstract dancers adding even more fun to their jazz-pop hybrid.
Much loved indie four-piece Razika end their near-fifteen year career with a farewell show on Friday night at the festival while Moyka and Shikoshwe play impressive sets while it rains the kind of rain you only see in movies. But one of the most impressive performances at Øya this year comes from teenager Musti. The Norwegian/Somail rapper is still in her teens, has seemingly come from nowhere - no music out (yet) - and has a flow beyond her years with a confidence to match.
But on the final night, it's left to Karpe - cementing their place atop Norway's rap throne - to close the festival with a bonkers light show and mad scenes in the crowd. It's an ending filled with pride and celebration for a festival that really deserves it.