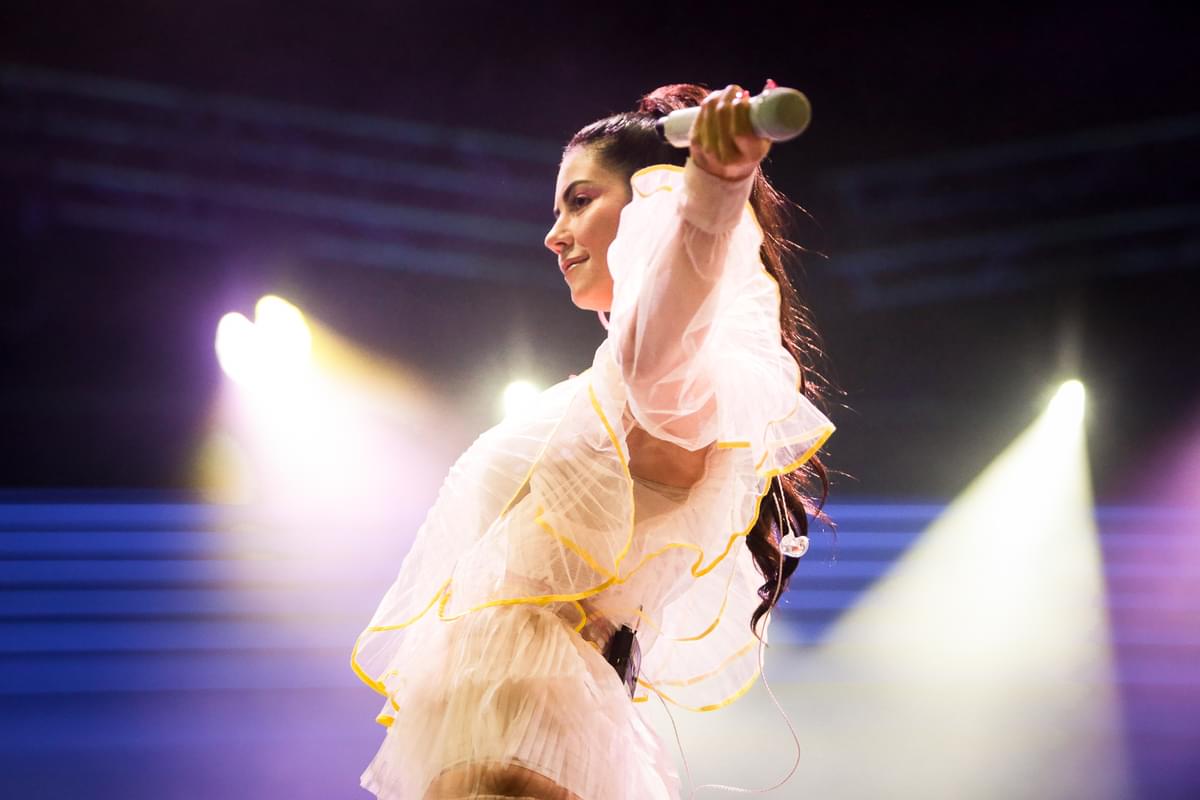 NOS Alive wins on location but stumbles on inclusion and variety
23 July 2019, 19:00
Lisbon city festival NOS Alive is more compact than comparable European festivals, but still filled with big hitters on both the main and smaller stages – from festival stalwarts Primal Scream and Johnny Marr, up-and-comers Pip Blom and Loyle Carner, to local heroes Ornatos Violeta.
With bands starting at around 5pm each day, there's plenty of time to explore Lisbon during the day – its architecture, culture and food are a tightly-packed and eclectic mix of the traditional and the contemporary. The festival site is a short taxi or train ride from the centre, and just a brief walk from the city's historical Belem area – home to numerous palaces, gardens and historical monuments, as well as two of Lisbon's major modern art museums, MAAT and the Berardo Collection. Situated right on the seafront, the location is picturesque and – thankfully in Thursday's 36 degree heat – a little cooler than the rest of the city.
The site itself is compact and easy to navigate. The stages are set close together, making quick turnarounds between sets easily manageable. Unfortunately this also makes sound bleed between stages inevitable: it was a shame to hear Weezer's corny riffs encroaching on the emotional intensity of Sharon Van Etten's set on Thursday, for example. Another possibly incongruous element, especially for festival-goers from outside Portugal, is how heavily corporate the festival feels, with stacked branded stands and advertising at every turn. The sponsorship keeps costs down though – a three-day pass is just under €140 – so perhaps can't be begrudged too much.
The main stage line-up is disappointingly white and male-centric, with only a handful of women and people of colour playing to the biggest crowds across the weekend. The sad-boy aesthetics of Mogwai and Bon Iver are predictable but well-received; The Smashing Pumpkins' headlining set on Saturday is a definite low-point, with even their most beloved songs padded out by noodling guitar and tedious drum solos. Thursday's headliners The Cure show the other guys how it's done with a triumphant, gorgeous set filled with hits and deep cuts alike. As is often the case at European festivals that stretch their stage times until the early hours of the morning, the acts after the official headliners bring the most fun: Friday's freewheeling set by Gossip, and The Chemical Brothers on Saturday night are both welcome injections of energy for a post-1am crowd.
The real thrills are to be found at the Sagres tent, the second-largest stage, at around witching hour each night. On Thursday, Robyn conjures a heartbreak devotional, playing with unmatched emotional commitment. Against a backdrop of lilac-lit, flowing material she crawls around the stage and vogues with a guest dancer – a perfect balance of lightness and intensity. Robyn's single elaborate costume change pales in comparison to Friday night's highlight, Grace Jones, who manages an outfit change or adjustment for almost every song. She performs her now well-known all-singing all-hula-hooping act to a rapt audience – its familiarity not dampening its sheer audacity.
On Saturday night, MARINA brings incredible vocals and minimal but effective staging, reminding the audience just how many consistently high-quality off-kilter hits she has in her arsenal. All three women's commitment to high concept pop thrills put the guitar bands on the main stage to shame – a bigger spread of pop artists would be exciting to see in future line-ups. Overall, NOS Alive's dense line-up and beautiful location are enough to keep it in competition with the rest of the big-hitter summer festivals.
Get the Best Fit take on the week in music direct to your inbox every Friday