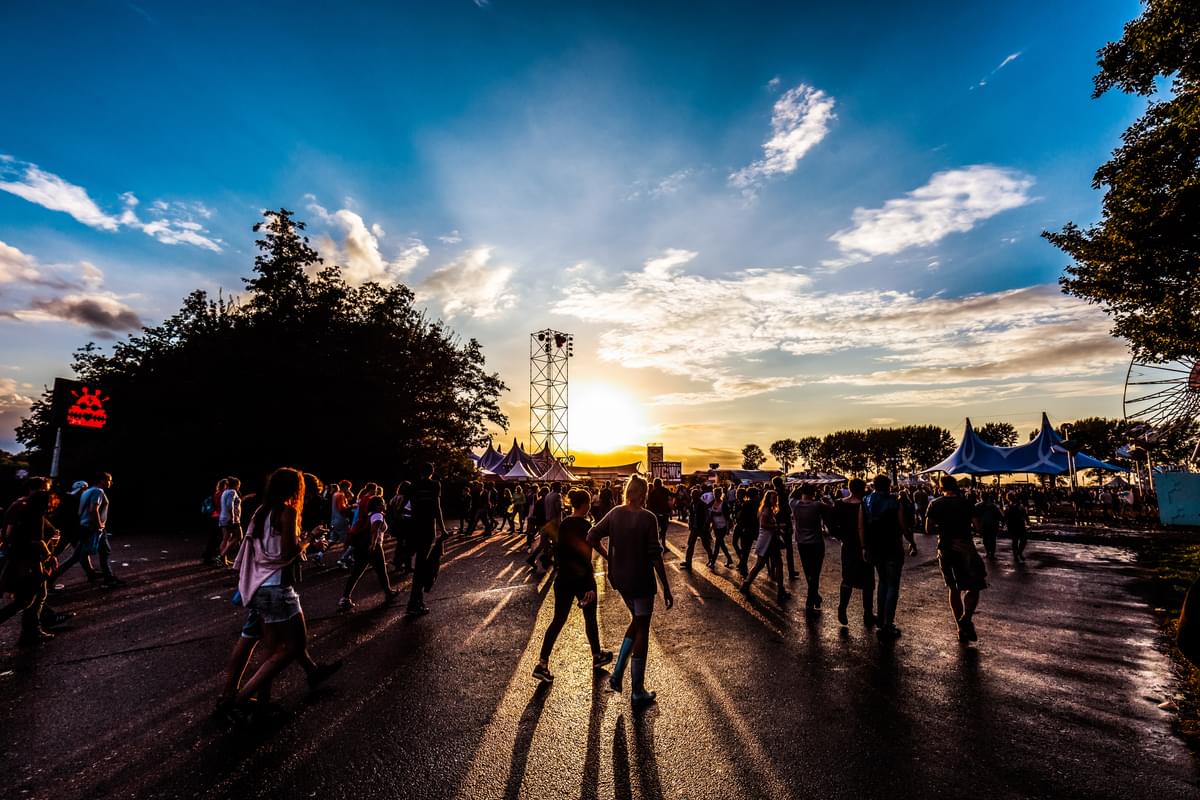 High Times in the Lowlands
25 August 2016, 11:58
After an exceptional experience last year, we were more than happy to attend Lowlands for a second time. Championed by the Dutch themselves as the event of the summer, it's difficult to disagree, with a broad selection of music, art and media that caters to everyone's tastes.
Not many changes had been made to the festival in comparison to last year, but there was no need to make any; every inch of the event is so meticulously planned and well organised that it puts the majority of UK festivals to shame. Lowlands is extremely well organised with plenty of freshly cleaned toilets, great food and a strong variety of music and artists that entertain throughout the day and into the early hours. Unfortunately, the weather could not be helped and when it rained - but we Brits are used to that kind of malarkey so it wasn't too much of a shock to the system.
What we saw
XIXA
XIXA hail from Tucson, Arizona, though various band members have connections flowing from much farther corners of the globe. They incorporate such a wide variety of musical features into their set that it's actually impossible to pigeonhole them into one specific genre, though the band themselves give it a good go; "Desert Noir". Each song they played, a selection taken from their debut, Bloodline (2016), was bouncy and uplifting while still creating a seedy, voluptuous undertone that had the audience swaying and baking (literally) in the heat of the afternoon soon.
NAO
We then headed over to catch NAO at the India stage, which was growing busier by the second before the performance had even begun. The audience clearly anticipated big things from Neo Joshua following her immediate rise to the spotlight; she did not disappoint. It was evident from the off that NAO has been part of some major projects already (Disclosure, Kwabs, Jarvis Cocker) as she channels professionalism and throws some absolutely unthinkable moves alongside jaded grooves that encourage the crowd to get down and join in. Stand out tracks were singles, 'Girlfriend', 'Fool to Love' and 'Bad Blood', with its wonky, slightly lagging melody that adds to her sensual soulful vibe. A big thumbs up from us!
Pumarosa
A fan favourite and one of our hotly-tipped acts destined for success this year, Pumarosa, treated us to yet another great performance and set the bar high. While flailing around with her guitar, Isabel Munoz-Newsome still managed to caress the stage wearing a skimpy silver dress, crooning in her distinguishable tone; a blend of Karen O and Jehnny Beth. Sax solos and synth melodies bled from the band as they mesmerised us with climactic instrumentals and their ever so catchy single, 'Priestess'. You must see this band live to get a real flavour of their sound!
Warpaint
The LA four-piece recently announced they'll be a dropping a new album, Heads Up, in September and we're super excited to hear it. Tonight, however, Warpaint doused us with a heap of our favourite tracks, 'Elephants', 'Undertow', 'Disco//Very' and 'Biggy'; Jenny Lindberg playing the beautiful bass melody to compensate for a faulty keyboard. Warpaint truly revealed how they've matured from the young girls we once knew circa The Fool, into the established tight band and ladies they have become. They are consistent with every performance; spine-tingling vocals and diatonic guitar harmonies literally bring tears to your eyes. It seems impossible that they can get any better as this performance was flawless, however, we hope to be proven wrong with Heads Up next month.
Whitney
Leading us into another sweltering day of glorious sunshine, Vietnamese rolls and Heineken (a perfect combo, I know) were Chicago's, Whitney, featuring Max Kakacek and Julien Ehrlich of the recently deceased, Smith Westerns. They dragged in a huge crowd for what was an early slot and they didn't pull any punches, providing some excellent music that set the tone for the day. Whitney played numerous tracks from their debut, Light Upon the Lake (2016), alongside a cover of Bob Dylan's 'Tonight I'll Be Staying Here With You'. Although suffering from numerous technical difficulties from the sound desk, the band remained in shipshape with some excellent trumpet playing by Will Miller, jangly guitars and clean vocals; a cross between Ray Lamontagne and Brittany Howard.
Kamasi Washington
Our favourite act of the weekend by a long shot was LA's, Kamasi Washington, and his band of outstanding musicians. They played a heap of material from 2015's, The Epic, with nearly every track ('Cherokee', 'Re Run' and 'The Rhythm Changes') lasting around 15 minutes due to some stratospheric solos by Kamasi himself and members of his band. Double bassist, Miles Mosley, tore up the stage using his wah pedal to the extreme, creating a face-melting Jimi Hendrix-like solo that sent the crowd into a state of euphoria. Kamasi also invited his father, an oboist, on stage for the final three tracks; a nice touch. Again, you need to check out this guy live as he certainly puts on an unforgettable performance, particularly if you're a fan of Sun Ra, Erykah Badu and Ornette Coleman.
King Gizzard and the Lizard Wizard
What more to say about Melbourne's King Gizzard than sheer class. As the unfortunate summer rain began teeming down outside, people fled to the closest stage that they could find, resulting in the Charlie tent being packed to the rafters once again. On came the psychedelic rock lords playing their uplifting, up-tempo noodlings, a selection of songs from their latest LP, Nonagon Infinity (2016), along with some earlier material; tracks such as 'I'm in Your Mind'. For a band that work so hard, it was great to see the crowd going absolutely wild and giving them the appreciation they deserve. Stu Mackenzie stood Ian Anderson-esc, playing the flute above the stuttered ramblings of the guitars and synthesizers beneath him. It truly was an amazing performance with every member of the audience headbanging as the band ploughed through track after track with such intensity.
Philip Glass Ensemble
One of the pioneering composers of minimalism, Philip Glass and his ensemble took to the Bravo stage on the final morning at Lowlands. To create an element of distance and isolation, the organisers released the outer flaps of the tent meaning no light entered from the outside world. As the audience attentively listened in the silent darkness, Philip took us on a journey through time and space, playing a selection of intricate, electronically interwoven pieces that mirrored the extraordinary visuals on the screen behind the orchestra. The juxtaposition of time signatures and counterpoint were hypnotising as we stood there in amazement. It's fascinating to see how Philip Glass' music is still so relevant in a world of altermodernity and advancing technology. Minimalism's influence over pop culture, particularly dance music, is undeniably present and we would be lost without it. Thank you Philip.
Børns
Børns brought us some uplifting pop, beaming from the Charlie stage, Garrett Borns' androgynous image and falsetto voice peaking above the instrumentation. As the basslines and synth melodies throbbed through the sound system, we were surprisingly treated to a great cover of Arcade Fire's 'Rebellion (Lies)', which merged nicely into Bowie's 'Heroes'. Børns channel a really enjoyable vibe with each performance and are a pleasure to watch.
Klangstof
Another of our top bands over the weekend was Klangstof, the project of Dutch-born producer and musician, Keon van de Wardt. Klangstof's sound is really unique and was refreshing to hear amidst the growls and distortions of previous acts over the weekend, though there's an unabashed doff of the cap to Radiohead, who Wardt sights as one of his primary influences. There was a small crowd for Klangstof (performing as a four-piece tonight), potentially due to the clash with Foals and The Last Shadow Puppets on alternate stages, however, they still put on an amazing show with great use of electronic effects and sampling that took their sound up to another level. Their single, 'Hostage', drew silence from the crowd as they meandered through climactic soundscapes and intense strobe lighting. We're expecting big things ahead …
Thee Oh Sees
John Dwyer has had a tough time in recent years. His band took a well-earned break after about five years of extensive touring and at one point it seemed as though we'd never see the return of Thee Oh Sees ever again; thank goodness that wasn't the case. After several line-up changes, the band finally returned as a solid four-piece consisting of drumming duo, Ryan Moutinho and Dan Rincon, Timothy Hellman on bass, and Dwyer, the only original remaining band member, on guitar and vocals. The loss of Brigid Dawson on keyboard and vocals has resulted in Thee Oh Sees' sound becoming slightly more raucous and guitar-driven; which certainly isn't a bad thing. The band threw everything they had into their performance at Lowlands and the crowd lapped it all up, going wild as Dwyer screeched and growled down the microphone, both drummers pummelling away in perfect synchrony. They played a variety of material, old and new, including 'The Dream', 'Plastic Plant' and 'Gelatinous Cube'; the perfect conclusion to a great weekend.
The verdict
We had an absolute blast at Lowlands. For the older generation and those of us lucky to still be in our twenties, it is the ideal festival to escape reality and just have a bloody good time. The atmosphere is spot on - no lads, no kids, no trouble, no problem - the organisers just want those attending to have a great time. We will undoubtedly be heading back for round three next year.
Get the Best Fit take on the week in music direct to your inbox every Friday