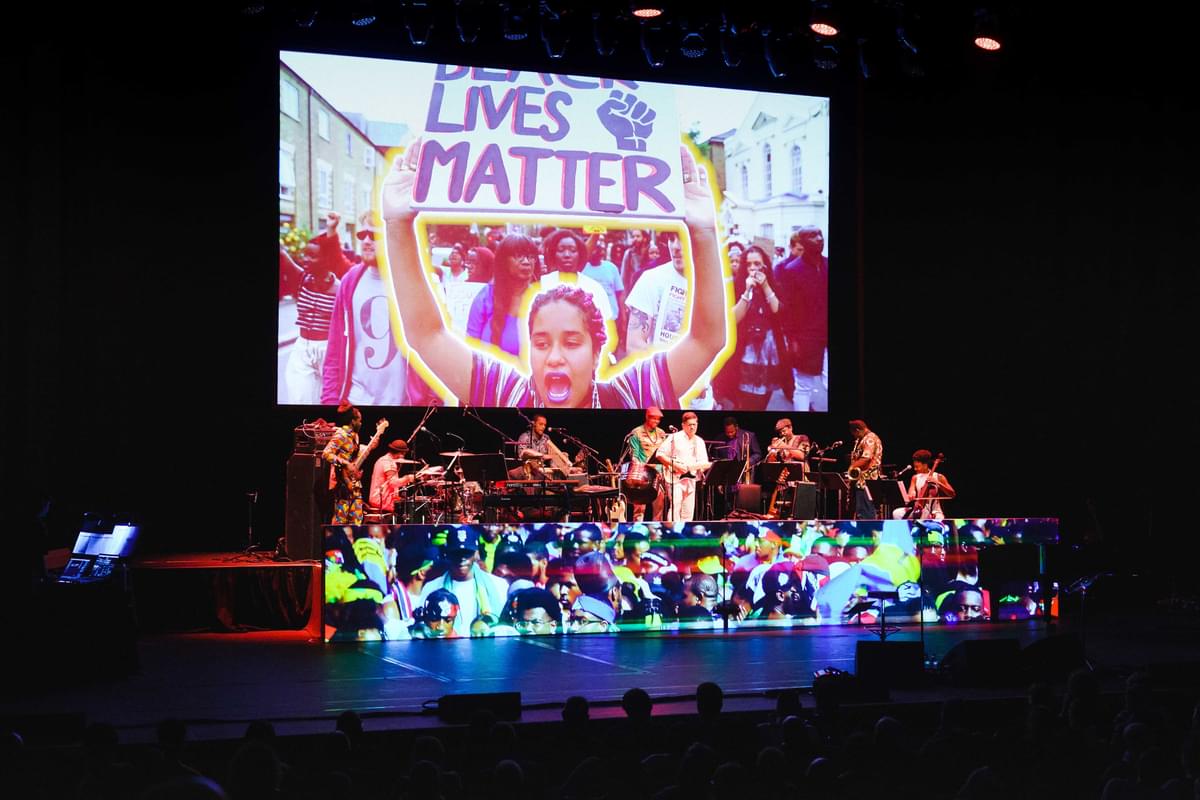 A week at the EFG London Jazz Festival
07 December 2018, 12:00
A landmark new era of jazz musicians and listeners is helping a one of the UK's biggest jazz festival confront the genre's history as a form of music intrinsically tied to culture, collaboration, and education
Even in its beginnings as the Camden Jazz Week in the 1970s, the EFG London Jazz Festival has always been programmed to connect international artists from different cities with musicians crisscrossing jazz and it's close musical allies in London. But it's the repercussions of a new generation of jazz players and listeners that makes this year's festival such an exciting mix of different origin stories.
Backed by a new head of programming, Pelin Opcin, who joins the festival from her previous post running the Istanbul Jazz Festival, this year's line-up feels fresher and more distinctive than ever before. It feels more connected to storytelling, closer allied to telling a wider picture of the genre and its story. Retrospective concerts from internationally-famous names like Archie Shepp and Bobby McFerrin merge with hints of the modern jazz revival in the form of Laura Jurd, Sax Ruins, Nubya Garcia, Makaya McCraven, Maisha and Jaimie Branch.
As journalist and broadcaster, Teju Adeleye wrote in The Quietus, this revival has helped offer "an interesting challenge for a genre haunted by the easy-to-digest, genteel image of black sorrow." Confronting the former boundaries of jazz to represent the multiple dialects and spheres of influence in which jazz speaks, Opcin and her team have produced a festival that pulls directly on threads of the history of the genre, offering moments to confront and penetrate its legacy.
"This is something I learned in Istanbul," said Opcin, in an interview with Jazzwise Magazine. "When the Taksim Square protests and the attempted coup of 2016 happened, we kept going, and as it turned out we were presenting the EST Symphony in memory of Esbjörn Svensson, and it became a concert to commemorate not just him, but also those who lost their lives in Taksim Square."
Two of the pins on which this year's festival stands are the anniversaries of the WW1 armistice and 70 years since the arrival of HMS Windrush. Both have been given major revues, an opportunity to recognise the huge contribution music has made to these stories. In addition to this, a range of film screenings, poetry performances, and talks have been programmed help to punctuate discussion throughout the week.
Windrush: A Celebration with Anthony Joseph, Brother Resistance, Mighty Sparrow, GAIKA and Calypso Rose
Curated by the poet and musician Anthony Joseph, this landmark concert is billed as a celebration of the Windrush generation and the triumph of the Caribbean music in Britain. But the truth is it's more powerful than a concert of simple celebration. Bringing together musicians from across the last seven decades, Joseph is joined on stage by Trinidadian poet Brother Resistance, calypso legends Mighty Sparrow and Calypso Rose, artist and dancehall musician Gaika, London vocalist Cleveland Watkiss, and an ensemble of pan-Caribbean musicians.
The programme for the night moves between an incredible range of musical styles, from calypso through to reggae, soca, and contemporary dancehall. The concert is also pinned to a programme of films shown earlier in the day in the Barbican theatre, namely Pressure by acclaimed novelist Sam Selvon and filmmaker Horace Ové and 1000 Londoners a selection 15 short films discovering the life of 4 generation of Caribbean heritage in London. The films earlier in the evening help punctuate the messages of the show later.
But the showcase itself sometimes suffers from a distinct lack of narrative. The whole show comes with an almost 40-song setlist, with guest musicians joining the house band at random. Spanning almost three hours, it's the curation of the show that feels confusing, rather than the performances.
The 78-year-old Calypso Rose feels more alive than ever, bursting onto stage to perform "Calypso Queen" before ending her performance hugging members of the audience. While Brixton-based Gaika updates and bridges the story of Windrush to the next generation with a trio of genre-defying dancehall tracks. You're left feeling that the show makes a brave and powerful statement, a positive step towards the London Jazz Festival confront big stories more directly.
Sax Ruins
Drummer and composer Tatsuya Yoshida's compositions have been baffling audiences for over 10 years now. Describe it however you want, jazz fusion, progressive rock, noisecore, on record, Yoshida's compositions sound like a catastrophic chaos of different noises vying for peak position. Joined by saxophonist Ono Ryoko, Sax Ruins is an adaptation of Yoshida's compositions for a two-piece.
Sax Ruins EFG show is the only one promoted by Baba Yaga's Hut on the whole EFG festival bill. Which seems like a shame, given that these South London promoters are behind some of the most exciting and challenging programming going on in London at the minute. The show is a matinee performance, starting at 2pm, with doors shutting just as darkness descends and is one of the only really left-field shows at this year's festival.
Spanning an hour, Sax Ruins set is a spine-tingling, adrenaline-racing, head-spinning watch. 60 minutes of renegade noise start to blur together to create an experience that is really difficult to take your eyes off. One member of the audience wildly rocks back and forth, another sitting throws his head around while his two kids watch on bewildered. Others barely move, caught in a deep psychedelic trance.
Bobby McFerrin performing 'Circlesongs'
Bobby McFerrin is probably the most immediately recognisable artist on the EFG programme, famous not just for his celebrated acapella performances, but widely known for his 1980's Number 1 "Don't Worry Be Happy". Having had to cancel a number of previous London shows due to illness, the show was a rare chance to see McFerrin live in London.
The show is part-singing workshop, part-improvised jam, and part-performance, bringing together McFerrin, four of his acapella group Voicestra, and 12-British singers who make up a choir for the evening. Bobby gives you an infectious energy. Moving abruptly between spontaneous creations, off-the-top-of-his-head covers, he teaches both audience and choir different vocal pieces, eeking everyone to sing together.
The whole sensation is unlike any performance I've been to as 15-voices on stage are joined by 3,000 members of the audience who join the group momentarily. Punctuated by vocal games in the middle, and showcases from all of the Voicestra's four vocalists, the evening celebrates the dexterity of the human voice.
Archie Shepp
Legendary Saxophonist and vocalist Archie Shepp (pictured above, photo by Tatiana Gorilovsky), isn't just an incredible musician, but an incredible educator for new generations when it's comes to the history of jazz and blues music in America. His EFG London Jazz Festival show is in dedication to "Art Songs and Spirituals". Many of these songs he borrows from his early experiences with gospel performers in the church, as well as the "art songs from classical composers going as far back as Schubert," says Shepp.
The programme for this evening spans songs directly linked to the church "A Prayer", "Call Him" and "All God's Children Got A Home In The Universe" with pieces by other non-traditionally conventional religious music from Duke Ellington to Billie Holliday. Linking up these stories throughout, Shepp shares his musical knowledge through anecdotes and moments of reverence.
Backed by a choir of English vocalist and longtime collaborator, organist, and musical historian, Amina Claudine Myers, the show is a mixed measure of powerful hair-raising performances and more lethargic moments. Shepp feels most at home with his own material, a point highlighted best during a performance of 'Rest Enough', a track written in dedication to the early death of Shepp's mother.
Emma Jean Thackray
Whilst the first weekend of the festival celebrated music from some of Jazz's legendary names, the second weekend is contrasted with performances from some of the genres emerging contemporary musicians.
Composer and trumpet-player Emma Jean Thackray, has worked with the London Symphony Orchestra to create a way of showcasing her experimental approach to improvisation. Her performance at LSO St Lukes brings together a selection of musicians from LSO alongside vocalist And Is Phi, trombonist Rosie Turton, and drummer Hector Plimmer.
Thackray's choice of placing musicians both on and off stage, up the large cascading staircases that hug the sides of the room, makes the show an exciting and exhilarating experience. It confronts the perception of what a show in a space like LSO should sound like. Sweeping away the pressed formalities of a room that conventionally hosts whole orchestras, today it's the home of a night of bristlingly experimental music. The night is broadcast live on Worldwide FM and recorded straight to vinyl by The Vinyl Factory, giving testament and record to a unique night of arrangements.
Nubya Garcia and Makaya McCraven
Programmed as part of an ongoing series of collaborations between London and Chicago, saxophonist Nubya Garcia joined forces with drummer Makaya McCraven (above, photo by Emile Holba) for a night of music contrasting stories between the UK and America. Both musicians play their own individual sets, before joining forces at the end in a jam that lasts well into the night. Shows like these have helped open up the sphere of influence in the modern jazz scene, making unique music that feels specifically engrained the locations in which it's been created. The thick, party sound of London jazz and it's inflexions of grime, dub, and soca melts directly with the McCraven's upbringing of hip-hop, house, and disco.
It's a refreshingly different idea, tying together the individual origin stories of two different sounds, creating something malleable that sits between the two. What's so exciting to the listener is seeing the merging of these moments, as something very unique and new is created out of the flames of both.
Get the Best Fit take on the week in music direct to your inbox every Friday