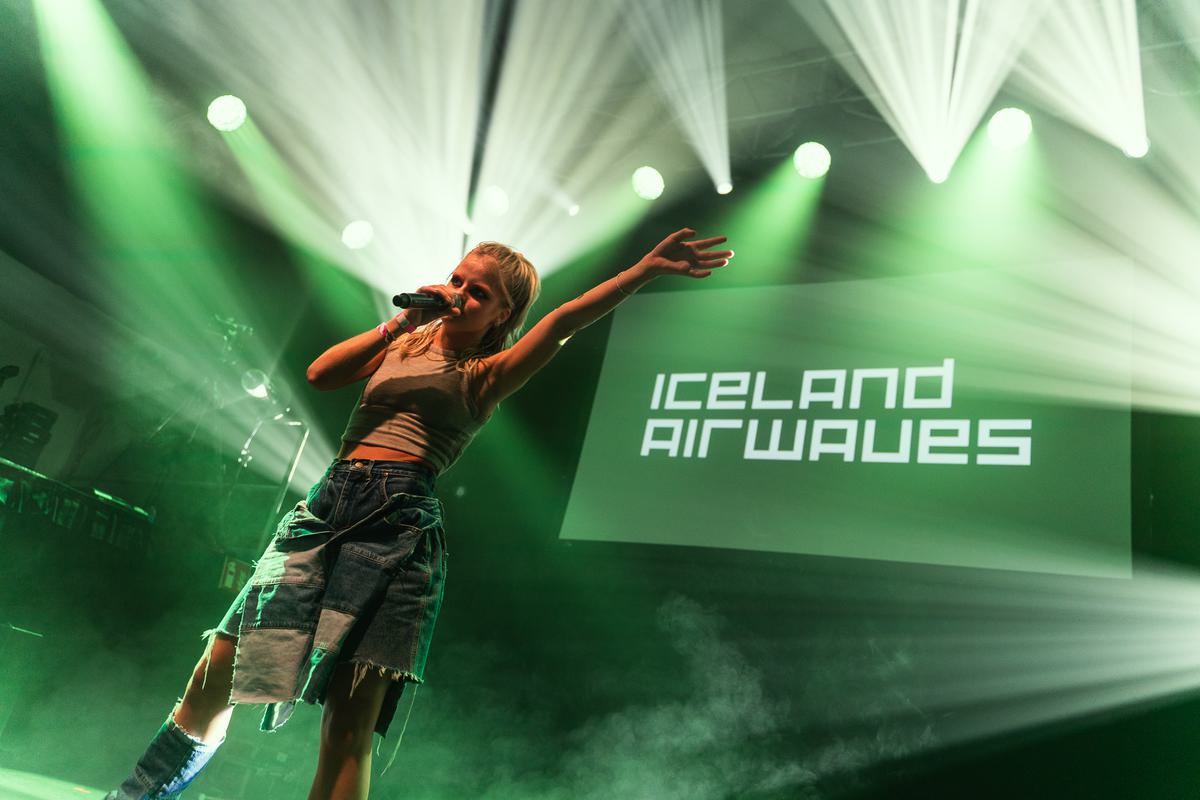 Magic is in the air on the first night of Iceland Airwaves
04 November 2022, 19:00
Lead image by Asgeir Helgi
The Iceland showcase festival returns, selling out for the first time in a decade. Gabríel Benjamin reports on the first night of the Reykjavík-based festival.
There is a certain feeling of relief that Iceland Airwaves has actually started once again.
The festival began as a small affair in a hangar of the domestic airport back in 1999 and has since grown to become the country's biggest showcase festival, bringing in scores of festivalgoers from all over the world and making the cozy 120.000 person monolithic capital feel cosmopolitan for a few days.
Even before the pandemic hit, Airwaves had been going through an identity crisis. After expanding too quickly everyone agreed that the festival had to be reeled in, but it wasn't clear what original position it was being brought back to. Now, after a three-year absence, the festival has returned and feels back to form. Despite venues and bands being fewer in number, the air is still pregnant with promise for something magical.

And magic is exactly what gugusar delivers at the Art Museum. As an instrumental track kicks in, the artist goes from walking to pacing around, gesticulating to dancing, increasing the intensity of her movements until she matches that of the track, before gyrating and wowing the audience with her immaculate grace, all before singing in her signature softly-whispered style.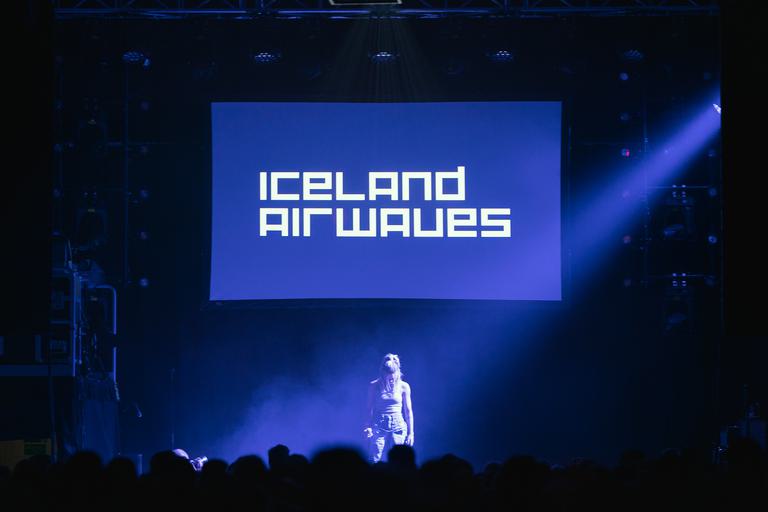 Gugusar by Asgeir Helgi
Even as a one-person act, gugusar's dancing is a fully-fledged second member of the band with a rich and textured performance that adds a whole new dimension to her show. In the past artist Guðlaug Sóley Höskuldardóttir has said that she's not aware of how she moves or dances when she's on stage as gugusar. She's always had a good sense of body awareness and rhythm, but at the Art Museum her movements feel more deliberate and orchestrated, telling a story through movements rather than just moving through unconscious emotions. This performance is far removed from any of her previous shows and signals her ascension into the big leagues.
And then while performing her biggest hit "Röddin í klettunum" ("The voices in the cliffs"), she starts the festival's first sing along to the bass drop. This self-producing electronic artist has grown by leaps and bounds since first stepping into the spotlight in 2019. She is one to watch.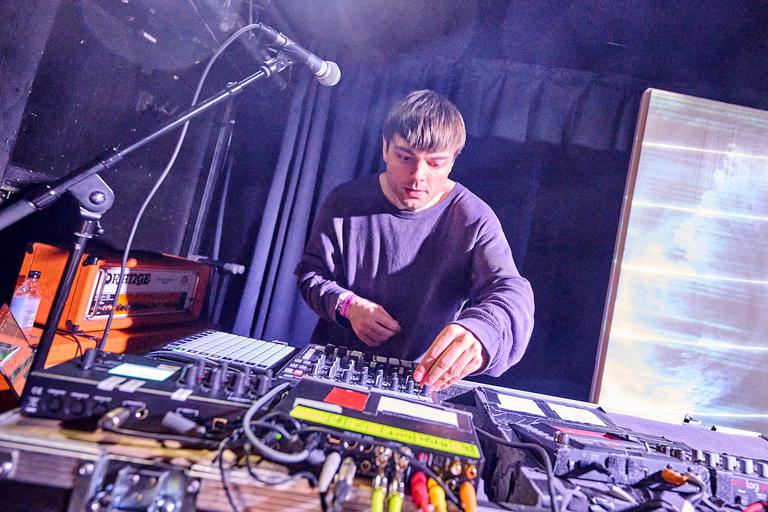 Janus Rasmussen by Florian Trykowski
Over at Húrra, Iceland-based Estonian Possimiste performs with a full band a selection of songs that get the crowd moving with their enthusiastic flower-powered songs. Meanwhile, a floor up in the same building, Janus Rasmussen leads his crowd through a trance-like exploration of the senses, accompanied by his thumping beats and intense visuals.

The ever-charming Kaktus Einarsson debuts his band, The Houseplants, as he shows a fleshed-out version of songs he had teased acoustic renditions of the previous year at an "almost Airwaves" show. Mellow, slow and welcoming, the sound feels fantastically put together as Kaktus plays his compositions through the minor scale.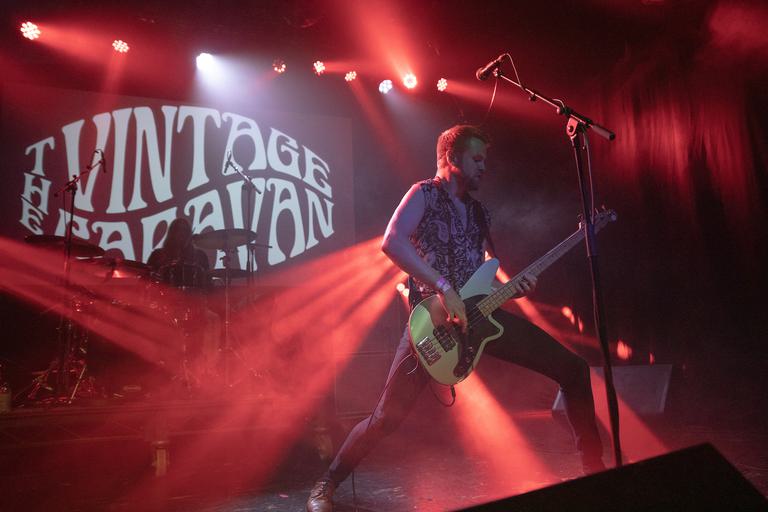 The Vintage Caravan by Yael BC
Iðnó is packed to the brim with serious headbangers and curious festivalgoers alike when The Vintage Caravan takes to the stage. This youthful trio of psychedelic hard rockers has long since progressed from seeming to imitate a music genre from the 70s to carving out their own space and crafting unapologetically fun music. Coming in hot from a tour with Opeth, singer Óskar Logi admits this is their 40th show in just seven weeks. They play fast, shred guitar solos, and play louder than any other outfit at the festival.
On the opposite side of the volume spectrum is the highly anticipated Laufey. Guests fill every available seat, nook and cranny, waiting eagerly. As the lights go out, Laufey steps onto the stage by herself and plays a selection of her songs, alternating between playing the electric guitar and grand piano. She introduces each song with heartfelt and at times humorous anecdotes about falling in love with the tube on "Beautiful Stranger", thinking wistfully about her homeland on "Fragile", having watched too many bad rom-coms on "Like The Movies", or about having been on a terrible date with a classmate on "James"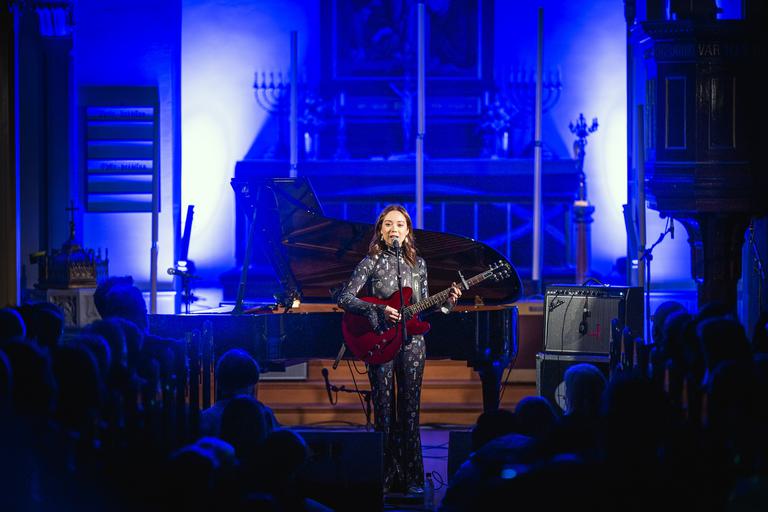 Laufey by Asgeir Helgi
Laufey's music has a very endearing quality, which married with her capabilities as a storyteller make her a fantastic jazz performer. Ideally, she'd play at a speakeasy or small venue with clearer sightlines than Fríkirkjan, but it's difficult to complain after the spellbinding show.
Una Torfa similarly spins her yarn, playing a series of emotive songs. A colleague asked earlier in the night where all of the young people were at Airwaves, and the answer was here at Iðnó watching Una, swaying and dancing to her tunes. Her two final songs, "Flækt og týnd og einmana" ("Complicated and lost and lonely") and "Fyrrverandi" ("Ex") are the standouts of the set, both showcasing her talent for composition and flow, allowing her range to be fully enjoyed.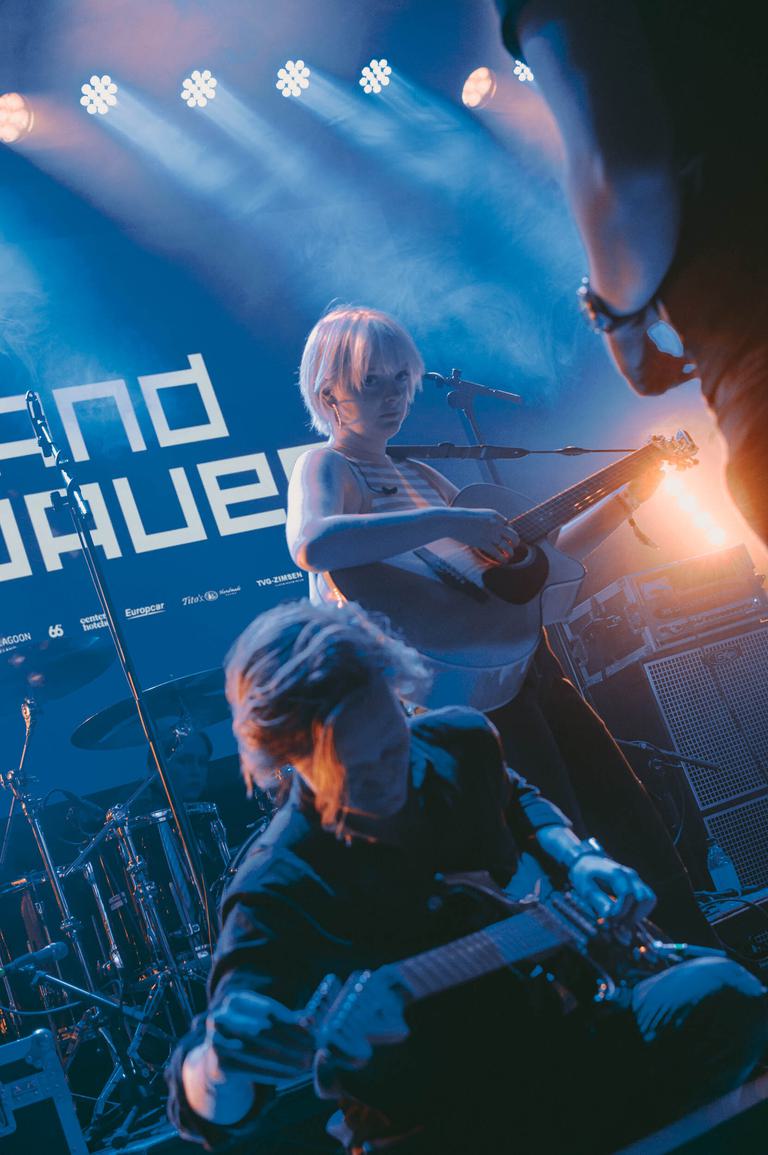 Una Torfa by Julie Vandenbergh
Reykjavíkurdætur, or Daughters of Reykjavík, have long been one of Iceland's standout acts. Formed as a loose hip-hop collective in 2013 where women could break into the male-dominated local scene, they have since shrunk in numbers and grown musically and stylistically.
In between bass-laden anthems, the Daughters take a two-minute break to honour the brave women of Iran standing up to their country's misogynistic regime. "We stand with the women in Iran, fighting for a better world," says Steiney Skúladóttir as she tearfully dedicates "D.R.U.S.L.A.", Iceland's 2014 SlutWalk theme song, to them and their struggle. Even after getting world famous, the Daughters of Reykjavík do not shy away from using their platform to empower others.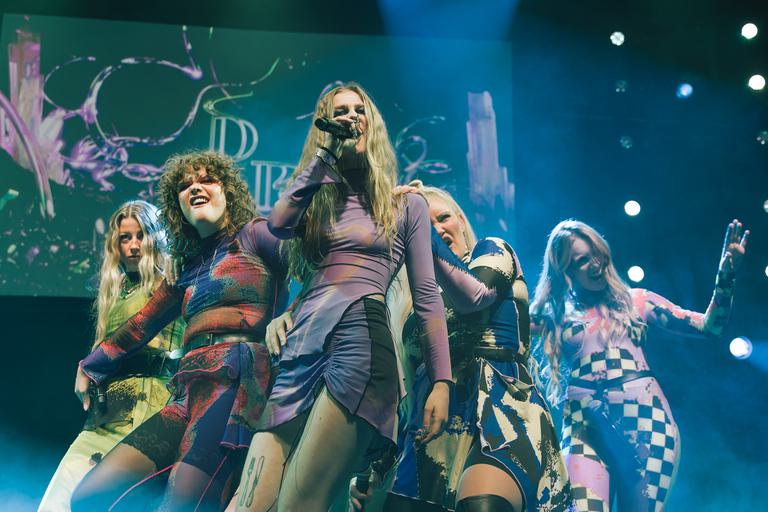 Daughters of Reykjavík by Keira Lindgren
Finishing the first night of Airwaves is a set that on paper might seem risky. RAKEL has been playing in other people's bands for years, only recently stepping out with her own material. When she takes to the stage she admits to a packed Húrra that she's never had so many attendees at her show. But someone must have done their homework because not only did Rakel round out the night, but cast her own spell on those gathered with her emotionally-laden songs and soulful performance.
One of the magics of Airwaves is getting to see untested and promising artists blossom on the stage. It is incredibly rewarding to watch an artist that four years back had been the least confident on a three-person billing at a Berlin living room show now entrance a completely new crowd.