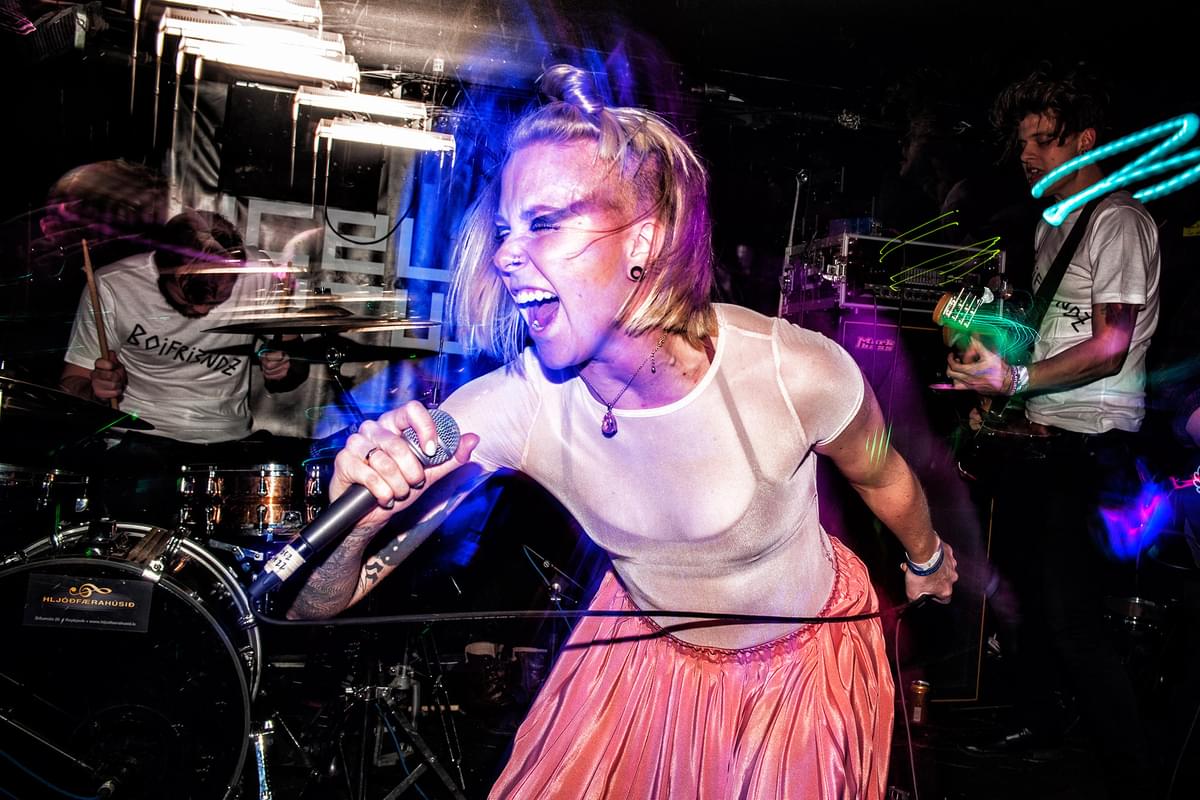 Iceland Airwaves Day 4: Embracing the Night
06 November 2016, 12:00
Tófa is a band that I've often heard of, but somehow never managed to catch until tonight.
Right from the get go I felt they managed to be both accessible without becoming mainstream. With two albums to their name already (aptly named Fleetwood Max and Teeth Richards), there was no shortage of material for them to blaze through. The band (pictured above) had tons of enthusiasm, thick bass lines, solid drums, and proper screeches and howls. They were rocking so hard, in fact, that they blew Gaukurinn's fuse. Well done.
Thereafter I found myself in Harpa's Kaldalón, which has become my favourite venue at this festival. The story of the young artist performing is one of accidental discovery. asdfhg., real name Steinunn Jónsdóttir (pictured above, photo by Sigurður Ástgeirsson), had written and produced the album Steingervingur ("Fossil") at home at age 16, posting it under a pseudonym on Bandcamp and only sharing it with a select few friends. Word got around, and at the end of 2015 she found herself shortlisted and winning the coveted Kraumur music fund. Now, a year later, she's performing her electronic music to a full audience, and it's easy to see what the music fund had seen in her.
Soft synth sounds carry her intimate and fragile voice as she sings poetic and well constructed lyrics. Steinunn may look like a very ordinary teenager, but she has hidden depths to her, and they are dark and gloomy. There's an underlying sense of isolation and a longing for another world that is at once very remarkable and relatable.
Following asdfhg. is Bára Gísladóttir, who has made a reputation for herself for her eccentric and creative shows. After an accompanying saxophone player has stood on stage for some five minutes, blowing into his instrument without producing any sounds, Bára crawls onto the stage, hides herself behind her contrabass, and proceeds to pick and scratch at it while kicking her feet up, hissing and screeching for a good five minutes. Then she finally stands up and starts strumming her instrument nonsensically, producing what can hardly be described as notes.
She then continues with the saxophone player to produce noise, but purposeful noise, plucking her strings and chanting in Italian to sounds played from her computer that sounded like the end of the world. For the next song she gaffa taped parts of her contrabass and played it like she was trying to communicate with whales underwater.
Having been so enamoured with aYia's performance on the previous day, I set out to catch them again at Húrra, where they performed sans visuals. Although I already had incredibly high expectations, the three-part outfit (pictured above, photo by Burak Cingi) somehow managed to meet and exceed them. Further contemplating their performance, I come to realise that they manage the nigh insurmountable task of making electronic music truly pop when performed live. In a previous interview, Ásta Fanney, the voice of aYia, had said that they weren't sure "in what context we would put out an album nowadays," but from the show I saw they already have everything they need to make and release one; I honestly hope they release one as a surprise early in 2017, because I really want to listen to it on repeat for a good few days just to dig through the layers present.
Next door in Gaukurinn I see a band that I had never dreamed of ever catching: Pertti Kurikan Nimipäivät. This Finnish punk band caught the world's eye when they set out to represent Finland at the 2015 Eurovision Song Contest, only to be robbed of the opportunity at the last moment. The four members all have various developmental disabilities, but when they took to the stage they showed they had no shortage of attitude. Their songs were short and to the point, and the crowd seemed to be amazed as I was. I saw a few people Googling Finnish phrases to shout at the band, only to get a response of "Perkele" and the like, much to their and the band's enjoyment.
After that Skrattar took to the stage, performing a tantalising and nihilistic set. The slow synth beat was complemented by cool guitar twanging and nasal vocals about the darkness and all the wonders found therein. At this point I was content to just chill, sip my beer, and surrender to the night. Which I did.
Get the Best Fit take on the week in music direct to your inbox every Friday