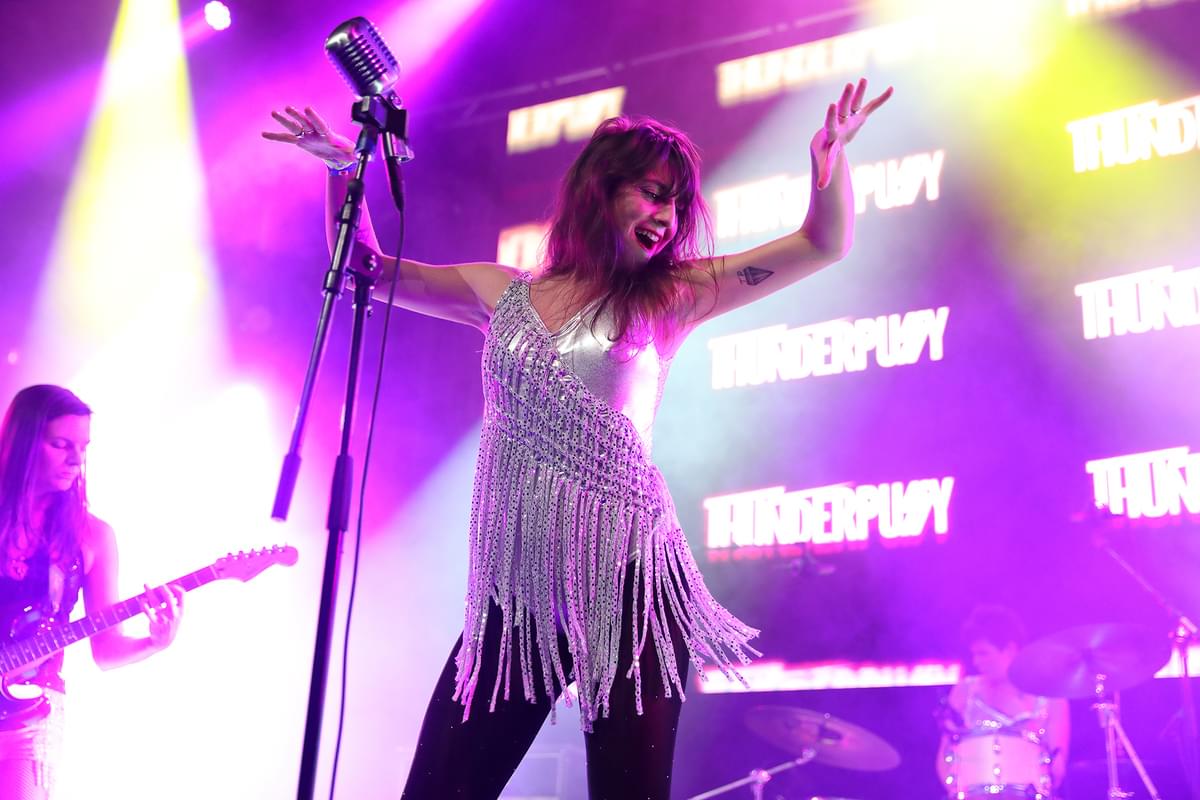 Iceland Airwaves Day 3: Rock 'n' Roll Kind of Friday
05 November 2016, 11:19
After having failed to catch Mammút on Thursday, I figured I'd try to see their off venue show at Bryggjan Brugghús. When I got in there I didn't so much see them as hear them, because the place was more packed than when Iceland went up against England in the FIFA World Cup!
But what I heard was evocative, bittersweet, and cool. I would've had to get there half an hour before the show started to actually see anything, and a part of me wishes I had.
Later at Harpa Silfurberg, I finally got to see aYia live (pictured below, photo by Burak Cingi). The three-piece band had created a lot of buzz with their single "Waterplant," and I was a little afraid of what I was going to see. Would the rest of their set be the same? How much of the show is live versus playback? What if they choke?
When aYia began, all of my fears were put to rest. What followed was a thirty-minute cerebral set filled with soothing vocals, deep drops, instrumental bridges, and visuals and a light show that were in perfect harmony with the music. In one song the band was basking in pink light with pink snowflakes floating in the wind behind them as the bass worked its magic. In another song red lights swept from side to side as Ásta sang "breathe in / breathe out" to rapid beats with images reminiscent of a real-time MRI flashed on screen, which made me feel like I was experiencing a panic attack on the inside.
Hearing "Waterplant" live was a very fulfilling experience, as it became much more intricate with so many moving parts. The final song felt like a departure from the rest of the set, as it was very danceable and had parts that made me think equally of Gusgus and the Stranger Things soundtrack. The whole set begged for interpretation, which makes me wish I could see aYia again at a smaller venue like Húrra where they'd play all of their songs twice or something. That would be delightful.
Over in Fríkirkjan, the veteran Icelandic country-blues singer/songwriter Mugison brought fire and brimstone to the completely packed free church. He played everything from country rock, to rockabilly, from deep blues to slow rock ballads. Whoever this Mugi was, his son certainly has some of the devil's blood in him, and has honed his voice on whisky and cigars, because he delivered a heel stomping-worthy show. In one of the final songs, he showed he wasn't quite demigod, singing "oh no / what's the fourth verse / damn it!" before moving onto the chorus to a roar of laughter from the audience. Brilliant.
Meanwhile in NASA, Pétur Ben combats his own brand of darkness, flirting with something very potent. I only catch a little bit of his show, but the final song is a tasteful cover of The Stooges' "Search and Destroy."
Thunderpussy (pictured above, photo by Burak Cingi) is a band I had been curious about for a spell, and when a friend showed me one of their videos I knew I had to go see them. This quartet of hard-femme performers lived up to my expectations and then some, unabashedly playing 80s rock with much gusto and no half measures. Guitar solos? Check. Indulgent and dramatic posing? Check. Powerful vocals? Check. Synchronised hair whipping? Quadruple check! Watching the hypnotic fuck yeah-worthy performance made me wish this band had been around in the 80s to inspire earlier generations, because it was that good of a show. I wish they had their own clothing lines, spin off magazines, and even a Guitar Hero game of their own.
Harpa's Kaldalón is a venue that I previously had a strong distaste for but started growing on me this Airwaves. DJ Flugvél og Geimskip is one of Iceland's resident zany electronic artists, and she employed all manner of fancy light and laser contraptions for this sit-down show. She made everyone giggle with her stories as she tried to describe the sonic dreamscape that she was weaving around us. We went into outer space, met a draconian king who didn't feed his drum slave, encountered bats that pretended to be people, and danced at the bottom of the ocean.
Samaris (pictured above, photo by Burak Cingi) filled the Reykjavík Art Museum with their warm and atmospheric electronica, playing on an unlit stage with a projection behind them that meshed colours and shapes into aurora-like beings of light.
At Gamla Bío, Prins Póló performed sans band, supported only by a DJ/producer, playing hard electro party music to a very receptive crowd. He ended his show with "París Norðursins" which was one of the big bangers of 2014.
Herra Hnetusmjör put on a proper hip hop show for the locals present at Húrra, but feeling I was already getting drowsy I instead hopped over to Iðnó where I caught the soulful blues of Moji & the Midnight Sons. I melted away to Moji's dreamy voice as she sang songs about belonging, matters of the heart, dreams being washed away, and more.
Get the Best Fit take on the week in music direct to your inbox every Friday