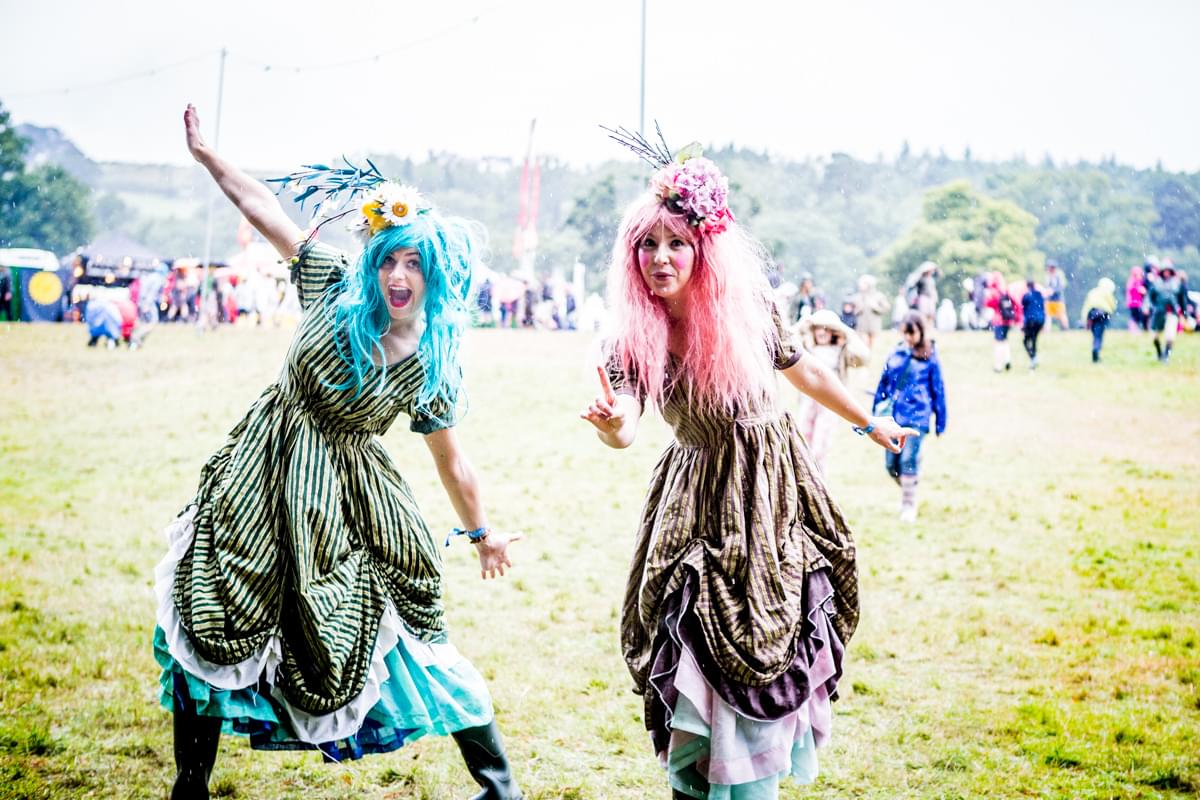 Believe what people say about Green Man Festival
24 August 2016, 13:00
I grew up in Crickhowell – the small Welsh town which hosts the Green Man Festival – and so I'm pretty familiar with the rolling landscape of the Brecon Beacons. Even so, I never quite get used to the cinematic drama of the Black Mountains as the backdrop to the festival's main stage.
This year, stood at the top of the natural amphitheatre, looking down at thousands of people dancing to the brilliant Songhoy Blues set, with the deep forestry and misty mountaintops arching over the whole thing, I still got overtaken by a powerful sense of gratitude and joy, even after nine years of coming to Green Man Festival.
Believe what people say about this place. This is the most wonderful weekend of music you're ever likely to experience.
Looking at it on paper in advance though, you could be forgiven for thinking that 2016's line-up represented a bit of an off-year for Green Man, especially towards the top of the bill. As excellent as she is – Laura Marling, again? And – announced before the release of new albums after lukewarm predecessors – it wasn't clear that James Blake and Wild Beasts would be natural festival headliners by the time summer rolled around. Happily, the successes of these records vindicated the gambles. And even more importantly, the booking across the rest of the event was as exquisite as ever.
Green Man line-ups are unique for their combination of truly special moments, and outstandingly bold programming. At the top of the truly special column this year, we have Grandaddy playing one of their very first new music in about a decade. Closing out the second stage before the annual burning of the Green Man itself, their melancholic geek rock offered a beautiful conclusion to the weekend; a set which mixed nostalgic indulgence with an exciting gesture towards the future of a band which has been sorely missed.
When it comes to outstandingly bold programming, look to someone like Michael Rother. Not many medium sized festivals would offer up a forefather of krautrock, whose most well-known output was as a member of Neu! in the 1970s, and was pretty obscure even then. This isn't the sort of thing which is typically expected to shift thousands of tickets at a couple of hundred quid a pop. But Green Man knows its audience to be a mixture of devotees to niche stuff like this, and open minded audiophiles; people as eager to discover challenging new gems as they are to drunkenly sing along to Charlotte Church's ragingly fun covers band at two in the morning. And so Rother is received rapturously.
Even by Green Man's standards, I don't think I have ever been to a festival where my schedule has felt so packed. In particular, Friday afternoon offered perhaps the best run of music which Green Man has ever curated. Julianna Barwick was a blissful gauze of looping vocals; morphing the textures of her compositions into beautiful arrangements. Straight after, saxophonist Kamasi Washington brought traditional jazz to roaring, full-blooded life for 2016. And with a third left turn in as many acts, Suuns provided their bludgeoning contrast of minimalism and maximalism. Individually, these were outstanding sets. Cumulatively, it has no equal. You do not get back to back performances of this quality and diversity at any other festival that I know of.
Beyond the music, it's the people which nudge Green Man into the realm of the near-utopian. It's not mainly outrageously drunk A-Level results parties, although there are some of those, and that's cool. It's not mainly dads with salt and pepper stubble reading the Observer, although there are some of those, and that's cool too. It's a genuine blend. It's family friendly in an organic way; troupes of children leaping over massive bales of hay, next to groups of people in their twenties on their fifth pint of the day, next to pals in their sixties, absorbing the atmosphere from a blanket. Green Man is a space which lets everyone else experience the festival in whichever way they're there to enjoy it – from relaxation to revelry.
That's just one of example of how Green Man is far more than the sum of its musical parts. There are innumerable live highlights – from Oliver Coates' contemplative cello opening up the Saturday, to Battles smashing the evening into a frenzied conclusion. But that's only part of the picture. It's also about the place. It's the loving attention to detail. It's the earnest opening blessing from the druids. It's the main stage being given over to the children's parade on Sunday afternoon. It's the security being chill about headline set stage invasions. These are the things which make Green Man Festival the truly special event that it is, maintaining a loyal audience of enthusiasts. I am proudly among their most evangelical. See you next summer for the 15th birthday party.
Get the Best Fit take on the week in music direct to your inbox every Friday