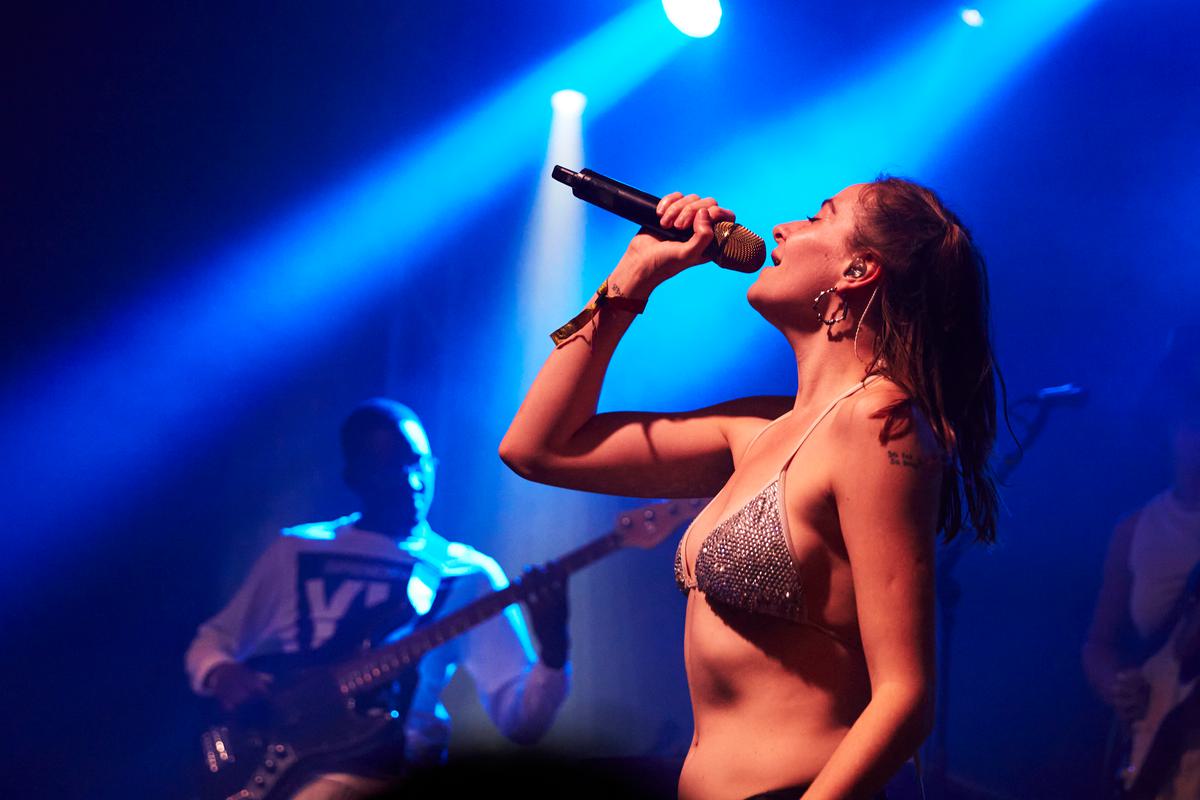 A glorious last day at End of the Road Festival leaves us wanting more
04 September 2023, 16:30
Sundays at End of the Road Festival are designed for gentle starts and epic conclusions.
Ambling through the campsite in search of the shortest queue for the showers, don't forget to stop by the blackberry bushes that line the hedges for a free pre-breakfast snack. At 9am it's already twenty-plus degrees and a tent is no place to be in that kind of heat. Smart-thinking shade seekers head straight for the Talking Heads stage for the morning's triple-bill of author Q&As.
As sheep wander past in the distance, Richard Morton Jack impresses with his conscientious and personal views on the life of Nick Drake, discussing how he saw writing his recently released Drake biography – the only one to be made with the blessing of his sister Gabrielle – as a chance to dispel the myths surrounding the man so many see only through the lens of the illness that defined the final years of his short life.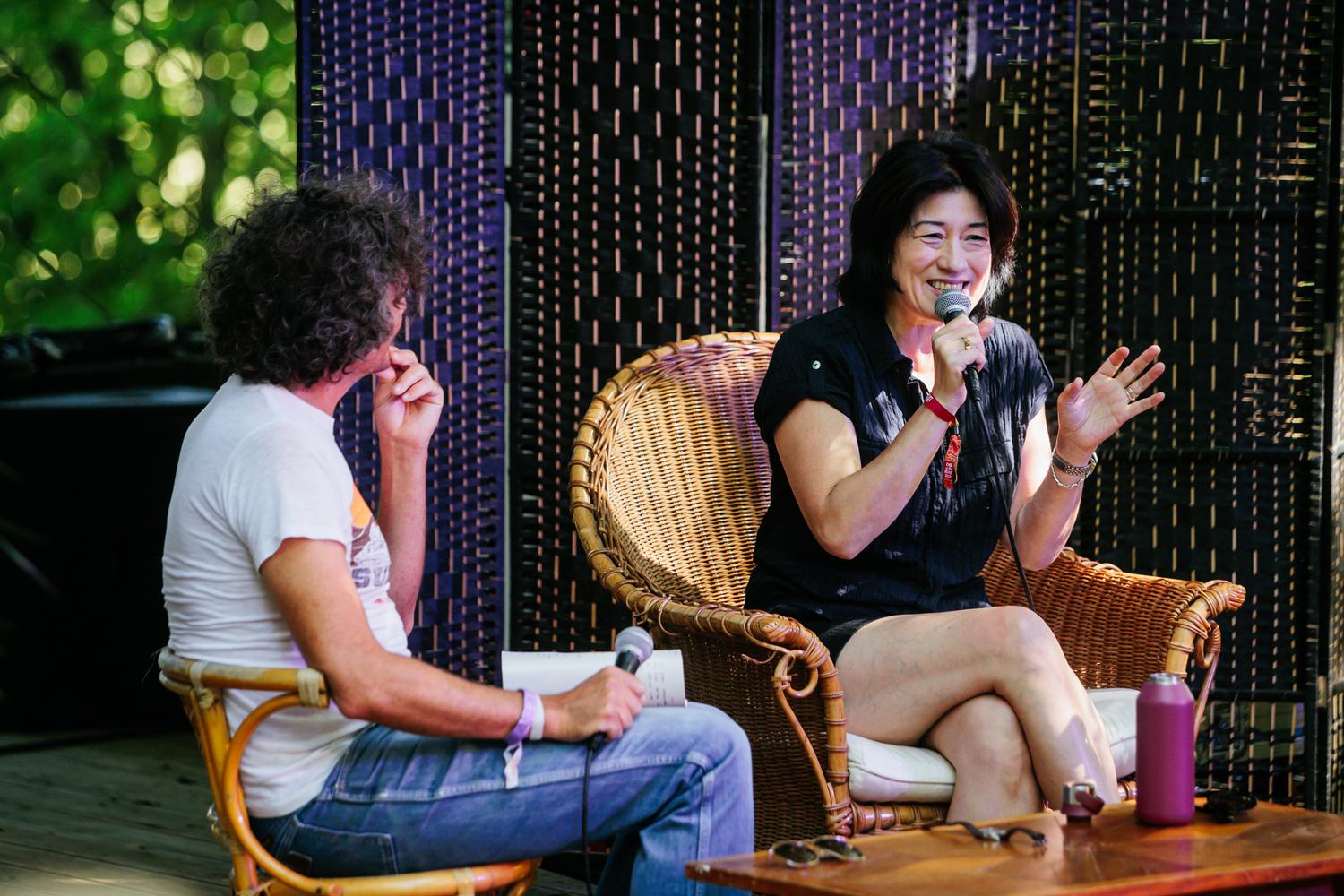 Later, Miki Berenyi lets the anecdotes fly from the pages of her acclaimed memoir Fingers Crossed: How Music Saved Me from Success, released last year and recently out in paperback. Deliberately avoiding the self-serving bias of some musical autobiographies, the former Lush member's story is both truth and dare, written with all the freedom of someone with no bridges that must go unburnt. "I'm liberated from all that because nobody gives a shit anymore," she jokes.
Ironically, the success of Berenyi's book seems to have sparked a small Lush revival, with all three of their albums recently reissued by 4AD. Speaking of which, in an End of the Road first, 4AD's head of press Annette Lee is special guest for a Q&A with students from the Ivors Academy organised by groundbreaking new music business training provider TheWRD. Drawing on over 15 years of experience, Lee talks frankly about the changing role and future of PR in an industry that's been radically reshaped since she started at the iconic record label as an intern – though, as she points out, not radically enough when it comes to diversity and inclusion.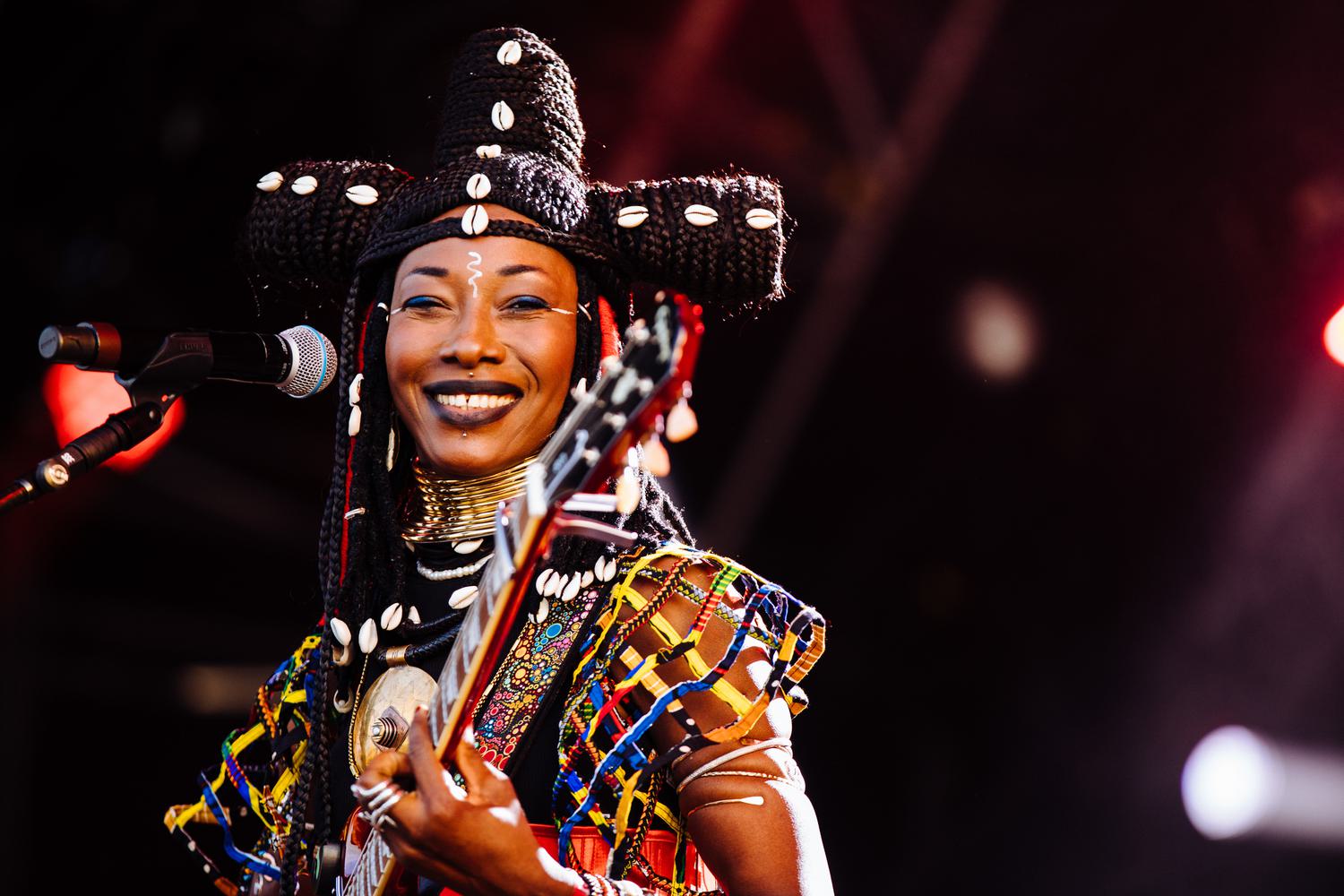 All kinds of cultures gather here to celebrate at End of the Road. Today's new discoveries include Ghanaian artist Alogte Oho and his electrifying choir the Sounds of Joy on the Garden Stage, wowing with their distinctive take on Frafra gospel, and Teke::Teke from Montreal, whose offbeat fusion of Japanese surf-rock, traditional folk and pure punk joy marks them out as something very special indeed.
The towering doom metal assault of Melbourne-based First Nations duo Divide and Dissolve is always incredible to witness, while Fatoumata Diawara brought her unstoppable charisma to the main Woods stage for a late-evening spectacle of theatre and mind-blowing musicianship. Diawara reminds us of fellow Malian artists Ali Farka Touré and Tinariwen when highlighting the rich culture of her homeland, before launching into the climax of "Blues" from Damon Albarn co-produced third album London Ko. "This is the female version of desert blues," she says, donning a horned mask that seems to possess her. Waist cinched in red satin, she spins around, lunging and screaming into the mic.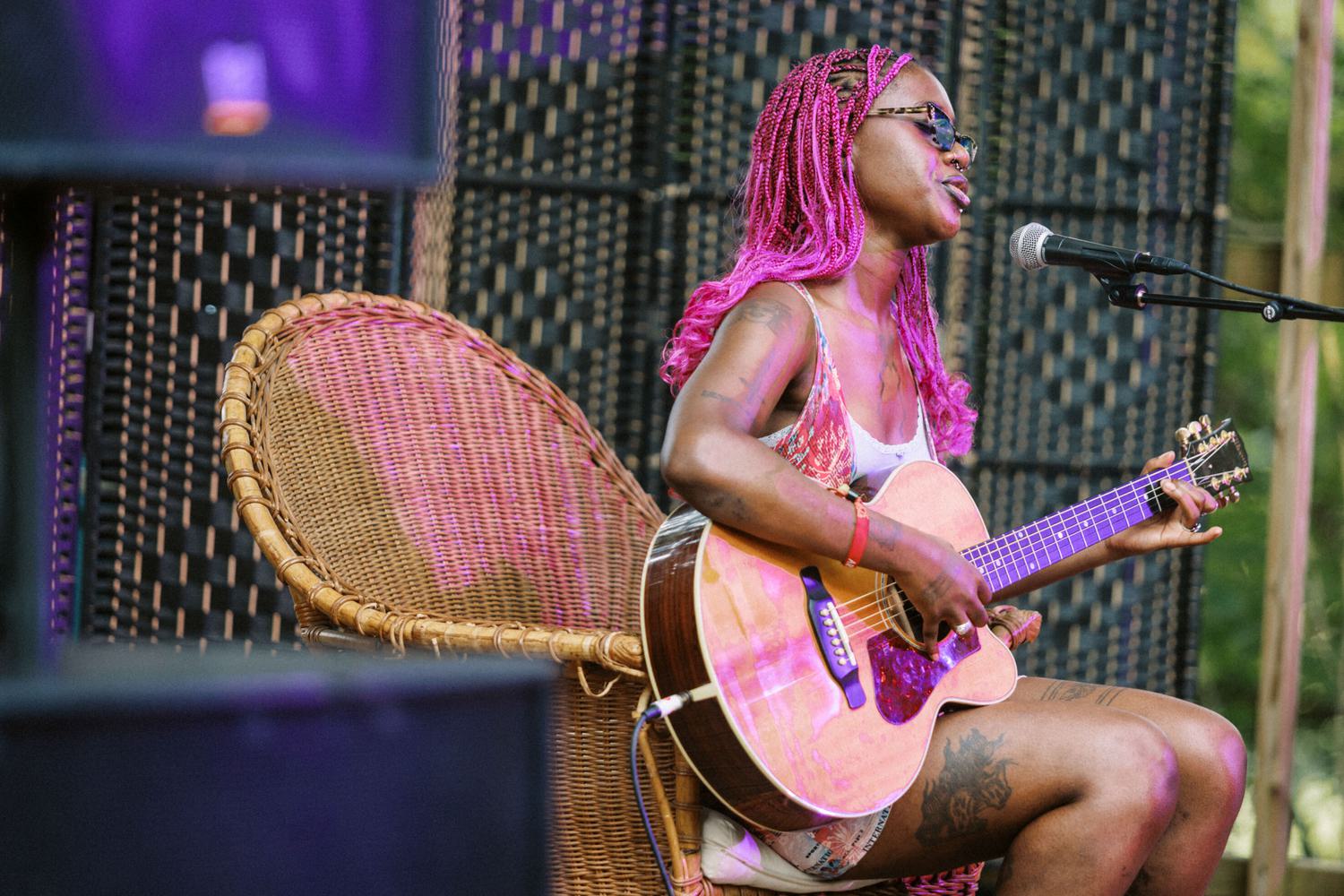 Earlier in the day, over at the Piano Stage for the secret Best Fit sessions, any screams were saved for after the singing. Indigo Sparke impressed with her intuitive cover of the Cat Power classic "Cross Bones Style", while Caitlin Rose marked the start of her UK tour with a long-awaited return to End of the Road. Joking about being in her grandma era, Rose sat down for the intimate three-song set, flanked by two members of Hollow Hand, who are acting both as her backing band and opener for this latest tour behind her punchy third album CAZIMI. "Do you like country music?" she teases later, over on the Garden Stage. "This isn't it."
Best Fit also welcomes the sensational Kara Jackson ahead of her later performance on the Talking Heads stage. Only 23, but with the vocal control and phrasing of a master and the lyrics of a poet, she has an uncanny knack for taking her songs in thrillingly unexpected directions. Her cover of Karen Dalton's "Right, Wrong or Ready" is so good she plays it twice. A true star in the making. On that subject, Biig Piig [pictured up top] is a revelation in the Big Top tent. Jessica Smyth has come a long way in just a few short years, and can no doubt go much further. Cycling through genres from pop-punk to rave-flecked dance she radiates bottomless enthusiasm and gets the same back from the crowd. Even she seems overwhelmed by the response.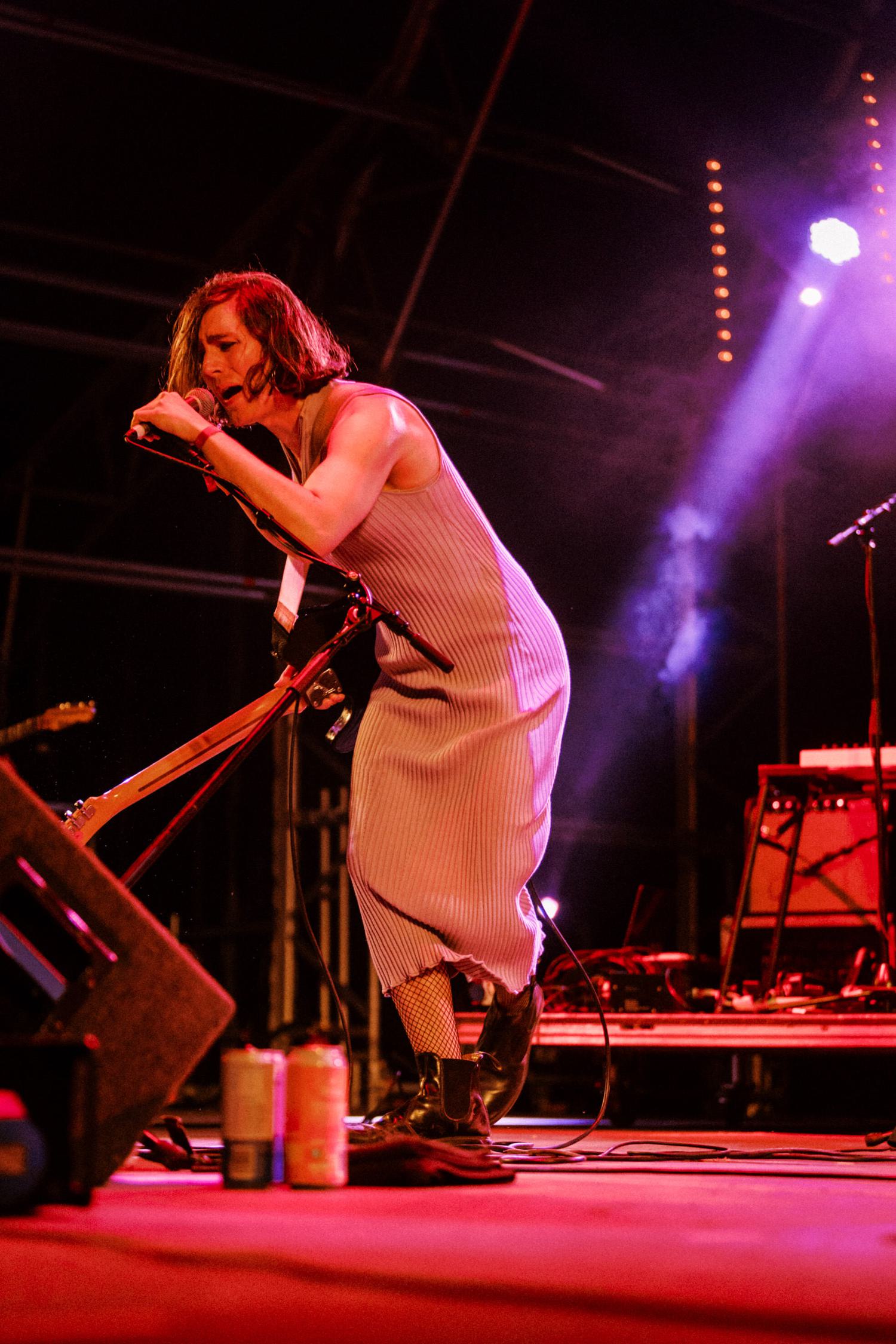 Having made 24 wildly diverse studio albums in little over 10 years, King Gizzard & the Lizard Wizard are beyond genre and frankly beyond belief at this point in time. But they are real, and their packed headline set on the Woods stage is proof of how far their appeal still stretches. "It's the end of the road for us," says singer Stu Mackenzie, celebrating this final stop on their latest trip over from Australia. Over on the Garden Stage, Ezra Furman also says her goodbyes to a hyped-up crowd, but with no promise that she'll ever be back. Having recently announced her retirement from touring after tonight, she's fully aware of the weight of the moment but doesn't wallow in it.
"This is the end of the road but I need you to remember something," she says, working up to her epic conclusion. "Friction is the force that tries to hold you back. But friction makes sparks and sparks create electricity. And what does electricity create, children? Rock. And. Roll!" Minutes later, she's gone. And with no encore, she leaves us wanting more. It's something to celebrate that, even after 17 years, End of the Road does too.