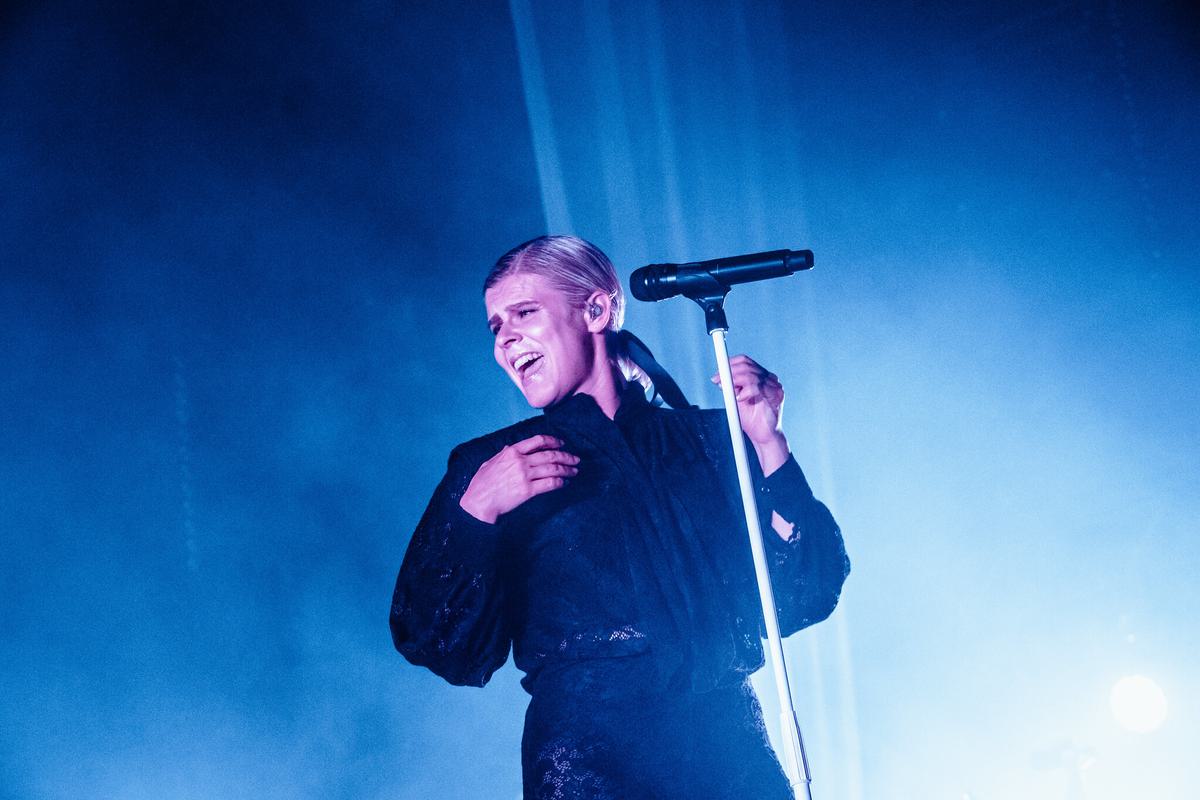 Flows brings A-list talent to the most-eco friendly festival in Europe
16 August 2019, 11:00
"At Flow, the harder you party, the better for the environment," a young man tells me as I enter the gates.
It's a bold claim but one Flow Festival, hosted annually in Helsinki (the most underrated Scandi city) is committed to. Flow aims to be the only carbon neutral festival in Europe; here you'll find empty drinking vessels can be swapped for tokens to attain full ones, about five different recycling bins on every corner and a pledge by festival partner Reaktor to plant a tree for every bottle donated to special deposit desks dotted around the site. Yes, there is a surfeit of vegan food. And it's delicious.
Flow is the cleanest urban fest I've ever attended (in every sense of the word; only once during the whole weekend do I spot a telling little bag being sneakily pulled out of an attendee's pocket). Despite 52,000 attendees tramping across its site for three days - the grounds of Suvilahti, an old power plant - Flow isn't strewn with litter and cigarette stubs(of which there are a lot, the Finnish smoke) are discarded into carefully placed buckets. Even the raving stages, where crowds are rowdiest and most reckless, see people go out of their way to place empty cups in bins or on raised wooden benches where they can be easily collected. It's a jarring comparison to similar musical enterprises in the UK I've attended where even the most minor of stabs at environmental conscientiousness goes out the window once the first few pints have been downed.
Don't get it twisted though; Flow Festival isn't some kooky little fringe event (though those can be equally, if not more fun on occasion). It's a full-blown A List affair, stretching over three days and held just 20 minutes from the city centre, with music lasting deep into the night until 2am (supposedly - at least two days saw truncated finishes but afterparties featuring Avalon Emerson and Honey Dijon at Helsinki's best electronic clubs meant no frustration was felt).
Flow's headliners alone are enough to cause any music fan's mouth to water and thankfully make up a cohesive line-up - some festivals like to throw any random combination of acts at the wall and hope they stick. Not Flow; Robyn, Solange, Tame Impala, Erykah Badu, James Blake, The Cure, Blood Orange all make sense on the same bill, while the secondary tier features the likes of Britain's best kept pop secret, Nao, and the energetic Slowthai, who mixes Johnny Rotten energy with the social conscience of Jeremy Corbyn and entertains his Friday crowd by performing his patented on-stage strip until he's firing out his set in boxers only.
The same can't be said for Earl Sweatshirt, who lazily mugs through his slot before refusing to perform a final song. Erykah Badu too is a slight disappointment, failing to debut her Old Greg-esque get up for a half-an-hour of her allotted time and slinking off after a strangely short performance. Solange, the final headliner of Friday, makes up for it though, with a slick, carefully thought out set, performed to a crowd who are eager for a moment. They get it, although it's not in the desired form; Solange's sound is cut off at midnight but she defiantly continues singing while the audience whoop her on.
James Blake shows no such rebellion on the final day, warning the crowd that "we won't be able to play the last song if you keep applauding so much". The extended clapping is warranted; Blake's set is intercut with a thrilling six minute electronic breakdown that feels as if everyone's been transplanted to Nina Kraviz's concurrent performance on the Resident Advisor stage. He fails to play Barefoot in The Park, natch, but does debut a new track which - in the echo of the Red Arena - sounds thrillingly like bouncy '80s-inspired pop.
Elsewhere Robyn - also opting for a Red Arena appearance although she could easily command the main stage - gets the biggest reaction of the entire festival, bar the crowds who find themselves bouncing along to gabber and industrial techno at the amazingly kitsch Red Garden, helmed by drag collectives. She too plays a shorter set than expected (no With Every Heartbeat, Robyn?) but it still packs a huge punch and by the time she's got the entire tent singing (and weeping) the chorus to "Dancing On My Own" acapella, she's cemented her place as the festival MVP.
Finnish acts like Alma and Chisu draw giant main stage crowds, far bigger than those who gather for the likes of Tame Impala or even The Cure, although the latter look they're having more fun than any of younger popstars who appear over the weekend. Robert Smith's wrinkled goth aesthetic holds just as firm as his voice, which is still pleasingly intact while belting out crowd faves like Friday I'm in Love and Pictures of You. Meanwhile, The Cure's kit show their roots; there's references to Reading FC and Doctor Who plastered over amps and drum kits.
When the music fades, the crowds melt away into the night, either to official afterparties at famed Helsinki clubs Kaiku or Ääniwalli, or to take part in the grand Finnish tradition of a quick sauna visit. Clearing out your pores with a good steam after spending a day at the most-eco friendly fest in Europe? You can't get cleaner than that.