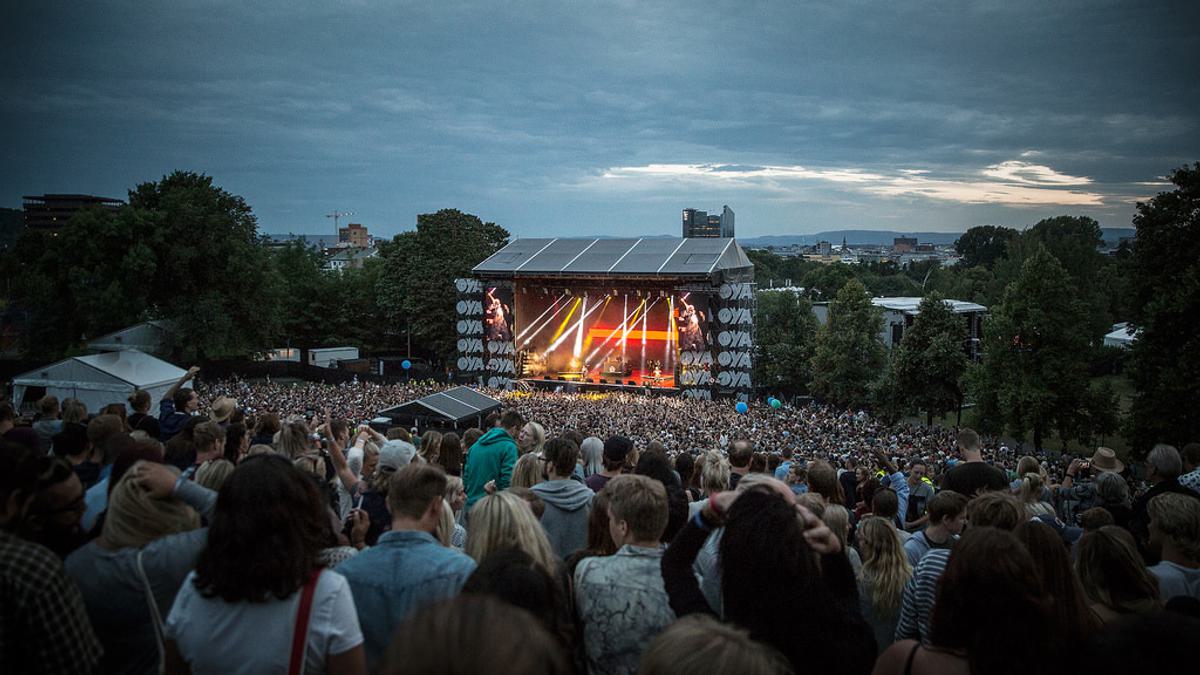 Five Norwegian Artists to See At Øya Festival
02 August 2016, 19:15
I love a city festival. In an ideal world all festivals would take place in a beautiful park in a modern city with incredible transport links, museums, pizza, coffee, beer and hotels all within a metaphorical arm's reach. We don't live in an ideal world...but Oslo's Øya Festival is doing its best to get as close as possible.
Amid the fjord trips, ski jumps, consumption of Smörgåsbord and undoubtedly visits to dozens of artisan coffee shops where the coffee beans have been chewed, massaged and ground to the finest of fine grounds Oslo can offer it's worth remembering that there's music to be enjoyed at the city's premier music festival.
Situated since 2014 in the city's Tøyenparken and with a focus on the environment and being entirely organic when it comes to food and drink, Øya's growth and reputation is such that it has attracted some of the biggest and brightest names in music for the 2016 farrago
Once you're done taking photos of the angry crying baby at the Vigeland sculpture park and are fed up gazing out at the seas and islands from the delightful boardwalks of Aker Brygge, Tøyen Park hosts some incredible music from all around the world. From the UK's PJ Harvey and Jamie xx, to the US pairing of Kamasi Washington and Anderson .Paak through to the French genius of Christine and the Queens there's an international contingent to match any European festival around.
And of course there's a powerful Nordic contingent; headed by Highasakite headlining their hometown festival on the Friday night, the band will be joined by fellow Norwegians AURORA, Ane Brun, Apothek, Dagny, Band of Gold and Frokedal, while the likes of Kill J, Yung Lean, K-X-P and Liima flesh out the Nordic contingent from Denmark, Sweden and Finland.
But we're delving a little deeper into the lineup to focus on some Norwegian – well, it is in Oslo after all – artists you might not have heard of, who could make your festival experience that bit more special and who could all be destined for great things.
A self-described "one woman band", Vilde Tuv is a Bergen-based musician who makes incredibly fragile and intimate post-punk and disco music. Tuv sings in her native language in an only-just-tuneful enough falsetto and it makes a song like "Ensom Cowgirl" stay on the right side of twee when matched with her brittle instrumentation. Jaeger, Club Tuesday 23.30.
An electronic duo made up of Vilde (yes, another one) Nupen and Kristoffer Lislegaard who released their debut album in 2015, Sgrow make jittery and pulsating dance music influenced by the likes of Bjork and Tim Hecker. What makes it stand out from every other Nordic act currently making electronic music is the deeply soulful voice of Nupen; her range is spectacular, almost gothic in tone and can go from smoky and breathy to a roar in a matter of moments. Their Tuesday night club show should be appropriately intimate and steamy. Mir, 21:00 Club Tuesday.
Currently unsigned, this formed dancer-turned-musician surely won't stay under the radar for much longer if she continues to make tracks as huge as "Three Weeks". Farida makes modern R&B in the shape of FKA twigs and NAO. Beats are mutated and bent out of shape by electronic grooves, while the Norwegian's vocals are pure one moment, damaged and twisted the next. This young woman could be the next Nordic breakout star.
A DJ and producer from Tromso, Charlotte Bendiks is sought-after across the Nordic regions yet relatively unknown in the UK. A classic house and techno producer, her own work is minimal and addictive but fleshed out with live percussion – showing off a real Latin influence to Bendiks' beats - and vocals. Normally suited to a sweaty club at 2am, Bendiks will have to get bodies moving and writhing on a Wednesday afternoon – but with so much talent at her disposal this shouldn't be a problem. Hi Fi Klubben, Wednesday 15:10.
Formed by Simen Schikulski, formerly of Best Fit faves Team Me!, The Hallway are about to release their first EP in the weeks following the festival. The four-piece are rousing in the same way that Schikulski's old band were, piling one chorus on top of another and as much instrumentation as one band can fit in a song. While Team Me! Were wide-eyed indie, The Hallway look to 90s alt-rock and emo for inspiration, so alongside strings and twinkling xylophones there's a crunch of guitars and bit more desperation in the vocals. If nothing else, this lot surely will be a must-see live. John Dee, Tuesday 21:30.
Øyafestival runs from 9-13 August at Tøyenparken in Oslo. Tickets are still available for some days and more information can be found at www.oyafestivalen.com