Once out of earshot of the main stages, there was the chance to have personalised experiences with music and art in a way that felt different to any other festival. As festivalgoers stumble, half-drunk, into the forest, the first example of End of the Road's elevated interest in providing unusual guest experiences is Best Fit's Piano Stage, an intimate performance space which surprises forest explorers as they turn a forest corner. It' s an unscheduled space for secret performances and talks, which this year hosted (among many others) headliner Courtney Barnett, as well as acts like Hannah Cohen and Kelly Lee Owens.
Pass at the right time to fall upon artists performing to audiences of tens rather than thousands. But venturing further into the woods provides even broader surprise experiences than those at the Piano Stage: in the forest there's opportunities to experience magic and mystery and unexpectedness, thanks to a tight curation of unusual extra-curricular festival activities.
While it's true that other festivals also have cute woodland areas, the recent crop of festival closures including Bestival and Secret Garden Party means End of the Road's now one of only a handful of 'music' festivals offering things to do away from the main music acts. Art installations, improvised storytelling and circus workshops under the cosy cover of the woodland treetop canopies are all included within the price of a festival ticket.
Wander past luminous neon cacti, fierce human-sized models of cats, giant inflatable objects hovering above heads and past leaves carved with lyrics from the bands on the line-up across hectares of dense undergrowth bathed in fairy lights as far as the eye can see. By night, groups of punters relax deep within the tangles of fairylit trees, as if they're trialling a day in the life of our cave-dwelling ancestors.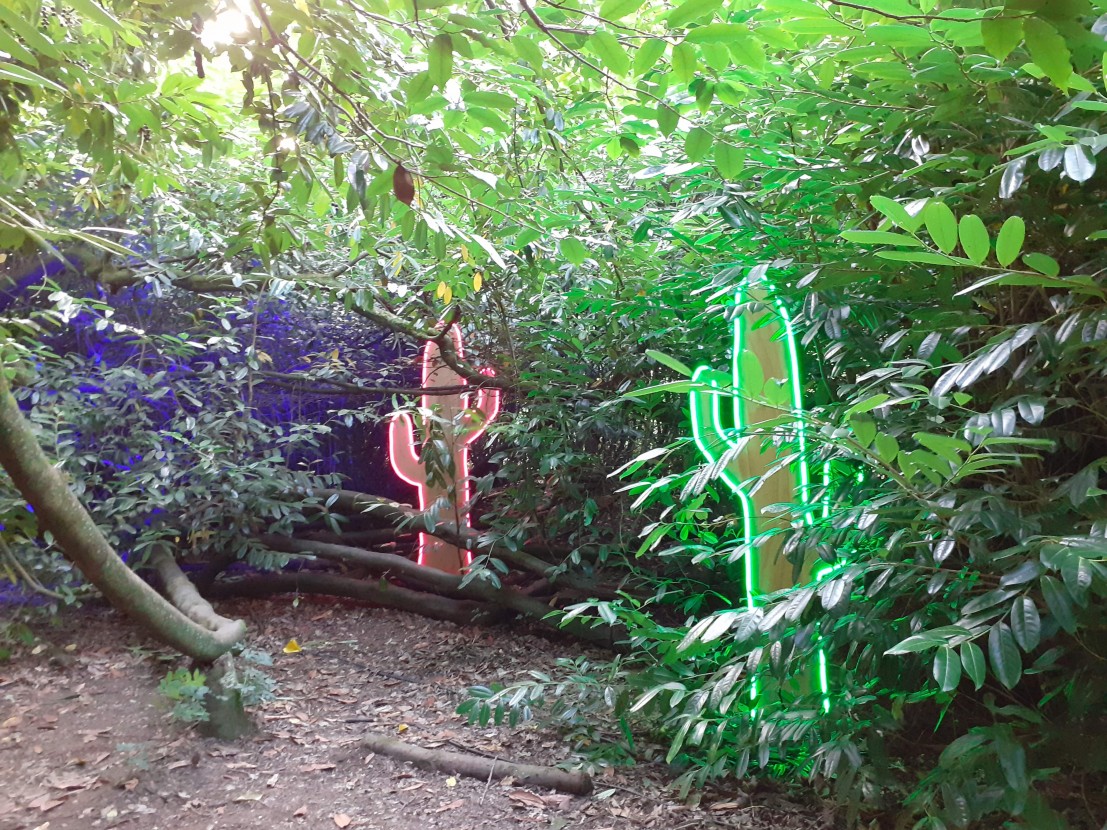 Wander past throbbing underwater sea creatures that glow in the festival's evening light as every corner of woodland reveals more art, creating the feeling of a makeshift gallery in amongst the trees that requires a good hour's worth of your attention - add six more hours to that when incorporating psychaedlics.
"This is our underwater, alien invasion of the forest," artist Ed Sear of Shred-It! Collective told Best Fit. He was jesturing at some brightly coloured cloth objects installed on a nearby tree. "We're looking at growths, cancerous growths on the side of trees," he said. "Our works are funny little cocoony creatures that grow and shrink and respond to sound as ticketholders walk by. You can hear the Garden Stage in the background: the installations sometimes go off to the bass noises from there."
Shred-It! is returning to End of the Road after successfully installing art at the festival last year, which went on to secure the collective ongoing work within the arts. "From people seeing the Reef, which was last year's installation, we got a series of clubnights where we make installations," said Will Stephens of the Collective. "End of the Road has been a fantastic starting point, and now we're back again building on our art career."
He describes another of the collective's recent projects: "We've also recently worked with London Contemporary Voices choir. The choir sang in and around our installation, which comprised of lobster pots which reacted to sound. They were made of stretched translucent fabric which flashed as different sounds went off."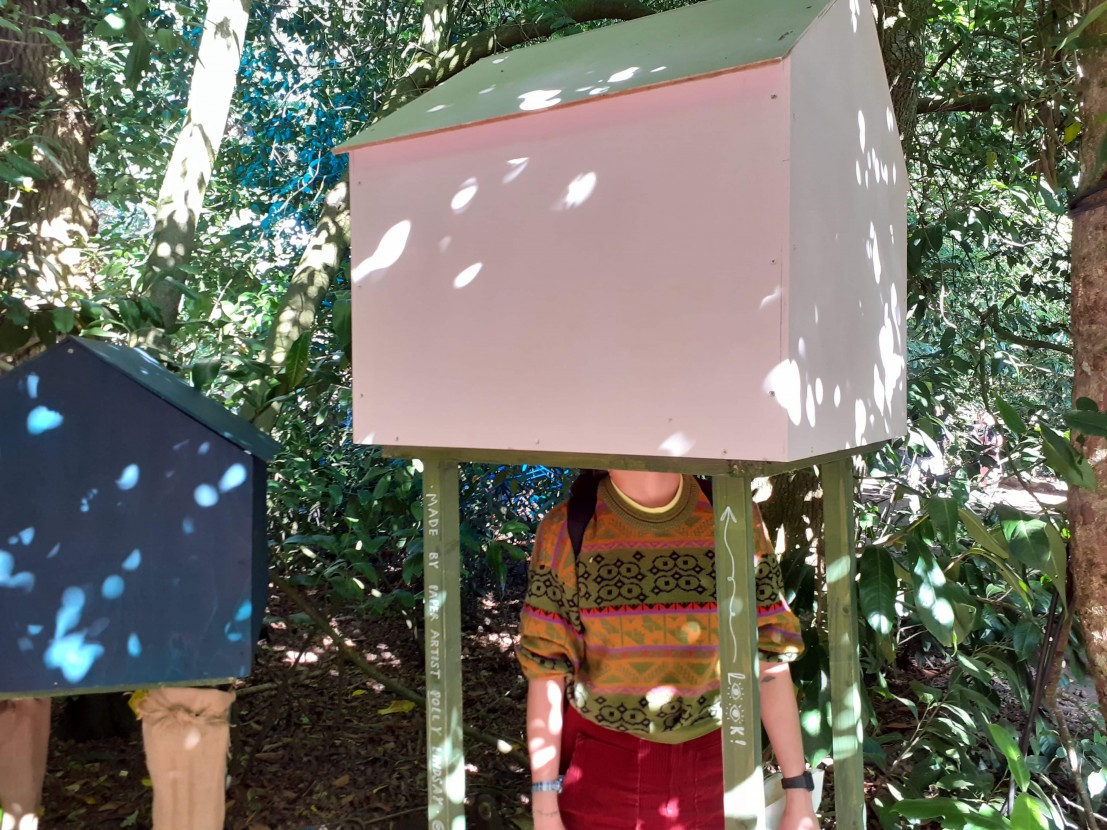 Installations like Shred-It's offer something different depending on the time of day. During the daytime, the art installations feel like one cohesive unit, angling more for a gallery experience, and providing ample opportunities to stop and reflect on the use of space. By night, traversing the installations becomes more like an adult thrill ride, as artworks take on new forms, responding to light patterns, and a heightened party atmosphere creates new tensions and provokes broader responses from passers-by.
Adjacent to the tunnel-like gallery, a larger piece by the performance artist ICHI looms tall, competing with some of the lower-reaching treetops. ICHI has created a towering musical instrument out of pots, pans and other assorted items and performs a few daily shows that're visually interesting as well as involving live music; inspired by the space where music and art collide. "I played four years ago in the Tipi Tent," ICHI told Best Fit after his set, "but my favourite bit is the wood. I can relax here."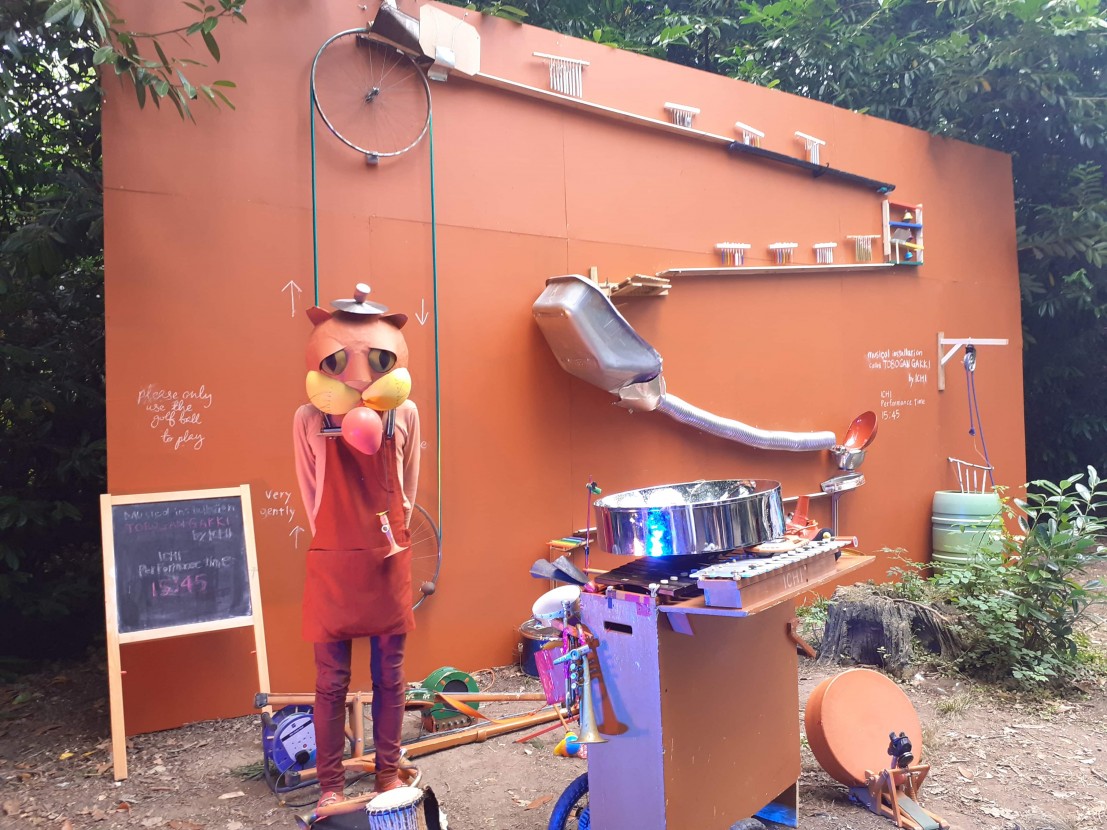 Having celebrated its fourteenth festival year in 2019, the newspaper headlines praise End of the Road for its refusal to expand or become more commercial, and for its unwillingness to compromise on musical integrity by championing the best new and independent bands.
And while the festival's personalised feel - illustrated by its resistance to having the sort of big screens by the sides of the main stages that can feel inpersonal - creates a warm intimacy, there's a similarly personalised, yet perhaps even more surprising atmosphere happening in the woods. It'd be easy to spend all weekend tucked away quietly admiring those artworks.
End of the Road Festival runs from 3-6 September 2020, with tickets on sale now at endoftheroadfestival.com