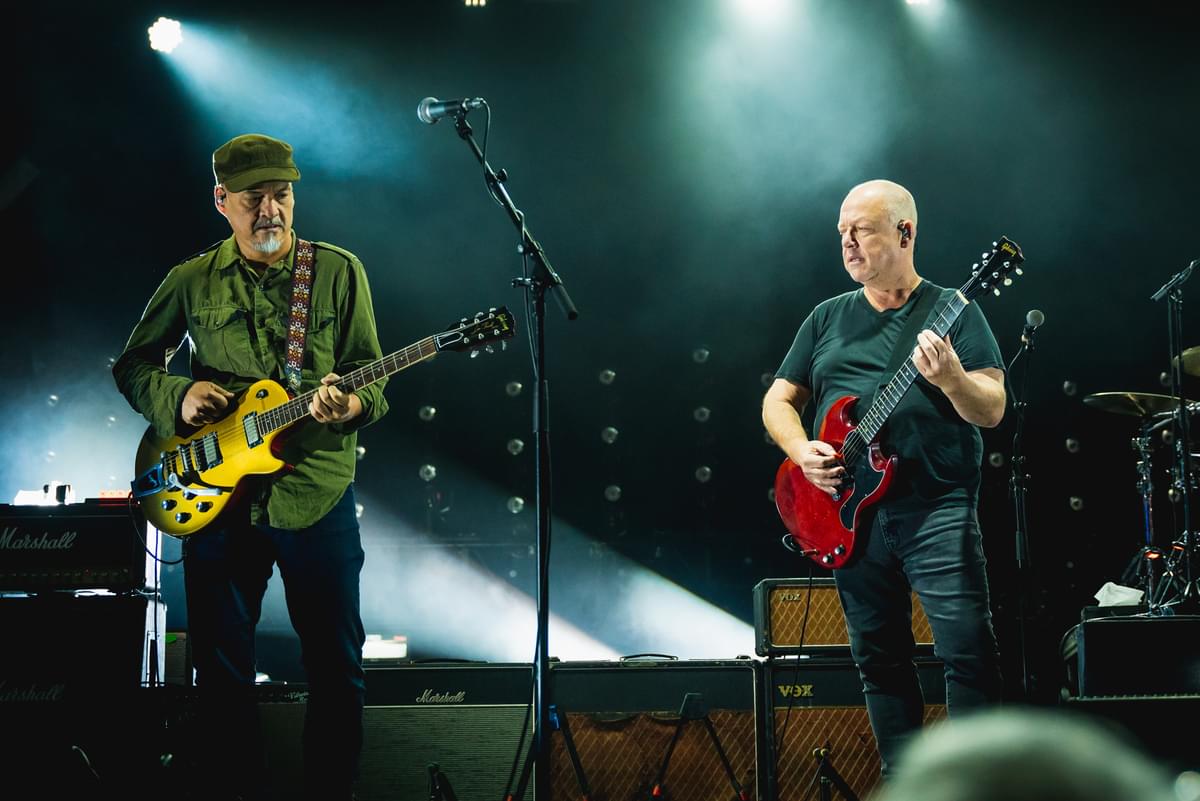 Legacy and promise collide on Saturday at End of the Road Festival
04 September 2022, 12:00
Lead photograph by Parri Thomas
There's an air of positivity surrounding Saturday morning. The haze has cleared for blue skies; promising anticipation for some of End of The Road's biggest acts taking to the stage.
Following the mellow notes of Fleet Foxes on the Big Top last night, End of the Road's crowds of hippies, families, and all-around music lovers awake to a similar flavour. It's not long until Yasmin Williams kicks off proceedings at The Garden stage and BEST FIT welcome her to the piano stage just mere minutes later for a follow-up, secret set. Captivating with her finger-plucking style of guitar, which is positioned on her lap for most of her performance, the joy is a welcome wake-up for both the weary-eyed and the optimistic. There's always a type of magic surrounding the festival, but this is a moment worth savouring.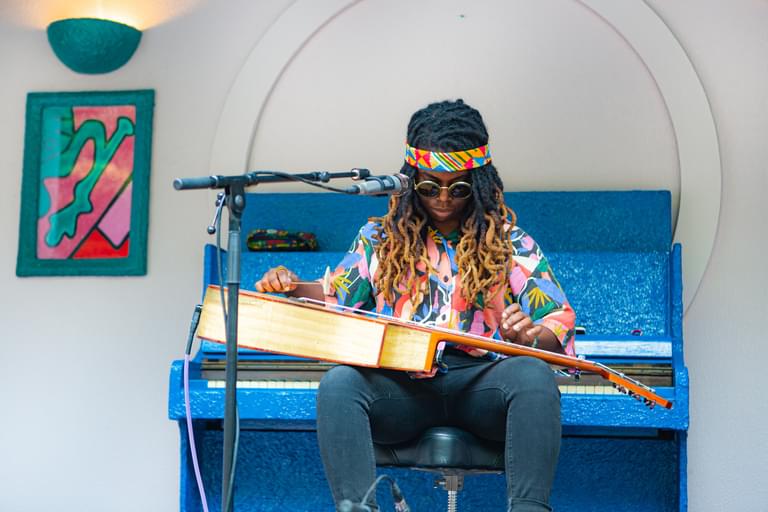 Yasmin Williams by Christina Almedia
Taking a stroll back through the woods, the expectancy of the day ahead makes an early case for taking a pause for food and drink. As with every year, festival organisers have hand-selected the range of catering on offer – with options for vegetarians (Lebanese Mezze, Paelleria), vegans (Happy Maki, Pura Vida) and meat-eaters (Roaming Rotisserie, Smoking Buns) alike.
An unguided wander might take you down to Two Tribe's Bar and Campfire Kitchen too. Headed up by the Kings Cross-based brewery and serving up anything from Lageritas and Triple Melon Sour beer to Smoked Chicken Charcoal Buns with all the trimmings (truffle mayo, pickles, slaw), they harmonise good food with a lively atmosphere – the biggest party atmosphere ahead of The Boat stage opening later in the afternoon.
For Real Ale lovers, there's a slight change this year, with The Peacock Bar being the home of ales, IPA's, stouts, and ciders (in place of The Bear Tavern, which remains a popular spot for an increased variety of wine, hard seltzers, and local brews.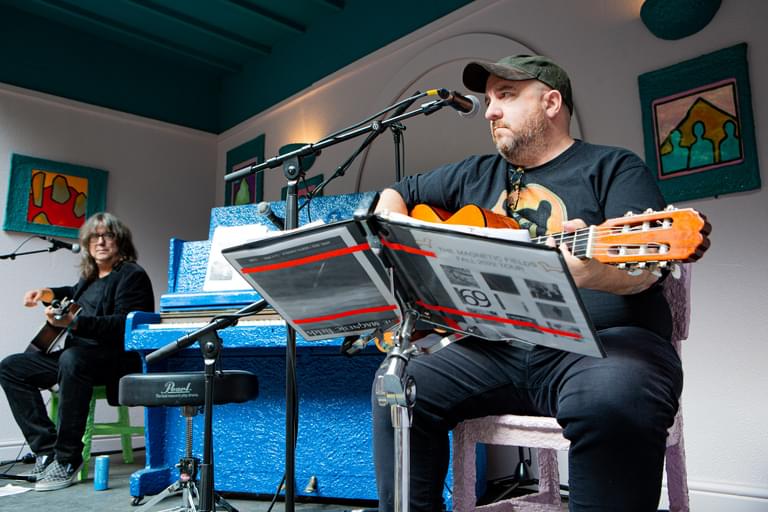 The Magnetic Fields by Christina Almeida
Back at the Piano Stage, The Magnetic Fields arrive to one of the biggest, and most eclectic crowds the stage has ever pulled. Groups of children, friends, solo punters, and anyone in between, bustle together to soak in the intimate setting and catch a glimpse ahead of their headline slot on the Garden Stage later that evening. It's worth the wait too – the pair showcase their sly interactions and harmonies with a cover of Thunderclap Newman's "Something in the Air".
While heritage acts thrive, upcoming talent is at the heart of End of The Road's programming as well. This year, Saturday is equally about rock and folk as it is about pop and dance and audiences speak about their must-see upcoming artists with confidence and pride - whether it be Priya Ragu celebrating heritage and diversity, Jockstrap leaving a dizzying memory, or Lutalo charming as a one-man band for his first UK performance.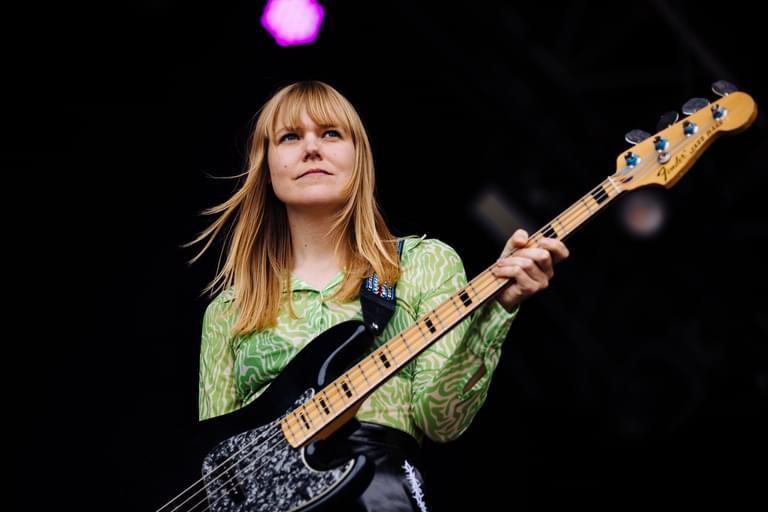 Los Bitchos by Christopher Juarez
A line-up driven with a particular hype; Los Bitchos also start the party down at the Woods Stage. There's a vivacious yet inspiring atmosphere underlining their music, with relatable homages made to Lindsay Lohan and tequila. "She was in London last week," they insist. "Did you see the photo of her by Big Ben? If she's still here, why wouldn't she be at one of the best festivals in the UK?"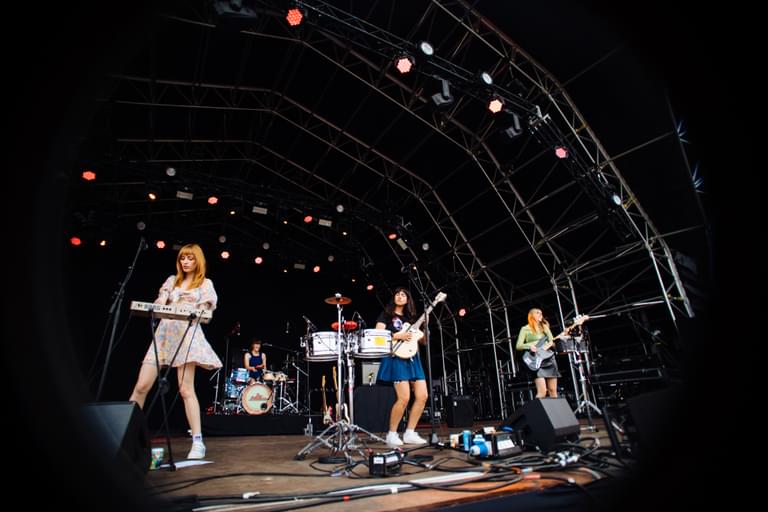 Los Bitchos by Christopher Juarez
Truly, though, there's only one group from the US on everyone's minds - Pixies. Finally arriving in the Dorset countryside after two consecutive years of postponements, their performance is characterised by a feeling of tension and release. They're a revitalised group now, but there's no shame in rolling through the hits that people crave as "Wave of Mutilation", "Monkey Gone To Heaven" and "Debaser" arrive in quick succession. It's a bucket-list moment for the thousands in attendance, but for those needing a harder fix than a mellow toe-tap, a moonlight trip into the woods re-ignites the enchantment with DJ sets under glittering skies, while tomorrow's highlights come from Lucy Dacus, Yard Act, and Bright Eyes.
Get the Best Fit take on the week in music direct to your inbox every Friday