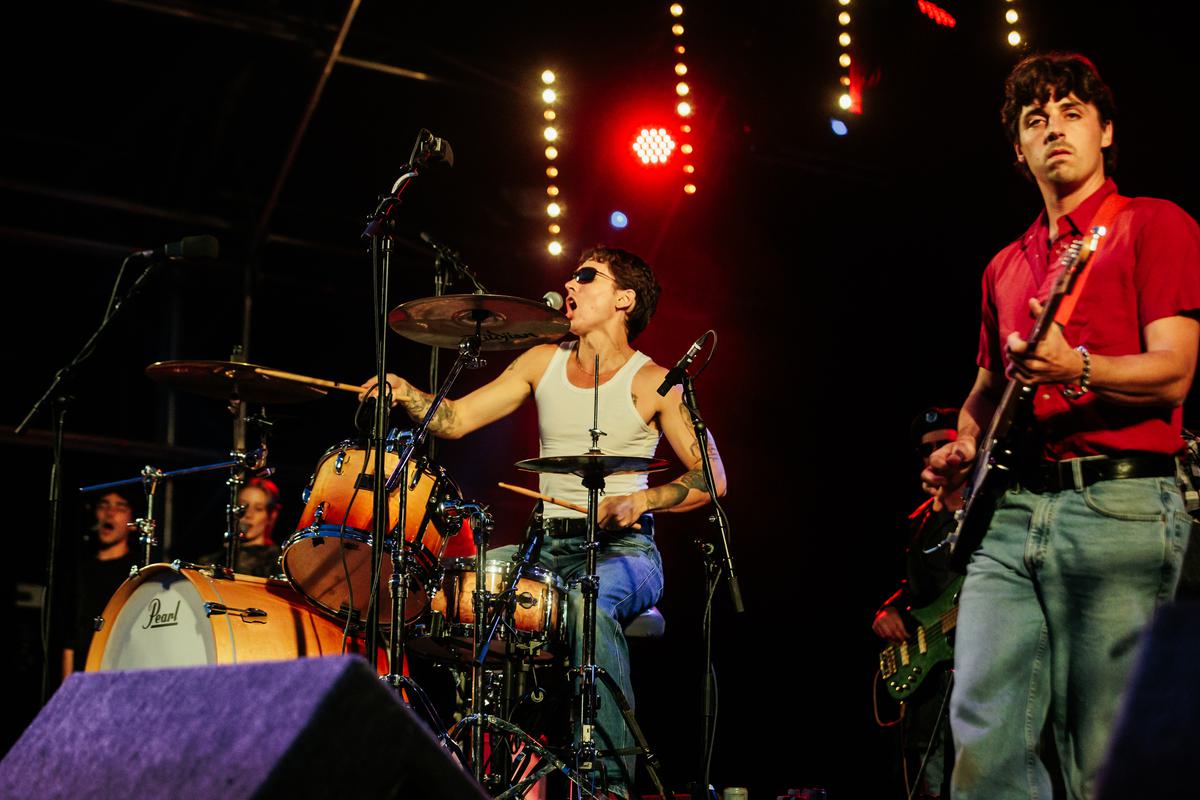 Crack Cloud, Samia and Wet Leg lead Saturday's highlights at End of the Road Festival
03 September 2023, 00:00
End of The Road shifts into top gear for Saturday: the sun transforms Larmer Tree Gardens into a lush playground packed with musical surprises on both a hush-hush and all-guns-blazing scale – and more than enough cultural wonders to discover between them.

Mornings at the festival are for nursed hangovers and hearty breakfasts; paired with blue sky and the kind of sunshine that feels like you're stepping into a warm bath, if you're not soaking it in with a morning walk through the grounds you can ease into the day with the curation of literary in-conversations at Talking Heads stage.
The Turner Prize winning conceptual artist Jeremy Deller sits down to discuss his new book, Art is Magic: an ode to the cultural touchstones which have inspired his work. Drawing on everything from the influence of acid house to the more esoteric realms of folklore and crop circles, Deller takes a tour of British contemporary art through a personal lens. Besides offering his own thought-provoking observations earned from an enduring career in the ever-evolving art world, he also shares some fantastic anecdotes about the serendipitous encounters he'd had with artists including Francis Bacon ("He taught me the importance of generosity as an artist") and even his lesser-told experience with Andy Warhol and The Factory as a teenager in New York.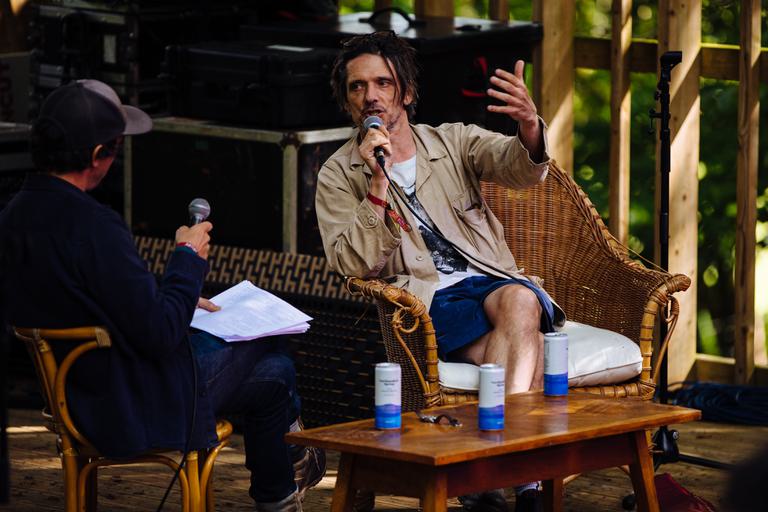 Jeremy Deller by Chris Juarez
The festival also offers a smorgasbord of workshops to push you out of your comfort zone throughout the day. Tucked away in the forest, if you follow the sound of maniacal laughter, you will stumble upon Laughing Yoga. On a mission to dismantle our stiff English instincts one chuckle at a time, the workshop is a hybrid of absurd roleplay and breathing exercises to encourage a serotonin boost (and, at the end of it all, abs of steel). With eye contact and interaction with strangers as a must, it teaches you to let your scruples go and reconnect with your child-like instinct for joy.

The mid-afternoon welcomed a stand-out Piano Stage session from Nashville-via-NYC artist Samia. The white-knuckled honesty of her music which bears all the glory and tangled ugliness of your twenties is stripped back to the nerve for this performance. Her cover of The Magnetic Fields "Born on a Train" draws swathes of passers-by entranced by Samia's reimagining of this blue valentine, bringing her particular magic into even sharper relief. Her official performance on the otherworldly Garden Stage later that evening is an expansion of those raw qualities that a handful of lucky people were blessed to see for themselves.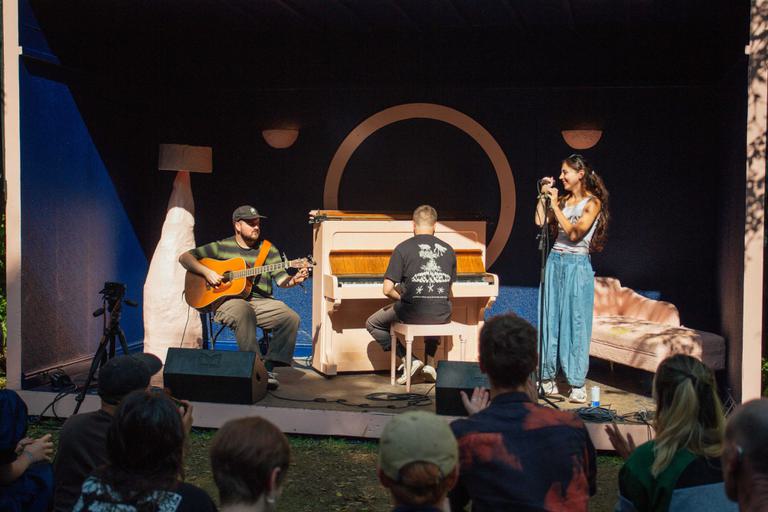 Samia by Jackson Ducasse
There is a mass exodus across the festival as the time comes to discover who the question mark is which lingering over the Woods Stage on the clash-finder. Rumours entertained the idea of Nick Cave (who was allegedly spotted at a nearby service station), PJ Harvey, The Walkmen and even Boygenius. A rash of curious stickers started to emerge around the festival, however: "Pissed urself? Join the movement". The penny dropped: Wet Leg. It was at End of The Road that the duo met and plotted for their future together, and the set is a homage not only to their origin story but the festival's spirit which, time and time again, has unified creative minds and birthed its own future line-up. "This is why we started a band – to be able to play at this festival," they said during their performance, "[but] we got a bit more than we bargained for."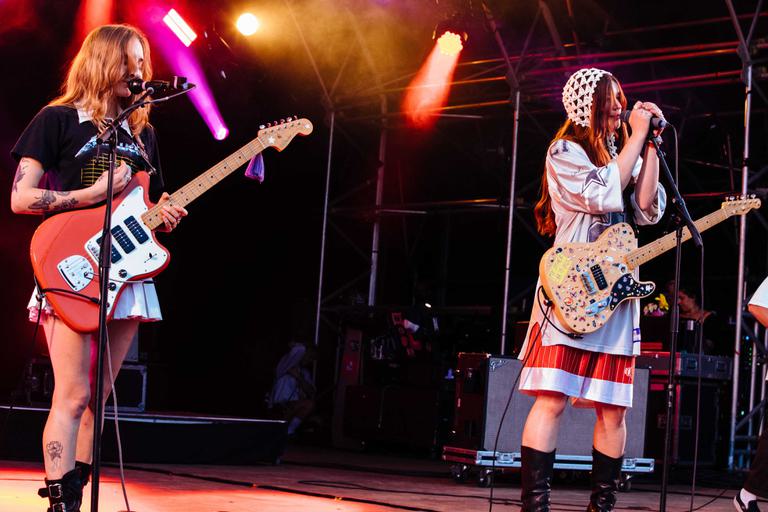 Wet Leg by Chris Juarez
Ushering in the night on the Garden Stage are the indomitable Crack Cloud. The sprawling Vancouver art-punk collective formed as a means of rehabilitation for young people at the nexus of the city's opioid crisis, and has since become an ever-fluid beast of self-expression and unbridled onstage passion. With string-players, a saxophonist, guitarists, backing vocalists and keyboardist Aleem Khan who plays like a man caught somewhere in limbo between electrocution and demonic possession, Crack Cloud are nothing short of an orchestra.
Crack Cloud by Andy Ford
In the eye of the storm, however, is drummer, vocalist and de facto frontman Zach Choy. Unleashing feral vocals while delivering punishing percussion with ramrod straight posture, his performance is a technical feat you can't take your eyes off. The band storm through their set with whiplash-inducing speed, crashing and careening through a set teeming with classics from "Drab Measure" to "Please Yourself" - as well as finding time to treat us to a taster of new material from their forthcoming project. Choy closes his eyes and loses himself in a meditative spell for "Image Craft", a masterclass in ramping tension and catharsis.
At intervals, he tears himself away from his kit to pace the stage like he'd been thrown off a bucking bronco before reassuming his position with supreme confidence, ready to tame the instrument at the rodeo. Their performance closer "Crackin Up" is torn apart at double-time, and the band leave the crowd with a slack-jawed disorientation as if the band's set was a violent act of god.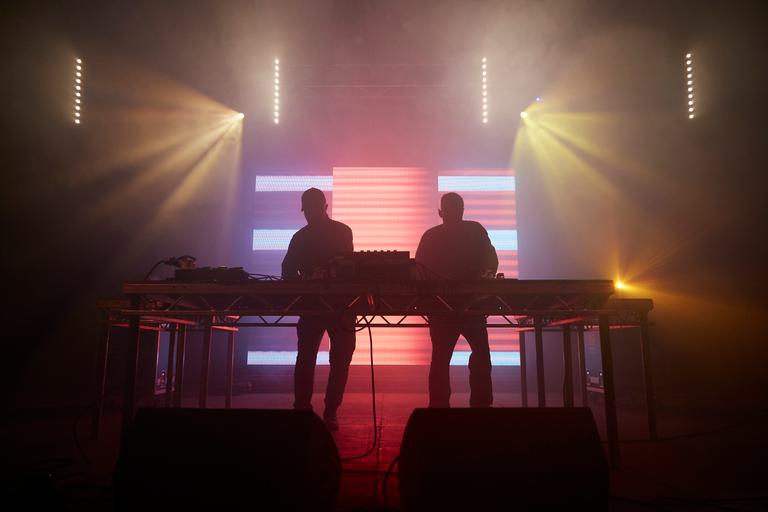 Overmono by Gem Harris
Taking us into the deeper hours are Overmono, the Welsh countercultural electronic duo whose excavations of the hardcore continuum conjures another world in the Big Top. The two silhouetted figures are spirit guides through disembodied vocals, transcendent synths and collar-grabbing basslines from ceiling-breaking hit "Good Lies" to their latest collaboration with Kwengface and Joy Orbison "Freedom 2". The visuals are a bleeding montage of German Dobermans, the duo's appointed spirit animals: sharp, sometimes-snarling but surprisingly tender. Overmono's performance is a sweaty, shoulder-to-shoulder nocturnal wonderland, and after the midnight hour, the party is only just getting started.