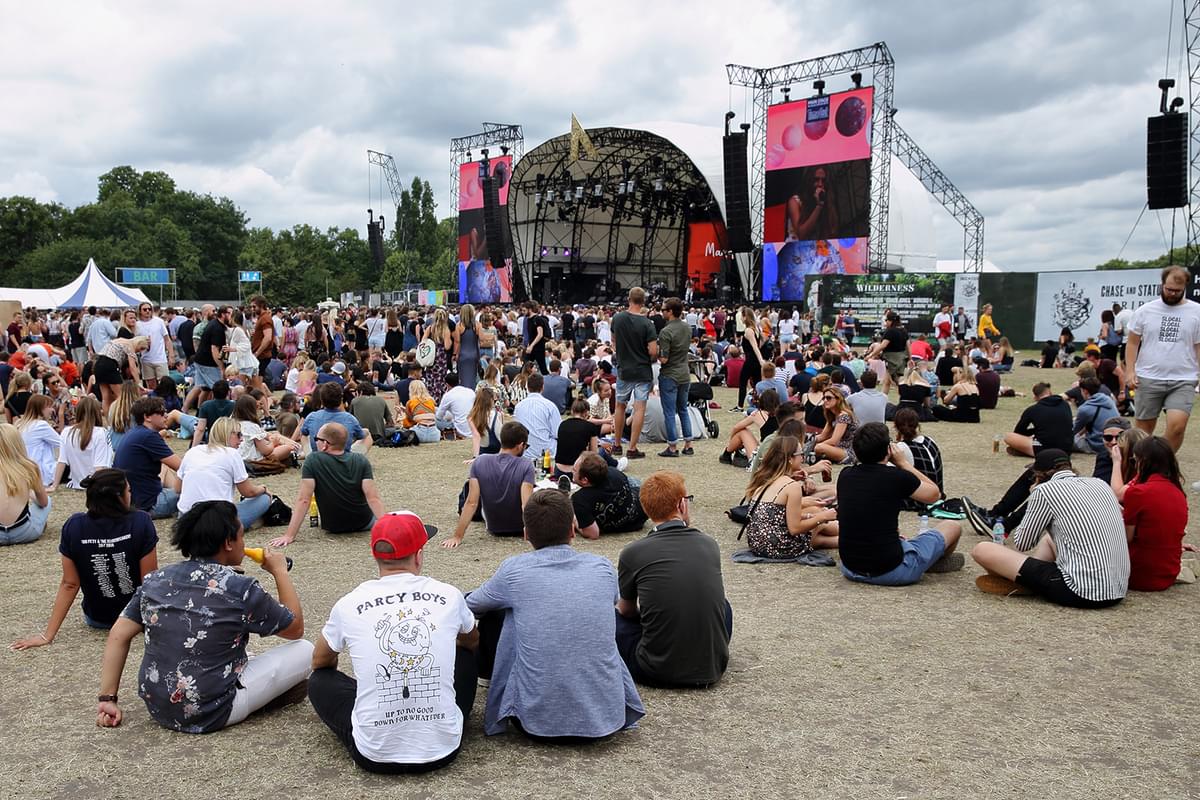 Orderly But Content: Citadel Festival 2017
21 July 2017, 19:47
Every festival needs its USP. Latitude has its coloured sheep, Glastonbury has its sheer, staggering scale, Reading has its burning tents. For London's Citadel, now in its third year, it's how bloody nice it is.
A lady at the ticket exchange sings to us. Security check our bags and wave us through rather too jauntily. The bar staff are damn near hysterical when they take my £6.50 for a can of cider. Even the rain doesn't dampen spirits as we shelter beneath a handy gazebo, listening to a guy tell his friend about the ear wax removal he's just had done in an on-site hearology clinic: "I dunno mate - it just feels weird."
Well yes, we've all done something we've regretted at a festival. Although it's likely - drinks prices and £15 wristbands for the luxury toilets aside - that those lists won't much have been added to here. From the off the curation at Citadel tends towards the positive and the laidback, the "Ultimate Summer Sunday" remit stuck to like dogma. Lucky Chops' high-energy brass sets the tone, all upbeat rhythms and spirited pogoing, whilst Margaret Glaspy marries grungy guitars to vibrant melodies and some striking arrangements, echoing an early PJ Harvey in tone if not quite bite. Even Vessels err towards the euphoric with their slow-burning electronica, and Australian alt-folkist Ry X is characteristically affecting, his string-backed songs an understated balm that rise and drift on the wind.
Rather more forceful is the Sunday Papers spoken word tent, ostensibly a lazy, laid-back tour through the issues of the day but with appearances from comedian Shappi Khorsandi and Channel 4 News' Lindsay Hilsum gets pretty intense. Laura Marling is similarly dramatic across a brooding hour-long set, an opening "Soothing" creeping with horror movie menace through tense instrumentation and restrained vocals, whilst Wild Beasts go for heavy petting with a setlist that eschews Smother's more fragile constructions for the sex-funk of last year's Boy King, Tom Fleming's scuzzy guitar lines tearing through the late-afternoon idyll quite marvellously as their sinister album art glowers menacingly behind.
Speaking of menace, Tigercub - easily Brighton's most exciting band right now - make a glorious racket over in the claustrophobic confines of the Jagerhaus, their vicious riffs and industrial clamour a welcome counter to the more studied poise across the rest of the lineup. It's quite jarring to emerge from the gloom into Bonobo's magic-hour glare, although the vibrancy of the set and the sheer musicianship on display can't help but impress: however much Simon Green's music comes across as fodder for dinner parties on record live they're pretty stunning, even compelling a number of women to shed their tops for the roving camera - although the festival stays chaste by cutting away quickly.
Which is lucky because Jesus is coming, or at least the House Gospel Choir, marrying praise for the Lord with driving electronic rhythms - which is way more fun than it sounds. We're too out of breath/flushed with the Spirit to fully get into Michael Kiwanuka but it's clear from everyone else's faces that he was something special, and then we join the migration to the main stage - everything else having shut down - for Foals. They're becoming pretty damned good at this headlining thing, ramping up the scale and drama of their performances quite spectacularly, and here their use of screens and visuals is genuinely arresting.
They're an undeniably canny booking, too, maintaining and building on the energy of the acts before them far more effectively than last year's Sigur Ros - who as great as they were struggled to keep the attention of a crowd hyped up on Caribou. "We wanted to play some older stuff that we thought you'd want to hear," says frontman Yannis Philippakis ahead of "Black Gold" - just one of a slew of older tracks that add balance to a set that matches colossal rock riffs to slow-burn atmospherics, their intricate, chiming guitars accompanied by thousands of people barking along with the choruses.
And then we leave in an orderly but contented fashion, security bidding us a safe journey at the exits and only one guy urinating against the fence on the way out. "Come on man," says someone, "don't spoil it."
Get the Best Fit take on the week in music direct to your inbox every Friday