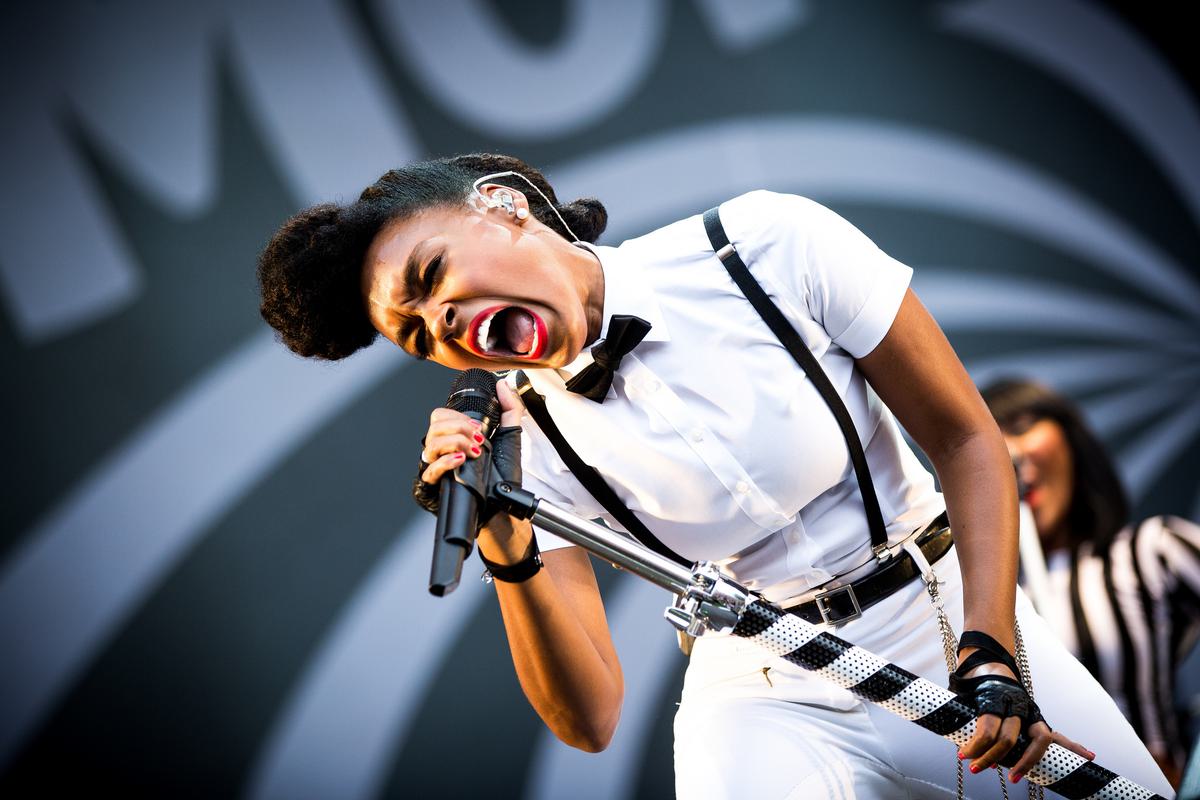 Festival Diary: Øya Festival, Oslo, Norway
13 August 2014, 16:14
You know when you wake up on the Monday after a festival, in a tent full of mud, empty energy bar wrappers and with a million empty bottle of Glen's and think "Fuck. Now I have to get home'?"
And so you dutifully do, gathering up a battered tent and your even more battered soul, eventually arriving home after a journey of epic proportions looking like you've spent the weekend living the life of a medieval peasant. That feeling, right there. Hold it in your mind (however painful it might be).
It doesn't exist at Øya Festival
And I'm not just saying that for effect, or because we got different treatment as members of the press (backstage swimming pool notwithstanding). Partly, there's no camping on site, partly it's the fresh Norwegian air, and partly it's the simple joy of attending a perfectly-run music event. Laying the music aside for a mo (we all know that it's far more important who you go to a festival with anyway) the way Øya is done makes me want to paraphrase a well-known advertising slogan: if Carlsberg made music festivals…
A few years back I was lucky enough to go to Øya for the first time and marvelled at the brilliant and slickness of it (to say nothing of the Scandinavian punters). This time around there was a brand new site, fresh local acts and untold promises of beautiful weather.
So first up, that new site. The old space was wedged between motorway overpasses and a lumber yard, and though it was perhaps a touch nearer the centre of town, I find a bit of a walk clears the blears from last night. Once you arrive, what a site it is: a natural amphitheatre forms the audience area for the main stage, with steep banked seating, and rolling hills and trees that provide excellent insulation against inter-stage sound bleed. That said, the compact site still manages to host five impressive stages, including the aircraft-hanger-esque Sirkus tent, rendered from foreboding black plastic, and nicknamed by a somewhat unkind British press team, as 'the Abattoir'.
Coincidentally it lived up to that name when Mayhem took to the stage later in the weekend, as they flamethrowered 30 pigs heads live on stage.
It's a massive improvement on the previous space, where the downwards slope away from the main stage means that sound tended to go over the audience's heads. It was also populated by the coolest, most attractive and well-tempered crowd I've ever seen at a festival. Tanned, lithe and dressed impeccably, Scandinavia is undoubtedly the best place to festival people-watch. Srsly.
Um anyway…back to the music; it was indeed superb. For a day size of 60,000 people, the spectrum of acts is surprisingly varied and covers everyone from major international acts to tiny local outfits.
I've spent way too much time harping on about Janelle Monáe elsewhere (she's not just the future of music, she's the future of society and I think she should be bigger than Jesus) and she was of course excellent. She slowed down her amped-up live set a touch in a vain attempt to not completely knacker herself out on a multi-date European tour, but still managed to get the entirety of a 30,000-strong crowd to crouch down for at the finale to 'War of the Roses'. General consensus after her set was that she's better than Beyoncé. Controversial.
Outkast's 20-year celebration set was infinitely better than its initial outing at Coachella, alive with rhythm and urgency, the boys stuck to a no-frills stage set-up of just them and their MC, along with the occasional raunchy or confusing (backwards-pacing freesian cows anyone?) visuals.
They bounced about irrepressibly, whipping up a crowd of devotees with ease, and roping in naysayers with the classics like "Way You Move", "Roses", "So Fresh So Clean" and "Hey Ya" (obvs) and "Ms Jackson" provoked the best reaction of the night. But this wasn't really about provoking a reaction; it was a set for old-skool and brand new fans alike, with the big pop hits feeling somewhat at odds with a fantastic atmosphere of proper Atlanta hip-hop vibes.
Elsewhere Mayhem's pig-burning hardcore moshpit was apparently an adrenaline-filled triumph, but this writer was glued to Royksopp & Robyn on the main stage. Royksopp are really only remembered here for that album that everyone owned back in 2001, Melody AM. Since then they've released another three albums, and gone on to be local heroes in their home country, and here they play a set that mixes classics and newer material, but fails to connect with me, especially as the double-A side headliners are really just a support act for Robyn.
Robyn on the other hand was a pocket pop rocket. Like an edgy Kylie, dressed like Toyah Wilcox at the Hacienda, she put every fibre of her being into the performance, and it showed in the audience's euphoric reactions. Closing on 'Heartbests', I think as I did with Janelle – why isn't Robyn bigger? Then I remember that we're in Norway, and Robyn is headlining because everyone in Norway has excellent taste.
The last day closed with Todd Terje's epic lesson in high-camp electronic brilliance. If I could read my drunkenly-scrawled notes in the back of the guidebook that I had to hand, I'm sure they'd say something about his epic live production, with full string section and a number of percussionists, and the way it tested the festival's sound system to its limits. Luckily this is Norway, and the sound was lusciously rich throughout. Bryan Ferry joined the DJ and his entourage on stage for Terje's rework of Robert Palmer's 'Johnny and Mary', and he closed, perhaps predictably with the brilliantly jolly tune of the summer 'Inspector Norse' – accompanied by a phalanx of synchronised dancing girls. Pure joy (at least I think that's what it says between some beer stains in my notes).
Away from the main acts, Omar Souleyman's laid back and minimal stage presence was superbly well-received by the crowd, while both Highasakite and Aurora Aksnes provided some local buzz (Aurora in particular is a name to watch; she was pretty much swarmed with label folk backstage). Darkside's ethereal softronica proved that Nico Jaar really is getting too clever for his own good, but he still managed to keep the audience on his side, despite an uber-noodletastic setlist. Neneh Cherry was also excellent, and was having the time of her life on stage. She must be sick to the back teeth of playing "Buffalo Stance" by now, and the opportunity to rework it with backing DJ RocketnumberNine resulted in a pleasingly different song.
Both Queens of the Stone Age and The National relied on their older material, and to my eyes, looked a little lackluster on stage, with Josh Homme especially looking like he might have had enough of this summer already. The National felt very Kings of Leon circa 2012; when played side-by-side with their old stuff, Matt Berenger's new material just isn't as beautiful, clever or brilliant as their old classics. Blood Orange also failed to set my world alight live; very entertaining, but his girlfriend Samantha Urbani's vocals are just not a patch on Sky Ferreira's. Added to that, the slow pace of his music, which sounds so great on headphones, felt at odds with the beautiful summer's day – akin to a teenage goth moaning about their black eyeliner melting in the sun. Neutral Milk Hotel saved the day for the guitar bands, sounding as jolly and as fresh as the day they recorded, in an Empire Records kinda way.
I did have an amble around the other tents, where local acts abounded, offering everything from sensitive woodland folk music to the hardest of death metal, but the hit of local acts was a comedy hip-hop act named Yoguttene, whose stage revolved around a giant fiberglass spliff, soundtracked by jazzy electronic-based rapping. I've no idea what they were singing about, but it must have been hilarious. If, like me, you're a bit sick of Kanye's posturing, these guys will cheer you up. TBH, they're worth a listen for an instant pick-me-up – their YouTube videos (that I've been streaming writing this) are similarly brilliant.
So Øya then: it's bloody brilliant. Yes, OK, Oslo is mindbendingly expensive, but if you can stay with some locals and find a few drinks tokens (or just drink less, you British lagerslampe) then it's really not too bad. Plus it's just better, in every way.
Photos by Johannes Granseth (Janelle Monáe), Anna Lerheim Ask (Röyksopp & Robyn), Tor Orset (Todd Terje and audience).