Given the much-publicised financial meltdown that hit Truck Festival last year, new organisers Y Not had a challenge on their hands as they planned this summer's fifteenth anniversary comeback. In line with these belt-tightening times, their decisions involved cutting the event back to two days, reducing capacity to around 2010 levels. In a merciful break with austerity metaphors, the weekend also saw a ticket price cut and a continued lack of overt sponsorship. The result was a sold-out and stabilising return to a classic Truck: compact and family friendly, slightly quaint and still able to attract big and quirky names alike.
A good omen came early on Friday with Barn stage openers Lost Dogs, who as a group of middle-aged cock-rockers (plus harmonica) simply had no right be as entertaining as they turned out to be. Especially when compared to Michele Stodart, who looked hopelessly lost on the main stage without her Magic Numbers bandmates and dampened spirits with a set of the most maudlin and lyrically bitter tunes. Much better suited to the larger arena were Vadoinmessico, their multi-national freak-folk drawing on a huge range of influences and coalescing into something surprisingly different. Even when he was milling around pre-set John J. Presley looked like he meant business, and when he starting playing his ominous "delta blues rock" it became clear that there was more to the man than sharp threads. Weighty, unsettling stuff.
Given their well-deserved reputation as musical innovators an early 5:30pm slot would seem to do Oxford psychonauts Fixers a disservice; as it turned out, it was the other way around. The otherwise talented local outfit produced a truly shambolic excuse for a performance which involved a heavily inebriated Jack Goldstein throwing equipment around, hurling abuse at everyone and no-one, and rendering his own songs unrecognisable. A tiny free show at Oxford's Truck Store on 28 July will provide the band a scant and possibly final chance to redeem themselves.
To a festival still reeling from such a disappointment, a solid performance from The Dreaming Spires was a relief, Robin and Joe Bennett clearly relishing a new opportunity to play the festival they ran until recently. Theme Park were also paragons of professionalism, playing their eminently danceable soul-pop to a packed and appreciative Second stage. On the main stage Conor O'Brien's folk outfit Villagers also played an impressive set laden with cerebral and unsettling new work.
When it came to the heavy-hitters at the end of the night, Future of the Left took to the Barn stage and emphatically outdid both a long-winded Tim Minchin and the less-than-spectacular Mystery Jets. "Beneath the Waves an Ocean" was likely the standout in a set from Andy Falkous and friends which at least matched their 2010 Truck appearance and represented the night's real climax.
Early on Saturday afternoon, the loop-based one-man rock of Robots With Souls and the earnest youthfulness of Yellow Fever provided a pair of pleasant wake-up calls on the Second and main stages respectively. A little later, the straightforward three-piece rock coming from Black Hats was great fun even before the Truck monster made a surprise appearance on stage and visibly shocked them mid-set.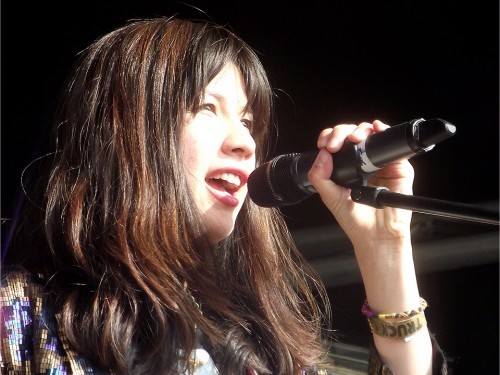 Emmy The Great by Joe Collins.
The ambient dream-pop of Flights of Helios has become a little over-familiar to this correspondent of late, but the band still had plenty to offer a gradually growing crowd in the Barn stage come mid-afternoon. At a festival arguably featuring a few too many exuberant young guitar bands, Dog Is Dead stood head and shoulders above many of them with a confident and crowd-pleasing performance on the main stage. By contrast Emmy the Great looked significantly less comfortable there, although new songs such as the fast-paced and cynical "Violet" did hit the spot.
Perhaps the ultimate Truck veterans with ten years' experience at the festival, Sheffield post-rockers 65daysofstatic had the crowd at their beck and call on the main stage. Their explosive and justifiably self-assured set was truly a sight to behold and in all honesty, was never in danger of being bettered by those higher up the bill. The agonisingly po-faced The Low Anthem were a draining experience and in an otherwise reasonable set British Sea Power indulged in one of the most unwarranted acts of three-songs-in stagediving in recent memory.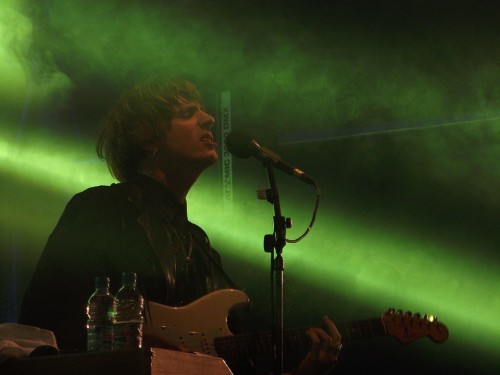 The Mystery Jets by Joe Collins.
Although Three Trapped Tigers and The Temper Trap put in enjoyable sets as they headlined the Barn and main stages respectively – the latter holding off on "Sweet Disposition" for as long as they possibly could – it was the memory of the mercurial 65days performance stuck in the mind on the drive home. It seemed appropriate, really, that such festival stalwarts should be among the crowning jewels of a Truck which was not so much storming forward as getting back on its feet. With renewed confidence and a little bit of luck ,this year's event will have laid the foundations to fully reinvigorate Truck for 2013.