Around midsummer more than three years ago, me and my friend Henrik created a declaration of love to Gothenburg in three parts. We called it 'GBG Belongs to Us'. It featured a song, a short video and a tourist guide to the city that could be downloaded for free from a website. Since our idea with Air France was to do just enough music so that we could do other fun stuff around it, we put the most time and energy into the tourist guide. More and more people contacted us with plans to stay in town for a couple of days, so we thought it would be nice to give them a travel guide that showed them a completely different Gothenburg than those in the official guides. This 'GBG Belongs to Us' thing was also a protest action against the new local law that banned you from playing music on the streets anymore; we saw more and more commercial forces taking over large parts of the urban space and we thought this was a way to draw attention to the problem.
Unfortunately we couldn't afford to pay for the domain name of the website the following year, so these days it's a news site of some kind, plus something more that I haven't really figured out. Who knows.
I moved to Gothenburg in the beginning of 2004. The original idea was for me to abandon my job as a shop assistant at Systembolaget (the alcohol store in Sweden) and find a new job in Gothenburg before I moved here for good. But on Sunday after having spent a weekend in town, I decided to sell my return ticket and eight years later I'm still here.
My girlfriend had been living here since the fall of 2003 and there was a welcoming friendliness and warmth among the people who lived in Gothenburg, which I loved. Moreover, the people around me here were so interested in pop music. The Embassy, my favourite band at the time, played more often here than in any other city in Sweden. There was something in their music and performances that felt erratic, unformed and almost disrespectfully naive and it summed up what I felt was going on here at the time. And it was here I saw Jens Lekman on the tram (always on tram number 7 of course and always with a ukulele in his hands), and El Perro del Mar at the city library on the top of the avenue where I always hung when I was unemployed.
In the evenings we used to go to an apartment and watch concerts or to the basement at Valand (The School of Fine Arts) where the record label Service would hold crazy parties (The Tough Alliance song 'In The Kitchen' was about those nights). It was this Gothenburg which came to give Henrik and I the confidence to express the ideas that we had been thinking about since the school days. And so Air France was born. At this time I didn't want to live anywhere else, although it felt like it was raining here every day.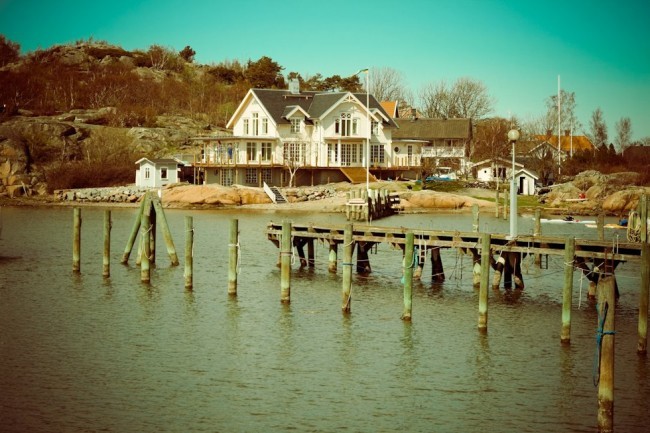 Today, Gothenburg feels a little bit different. The creativity that was all around the music has shifted its focus to other things. And although it has always been important for me to be in a context in which music is more than just music, there's so much left here that I value and don't really want to be without. But it's not about big cool things, 'cause Gothenburg doesn't have that. There is no active volcano or leaning tower here for excessive photographing. It's more about the simple pleasures, like sitting on the hill off Masthugget on a hot evening in July watching the boats leaving the port and slowly disappearing, looking like exclamation points under the big bridge called Älvsborgsbron. There is also a sense of humour in Gothenburg that I, after all these years, am beginning to like more and more (the city's entrepreneurs name their restaurants and other commercial activities with puns, for an example, there is a hair saloon called Basement Saxx). And, best of all, the archipelago is located just outside the city and if you buy a ticket for twenty Swedish Kronor, you have access to the boats that goes to all the major islands.
If I ever move from here, which I might do because I love Stockholm too (but in another way), I'll surely miss all of this. For me, Gothenburg has not only been my home over the years, it has also become a lifelong partner. And I'm glad I was able to stay here during a time when it felt like a lot of my favourite music came from here and was created by many of my friends.
Songs about Gothenburg
Among all the songs about Gothenburg, there is one that I particularly love. When it was released some people hoped that this song, which is actually a cover version of Tony Bennett's 'I left my heart in San Francisco', would take the Swedish singer Alf Robertsson back to the charts. But he suffered from health problems and died shortly before the record came out. Sadly the song never seemed too reach the success that Alf Robertsson had been hoping for. But he managed, and perhaps better so than anyone else in this tradition, to capture the feeling of those simple days in Gothenburg when the sun shines and it feels like the city is a part of the future again.
Pubs & bars
These days I don't stay out until late, but there is a pub called The Peach that I visit sometimes. They always have the same beer-of-the-week, every week (Andersson) and it's the only place in town where they play The Beatles or Albert Hammond. I brought Rich Thane, the editor of this magazine, to this place and the day after I woke up with 30 text messages from people wondering if he'd survived.
Take tram number 9 or 11 to Stigbergstorget, walk 25 meters.
Other places that might also be good fun: Les Village, Brända Tomten, Dubbel Dubbel, La Cuopole and Kino – the bar that Jens Lekman sings about in the song 'Waiting For Kirsten'.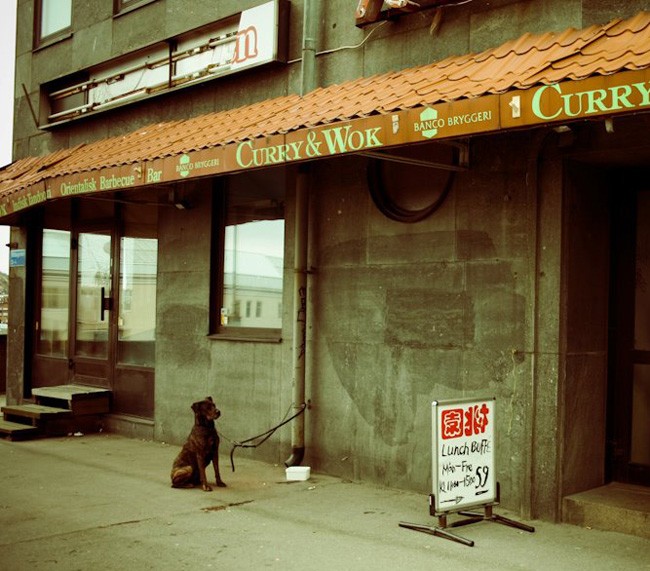 Bookstore
Antikvariat Röde Orm, take tram number 7, 6 or 9. I also like the one the top of Gibraltargatan that I always forget the name of. Just take bus 42 and get off at station Engdahlsgatan. Walk north and you will see it within 2 minutes. Say hello when you enter the store and they might give you a discount.
Restaurants
This city has many great restaurants with local produced food. My budget is always slim so I usually end up in the cheap vegetarian restaurant Solrosen. Their lasagne is great and the atmosphere is very Gothenburgish. Also try La Cucina Italiana, Hello Monkey, Moon Thai Kitchen, Kock och Vin, Tapasbaren.
For Solrosen: take tram 3, 6, 9, 11 to Hagakyrkan.
Squares
I'm not really that fond of this place called Järntorget. It's so not-seasonal. But when the cherry trees blossom there in mid-April it's like a great zen moment. Take tram 7 or 11.
Other nice squares: Sankt Sigfrids torg at Götaplatsen. Take tram 5.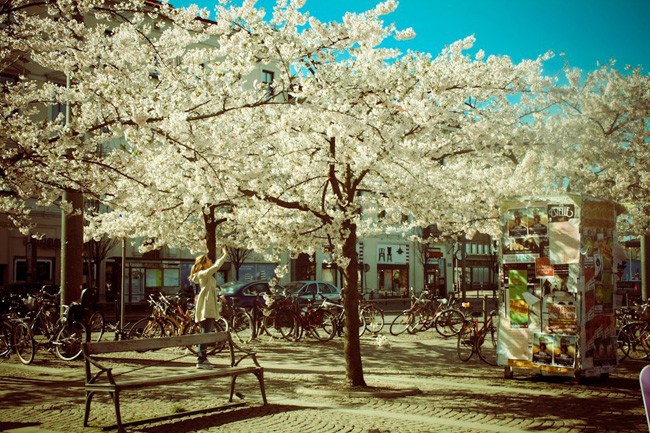 Parks and relaxing
Näckrosdammen (the water-lily pond), which is located outside the university has always been my favourite park in Gothenburg. There is something beautiful about the fact that the rhododendrons blossom there twice a year, once in the spring and once in the fall. I also like the hidden park on the top of Slottskogen, where there used to be parties during summer nights. It was here that Marcus Söderlund shot the video to The Honeydrips song 'I Wouldn't Know What To Do'.
Take tram 6, 7, 11 to station Olivedalsgatan.
Good views
Masthuggsberget, undoubtedly. And the hills of Landala.
Take tram 9 and 11 to Stigbergstorget (Masthuggsberget) or tram 6 to Wavrinskys Plats (Landala).
Shopping
Stay in the middle of the town, especially around streets like Södra larmgatan and Magasingatan.
Delsjön
A nature reserve where the forest looks like the one in Robin Hood.
Take tram number 5.
Jens Lekman's pink house
This place has acquired as much praise as it has notoriety. It is located near a big nature reserve so sometimes when he throws a party, there's deer and badgers on the patio searching for food. Or maybe they are Jens' spirit animals? Nobody knows. Great parties, however.
Take tram number, eh, well, just let the New York house music that you hear from some distance every Saturday in town guide you.
Coffee
There are coffee houses all over town, but one called Doppio is very good. It is located on Linnégatan, next to a second hand store called Emmaus and across from the pharmacy. About a hundred metres away there is another newly opened café which is also located next to this second hand store, but on the right side of it. Confusingly, this one is also across the street from the pharmacy. So if you have a date on this place called Doppio and you want to make a joke, you can always call your date from this new place and say "I'm at Doppio, the place behind the second hand store and across pharmacy, but I can't see you".
Take tram 6 to station Prinsgatan.
-
EDITOR'S NOTE: Below is the original text from the now-defunct GBG Belongs to Us website. We're preserving it here for posterity. Somebody has to.
gbg belongs to us
a love letter in three parts.
God knows this town feels cursed sometimes. Days when dark, heavy clouds are embedding Gothenburg from the southern factories to the grimy oil refineries in the western harbour, and when the love of your life leaves with a taxi you haven't ordered, you reach for the suitcase you keep packed and ready under the bed. But every time you try to leave, there's something holding you back, keeping you here. Like today, an absolutely wonderful June afternoon, 28 °C, slightly cooler in the shade, the setting sun drenching the city centre rooftops in a deep hue of pinks, yellows and purples. And strolling down the Vasa avenue, there's a sense of good times on the rise, a sense of a town that belongs to you and you alone. It's as if everyone's been listening to Bill Withers "Lovely Day" before leaving the house, feeling that same unbridled optimism. I do.
For us, geography and architecture are essential elements of pop. It may be slightly naïve, but I have to believe there's a way for pop music to prevent commercial takeover of public spaces, a way for pop to demolish shopping centres and make room for a city's inhabitants. The City, whether it's here or somewhere else, is yours. This small, simple project, named GBG Belongs to Us, is a selection of love letters to the places and the people who makes this town a lovely one to live in. To everyone who's heart skips a beat at the sight of an intersection, feeling dizzy at the amount of routes available, and to everyone who believe that a city is not just a home, it's a lifelong companion.
Best,
Air France, June 2009
Mystic Rings
The most mystic about these grass knoll circles, situated in Kings Park on the banks of the moat, is not why they once were percieved mystic (they were a piece of art), it's the fact that they have mysteriously dissapeared.
Trams 3, 6, 9 to Hagakyrkan.
Roddföreningen
An elegant tram stop dedicated to an elegant sport. For everyone who loves Guy de Maupassant, and his whimsicle, higher-than-life descriptions of Normandie parlour games and rowing trips.
Trams 9, 11 to Saltholmen.
Prinsgatan 3
It's a bit off, 40 minutes or so outside the city centre, but it's well worth the trip since you might stumble upon Henning of TTA. A nice chap, always willing to lend an ear, or money.
Tram 3 to Hovås. Change to bus 45 to Kungsbacka, walk. (but check first, lines differ during summer)
Favourite lighthouses
The Swedish Lighthouse Society, with about 3000 members, promote and develop interest and knowledge of lighthouses, as well as working for their preservation and historical documentation. Not just a functional, technical aid to navigate, lighthouses have deep connections to our inner, romantizised
Joel's fave, Väderöbod. A red pillar of light colouring the surrounding cliffs in warm purples. Lat 58, 33. Long 11, 02.
Henrik's fave, Vinga. A classic, built in cut granite, fucking timless. Lat 57, 38. Long 11, 36.
Frisör
Almost every boy in town looks exactly the same from the neck up, and it's a great look if you ask me. Hasse at Landsvägsgatan is the only barber who still treats you like the gentleman he grooms you into becoming. I don't know if it's true, but a friend of a friend (a mod) supposedly takes the 5 hour train once a month from Stockholm to get a haircut by Hasse. Fucking amazing, innit?
Trams 6, 9, 11, 3 to Järntorget.
Deserted mansion
On the edge of Delsjö Forest lies an abandoned house in the middle of an old pear grove. For years, it's broken attic windows have served as entrance point to dirt, seeds and rain, leaving the softest lawn you have ever felt growing on top of the hardwood floors. Jens, if you're reading this, you're more than welcome to write a song about this place. I've tried, but I can't write about forests. I don't know why, I just can't. Maybe it's because the forests of my childhood were dark, malevolent places. They seemed to be at the time, anyway.
Tram 5 to Bögatan, southbound trails.
Easter in Haga
The seasonal decorations, colorful feathers hung in the trees, together with the echoes of noon church chimes on Good Friday, makes for probably the most Catholic feel you can get in this land, or so we imagine.
Trams 3, 6, 9 to Hagakyrkan.
Kalimera
Run by at least three generations of happy Boat Club members. Impeccable. Greek cuisine.
Trams 6, 2, 1 to Olivedalsgatan.
Boozienda
The door is always open, so don't waste your knuckles knocking. Home of Kristian Spång, the only vespa driver with a proper license in this town. One visit after a good night out evoked a doctor's ban from further association with the Boozeienda and a trip to rehab. "No worries" says Spång, "at my place there's no such thing as bad news".
Tram 6, 1 to Prinsgatan
Roadsign
On the corner of Grönsakstorget, there's an unintelligible roadsign, faded into soft turqoise by the sun.
Trams 11, 9, 6, 2 to Grönsakstorget.
Clublife
Housed at Ritz (possibly a hotel), Klubb Livet might be the only club in town that mix current dance music with Prefab Sprout and A.R. Kane. Rude barkeeps, empty wine cellar, but strangely I can't remember a single bad night here. Stranger still, a lot of horrid stories about me and a beer tap ciculate among the people I know. Well, it's not my job to separate fact from fiction. I'm a pop star, it's my fucking job 24 hours a day.You can't take vacations from this shit.
Nearly every tram, to Kungsportsplatsen.
Prinsgatan 4
It's a bit off, 50 minutes or so outside the city centre, but it's well worth the trip since you might stumble upon Eric of TTA. Handsome fellow, big pockets. Tram 3 to Hovås. Change to bus 45 to Kungsbacka, walk. (but check first, lines differ during summer)
Water Lily Pond
Located in the middle of the Faculty of Art campus area, the water lily pond became one of the most important places for us when we moved to town. Somewhere among the ever blooming rhododendron bushes, and surrounded by floating dandelion seeds, Air France was formed. It's like stepping into the set of a David Hamilton film, the light dim and soft, like vaseline on your shades.
Trams 4, 5, 6, 2, 13 to Korsvägen.
Hönö Windmill
Probably one of the loveliest in the area.
Bus 290 to Hönö Pinans färjeläge, change to ferry to Hönö.
Haga Park
Between Haga Church and the University Library, in the midst of Haga Park, there's a fountain we always end up in after a long, summer night on the town. It's quite a small fountain, so it's mostly just us and our dear frizzy friend Josef, floating belly up, watching people hurry off to work. It's a mixed sense of not wanting to belong to society, and not being let in.
Trams 3, 6, 9 to Hagakyrkan.
Tram tunnel
Beneath the Carlanderska hospital, a tram tunnel connects Södra Vägen to Aschebergsgatan. Everyone except me take detours to avoid that cold, cave scented air that pours out of the tunnel's mouth.
Trams 6, 8 to Chalmers
Summer of Love
Highly illegal parties held by our friend Victor in nature this summer. Lectures, workshops, acid.
Prinsgatan 56
It's a bit off, 90 minutes or so outside the city centre, but it's well worth the trip since you might stumble upon Liston of the Embassy. Always up for a laugh, always a trick up his sleeve, money too.
Tram 3 to Hovås. Change to bus 45 to Kungsbacka, change to bus 46, walk. (but check first, lines differ during summer)
Saltholmen
Possibly the most beautiful place in the world. How many times haven't we been sitting on the cliffs, sipping Havana Club, looking out into the archipelago, trying to map all the coasts on the other end of the ocean.
Trams 11, 9 to Saltholmen.
Bönor & Bagels
It's ironic we quit caffeine the day we moved to one of the most café dense cities in the world. The sweet scent of lilac is heavy in the air, and if you happen to sit down for a cup sometime around 11 a.m., Jesper the tail-less cat will demand your attention. Give it to him. You'll probably thank us later.
Trams 6, 2, 1 to Olivedalsgatan.
The Barrow's Goldeneye
by the Stone Pier
This sea duck (it's Swedish name is Knipa, which also means "in trouble") is cheating death day after day. Every time he goes under you think it's for the last time. Makes you think seriously about life.
Tram 5 to Lilla Bommen.
Delsjön
A Sherwood type forest, reaching endlessly it seems.
Tram 5 to Bögatan.