- Joel Karlsson, Gothenburg April 2012. All photographs by Rich Thane.
Often hailed as one of the greatest acts to emerge from Gothenburg at the height of its creative boom in the mid-00′s, Air France sadly parted ways earlier this year but, as with all great bands, their legacy lives on with two faultless EPs (No Way Down and On Trade Winds) plus a small handful of remixes and internet only singles; the most famous being their 2009 ode to Gothenburg 'GBG Belongs To Us'.
Here, co-conspirator Joel Karlsson recounts his 8 years in the city and gives a few personal recommendations on his favourite places to visit.
Learn about & listen to Air France here.
Around midsummer more than three years ago, me and my friend Henrik created a declaration of love to Gothenburg in three parts. We called it 'GBG Belongs to Us'. It featured a song, a short video and a tourist guide to the city that could be downloaded for free from a website. Since our idea with Air France was to do just enough music so that we could do other fun stuff around it, we put the most time and energy into the tourist guide. More and more people contacted us with plans to stay in town for a couple of days, so we thought it would be nice to give them a travel guide that showed them a completely different Gothenburg than those in the official guides. This 'GBG Belongs to Us' thing was also a protest action against the new local law that banned you from playing music on the streets anymore; we saw more and more commercial forces taking over large parts of the urban space and we thought this was a way to draw attention to the problem.
Unfortunately we couldn't afford to pay for the domain name of the website the following year, so these days it's a news site of some kind, plus something more that I haven't really figured out. Who knows.
I moved to Gothenburg in the beginning of 2004. The original idea was for me to abandon my job as a shop assistant at Systembolaget (the alcohol store in Sweden) and find a new job in Gothenburg before I moved here for good. But on Sunday after having spent a weekend in town, I decided to sell my return ticket and eight years later I'm still here.
My girlfriend had been living here since the fall of 2003 and there was a welcoming friendliness and warmth among the people who lived in Gothenburg, which I loved. Moreover, the people around me here were so interested in pop music. The Embassy, my favourite band at the time, played more often here than in any other city in Sweden. There was something in their music and performances that felt erratic, unformed and almost disrespectfully naive and it summed up what I felt was going on here at the time. And it was here I saw Jens Lekman on the tram (always on tram number 7 of course and always with a ukulele in his hands), and El Perro del Mar at the city library on the top of the avenue where I always hung when I was unemployed.
In the evenings we used to go to an apartment and watch concerts or to the basement at Valand (The School of Fine Arts) where the record label Service would hold crazy parties (The Tough Alliance song 'In The Kitchen' was about those nights). It was this Gothenburg which came to give Henrik and I the confidence to express the ideas that we had been thinking about since the school days. And so Air France was born. At this time I didn't want to live anywhere else, although it felt like it was raining here every day.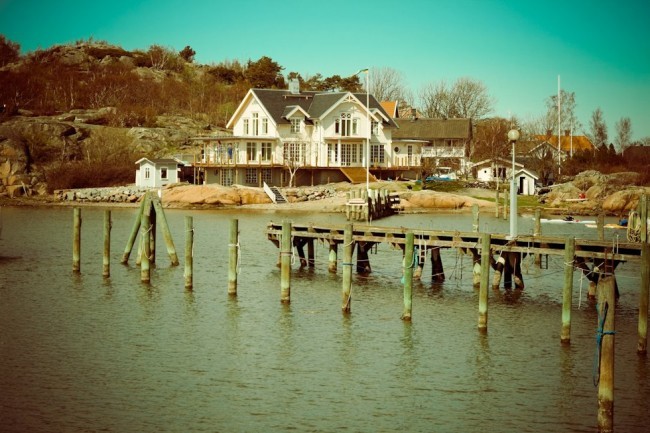 Today, Gothenburg feels a little bit different. The creativity that was all around the music has shifted its focus to other things. And although it has always been important for me to be in a context in which music is more than just music, there's so much left here that I value and don't really want to be without. But it's not about big cool things, 'cause Gothenburg doesn't have that. There is no active volcano or leaning tower here for excessive photographing. It's more about the simple pleasures, like sitting on the hill off Masthugget on a hot evening in July watching the boats leaving the port and slowly disappearing, looking like exclamation points under the big bridge called Älvsborgsbron. There is also a sense of humour in Gothenburg that I, after all these years, am beginning to like more and more (the city's entrepreneurs name their restaurants and other commercial activities with puns, for an example, there is a hair saloon called Basement Saxx). And, best of all, the archipelago is located just outside the city and if you buy a ticket for twenty Swedish Kronor, you have access to the boats that goes to all the major islands.
If I ever move from here, which I might do because I love Stockholm too (but in another way), I'll surely miss all of this. For me, Gothenburg has not only been my home over the years, it has also become a lifelong partner. And I'm glad I was able to stay here during a time when it felt like a lot of my favourite music came from here and was created by many of my friends.
On the following page is a quick guide to the city. Some of my favourite places and other Gothenburg related stuff that I've had in my mind today.