"It started with Studio's 'The End of Fame', sounding like a lovesick whale in the depth of the ocean. Try making a ring tone out of this, you bastards, we said. With no particular ambition, but with a strange confidence, some kind of culture was created and (dis)organized, spontaneously but in a certain direction. And Service rapidly took shape as the leader of Swedish pop in the early 21st century."

 
And so went the opening quote to mark the celebration of Service's ten year anniversary last month. A Swedish independent label recognised moreso for the discovery of Jens Lekman, The Tough Alliance and The Embassy, it actually all began back in 2001 with the release of 'The End Of Fame' – a baffling six minute ballad with a guitar solo so abrasive and destructive, it beggars belief that its creators would go on to carve (and indeed influence) the genesis of some of the most essential and forward thinking progressive dance music of our generation.
Studio (or The Studio as they were shortly known as) released three 7″ singles on Service. 'The End Of Fame' (SERV001), 'The Jungle' (SERV002) and 'Down Here, Like You' (SERV003) which was backed by the ludicrously titled 'Popular Women Get What They Deserve'. All three releases sounded like personal love letters to the duo's inspirations rather than the future of Swedish underground music. Scratchy, spiteful and taught garage rock with Dan Lissvik's drawl coating the songs with all the passion of an angry teenager, it was the b-side to 'The Jungle' that really seemed to kickstart what would become the "Studio sound". Even today, 'Shake U Down By The River' still ignites a curious excitment within its deep veined bass groove and distant melodica chords. It was the sound of paradise. The marriage of Dan Lissvik and Rasmus Hägg's love of early Factory Records set against the cold abrasive prog of Can and Neu somehow blended into something beautiful. Suddenly, the much talked about but rarely defined 'balearic sound' had a new home, nearly 3000 miles north of Ibizia. Gothenburg was all that mattered.

Studio – 'The End Of Fame'
Lissvik and Hägg split from Service before the official release of their debut (and only 'official') album West Coast. Forming their own label, Information, in 2006 and releasing 'No Comply' (INF 001) b/w 'Radio Edit' – Studio had metamorphised from awkward geeks to cooler-than-thou shit kickers with hardly any press, sales or indeed fan fare. Coupled by stunning artwork, mystique and of course incredibly crafted songs – when the initial (highly limited) vinyl only release of full length West Coast (INF 002) sold out, it was re-pressed in 2007 and indeed given its offical CD release and in turn birthing a legion of ardent fans.
Eager to embrace this curious sound that Studio had dreamt up, it was only a matter of time before artists started to approach Lissvik and Hägg for remix duties. From Shout Out Louds to Kylie Minogue, Love Is All to A Mountain Of One – they quickly became known moreso for their expertedly executed remixes than their own music. Yearbook 1 (2007 – a collection of singles, re-edits) and Yearbook 2 (2008 – a collection of remixes) followed, but sign of a new album 'proper' became something of a myth in itself as Lissvik and Hägg began working apart more and more.

Studio – 'West Side'
As the more active of the two, Lissvik's production credits over the years have piled up, with notable work for Taken By Trees, Lake Heartbeat, The Mary Onettes and Young Galaxy. His remixing abilities remain as in demand now as they were five years ago with Korallreven, ceo, James Yuill andSerenades all benefiting. Not forgetting Lissvik's own solo album 7 Trx+Intermission from 2008 and 2009′s The Crêpes project – a collaboration with The Embassy's Fredrik Lindson.
Rasmus Hägg lent his wonderful production techniques to El Perro Del Mar's highly acclaimed Love Is Not Pop in 2009 and continues in the production chair on the forthcoming El Perro record Pale Fire.
Today, in an official statement on Dan Lissvik's website, it was finally stated that Studio (and indeed Information) are no more.
Thank you for the music.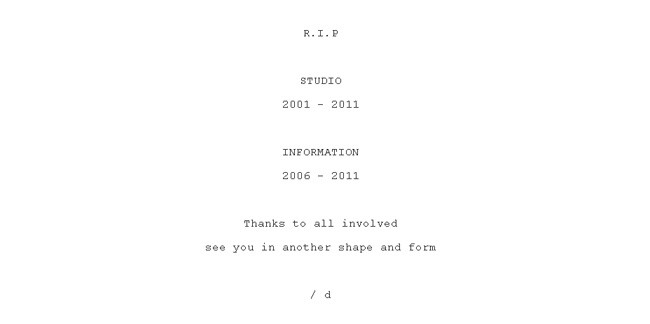 Listen on Spotify:
Studio West Coast
Studio Yearbook 2