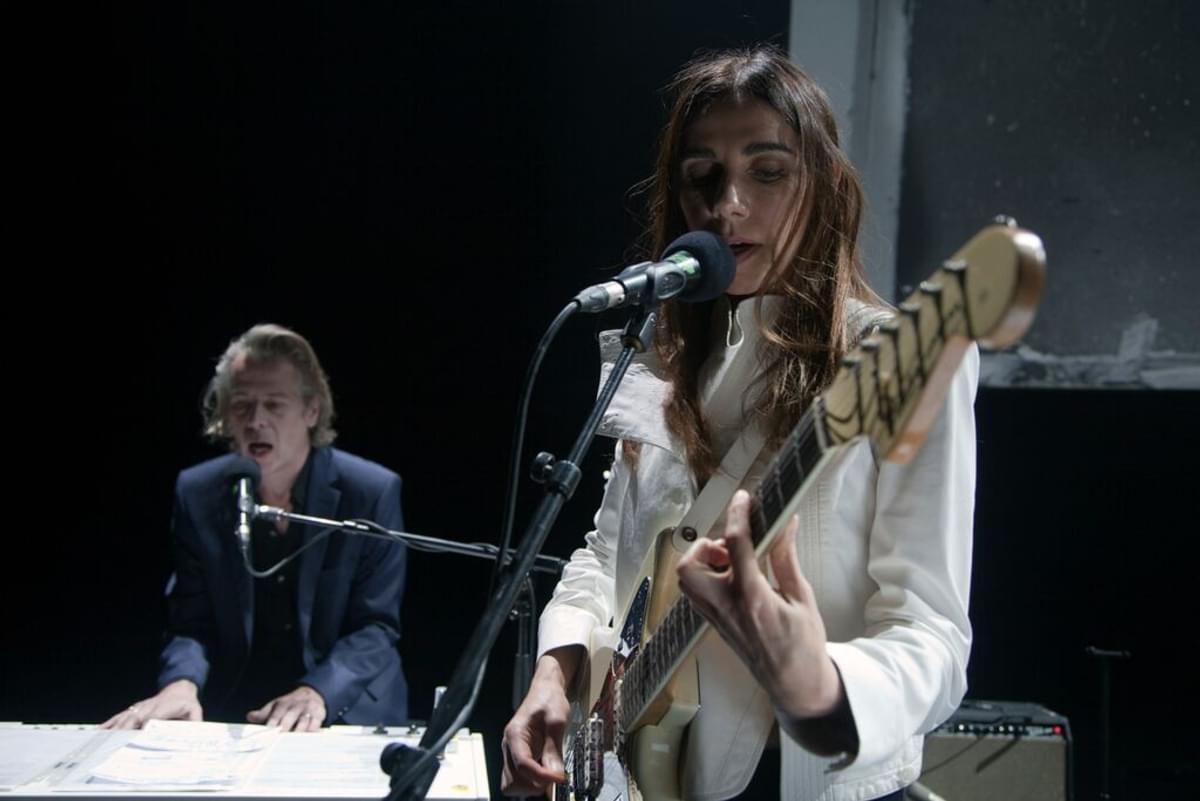 That hollow feeling: PJ Harvey & Seamus Murphy live in London
15 October 2015, 15:49
There's nothing inherently wrong with the idea of a documentary as a live event, which I think is probably the best way of explaining what PJ Harvey and Seamus Murphy were trying to get at with The Hollow of the Hand at London's Royal Festival Hall (10th October).
I mean, of course music, poetry, photography, film and intelligent discussion have the capacity to complement each other, especially when they share a subject – in this case, the travels taken between 2011 and 2014 by poet and songwriter Harvey and photographer/filmmaker Murphy to Afghanistan, Kosovo and Washington, and the influence they had on the pair's subsequent work. The trips, as we had explained to us exhaustively, were the inspiration for a book of powerful photographs and poetry, some harrowing and fascinating short movies, and at least one or two new songs that would make anybody's 'Best of PJ Harvey' playlist.
We were told that we were here to witness an "amazing cultural event", which rubbed me up the wrong way before anything even happened. For one thing, I'd have like to be able to make my own mind up about that, but the luxury of drawing one's own conclusions was not something afforded to the evening's audience. For another, despite my admiration for the artists and all the work on display, this was far too disjointed and heavy handed a presentation to leave the mark on the psyche it so desperately wanted to imprint.
Each of the evening's three sections began with Murphy showing a short film from either Afghanistan, Kosovo or Washington D.C. before talking through photos taken at the locales as they were projected on to a huge screen at the back of a stage. We saw horrifying images of corpses in deserts, bombed out churches, poverty in suburbia, and heard stories behind images so striking many really didn't need contextualising. Murphy and a fawning interviewer sat on a sofa to the right of the stage, but when they were done talking, PJ Harvey (referred to throughout as 'Polly') stood up from behind the keyboard she'd sat behind silently and made her way to a spot lit single microphone to the stage's left, for a recital of a handful of poems based on the respective locale and her experiences there. Quite often, pieces of Murphy's interview dialogue popped up in Harvey's poems, and resurfaced once more as lyrics for the songs she performed centre stage with her three piece band (which also featured John Parish and James Johnston). The discussion, the poems, the scenes portrayed in the films and photographs – it was all in the songs.
And no, jumping from interview to poem to song – particularly when done back and forth across a stage – did not flow particularly well. Not at all. But that wasn't even the real problem here. My main issue was with the total lack of mystery.
Bear in mind that these songs were initially laid to tape in front of a paying public last year at Somerset House, and it becomes clear that Harvey is currently as keen on clarifying the writing and recording process for her audience as she is in becoming indie rock's foremost war correspondent. And that's fine – as someone who's read far more rock biographies than I have worthwhile novels, I'm really up for the idea of learning how a record comes together. The problem is that this time, I've not been able to have a single one of my own ideas about the finished piece before I'm confronted with the annotated workings behind its each and every feature.
Maybe Harvey and Murphy don't want there to be any mystery to the work, due to the subject matter – perhaps understandable, given that what we're dealing with here is the abject horror of war and poverty, the harsh realities of which are something humans should be made to confront regularly in order to stop us fucking doing it all the time. But this isn't the first record on which PJ Harvey has mused upon conflict to inform her writing. Her incredible Let England Shake album was similarly obsessed and dumbstruck by its inhumanity, and is one of the most affecting pieces of art made on the topic never to have been granted a run in a major gallery. The short films that accompanied that record, also made by Murphy, added to its emotional weight with grace and clout. They both spoke with eloquence and sadness about it in interviews. To my knowledge, they never attempted to do it all on one night. My initial thoughts about Let England Shake were therefore my own, and my research in to it afterwards a refinement, rather than an explanation, of those opinions and feelings.
The thing is, each part of this evening certainly deserves a stage, and an audience. Watching PJ Harvey perform her new album fronting a three piece rock band (which she is still probably the best person in the world at, by the way) in front of accompanying visuals would have been a truly arresting experience unto itself. Hearing her reading of poetry to an audience who wanted only poetry, not poetry shoehorned in to a rock concert along with a discussion on war photography, would have had its own special gravity. And similarly, that discussion on war photography would have been worthy of its own event, given the blindingly obvious talents of Murphy with a camera and the power of his images, which will stick with me in a way the gig might well not. Each one of these things could have been a separate event. Perhaps the audience for these fringe happenings would have been smaller at some than for others, but I'd wager anyone attending would have come away far more affected by the work. And stirring thoughts of an audience with work such as this is surely the point.
I am still excited by the thought of The Hollow of the Hand as an album (due out in Spring of 2016), because though I've misgivings about the way they were presented, the ten new songs performed from it this evening all ranged from good to brilliant. The soldierly pulse of "Chain of Keys" has a menace reminiscent of the harsher cuts on To Bring You My Love, and the lushness of "The Community of Hope" even recalls the breeziness of Stories From The City, albeit drenched in sarcasm and social commentary ("They're gonna put a Walmart here", goes the mantra at the deceptively jaunty song's end). Harvey's voice was the best I've ever heard it, and the new songs are vehicles that do it justice – or at least they would have, if I hadn't felt bludgeoned 'round the head by their back stories.
There is indeed a lot of wonderful work on display here; distressing but beautiful imagery, thought-provoking poetry, and insightful discussion on the topics of art and warfare from people who know more than most about both. But each of these components – among them a fine PJ Harvey gig – got lost amidst the very good intentions of a wider "amazing cultural event".
PJ Harvey setlist:
Kosovo
Poem – On a Dirt Road
Poem – The Abandoned Village
Song – Chain of Keys
Poem – Dance on the Mountain
Poem – Where it Begins
Song – The Wheel
Afghanistan
Song – The Orange Monkey
Poem – The Guest Room
Poem – Adhan
Poem – The Hand
Song – The Ministry of Social Affairs
Poem – An Initiation
Poem – The Boy
Poem – Charikar
Poem – The Glass
Song – Dollar, Dollar
Poem – Poem
Poem – Dead Tanks
Poem – The First Shot
Poem – Begging Bowl
Poem – Talking to Dog
Poem – At the Airbase
Washington, D.C
Song – The Community of Hope
Poem – To the Oldest Homo Sapiens
Song – Homo Sappy Blues
Poem – On the Corner of 1st and D
Poem – 3am Washington, DC
Song – Medicinals
Song – Near the Memorials to Vietnam and Lincoln
Poem – Two Cemeteries
Poem – Anacostia
Song – River Anacostia
Get the Best Fit take on the week in music direct to your inbox every Friday