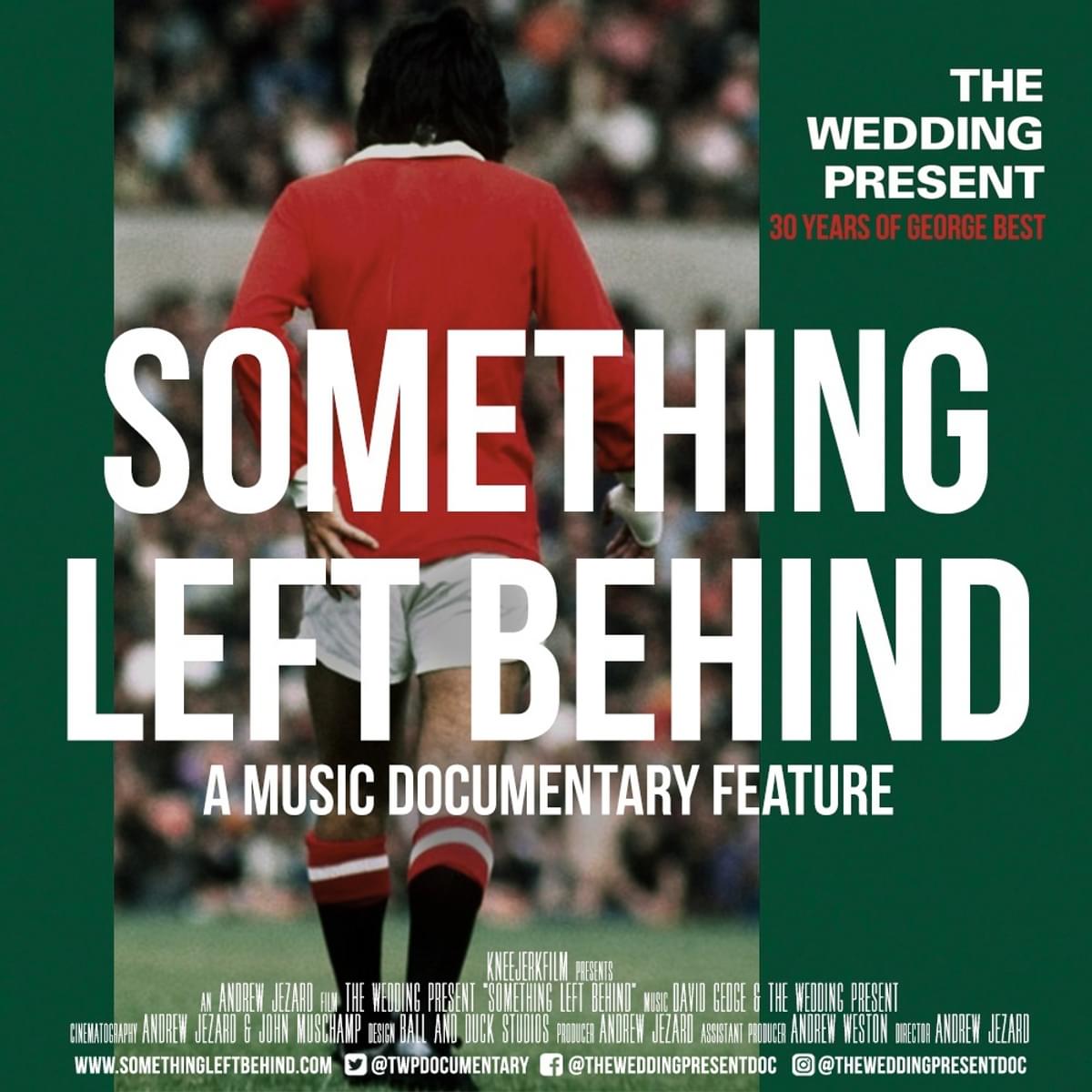 Something left behind: Reflections on The Wedding Present's George Best at 30
15 November 2017, 13:30
Timing, it is often said, is everything. Conveniently enough for the discerning late 1980s alternative rock fan craving a New Favourite Band in the wake of The Smiths' demise, The Wedding Present's semi-legendary debut album George Best arrived, in all of its earthy, heart-on-sleeve, ramshackle glory, in the autumn of 1987 - just a few weeks after Morrissey and co.'s grandiose swansong Strangeways, Here We Come. Frontman David Gedge's candid, conversational lyrics, a rambunctious, high-velocity indie guitar sound and that cover image featuring the titular Manchester United and Northern Ireland forward in his iconic "El Beatle" pomp (Best himself was even roped in for the album's pre-release promotional campaign) ensured an immediate cult following in the UK. Press notices too were largely favourable. Sounds magazine awarded the LP five out of five stars, calling it a "blistering racket of sheer exhilarating pop noise", whilst an NME cover story on the West Yorkshire quartet found Danny Kelly, who had previously described George Best as "the best British debut of the year", exalting the quartet's convergence of "wrist-splinteringly fast guitars, defying both breakdown and burn-out" with Gedge's "downpour of language – homely, naïve, sarcastic, bitter, bewildered but always determinedly everyday."
It's testament to the album's lasting appeal that Brighton filmmaker Andrew Jezard has decided to spend the past year filming and collating material for Something Left Behind; a documentary that attempts to tell, in his own words, the "story of a record that has come to define youth for so many." Why does he think that over thirty years since its release, the allure of George Best and the songwriting of Gedge - a "flat-vowelled northerner singing kitchen-sink, guitar driven pop-rock" according to writer, academic and Weddoes fan Simon Armitage - has remained quite so robust, particularly given the fleeting existences of so many of TWP's one-time jangly C86 associates?
"The main thing that attracted me to this story was the very fact that the fans have grown old alongside this album and remained a constant. I saw this in full effect at the ULU show in 2007 during the George Best 20th anniversary tour. Since starting production 11 months ago, I have been very encouraged that this is still the case. The film touches on themes of lost youth and lost loves and this connection to the record that fans have was obviously a key part of that. I wrote this documentary structure very much as a love story; with all the emotions and turmoil that brings with it. The lyrics themselves, the way people connect with the album and the reasons that people still hold it dear so many years later all feed into this narrative. However, on this 30th anniversary tour, I have now seen the album performed all over the country and as far away as Australia and in various size venues, some akin in size to the first time around in '87. There are some kids in there now who are probably products of parents who grew up with the record! Also at the recent show in Paris, I was surprised by the amount of locals really getting into it. Amongst all of that though it was still very easy to spot those who had taken advantage of a cheap EasyJet or a quick trip through the tunnel. The current line-up of the band are an incredibly impressive outfit and it's probably true to say that George Best has never sounded better live than it does now. It has been a privilege to see them work up close all this year."
"In many ways," Andrew continues, George Best "is a definitive indie album in the truest sense. A band putting out music in just the way they wanted to. It was also the sound of a band learning on the job somewhat, and this rawness just adds to the record's appeal and fuels the mythology that has grown around it over the years. It still stamps itself proudly as a "debut" LP despite emerging two years into the career of the band. I can't see David ever actively trying to be part of a scene so it's always, perhaps, wrong to point out things they may or may not have in common with their contemporaries. Because if they do, it's coincidental rather than manufactured in any way. Obviously the early line-up had shared interests in certain bands (The Membranes, The Three Johns etc.), so influences definitely did bond them as musicians in the early days. Its durability is in large part due to the extremely relatable lyrics about the breakdown of a relationship. They are almost impossible to listen to without allowing feelings of loss, regret or nostalgia to creep in and it is human nature to cling on to a part of your youth as it is forever out of reach. For people who encountered this album first time around it was obviously very easy to connect with and therefore will always serve as a reminder of those youthful days. I've had so many people tell me that they can see themselves in the stories that David weaves. The ferocity of the guitars and the heartfelt lyrics just heighten these emotions and you can almost see it all come flooding back in the eyes of the current crowds when David walks forward to the mic and bellows "Oh why do you…?" With the passing of time it seems to serve as a direct link to a part of people that has maybe gone but certainly not been forgotten during the intervening years and I now include myself amongst those compelled by it in this way. It's one of the main reasons I chose to use the lyrics I did for the film title. It may be "Something Left Behind", but that doesn't mean you've forgotten it or miss what it represents."
It's virtually impossible to discuss The Wedding Present, and in particular the intitial stages of their career trajectory, without considering the patronage of the late Radio 1 DJ John Peel. With four Peel Sessions already under their collective belts by October '87, the band were always able to rely upon his staunch support, both before and after their debut LP's unveiling. Indeed, with either The Wedding Present or his "other" band, Cinerama, Gedge (the sole constant in The Wedding Present's ever-changing line-up) has appeared on a remarkable twenty two Peel Sessions in total. But just what was it about the group that so enamoured the DJ, particularly in those sessions of 86/87? And just how significant was Peel's vociferous advocacy of the album and the band in their first few years?
"It's really interesting to hear from the original line-up just how important it was to them to be accepted by John Peel and the height of their early ambitions was to play a Peel session, which they duly did on more than one occasion. The advocacy that Peel gave the band definitely introduced a whole new set of fans to their music, as many of those fans have enthusiastically attested during the making of the film. Speaking to David and from correspondence in his archives it was not without its efforts though. David had tried for a long time to get his Lost Pandas tapes in the hands of John Peel. One postcard from the DJ provides encouragement, and tells him to "keep trying" despite that particular recording not making the grade. Whilst Peel may not have been connecting with the lyrics in the same way that younger fans were he could still recognise the passion of the musicians and their drive to make music exactly on their own terms. The two men clearly got along and the way in which Peel announces The Wedding Present songs on radio in the early days shows a genuine pleasure that David had finally got it so right. As Peel says on one particular introduction "It's always nice to play someone on the radio who has sent you a lot of demo tapes over the years that have always lacked something. But then they come along and make a record that really is excellent."
It's intriuging also that Peel would have been a married father approaching his fiftieth birthday when he first heard the band – hardly representative of the youthful, lovelorn demographic that one might at first suppose comprised the band's target audience. "John Peel responded to honest music and that's what the band were doing" Andrew replies. "As for being nearly 50 at the time - well, that brings us neatly up to the current day and the 30th anniversary tour where often you can find a room full of 40 and 50 year old men who still love the record now, despite many being happily married with kids these days."
Despite coming of age in the post-industrial north of England in the late 1970s and early 1980s, Gedge isn't necessarily the first name that might pop into your head when thinking "political songwriter." Although the record arrived in the year Margaret Thatcher's Conservative government won a third consecutive election victory, it's noteworthy that George Best seems, superficially at least, to be determinedly focused on the personal, rather than any state-of-the-nation crusading. Could it be argued, however, that Gedge's firmly rooted everyman narratives are, in their own way, politicised - a celebration of the dialect, mannerisms and interests of the northern communities that were undergoing such upheaval?
"Only David could truly answer this" says Andrew. "In his own words, he had tried political songwriting but his best stuff was always conversational and centred on relationships, so that is what always prevailed. This is a particularly personal record to David. However he always timestamps his lyrics with everyday references to technology and situations that people will recognise. Whilst the themes of love and relationships are timeless the album itself is still clearly rooted in 1987 as a result. The North and Leeds itself are also central characters and the backdrop to both the album's lyrics and the album's very being as many of the events told within occurred there. It was also written, rehearsed and (in the case of the drum parts) recorded in the city. This all combines to shine a light on a northern band and David's lyrics are very accessible so, in that respect, it is fair to surmise that people may have delved deeper into what was going on in the North at the time. Even if their arrival at that point came via a love of bands. Of the four, (guitarist) Peter Solowka seemed the most outwardly politicised both back then and to this day, attending trade union rallies at the time and still remaining keenly involved in the politics of the nation."
A crowdfunding campaign will cement the final push for the documentary's completion later in the year. How is that progressing thus far? "People can follow the film at somethingleftbehind.com and also through social media. Spreading the word or just saying "hi" is much appreciated as it's always good to be reminded that the interest is out there. Up to this point the film has been entirely self-funded. I am fortunate that I have film equipment for my day job, so I had access to decent camera kit, lenses and lights. However there are some very hefty costs on the horizon that I will need help with in order to get this story finished and distributed in the way that it deserves. This includes negotiating the music rights that David doesn't own and that are obviously integral to the film. To that end, I have just launched a crowdfunding campaign (check the Something Left Behind website for further updates on this.) There are a number of rewards for people who can, and wish, to donate, and hopefully these will be attractive to fans. Any contribution no matter how big or small will be enormously welcome and will go solely into the finishing of this film and securing the widest distribution possible. Filming is scheduled to wrap in December and then there will be a 12 week period of post-production with the film slated for release in March 2018. Initially this will be in theatres and festival screenings but a DVD and digital release will follow. After all the hard work, long-distance travel and late nights I am still incredibly excited about this film and look forward to sharing it with everyone at the start of next year."
Subscribe for news and competitions